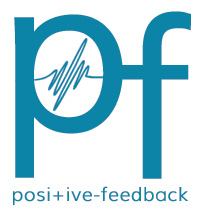 You are reading the older HTML site
Positive Feedback ISSUE 18
march/april 2005
Music, Sound and Personalities: The 2005 CES and T.H.E. SHOW
by Dave Glackin
Photographs by Dave Glackin; image processing by Robinson
This was my twenty-first CES, and my thirteenth as a member of the audiophile press. It was a chance to renew old friendships and to make new acquaintances, and I took as much opportunity as five days allowed for exactly that. The weather this year was cold and rainy, and wet snow even fell on Las Vegas on Friday. The torrential rains and snow in southern California closed mountain passes and freeways and kept many people from being able to attend. The horrific tsunami in Asia undoubtedly kept many people from Asia from attending, who were consumed with far more important things than audio, like life and death. That makes me feel guilty to even be writing this. Despite that, here it is.
Many exhibitors who would have normally stayed until Monday afternoon wrapped up on Sunday night, wanting to take advantage of a break in the weather to get home. On Monday morning, I felt like the bait in a tank of sharks, as the remaining exhibitors were ravenous for the press. The four-woman group Misty River, originally scheduled to play again this year, could not, and it's a good thing, since the usual free lunch at the San Tropez was rained out every day. Misty River could not have played outside in the gazebo, as they did last year to the delight of the crowd.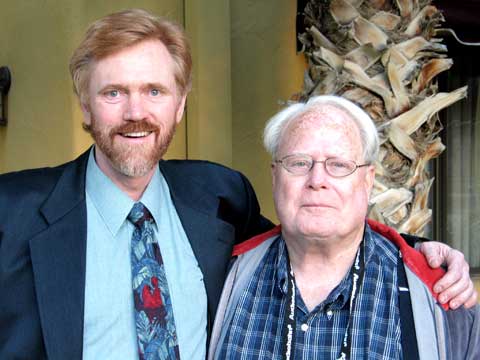 Throughout all of this, Mike Maloney soldiered on, and produced another wonderful year of T.H.E. SHOW, far outshining the old days when this alternative to the CES was in far less capable hands. According to Mike (pictured with my stalwart show buddy Stan Ricker), the number of exhibitors at T.H.E. SHOW was up 50% from last year, and he could have only sold 10 more rooms. At the time that we spoke toward the end of the five days, 60 exhibitors had signed up for 2006, as opposed to 10 at that time last year. So Mike must be doing something right! I would like to give my undying thanks to Mike Maloney for staying open on Monday, as it is absolutely impossible for any reporter to see all of the rooms in the St. Tropez and Alexis Park in four days in a truly meaningful way. Kudos to Mike for continuing this tradition, and for providing an alternative venue that continues to catch on.
As usual, I'm not writing about systems that simply didn't float my boat in some way. And even in five days I couldn't see everything. So if an exhibitor isn't listed, it doesn't mean that their room necessarily sounded bad. But as always, some sounded worse than bad, and those will be given the benefit of the doubt. Show conditions, and all…
One of my references this year was an album that was recorded and mastered by Stan Ricker, of Tom Loncaric and His Orchestra. Those of you who read my 2003 report may recall my enthusiastic words about this hot, tight, jumpin' 40s-style small band and their album I'm Crazy 'Bout My Baby. Well, they have a new, unreleased recording done live-to-two-track on a half-inch Ampex ATR, which really showed the plusses and minuses of the systems at the show. Look for its release some time in the future.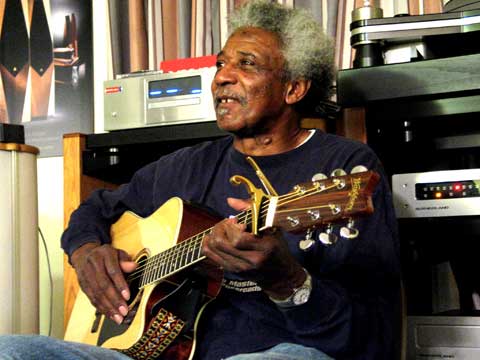 The Best Sound in the Show was the live performance by Lazy Lester on Friday night, courtesy of Chad Kassem of Acoustic Sounds. Lazy Lester (pictured) has played at Chad's Blues Masters at the Crossroads festival in Salina, Kansas, twice now, and he brought down the house each time. Lester is a friendly, low-key and humorous guy from Louisiana, who has had a very hard life. My favorite quote from him is as follows: when asked by someone if you needed a harmonica to play the blues, he said "No, you've got everything you need, this [pointing to his heart], this [pointing to his mouth], and this [pointing to his brain]. Some other quotes from Lester weren't entirely suitable for this fine publication, but they sure were funny. Thanks, Chad, for bringing one of the greats to CES. Next year… Harry Hypolite???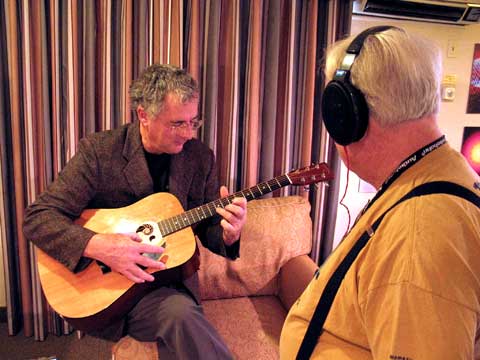 The award for Most Innovative New Technology goes to George Cardas of Cardas Audio. Last year (www.positive-feedback.com/Issue11/ces04dg1.htm), I reported on George's "Golden Ellipsoid Microphone." Most microphones act like the head of a drum under compression, in that they tighten up under increasing pressure, which can make singers sound like their throats are tightening up. The concept behind the Golden Ellipsoid Microphone results in a diaphragm that can stretch without tightening. This yields a huge dynamic range of (a reported, and if so, unprecedented) 134 dB. In the accompanying photo, George is demonstrating the microphone for Stan Ricker, who is listening through headphones to George playing his guitar at different distances from the microphone. The Soundelux 308 (pictured), a joint project with David Bock, is the realization of George's creativity.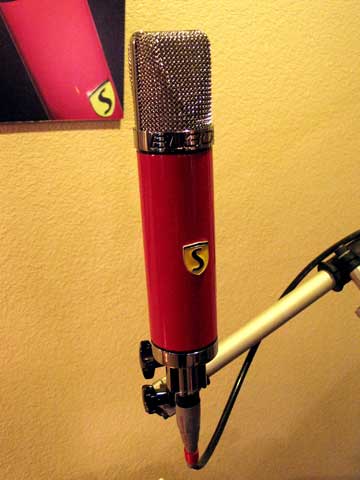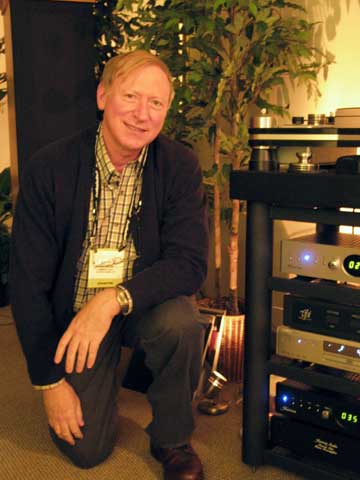 The Most Musical Fun & Relaxation was found in the Herron Audio room. Keith Herron (pictured) and his wife Joan Herron are always gracious, and play the most amazing music, with no comments about the system until asked. Keith is still mining Single Crystal Oxygen Free Vacuum from the dark, mysterious Transylvania Vacuum Mines, where the best workers spend their off-hours taking second jobs as pearl-hunting free divers. Keith and Joan carefully sample the results, and bottle only the best as Pinot NoAir (pictured).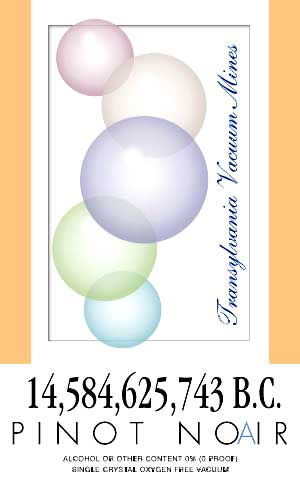 A bottle was very carefully decanted into an EL34 by Keith, as I watched in amazement. The sound was pretty amazing too, using a VPI TNT HR-X turntable, a Herron HL-1 preamp, Herron M1 solid state monoblocks, and prototypes of Keith's new ESP-1 loudspeakers. (Keith was alternately using his VTPH-1 MC Plus tubed phono stage and VTSP-2 tubed preamp.) I always love visiting your room, guys, and it was very hard to get up and leave. In fact, it took several tries!
The Best New Preamp at the show was in the Herron Audio room. The Herron Audio HL-1 Stereo Preamplifier has everything I've been looking for... an absolute polarity switch, a mono switch (really effective for mono LPs), a remote control, and a MM/MC phono stage, all in one very cool-looking chassis. Yes, it's solid state, but in my experience Keith's solid state gear sounds every bit as good as his tube gear, which simply blows my mind. This is one fantastic new product that is catching on very fast within the community. Bravo, Keith.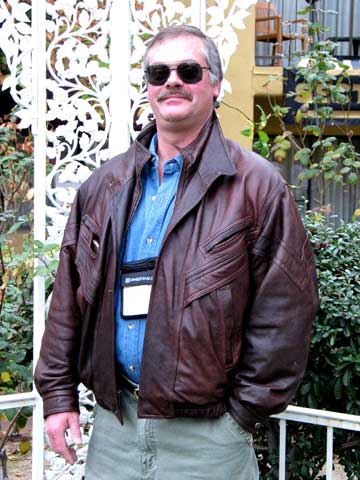 The award for the Most Effective Accessories goes to D. J. Casser of Black Diamond Racing (pictured). I have used DJ's products (shelves, cones and pucks) throughout my reference system for years, and absolutely love them. The new products that DJ was exhibiting at the show were his non-rectangular shelves, which he says sound better than the rectangular ones. They are pictured along with products from his co-exhibitors SOTA (Millennia turntable with Tri-Planar arm and Lyra Helikon cartridge), Thor, and Credo loudspeakers (from Germany).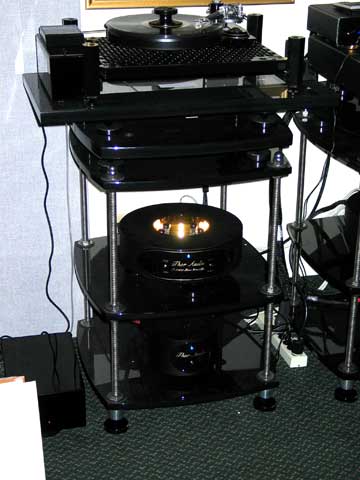 The system featured cables from Joe De Phillips of Discovery Cable. One new product of DJ's that I think every owner of a VPI turntable will want to try is his new record clamp. I had the opportunity to audition prototype clamps at length in my reference system, and can attest to two facts. First, they are light years ahead of the stock clamp that came with my TNT. Second, they are also a startling improvement over DJ's old TNT clamp that I have raved about in the past. The best prototypes had much more naturalness, transparency and harmonic integrity, coupled with more drive and punch. They reduced sibilance and artificialness substantially, and gave much more sense of the material of which the musical instruments being reproduced were constructed. All that from a record clamp. When these hit the market, you owe it to yourself to try one if you own a VPI.
I would like to mention that this system (as well as reportedly excellent ones in the show) was set up my Michael Broughton of The Audiophile Source. Mike has set up some rooms that I really liked at past shows, and continues to do so.
And now on to my Seven Sensational Systems—my picks for top sound at the show: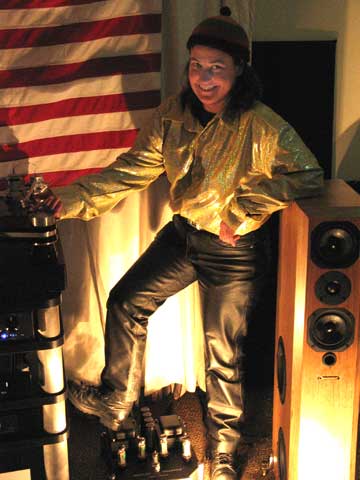 The Best Glued-to-the-Couch Sound among the Sensational 7 Systems was provided in spades by EveAnna Manley of Manley Laboratories and Israel Blume of Coincident Speaker Technology. EveAnna (pictured) was using her Steelhead phono preamp, the Wave DAC/Preamp, and Snapper monoblock amps to run Israel's Super Eclipse speakers, in a dramatically lit room (pictured).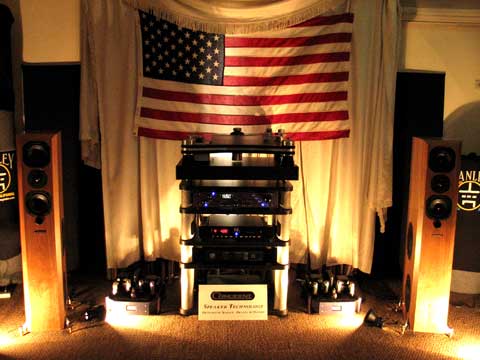 Sources were a VPI TNT HR-X turntable and a SimAudio Nova CD transport, and cables were all from Coincident. It was chills-down-the-spine time in this room, and the reproduction of Stan's recording of Tom Loncaric was phenomenal, to the point that Stan simply didn't want to leave. This year, more than ever, made me want to get this system into my own listening room for comparison. Bravo. And did you know that tube amps can be dangerous. Certain species can… see the sign!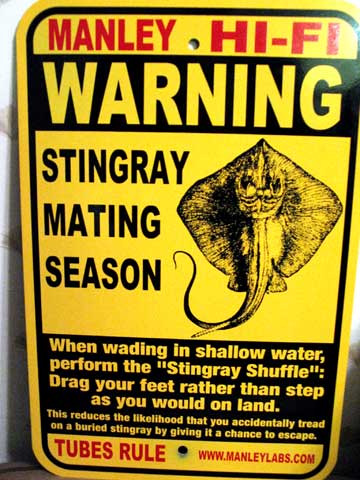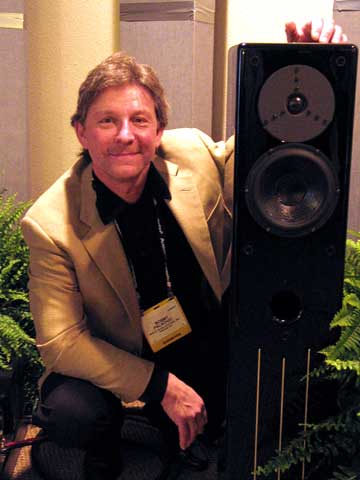 The Best Sit-Down-and-Take-Notice Sound among the Sensational 7 Systems came courtesy of Bobby Palkovic (pictured) of Merlin Music Systems. This system included electronics from Convergent Audio Technologies and the Merlin VSM/MX loudspeakers. The Merlins continue to evolve under Bobby's careful stewardship, and this year the discussion centered around cryogenic treatment of components. The process involves taking a component slowly down to a low temperature (e.g., liquid nitrogen at 77K), and slowly bringing it back up. The theory is that the crystalline structure of the material is affected, basically relaxed. This process is becoming fairly widespread within the high-end audio community. Bobby's system sounded alive, dynamic, and transparent, and is a perennial favorite of mine, as loyal readers know. Good to see you as always, Bobby! Your room is always a welcome oasis.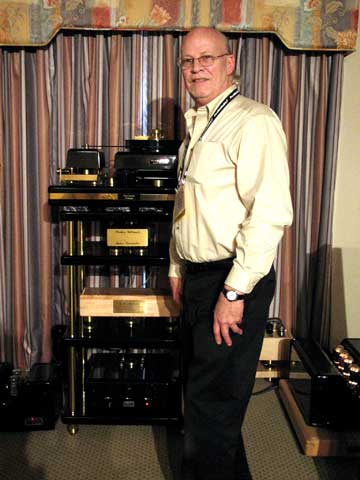 The Best Paradigm-Shattering Turntable among the Sensational 7 Systems, and indeed in the entire show, came from Lloyd Walker (pictured) of Walker Audio. His Walker Proscenium Gold Reference turntable was astounding. Stan Ricker called it "A whole new level in recovery of information from the phonograph record"… and who is a better judge? Exhibiting with Lloyd was Amedeo Schembri of Viva Audio Devices. The system in this room included the Walker Reference Phono Amplifier, a Viva line stage preamp, the gorgeous Viva Aurora "T" 845-based monoblocks, Walker Audio Velocitor power line enhancers, and Talon loudspeakers. Several showgoers marveled over how effective the damping mechanism in the Proscenium is, making records much more enjoyable. Lloyd also makes a highly regarded contact treatment called Super Silver Treatment. It consists of cryogenically treated silver flakes suspended in an organic fluid. Because it is conductive, it must be applied with care … I plan to test the results in my reference system ASAP. Lloyd also manufactures the Vivid CD/DVD/SACD treatment, which I look forward to auditioning. This system really put a smile on Stan's face, as evinced in this photo with Lloyd and Fred Law of Walker Audio. It was a pleasure to meet you, Lloyd!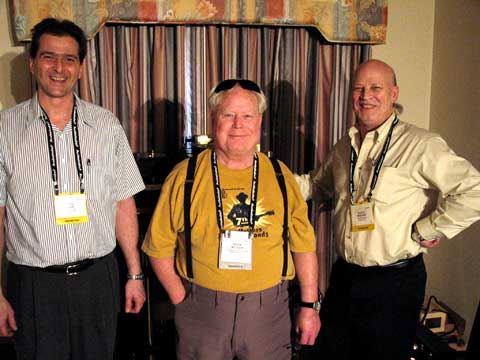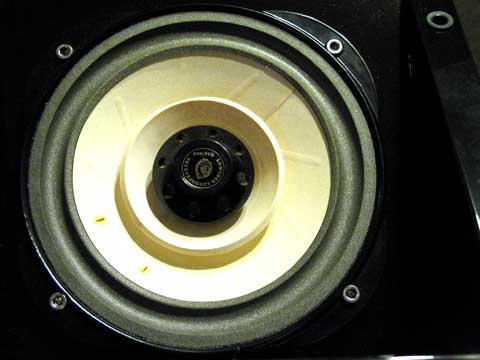 The Best Lowthers I've Ever Heard were among the Sensational 7 Systems. I've often disliked Lowthers for their sonic signature and occasional problems with cone scraping. But these Lowthers from Vivaldi Audio (pictured) in the VPI/Vivaldi room were magical.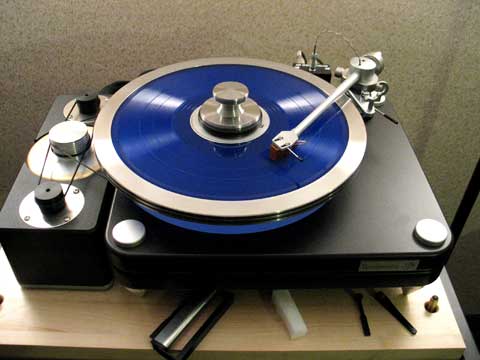 With a Karrin Allyson reissue from Pure Audiophile on the VPI Scoutmaster (pictured), an Exemplar Audio preamp, a Nelson Pass First Watt amplifier, and Prana Wire, this system sounded gorgeous and compelling. It turns out that each Vivaldi loudspeaker uses two Lowther drivers, one vented out the back and one facing up at an angle. It works. I would also like to note that quite a few of the good-sounding rooms at the show, including this one, were using PranaWire from Joe Cohen.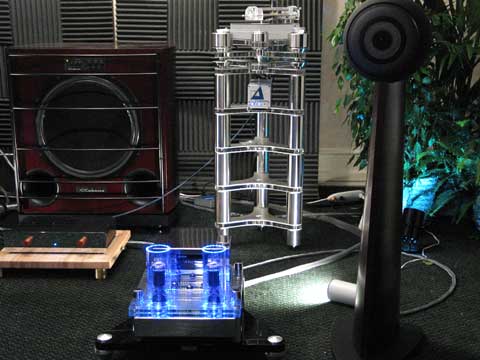 [Photograph by Dave Glackin; fresco by Robinson]
The Best Subwoofer was among the Sensational 7 Systems, and was found in the Cabasse/Art Audio/Argent-Rosinante room. Christophe Cabasse is justifiably proud of this creation of Dr. Bernard Debail. It uses a modified version of a 21-inch driver that is used in all the OmniMax theaters in Europe. The system sounded superb.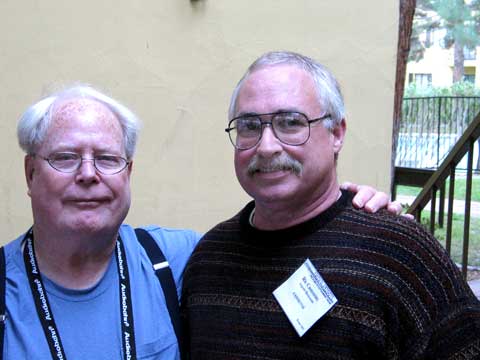 And speaking of Argent-Rosinante, it was a distinct pleasure to see Ric Cummins again, attending the show with the lovely Mary Mortensen. Ric has branched out into cables, which I plan to audition soon, and was captured here staying dry at the St. Tropez while swapping stories about Kansas with Stan Ricker.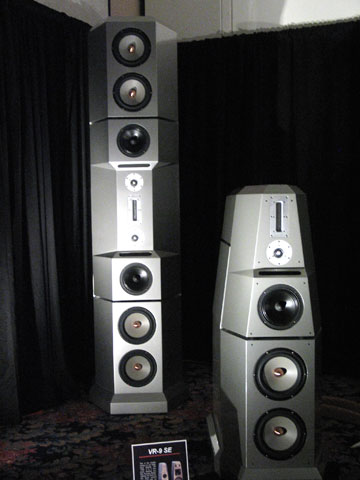 The Best Large Room/Large Speaker Demo at the show was among the Sensational 7 Systems. Albert Von Schweikert of Von Schweikert Audio put on quite a show, using the highly regarded EMM Labs SACD transport and DAC from Ed Meitner. Pictured are the VR-9SE loudspeakers, which we heard, alongside their big brothers, the VR-11SE. Stan loved their sense of realism, immediacy and dynamics.
The Best Line Source Speakers in the show round out my Sensational 7 Systems. The Dali Megaline loudspeakers really stood out on the recording that has been my CES reference for well over a decade, Cantate Domino on the Proprius label. The choir and organ were produced with real authority, sounding like they were right in front of us in space. Stan said that he heard things that he's never heard before in this recording. Coming from someone who is such a heat-seeking missile for good sound, that's really saying something.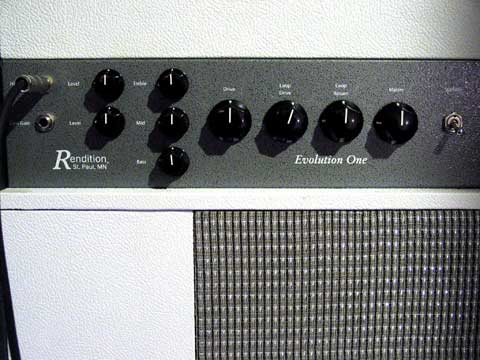 The Coolest Adaptation to Other Markets came from Ralph Karsten of Atma-Sphere Music Systems. In addition to making highly regarded OTL (output-transformer-less) amplifiers for the high end audio market, Ralph produces the world's only OTL guitar amp, in association with Rendition Audio. Rendition is also working on an LP-mastering version of the Atma-Sphere 60 Wpc Class A amplifier.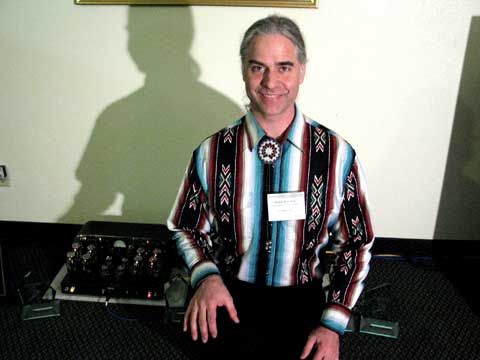 A smiling Ralph Karsten (pictured) has wrested his company back from other hands, and is relishing being back in the saddle again.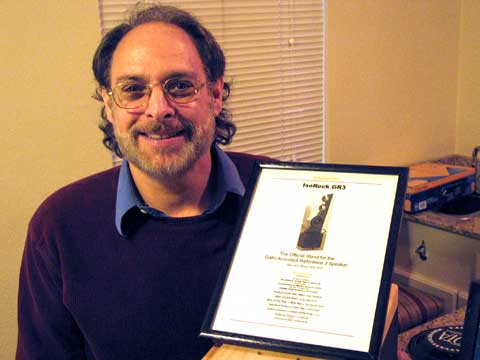 The Best Grit and Determination was exhibited by Barry Kohan of Bright Star Audio. Long-time readers will complain that I'm getting a little too predictable with this award, especially since this is the ninth year running, but no one deserves it more than Barry (pictured). Barry manufactures a line of famous and very effective resonance control products that were in evidence in many rooms around the show. And to think that they all started from a humble box of sand that Barry had sitting under a turntable at a show many moons ago (hence the grit). Barry's new products include a replacement top plate for his Big Rock that reportedly provides a substantial improvement in performance, and the IsoRock GR3, a high-tech speaker stand for the Gallo Acoustic Reference 3 speakers. It was great to see you again, Barry, and I hope to get you to a meeting of our Hollywood Sapphire Group sometime this year. It's a blast.
The Best Headphone Demo in My 25 Years of High-End Audio came courtesy of Dr. Mike Smyth of Smyth Research LLC. The demo involved sitting in a chair in a room with a surround-sound 5-speaker system. I was asked to insert a pair of very small foam-surrounded microphones in my ears, after which Dr. Smyth's system ran frequency sweeps through each speaker in turn, while the microphones measured the response at my ears and created a customized room-correction DSP file. After this was done, I put on a pair of Stax headphones containing an orientation sensor. While sound was played back through the headphones, not the speakers, I was asked to indicate which speaker it seemed to be coming from by pointing my nose at the speaker. The headphones, fed by the DSP system, recreated a precise virtual image of each speaker, which remained unchanged as I moved my head, thanks in part to the orientation sensor on the headphones. Dr. Smyth's ultimate goal is to store the information on a compact flash card, and make an iPod sound like an expensive speaker system playing in a room. I think I just experienced part of audio's future.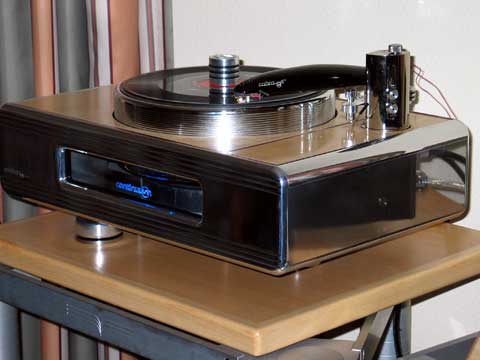 The Best Turntable/Runner Up was the Caliburn from Continuum Audio Laboratories Pty in Australia. Mark Doehmann, David Payes and Peter Denisenko explained their use of exotic materials, applied with very serious engineering help from places like the CSIRO (Commonwealth Scientific Industrial Research Organization). The turntable uses a magnetically levitated magnesium platter, and its design based in part on an Australian bell that is famous for the nature of its ringing modes. (I wish I could reproduce their entire explanation here… ) These are serious people with a serious product, beautifully turned out in a way this photograph only hints at. The sound in this room was one of my favorites.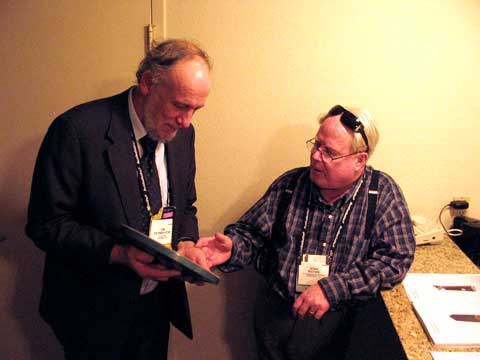 The Best Prototype Turntable was from Tim de Paravicini of E.A.R. Tim is pictured here deep in conversation with Stan Ricker about various aspects of the design, including the magnetically levitated spherical platter. The sound, as heard through Marten Design Speakers, was quite captivating. Tim was also showing a highly modified ReVoX reel-to-reel tape deck that captured my attention, which too quickly got re-captured by the turntable.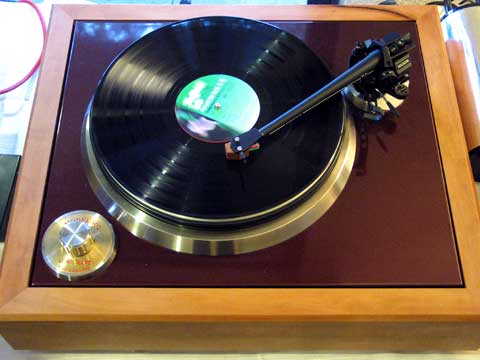 The Best New/Old British Turntable was the "Rolls Royce" Garrard 501 turntable from Loricraft, so named because it was painted to match a certain Rolls Royce color scheme. The turntable was shown with pride by Terry O'Sullivan.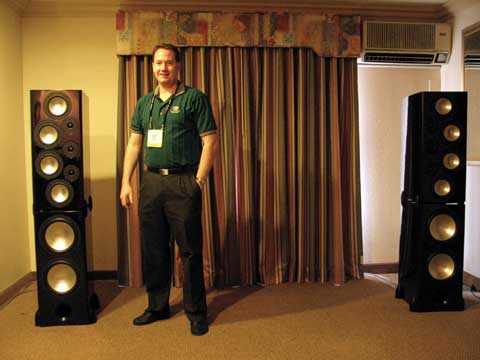 The Most Exotic New Loudspeaker Driver was described by Shane Rich (pictured) of RBH/Status Acoustics. Status Acoustics is a line of loudspeakers that has impressed Stan and me mightily over the past few years, to the point of giving best sound in show to an unknown company a few years back. The new Status Acoustics line will sport a 6.5-inch Beryllium midrange driver. Beryllium is used in space applications where light weight and high strength are required, but airborne particulates of this element are highly toxic if inhaled, to put it mildly, and manufacturing must be done with the ultimate care (preferably by robots on the other side of the Moon). I wish Shane well with the new line of Status Acoustics products. We heard RBH speakers, driven by a SimAudio Nova CD player and RBH electronics. The reproduction was dynamic, alive, and full-range, capturing the chestiness in the vocals on the Tom Loncaric recording that so many other systems missed.
The Best Palpable Presence came from the system using the Continuum Audio Laboratories turntable, Wavac amplification, Stereovox cables, and Princess Peak Consult loudspeakers. The sound was at once dynamic, smooth, and oh, so seductive, with incredible imaging to boot. This was one of the few rooms where it was hard to stand up and leave. The things we do for a long, long show report…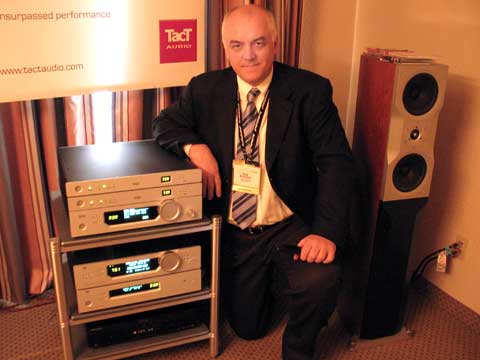 The Most Incredible Transient Response & Explosive Dynamics were found in the TacT room of Boz Bozovic (pictured). I have reported at length in past show reports on the technology behind TacT's digital room-correction devices, and the technology has been improved since then. Boz was using some custom-built loudspeakers with very light cones. I heard a digital version of the Sheffield Drum Record in this room like I have never heard it before… totally effortless, explosive dynamics and lightning-quick transient response. If DSP room correction is what you're looking for, I'd go here first.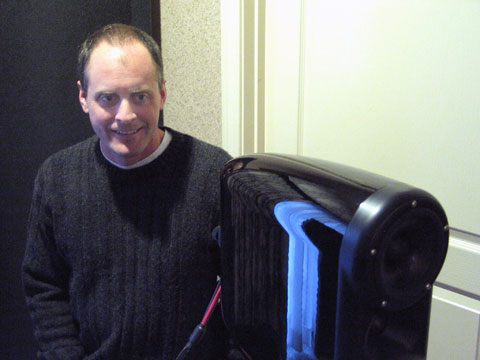 The Best Small Speaker is a tough call, but in this reviewer's opinion it was the Ultimate Monitor from Karl Schuemann of Audio Machina. The cabinet of this loudspeaker is perhaps more advanced and difficult to build than any other. This was one of the few rooms in which I experienced true chills-down-the-spine excitement. Stan's Tom Loncaric recording sounded involving and live, with that elusive you-are-there quality. This speaker presently uses the Bottom Octave Magic Box (aka the BOMB) to achieve its bottom end performance. Karl plans to improve the bottom end performance by producing a floor standing version with an active woofer sporting a ten-inch magnet. Yowza.
While I'm at it, I must give special thanks to Michael Wolff, whose carbon ribbon power cords were powering this system. Michael introduced me to some great music that was totally unknown to me. A real surprise to me was an album by Queen Latifah entitled The Dana Owens Album. This woman can sing. Thanks, Michael! I should also note that the acoustical panels in this room were from Snap-Tex, designed by a person who used to design products for RPG, which has always been my favorite such company. Well worth investigating.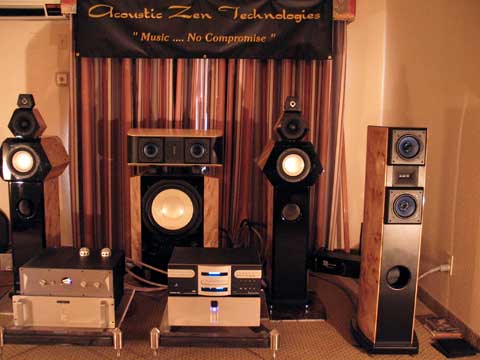 The Best Tiny Speaker was exhibited by one of my oldest friends in this field, Robert Lee of Acoustic Zen. I have known Robert for almost twenty years, and can attest that he has an incredibly good ear coupled with a very deep love of fine music. In addition to his highly regarded cables, Robert was exhibiting his new and diverse line of loudspeakers marketed under the AB OVO Technologies name. Using ceramic coated paper cones, ribbon drivers, and neodymium magnets in many cases, these speakers sounded very promising, with really nice vocal reproduction. Having been mightily impressed round about 1987 with a small speaker that Robert made for himself, I was excited to see a very small crossover-less speaker using much of the above technology, including a neodymium magnet and one-inch voice coil, whose sound belied its diminutive size. It is always nice to see you, Robert, and I look forward to a visit to your factory in the very near future.