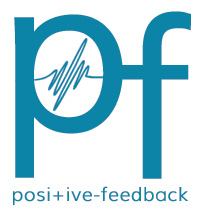 You are reading the older HTML site
Positive Feedback ISSUE 18
march/april 2005
CES/T.H.E. Show 2005: A Photo Essay, Day Two, page 2
by David W. Robinson
All images and image processing by Robinson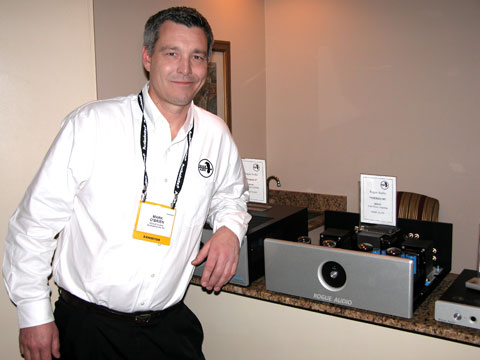 I was able to make a brief stop in at the Meadowlark Audio/Echo Busters/Rogue Audio/Harmonic Technology space. While there, I saw Mark O'Brien of Rogue Audio. We had chatted briefly at the 2004 Rocky Mountain Audio Fest, and did so again here. Mark has a number of good products priced for the entry point in fine audio… a good thing.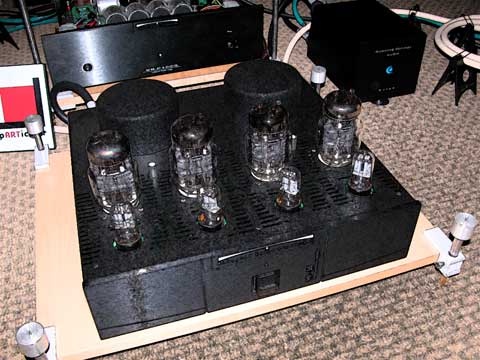 Not too far away was another room on my "for sure!" checklist: the BAT room. (No vulgar jokes, please!) A fresco of the Balanced Audio Technology VK-55 amplifier, a truly lovely design, is above.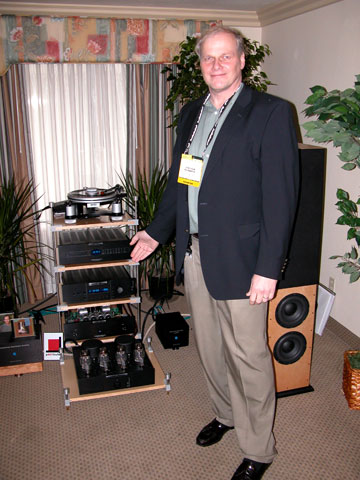 Steve Bednarski, the Prez of BAT, proudly presents the BAT stack… great sound from a fine company. I hadn't seen Steve in a few years; we talked for a bit, and are working to arrange more reviews of BAT designs in the upcoming year. Stay tuned!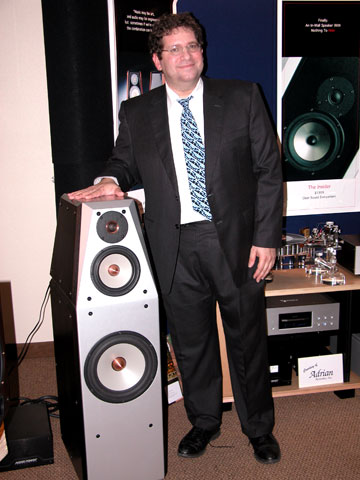 Another good guy in a good rom: Jeff Joseph of Joseph Audio. I really liked the sound that Jeff was getting in his space…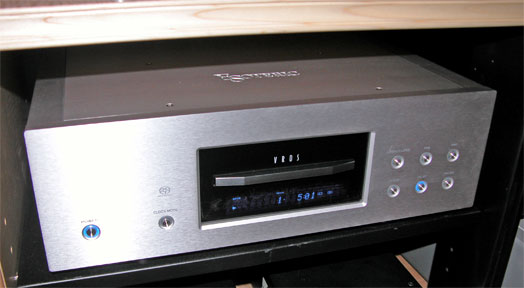 …and I also appreciated getting to hear the Esoteric X-01 SACD player, which was sounding quite excellent via Jeff's speakers. Great stuff!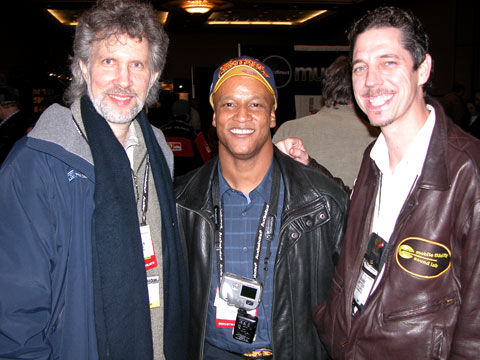 Time was passing… now I was into "dash about the place" mode. While stopping by the Mobile Fidelity room (which I did more than twice!), I ran into my good audio friend, the mastering engineer extraordinaire, Steve Hoffman (left) with another good audio friend, MoFi's mastering maven Shawn Britten (right). With them was their audiophile friend, Elton Evans. Steve and Shawn are highly righteous masters of the open reel and DSD/SACD; their work is a truly important contribution to the audio treasures. Steve has already received a PFO Brutus Lifetime Achievement Award; can Shawn be far behind? (Answer: nope!) Anyway, every time I see these gents, I have a truly fine time… they're of that rare group who put the "master" into "mastering"!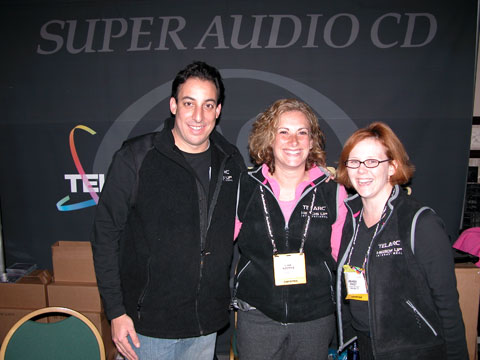 I dropped back down to the music/booths space at the Alexis Park for a moment… recordings always draw my attention… and while purchasing several Telarc SACDs, I got to meet Rob Saslow, Vikki Rzepka, and Amanda Sweet of the Telarc group. They're a great crew, and Amanda's been an audio sweetie of mine for several years now… she's our contact for review copies of Telarc's great pure DSD SACD recordings. Thanks for all the help, Amanda! And, hey… Rob! Amanda's doing a terrific job—she needs a RAISE! (Heh heh!)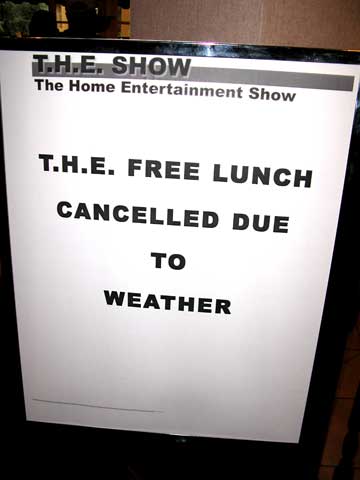 "So, how bad was the weather?" you ask?
'Nuff said. (Guess this means that there really is no such thing as a "free lunch," eh?)
I was finally able to shake loose and get over to T.H.E. Show over at the St. Tropez. I had a lot of audiobuds over there, as well; in the interest of equal time, the moment had come to give them some coverage. The layout of T.H.E. Show makes it easy to get around; you just go in one giant circle, times two levels, and you're done. (Uh… yeah, right!) I've got to say it, sports fans: there was an awful lot to see at T.H.E. Show. Mike Maloney and company have really grown this event, so that it now has a very substantial attendance in its own right. Covering what they're doing took a considerable amount of time and effort.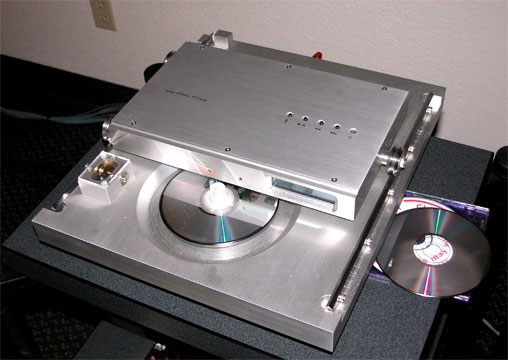 My first stop was at the Sakura Systems/47 Labs room, where long-time acquaintance Yoshi Segoshi was displaying an interesting set of unique designs. Above is the 4704-04 PiTracer CD player.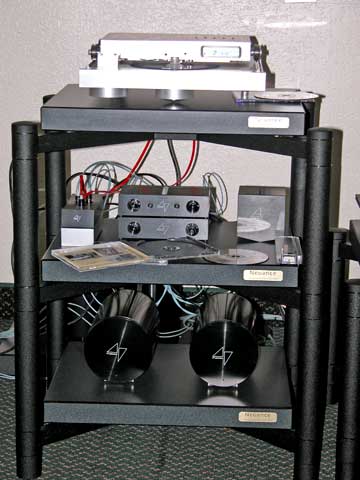 The 4704-04 PiTracer was on the top level of a rack with the familiar 47 Labs Gaincard amps and Power Supplies that I reviewed way back in the days of Positive Feedback (Vol. 8, No. 4, for those of you who are curious; you can find my comments on the 47 Labs in the archives of PF, housed by PFO at www.positive-feedback.com/pfbackissues/0804/Setsandsacd.htm; Rick Gardner's review of the Gaincard was in the same issue, and can be read at www.positive-feedback.com/pfbackissues/0804/GainCard.htm). Surprisingly good stuff for such a small package… 47 Labs certainly can sneak up on you!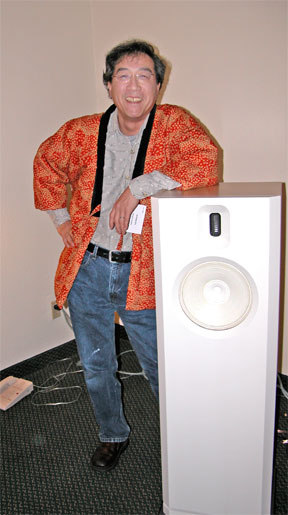 Here's Yoshi himself—a lot of fun to talk to, and full of strong opinions!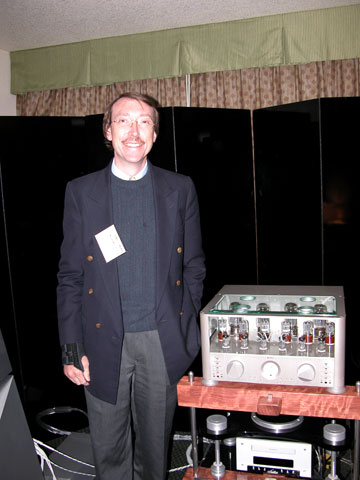 My next stop was a distinct pleasure: I got to spend a while talking one-on-one with Kevin Hayes of VAC, a long time audio friend. (Heck, Kevin and I have known each other since the early '90s; that goes back to the long-lost days of the Oregon Triode Society and early Positive Feedback.) This was our longest face to face conversation, though. Kevin is a truly fine person, mellow, intelligent and passionate in his pursuit of excellence in the audio arts. He is pictured here with his marvelous VAC Phi Beta Integrated amplifier, which he has PROMISED to get me a review sample of. He told me to stay on him about this—count on it, Kevin!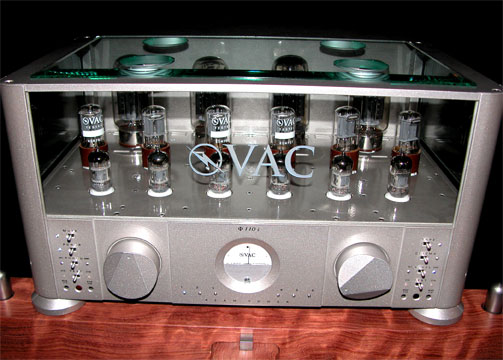 My eyes kept drifting over to the VAC Phi Beta Integrated… can you blame me?!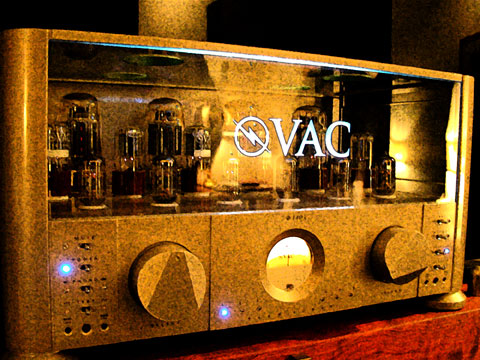 Another rendition of the VAC Phi Beta; it just begs for fresco.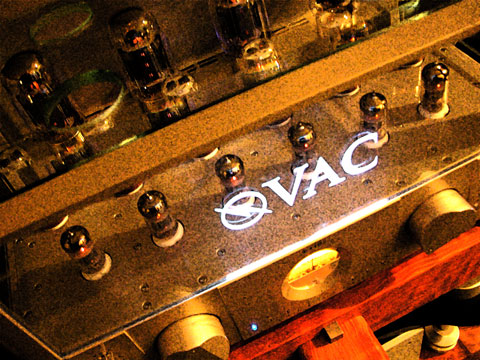 And again! Another fresco view by Ye Olde Editor… .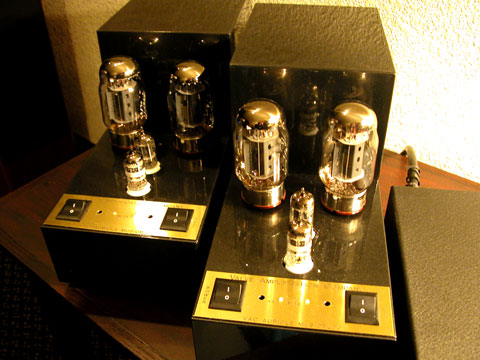 That wasn't the only brilliant looking VAC design, of course. Here are a pair of the VAC Auricle monoblocks…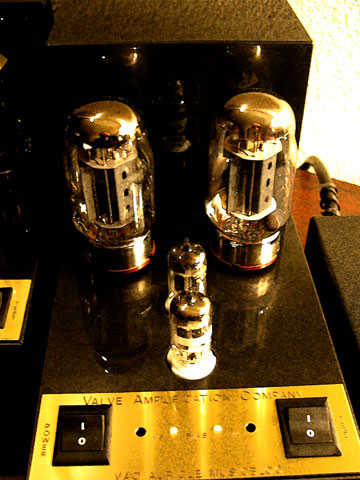 …which also just begged for a touch of fresco.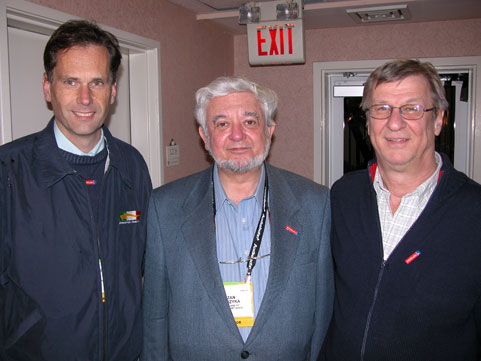 As I exited Kevin Hayes' room, who should I run into but the "EMM Labs Gang"! From left to right I give you Andreas Koch (the designer behind much of the work behind the Sonoma DSD workstation system), Zan Muzyka, and the "Doctor of DSD" himself, Ed "Blue Light" Meitner. They made me promise to drop by the Chambers Audio/EMM Labs/darTZeel/Von Schweikert Audio room ASAP.
Hah! As if I wouldn't!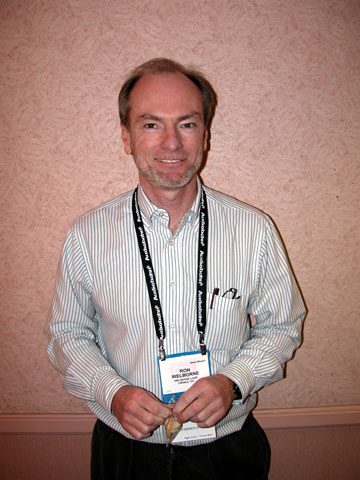 More T.H.E. Show hallway meetings: our good friend Ron Welborne of Welborne Labs. A great guy and a long-time SET designer.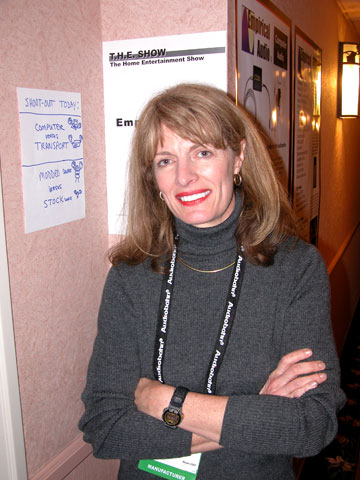 Right down the hall from where I had seen Ron, I ran into Janet Nugent of Empirical Audio. Janet and Steve Nugent are fellow Oregonians; they run a very fine audio cable design and modification company out of Bend, Oregon. Readers of PFO may remember the interview that I did with Steve, a very gifted audio engineer, back in PFO Issue 7 (see www.positive-feedback.com/Issue7/empiricalint.htm). If you didn't see it, this is definitely worth reading.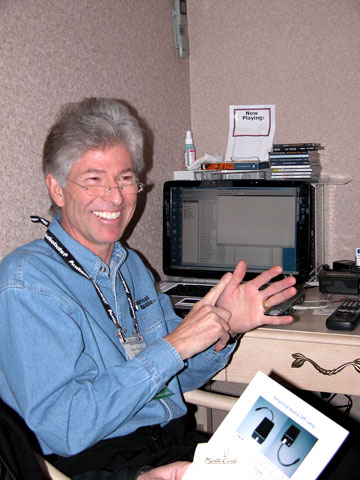 Steve is truly enthusiastic about fine audio, and a heckuva lot of fun to talk with. (Can you tell?!) I sat in for a while, and listened while he was doing a series of comparisons of unmodified versus modified gear. The differences were clearly evident to my ears, and to those who were in attendance; a good time was had by all.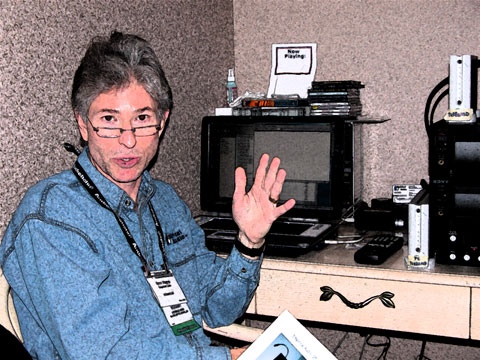 I couldn't resist doing a fresco of Steve, caught in mid exposition!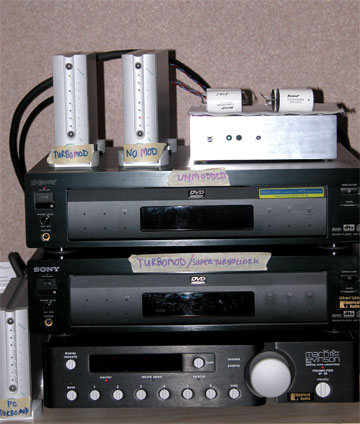 A closer view of the stack of unmodified and modified sources/processors—most educational!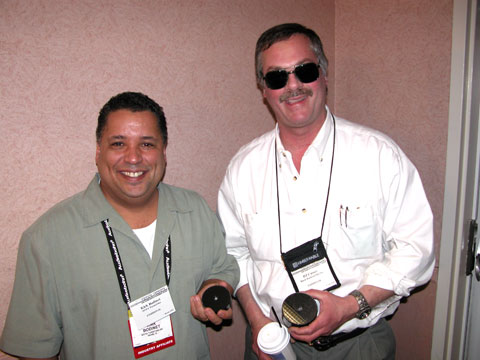 Right down the hall from the Empirical Audio room I ran into Kirk Bodinet of SOTA and DJ Casser of Black Diamond Racing. Here they are, carbon fiber in hand… .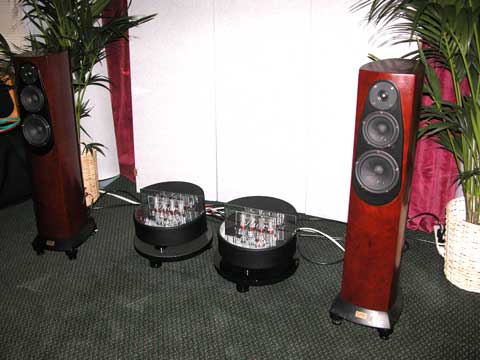 OK, so now I had to stick my head into the Black Diamond Racing/Thor Audio/SOTA/Discovery Cable room. Very decent sound, and an attractive presentation.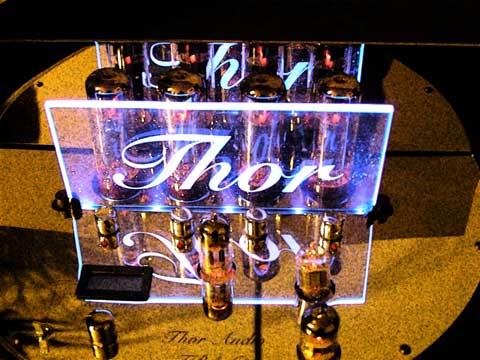 I certainly wasn't the only one who found the Thor Audio monos to be bloody attractive to look at (and photograph)… here's my study of same.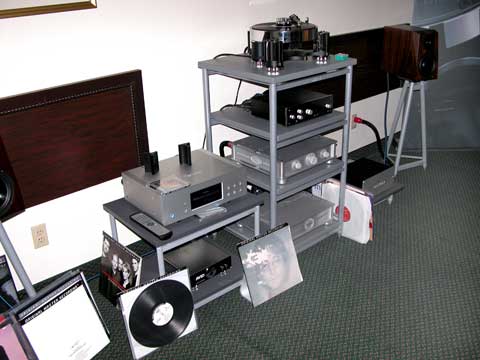 While running past the MoFi room again, I just had to document the stack that they had going. The Sony SCD-1 SACD player was at the heart of things… still a fine SACD design, for sure.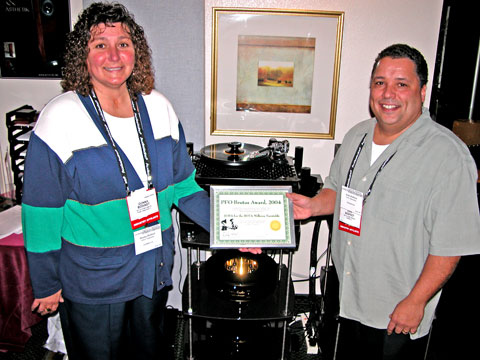 While going back past the SOTA room, I saw that Donna and Kirk Bodinet were both in the same place at the same time! (Yes, that was a rare happening; they had more than one room going.) I took the opportunity to take a photograph of the two of them with their 2004 PFO Brutus Award for the SOTA Millennia turntable/SME 4.5i tonearm/Cardas Myrtle Heart MC cartridge/Cardas Neutral Reference phono cable, sitting immediately behind them.
They were very pleased to receive it; I was very pleased to give it. The award was well deserved.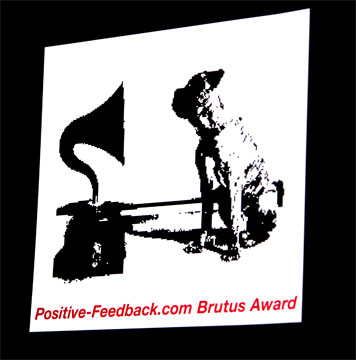 The 2004 PFO Brutus Award logo, on the SOTA sign… this isn't the only place that we saw our ol' friend Brutus proudly displayed! (Of course; as it should be.)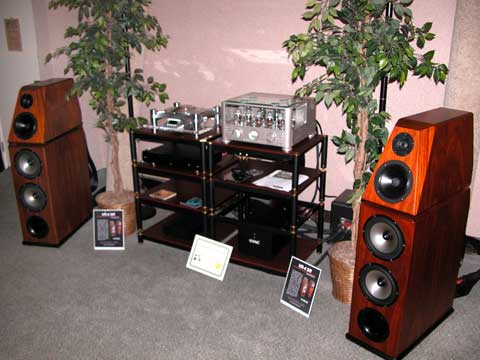 Now here's a truly splendid sounding (and looking) combination in the Von Schweikert Audio/Oracle Audio Technologies/VAC/Verbatim Cable room.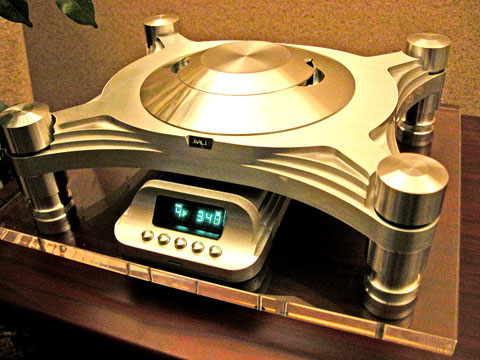 The Oracle Audio Technologies CD Turntable 2000 series player was sounding very fine, though I couldn't help wishing that Oracle would get cracking on an SACD player.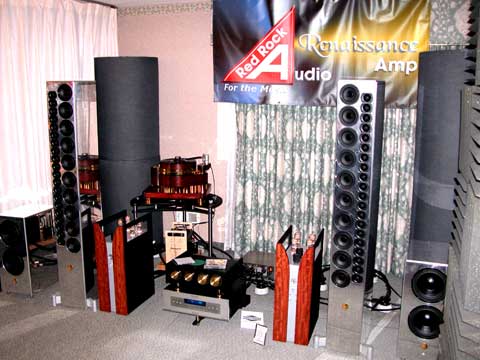 There was quite an impressive layout going in the Red Rock Audio/Teres Audio/Precision Audio Labs room; Al Stiefel and company were definitely having some fun.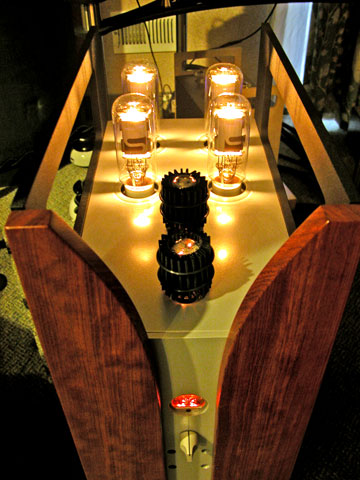 You know, Red Rock Audio's Renaissance amplifier (50 Watts) is a bloody good looking, and good sounding design. It's photogenic, that's for sure!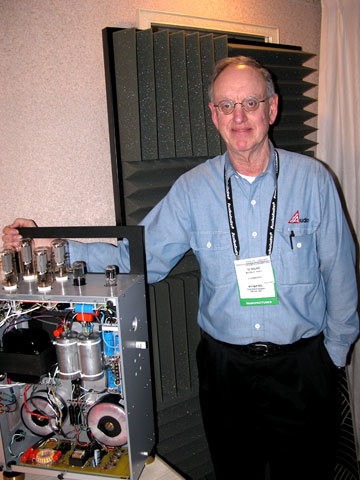 Here's Red Rock Audio's Al Stiefel with his creation in "the visible amp" mode. I heard these amps in tandem with the superb new version of the ESP Concert Grandes at the Rocky Mountain Audio Fest in 2004—very tasty! (And kudos to Al for heading up the RMAF for 2005… it's going to be another terrific event. For details, see www.audiofest.net.)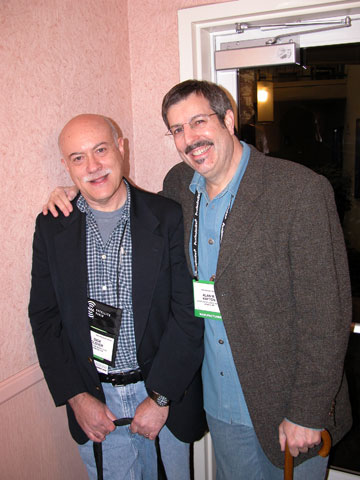 You know, it's really amazing how many of the really important meetings and transactions at audio shows happen in the halls. Right after leaving Al Stiefel's Red Rock Audio room, I ran into none other than Dick Olsher, who was hobnobbing with my very good friend Alan Kafton of audioexcellenceaz. I hadn't seen Dick in a few years… it was good to talk with him for a few minutes and catch up on things.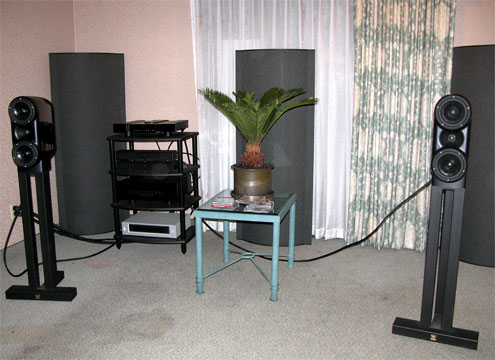 The next room that I visited was that of another Pacific Northwesterner: Dr. Karl Schuemann of AudioMachina. Karl's The Ultimate Monitors are pictured above, and are a particular favorite of my PFO Associate Editor, Dave Glackin. (See Dave's show report with its enthusiastic comments about these speakers elsewhere in this issue, at www.positive-feedback.com/Issue18/ces05dg.htm.) Karl's design is supremely coherent, and very detailed, with remarkable imaging and depth. For more about Karl's two-way, first-order design, see my PFO interview with him in Issue 14 (www.positive-feedback.com/Issue14/audiomachina.htm), and my further reflections and Karl's response in Issue 17 (www.positive-feedback.com/Issue16/audiomachina.htm).
These are surprising loudspeakers, whose effect on you grows over time. I encourage readers who love the coherence of first-order speakers to pay special attention to Karl's work—especially since he's now looking to add subwoofers to his arsenal.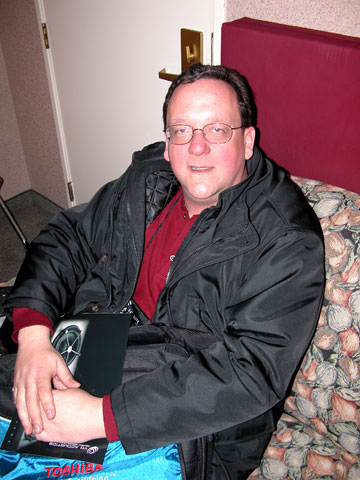 While in passing, I finally got to meet PFO contributor John Beavers face to face. There were really a lot of PFO folks at CES/T.H.E. Show this year.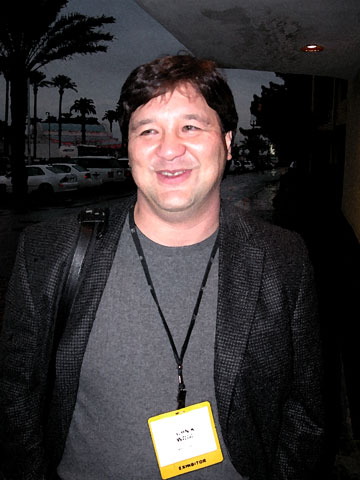 As the day got late, and I was rushing about to see Lloyd Walker's room, I ran into my old friend John Wood of Mobile Fidelity, seen in the fresco above. John is one highly excellent fellow… I think the world of him and the community of music lovers that I've known through MoFi over many years now. Heck, if nothing else I owe him tons for being the one to introduce me to DSD and SACD all the way back in September of 1998! (See PFO Issue 1, www.positive-feedback.com/Issue1/MoFiDSD.htm, for a description of that audio-life-altering moment!)
Drinks are on me next time, amigo!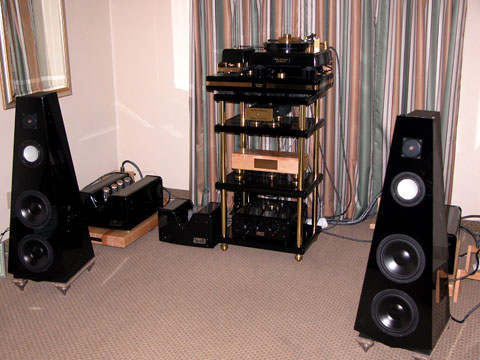 For some reason, it took me most of the day to track down where my big-time audiobud Lloyd Walker's room (Walker Audio/Viva Audio/Silent Source/Talon) was stashed. It turned out to be about half the way to Oklahoma in the far wing of the 2500 building at the Alexis Park! I got there right at the end of the day, just before the big PFO bash, and just in time to say howdy to Lloyd and his partner, Fred Law.
Let's not be shy about it. Above you get to see the turntable system that is the best I've ever heard: the Walker Audio Proscenium Gold Signature, with all the trimmings. Lloyd's Proscenium was driving a pair of the beautiful and great-sounding Viva amps, and in turn pushing signal to the very impressive new Talon Firehawk loudspeakers. (Jim Ricketts of tmh audio [http://www.tmhaudio.com] is now handling these; I'm going to have to see if I can get a pair sent my way some time this year.]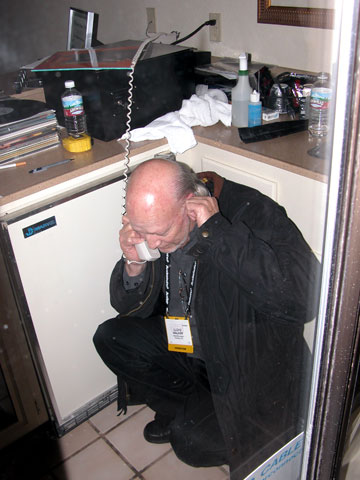 "You know, David, you look like a nice guy, but you are really evil!" sez the Lloydmeister, when he saw this photograph I took of him crouching behind the counter of his room, trying to do business over the phone while Reiner's Scheherezade was whomping away.
Hey, Lloyd, I'm really sorry! (Heh heh!)
Actually, I count Lloyd among my really close audiobuds, and one of the truly brilliant and meticulous fine audio designers on the planet. I had to dash off to the party, so I didn't get to spend much time listening right then. (In part three of my CES report, I'll be telling you about circling back to the Walker Audio room, and where it placed on my "best of the show" list.
Hint: It was really high!)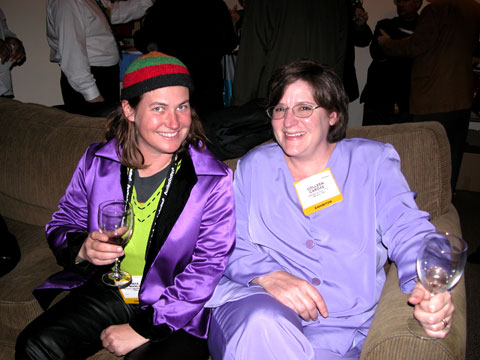 After visiting with Lloyd, I dropped in on a party at the Joseph Audio room. Most of the time, George Cardas and I sat off to the side sipping a Pinot Noir from Oregon (natch!) and talking about Nikolai Tesla, but I did manage to take one photograph of EveAnna Manley and Colleen Cardas looking pretty spry.
Cheers, girls!
That's plenty enough for part two of my CES report; I'll be winding it up with part three, which will appear in a few days.
Stay tuned…