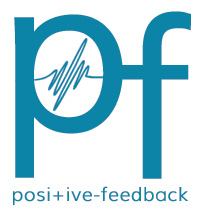 You are reading the older HTML site
Positive Feedback ISSUE 18
march/april 2005
CES/T.H.E. Show 2005: A Photo Essay, Day Three, page 2
by David W. Robinson
All images and image processing by Robinson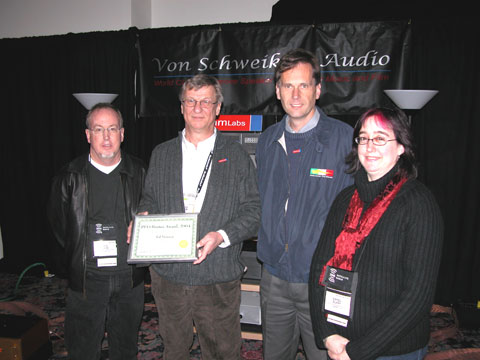 Having finished with the folks at Linn, we zoomed back across town to do the PFO presentations with EMM Labs and darTZeel. Here we have Ed Meitner receiving his PFO Brutus Lifetime Achievement Award from Dave and Carol Clark; with Ed is his partner and design associate, Andreas Koch.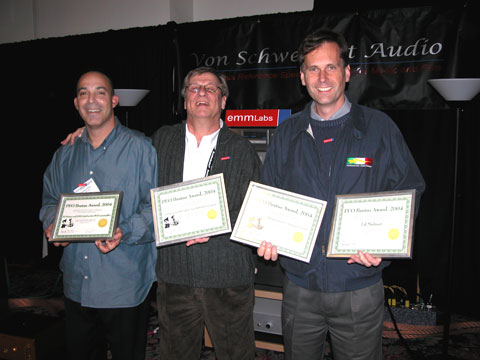 But wait! We weren't done with Ed yet! In this picture, Jonathan Tinn (left) and Andreas Koch (right) help Ed hang on to PFO 2004 Brutus Awards for (left to right) the EMM Labs SWM-3 preamp, the CDSD SACD transport, the DCC2 stereo SACD processor/preamp, and Ed's Lifetime Achievement Award. All very well deserved—keep up the terrific work, Ed, Andreas and all!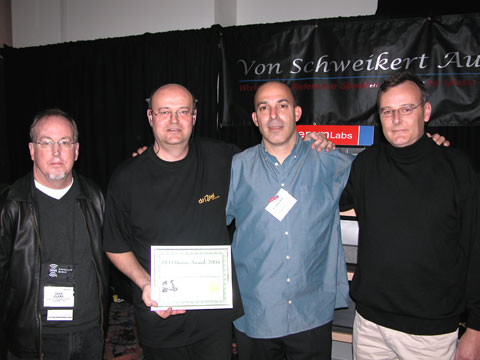 Dave Clark (left) presents Hervé Deletraz (next to Dave) with his PFO 2004 Brutus Award. Next to Hervé is Jonathan Tinn and Serge Roche (also of darTZeel).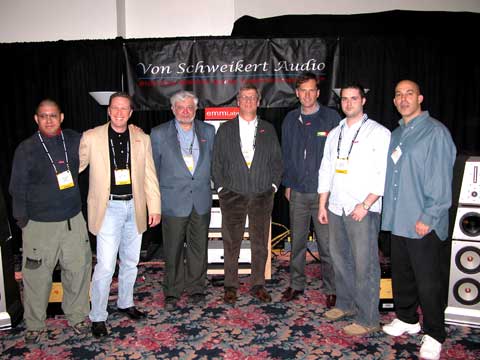 Here's the "general congress, assembled," on the EMM Labs side of things: left to right, Gregory Soo, Eric Brutten, Zan Muzyka, Ed Meitner, Andreas Koch, Deven Schiffo, and Jonathan Tinn… quite the crew!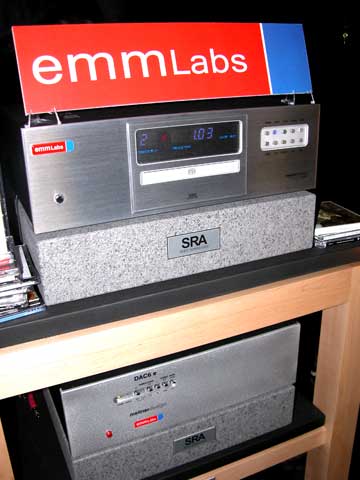 A closer look at the EMM Labs CDSD transport on its SRA stand (top); below that is the new EMM Labs DAC6e, likewise on an SRA. This combination is absolutely the best thing that I've heard for both stereo and multichannel SACD playback. Still looking for the best in SACD/CD playback? Get thee to a Meitner!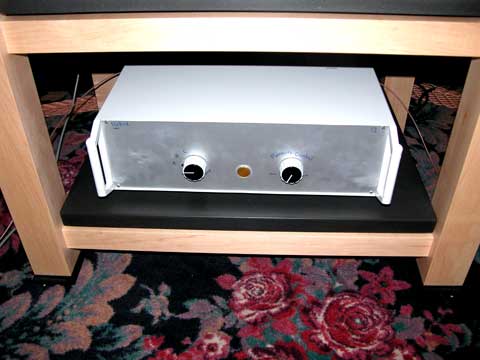 Here's Robinson's choice for "mystery component of the show": Hervé Deletraz's new stereo preamp, in prototype. Sports fans, this one is rumored to be one heckuva pre! Stay tuned…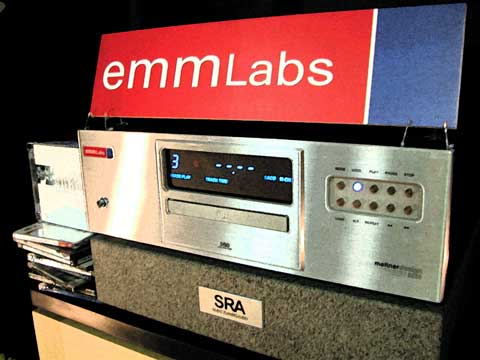 A fresco of the CDSD in action… always stunning sound!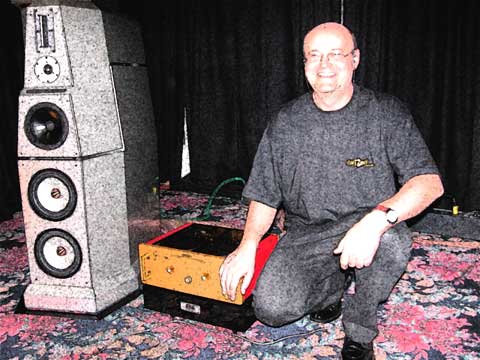 Hervé Deletraz with his award-winning NHB-108 amplifier, likewise in fresco.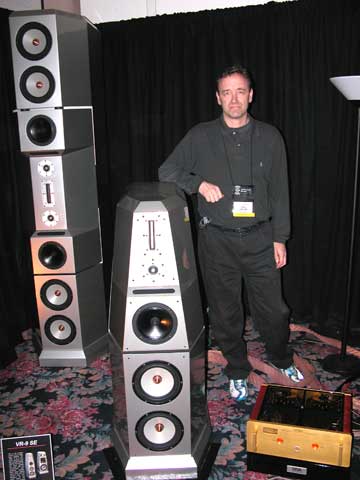 PFO's Mike Lavigne, standing next to the Von Schweikert VR-9 SE speaker. He liked it so well that he bought a pair while at the show—guess that means he liked 'em!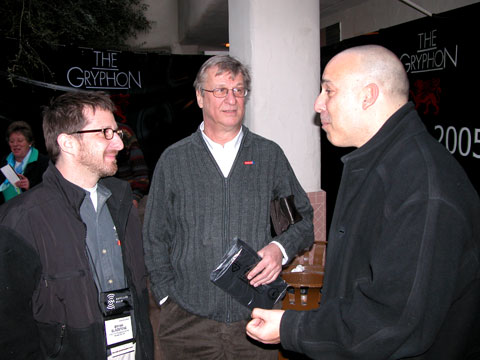 PFO's Bryan Gladstone chats with Ed Meitner and Jonathan Tinn after the presentations.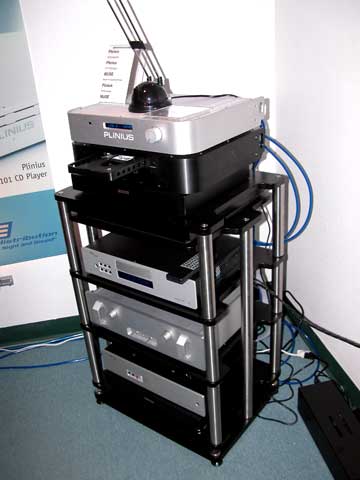 Enough of that! We had to boogie to yet another press conference—this one by Classic Records/Elite Audio-Video Distribution. The Plinius stack caught my eye upon entering a room that ended up being well-attended.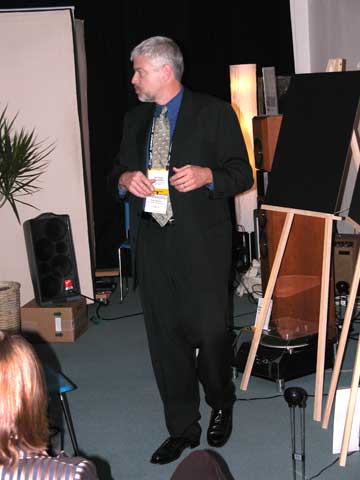 Michael Hobson of Classic Records emceed the presentation, and took a number of questions from attendees.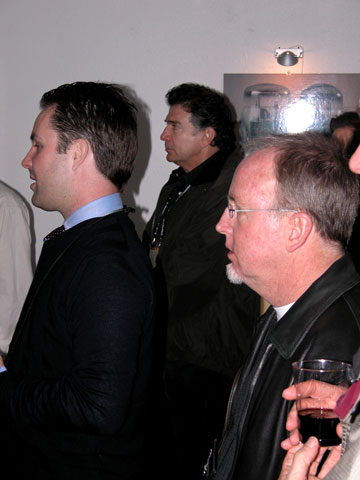 PFO's Danny Kaey (left) and Dave Clark (right) check out the Classic Records presentation.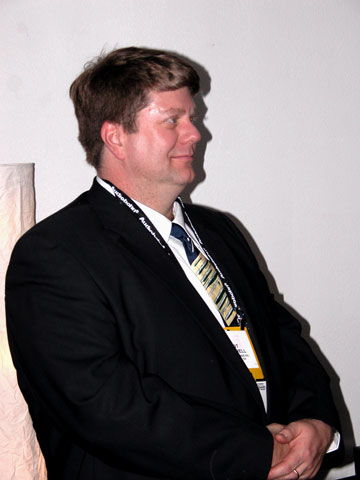 Scot Markwell, formerly of TAS, will head up the new Classic Records hardware division, Elite Audio-Video Distribution. They will be handling a number of audiophile lines, including Plinius, Kuzma, Muse, and ESS.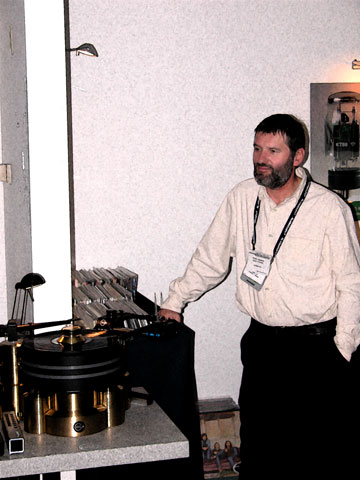 A fresco of Franc Kuzma with his Kuzma XL reference turntable, featuring an Airline arm and the Reference 3 cartridge.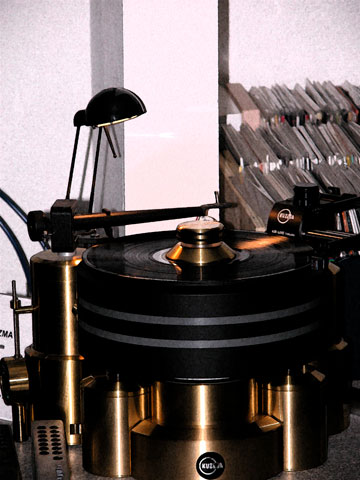 A close-up fresco of the Kuzma XL turntable/Airline arm and Reference 3 cartridge—very attractive. I'd like to hear this combination in my listening room in Portland some time.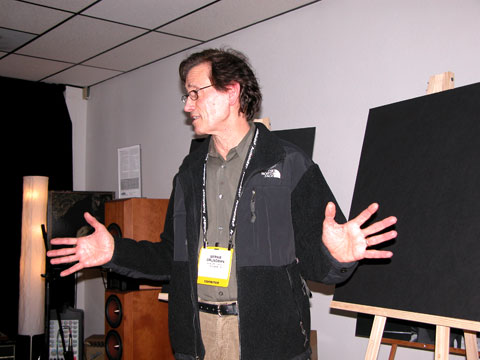 Michael Hobson introduced Bernie Grundman, one of the great mastering engineers. Bernie talked about some of the projects that Classic Records is doing. I hadn't seen Bernie in a number of years, so I enjoyed his chat very much.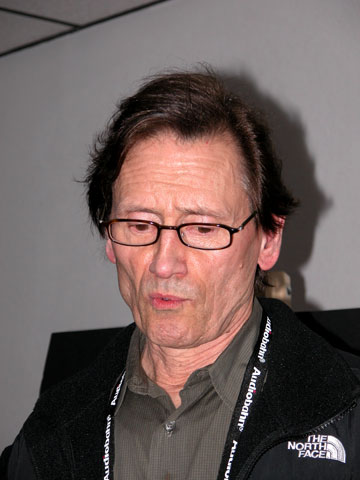 A portrait of Bernie Grundman.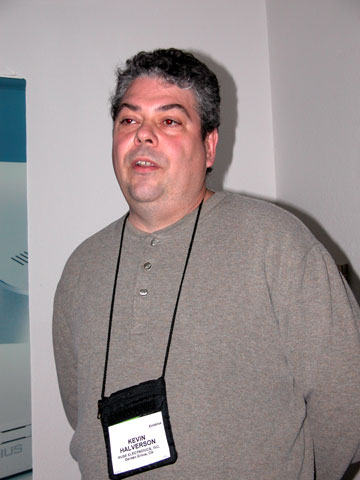 Kevin Halverson of Muse Electronics was also in attendance; he talked about the new DualDisc format. I have to confess that DualDisc doesn't do a thing for me—I consider it to be a bit of a kludge, and a diversion from the possibilities of SACD and DSD—but then again, I think that Kevin and I would just have to agree to disagree agreeably on this point.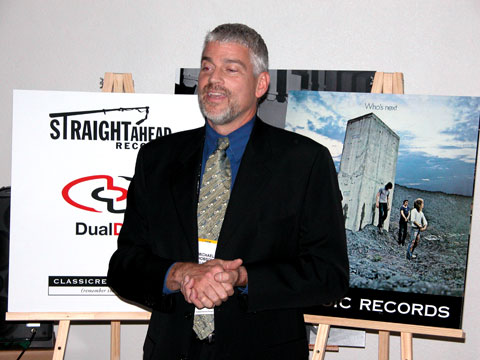 Michael Hobson announcing some new 200 gram LPs (the Who's Who's next was one of the titles), and some DualDisc titles. The LPs are of real interest to me; the DualDiscs are not.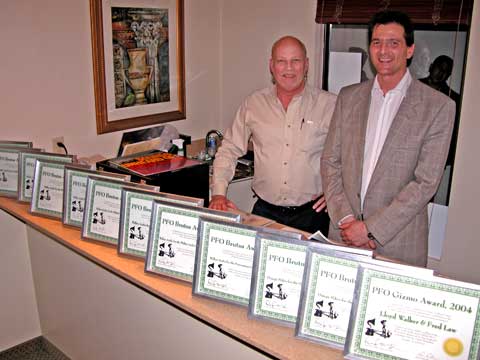 After finishing with Classic Records, the last stop on the way over to the PFO Bash was the presentation of a pile of PFO Brutus Awards to Lloyd Walker and Fred Law of Walker Audio for their mind-blowing Proscenium Gold Signature turntable system, with all the trimmings, plus their well-deserved PFO Gizmo Award for 2004. (For the numerous Walker Audio product listings that won awards, see http://www.positive-feedback.com/Issue16/brutus04dr.htm.) I couldn't resist getting the string of these photographed, first from this angle…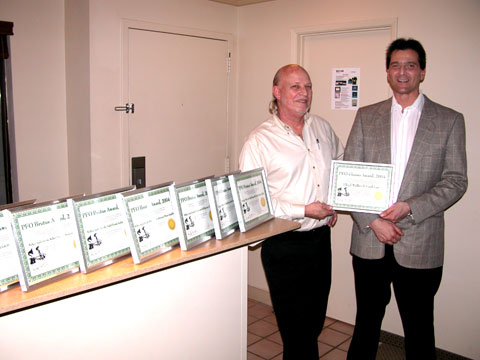 …and then from that one! Lloyd and Fred were justly proud of their record-setting recognition from PFO, just as I was pleased to award them. This is serious good stuff, folks—you should definitely check out the Walker Audio lines at http://www.walkeraudio.com.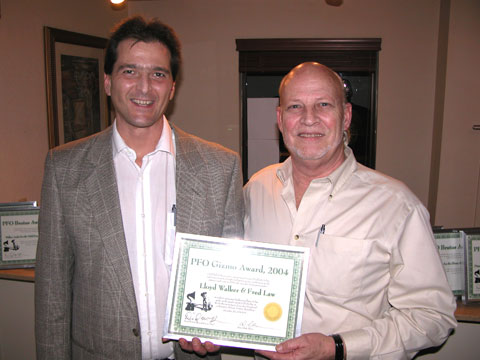 Back when I first established the Gizmo Award, in honor of my departed audiobud Harvey "Gizmo" Rosenberg, I wanted it to be given to audio designers who were complete audiomaniacs, and who spared no effort to bring absolutely the best out in whatever they were doing in fine audio. This year's choice was very easy: Fred Law and Lloyd Walker won this one, hands down, and goin' away. And you know, they're terrific people, too.