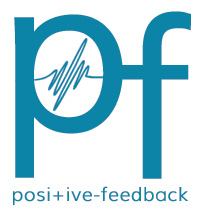 You are reading the older HTML site
Positive Feedback ISSUE 18
march/april 2005
CES/T.H.E. Show 2005: A Photo Essay, Day Three, page 3
by David W. Robinson
All images and image processing by Robinson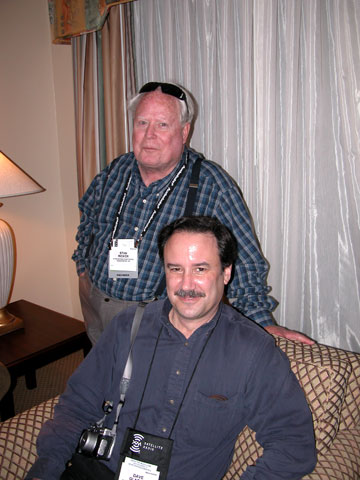 All presentations were done now, so it was time to do the last thing on the list for this year's show: emcee the PFO Bash for CES/T.H.E. Show, 2005! And a real party it was, too… standing room only! Above are two of my dearest audio friends, PFO's Audio Minister Plenipotentiary Dave "Iron Man!" Glackin and Stan "The Man!" Ricker (standing). Any PFO gathering without these two is incomplete.
Big time.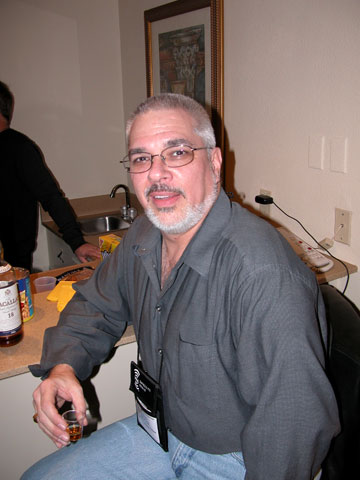 Here's a rare portrait of PFO's Senior Assistant Editor, Greg Weaver. This fine fellow brought in some exceptional 18 year old McCallan's single malt… wotta' pal!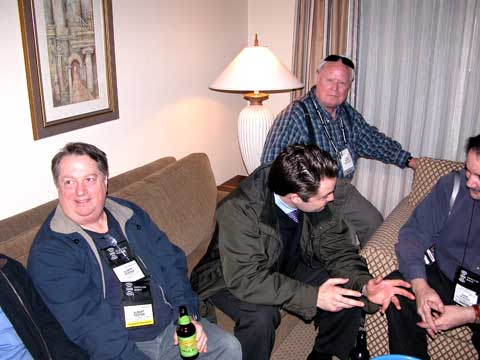 Left to right: Albert Porter, Danny Kaey, Stan Ricker, and Dave Glackin enjoyin' the moment!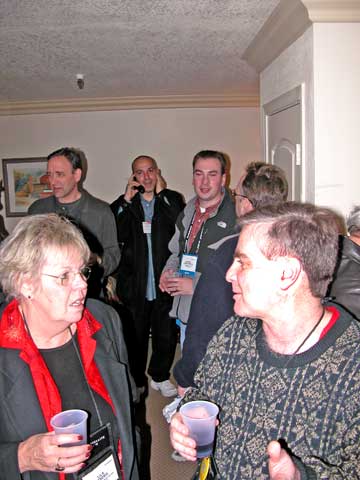 In the foreground, Lila talks with long-time PFO contributor Clay Swartz; in the far background, we see PFO audiobud Jonathan Tinn, doing his usual thing of being GLUED TO HIS CELL PHONE!
Dude! Hang up and finish that drink!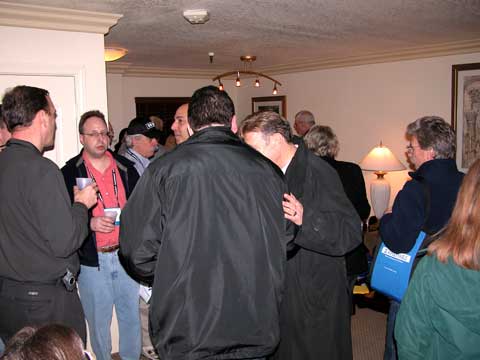 Did I say "standing room only"?
Yep, it was definitely SRO… with people spilling outside for fresh air.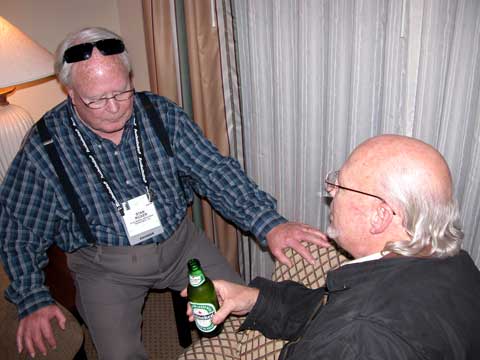 Now here's an analog moment for you: two LP masters, Stan Ricker and Lloyd Walker, discuss turntables, record cutting, and generally shoot the shit…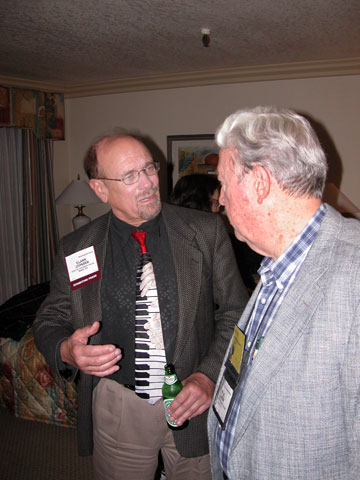 …while PFO's senior essayist extraordinaire, Clark Johnsen, does the same with newer PFO reviewer, Karl Lozier.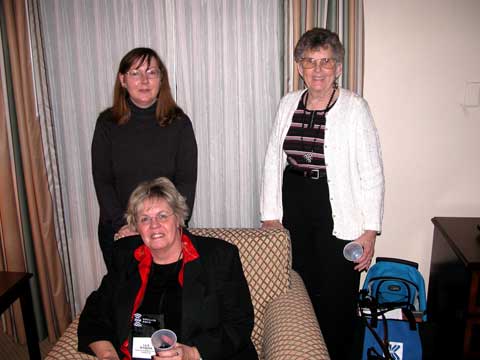 'Tain't just for guys! The women were present, as well: PFO partner and Business Manager Lila Ritsema (seated) with Suzanne Gordon (left) and Mrs. Lozier (right).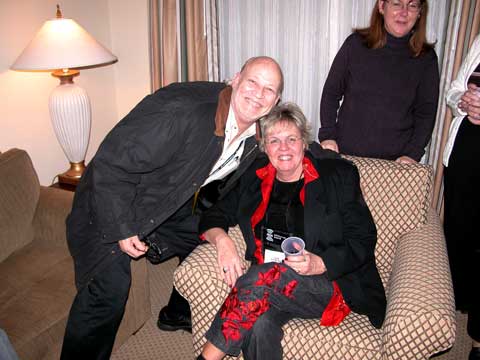 Good friend Lloyd Walker enjoys the moment with Lila!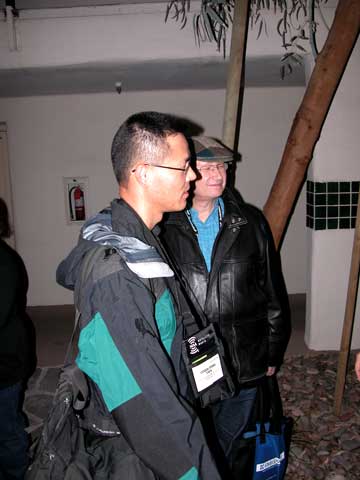 Meanwhile, Fown-Ming Tien grabs some less used air outside.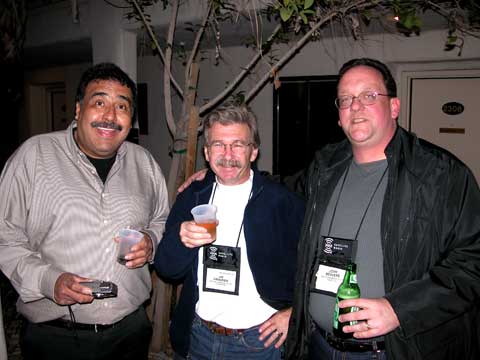 Los tres amigos!

PFO's Francisco Duran, Jim Grudzien, and John Beavers splash back the wine and beer, while telling audio lies to each other… .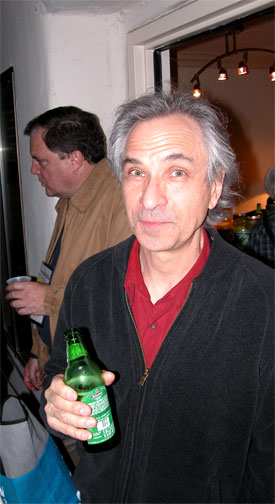 Also partaking of the brewskies was PranaWire's Joe Cohen, a truly great guy.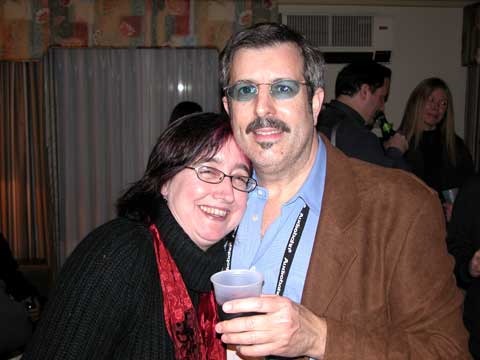 Carol Clark and Alan Kafton digging the moment…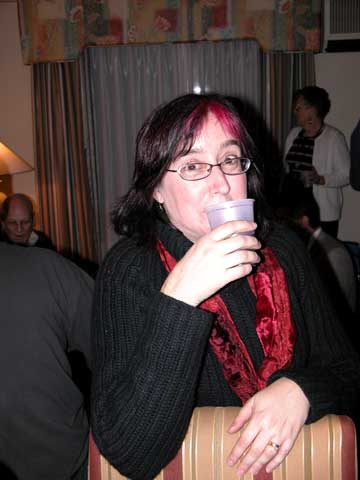 You know, every year I have to get at least one photograph of Carol tossin' 'em back.
Gotcha!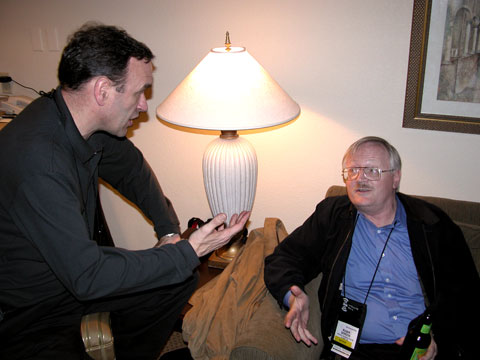 Mike Lavigne and Roger Gordon duke it out over turntables and LPs… fight! Fight!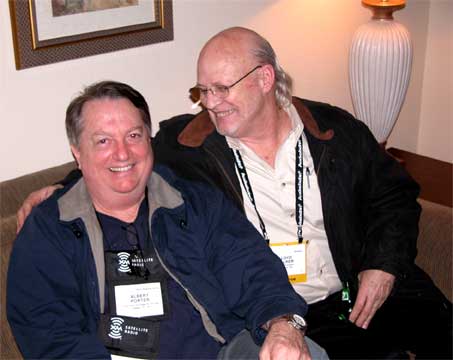 Another turntable-lovers moment: Proscenium owner and PFO contributor Albert Porter enjoys a beer with Lloyd Walker.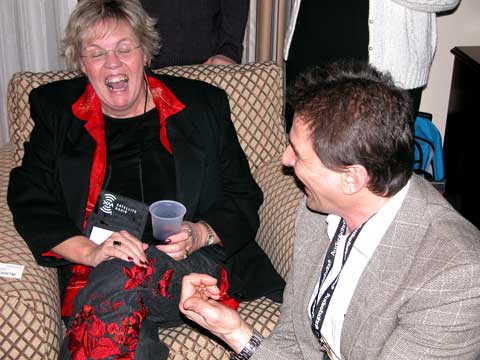 Lila Ritsema and Fred Law had a real hoot during the party… can you tell?!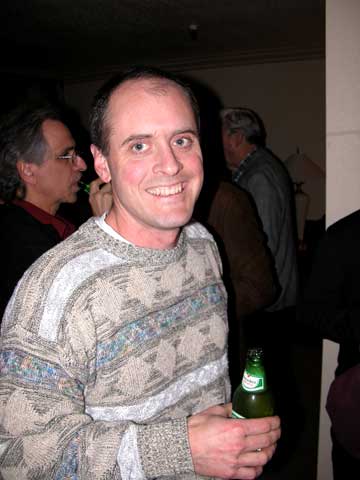 AudioMachina's Karl Schuemann had a few Heineken's moments with us at the Bash… Pacific Northwestern folks are always welcome!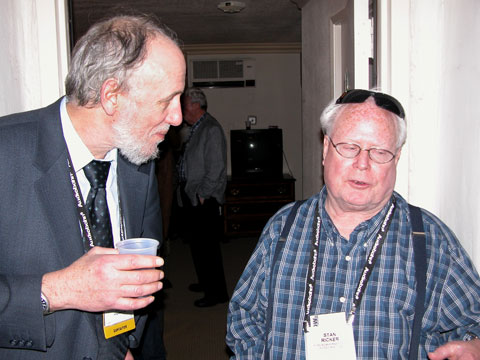 Now here's a cool sight: Tim de Paravicini and Stan Ricker got a chance to chat during the Bash. What these two guys don't know about audio ain't worth knowin'….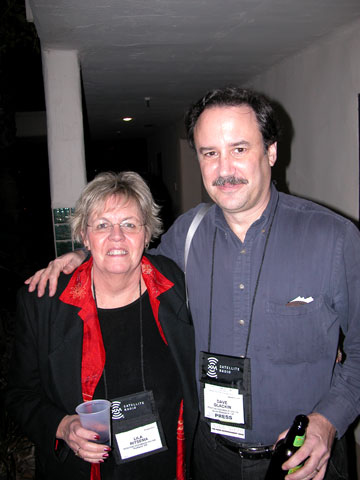 Lila Ritsema and Dave Glackin.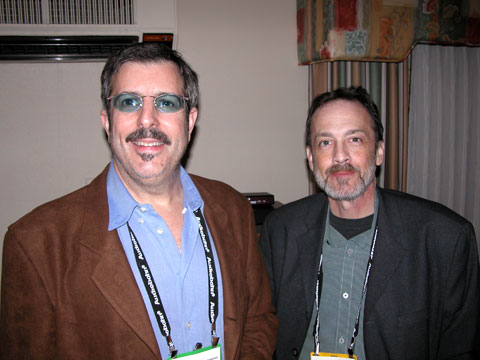 Two more very good friends of PFO: Alan Kafton of audioexcellenceaz and Dan Meinwald of E.A.R. USA.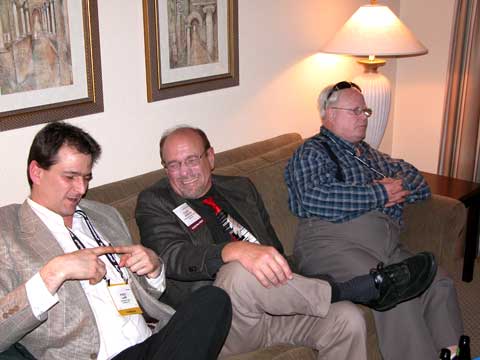 Fred Law of Walker Audio has Clark Johnsen's attention riveted; Fred, you've got to quit playing with your fingers this way! (Note how carefully Stan Ricker avoids looking at Fred's topology…)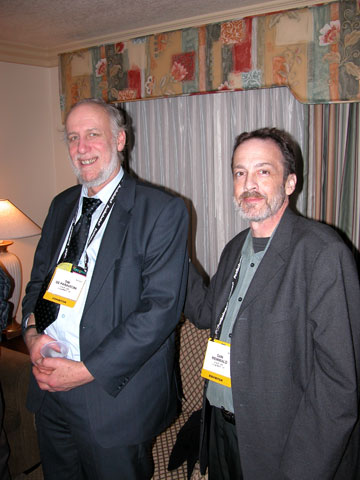 Finally, a goodly moment with two more friends: Tim de Paravicini of E.A.R., and Dan Meinwald of E.A.R. USA. Fine audio is—or ought to be—more about the people, the relationships, and the creative ideas as it is the gear.
It was a terrific party; everything after that was the anticlimax of packing up, and flying back to Portland the next day. Having missed CES 2004 due to weather, I was really glad to have made the trip this year. It was also really handy to have the CES high-end show and T.H.E. Show side by side once more.
Ye Olde Editor's "Really good rooms of CES/T.H.E. Show 2005" list
Everybody and his kid brother put together "best of the show" lists. I think that they're of only limited utility… they usually tell you more about the list maker than things listed… and as anyone who's been to CES/T.H.E. Show knows, the room acoustics range from "challenging" to "truly dreadful." There's also the fact that it usually takes 3-4 days for a given system in a room to get tweaked, warm up, go through further adjustments, so that it really starts to shine. By then, of course, the show is shutting down. (Kind of like hitting middle age: around the time you start to figure out what's worthwhile, your body isn't up to it any more!) Truth to tell, this is the really big irony of audio shows, and probably their biggest drawback. It doesn't mean that the shows are worthless… far from it… but it does mean that you need to take what you hear as nothing more than a contingent result. (On the other hand, if you hear something that really impresses you under those conditions, then you should definitely pay attention.)
Anyway, keeping in mind the limitations of show lists, I'll give the exercise a shot. Remember: I was not able to get into nearly every room, and not every room that I did visit was playing music at the time that I was there. So the fact that a given room is not listed here does not mean that room didn't float my boat. I may not have heard it at all, or may have been there during day one of the show. A lot of rooms were still warming up, eh? With all these caveats in mind, perhaps you'll find something here that will help you in your audio journey.
Contrary to what you might hear from some quarters, I thought that there were some good rooms this year. My personal list of really righteous rooms included the following:
tmh audio/Wavac: As always, Jim Ricketts' room stuffed full of Wavac gear sounded terrific. I can confirm this as I sit in my office, listening to a pair of the Wavac HE-833 v1.3 monos right next door: Wavac is one of the premier lines on the planet. You pay for it—but you get what you pay for. I would put the sound of this room right behind Walker Audio's room (see below). And if Jim were to put a Walker Audio Proscenium and an EMM Labs CDSD/DCC2 stereo combo in the Wavac room… well, there would be a "top o' the show heap!" combination.

Joule Electra/Elrod/Critical Mass: there's just no gainsaying the Rites of Passage OTL monoblocks. The sound was both beautiful and authoritative. Jud is a true master of OTL design, and his electronics never disappoint. I could certainly live with the Rites of Passage, that's for sure.

Merlin Music/Cardas Audio/CAT: How does Bobby Palkovic do it? Year after year after year after year he makes beautiful music. Every year there's some incremental improvement to his speakers, some addition to the synergistic grouping in his room. While I miss the Joule Electras in the Merlin room, I have to say that the CAT amp was doing yeoman's work in there. Kudos, Bobby!

deHavilland/PranaWire/World Power/Silent Running: What can I say? The deHavilland room always sounds great, and their electronics seem to synergize well with the PranaWire cable. I'm never disappointed when I go into Georgie the K's and Kara's room; year in, and year out, these folks know how to make music!

Linn's multichannel demos didn't have the sheer scale of the EMM Labs/Von Schweikert/etc. room listed below, but was absolutely stellar at its price point and in its setting. Linn's room was really a delight, making multichannel music in a very convincing way.

The E.A.R. USA room with its E.A.R. electronics and Tim's new (astonishing) prototype turntable, paired with the new Marten Design Duke loudspeakers and Ellington woofs showed real promise, and made me hang around a good bit. As the very contented owner of an EAR 324 phono amp, I can tell you that Tim de Paravicini is a master of fine audio design; this room showed it. The Marten Design line doesn't look doable at this point, but I'd love to hear more of the EAR reference preamp/amp line.

I really enjoyed my time with the lower-powered SETs/high-efficiency speakers approach to be found in the Wavelength Audio/Cain & Cain/Nirvana room. Gordon Rankin's tandem of his Ultimate preamp and Napoleon monoblocks were crystalline and appealing, and Terry Cain's new Cain & Cain IM-Ben speakers in tandem with his new Bailey subs were splendid to hear, and bloody appealing to look at. (Note that line conditioning was by PS Audio.)

The Joseph Audio/Cardas/Ayre/Esoteric room was very good this year. I haven't gotten to spend much time in Jeff's rooms in prior years, but the sound of SACDs through his RM55 LE speakers was very pleasant indeed. My first impression is of a nice synergy here. I'll have to keep an eye on what Jeff does; you should, too.
Regrets: Neither the Musical Surroundings room (Clearaudio) nor the Axiss room (Transrotor) were running when I tried them. I've made arrangements with Garth Leerer of Musical Surroundings to do a review of one of the upper level Clearaudio configurations in tandem with the Aesthetix Rhea phono amp. I hope to be able to do the same with Art Manzano regarding the Transrotor and Airtight lines—we'll see. Also didn't get to see Charles Hansen in the Ayre room; I would have liked to talked with him. Perhaps at the Rocky Mountain Show…
Ye Olde Editor's "The best rooms of CES/T.H.E. Show 2005"
My personal top o' the heap was pretty clear this year:
For SACD multichannel, the undeniable winner in my book was the Von Schweikert Audio/EMM Labs/Blue Light Audio/darTZeel/JENA Labs/Silent Running Audio room. The sound was exceptional at all moments, and at times (particularly during dynamic passages) bordered on the awesome. Detail, clarity, extension, excellent rhythm, tonal integration, superb soundfield performance, and effortless timbral qualities… the list goes on and on. This room showed the possibilities of multichannel SACD in a way that I haven't heard since Mike Pappas' stratospheric super demo of his master DSD recordings at the Rocky Mountain Audio Fest in Denver last fall. (If you missed that show and demo, my friends, you really lost an opportunity to get your sensibilities (re-)calibrated.)

In the category of stereo sound reproduction, I have to say that the Walker Audio/Viva/Silent Source Audio Cables room with its Talon Firehawk speakers set me on my hindmost parts, big time! Lawdy, Miss Clawdy! The Walker Audio Proscenium turntable as a source sets a standard for what's possible in LP reproduction. (Heck, I think this table could drive music through mud! I think that it illustrates once more the validity of Ivor Tiefenbrun's long-standing assertion of the importance of getting the source right. If you disagree—listen to the Proscenium.) With the Proscenium turntable system in place, the Viva/Silent Source Cables combination really lit up the Talon Firehawks in a superb way (particularly by day three). There were some great RCA Living Stereo reissues flowing in the Walker Audio room—a real treat. I should note that Lloyd and Fred were using the new Silent Source Silver cables, which were very promising: not etched or stereotypically "silver sounding" in the least. These bear watching. And the Talons! SET users, pay attention now: high efficiency, an easy and predictable load, beautiful to listen to, and extended in frequency response, to boot… this is an exciting design! I already have a pair ordered up for review, and will be reporting on them by the fall.
Enough!
210 photographs, days to write and edit, three major parts over two issues of PFO—call it make-up for being snowed out last year, and catch up for me this year. My next audio show will be the Rocky Mountain Audio Fest in Denver, September 30 – October 2, 2005. Hope to see you there.