GREG WEAVER'S SYSTEM
LOUDSPEAKERS
Von Schweikert Audio VR-4 Generation III Special Editions, Von Schweikert Audio VR-4 jr, Buggtussel Somu, Buggtussel Circa, Usher X-719.
ELECTRONICS
Marsh Sound Design P2000b, Channel Islands Audio VPP-1 (passive) preamplifiers. Spectron Musician II (Class D), Channel Islands Audio VMB-1 Monoblock amplifiers. DSA Phono ONE, Monolithic Sound PS-2 with HC-1 supply, and Channel Islands Audio VPP-1 with VAC-1 Supply phono stages.
SOURCES
Oracle Delphi Mk III/with Mk V suspension and other mods (including sapphire thrust plate), Origin Live Silver 250 Arm, Clearaudio Virtuoso Mk II, Denon 103-D/with vdHul Mods, Monster Sigma Genesis 2000, Monster Alpha Genesis 500, Sumiko Blue Point Nude, McCormack UDP-1, Perpetual Technologies P-1A upsampler, Perpetual Technologies ModWright Signature P-3A, with Monolithic Sound Perpetual Power Plant, and Channel Islands Audio VDA-1 with VAC-1 supply.
CABLES
Harmonic Technologies Magic Woofer and Tweeter bi-wires, Magic and ProSilway Mk III interconnects, Magic and Fantasy AC cables, and Platinum CyberLink. Audience Au24 interconnects, digital, and speaker cables.
ACCESSORIES
Furutech eTP-80, Monster Cable HTS 800, Quantum Products, Inc. Symphony Pro's for power conditioning. Acoustic Dreams Dead Ball Isolators ('table), Aurios 1.2 MIB (X-port), Star Sound Audio Points (preamp/DAC/upsampler/VR-4 SE), Vibrapods (Spectron), Vibrapod Cones, Extreme Phono Solid State Stylus Cleaner, Nitty Gritty 1.5Fi, Nitty Gritty Mini-Pro, Buggtussel Vinyl-Zime, Disc Dr. Miracle Record Cleaner, KAB phono Tools, AudioQuest DM-100 demagnetizer, Cascade Audio Engineering Foam and tubes, CornerTunes, DIY "Room Lens" Helmholtz Resonators, Furutech RD-2 demagnetizer, and Auric Illuminator.
A VolksGainclone?
Boasting the audio world's fewest parts per channel (nine), shortest signal path (an inch and a quarter, including the parts!) and shortest feedback loop (just over 11/32 of an inch), many would agree that the ground breaking 47 Laboratory 4706 Gaincard delivers on its design goal of "less equals more." And while suffering limited application owing to their rather low 25-watt output, the influence of the 4706 Gaincard is still inescapable.
Think I'm joking? Try a Google search on the term GainClone. I got 4,120 hits, some more germane than others, with dozens of DIY links, as well as links to Audio Zone, 47 labs, Pastoral Audio, Rowland, and nOrh. While the original has inspired countless attempts at duplication or possible furtherance, even with its sonically successful simplicity, it has found high acceptance only among the single-driver or high-efficiency speaker club because of that limited output. What if there was a way to allow a larger audience to enjoy similar benefits from the use of such a superb sounding monolithic IC? Enter Dusty Vawter.
I've had the Channel Islands Audio VMB-1s for nearly a year now, and I should be properly reprimanded for keeping quite for so long. I will not offer my excuses, valid as I believe them to be. Rather, I will tell you why they have stayed unboxed and close at hand, frequently taking over the primary music making duties from my reference amplifier. I listen with them in place often.
Chips, No Dip, Thank You…
After immediately falling under the spell cast by the VMB-1s after their arrival, I had to ask Dusty what led to their development. He explained that the VMB-1 came from several years of prototyping and experimenting with various integrated circuit amplifiers. The first realized implementation of this testing was the now discontinued Monolithic Sound M-50, which used an ST Microelectronics chip because of it's higher power rating. Yet Dusty was still not entirely happy with the results.
After listening to many ICs in various configurations, he ended up at the National Semiconductor LM3875 and LM3886. Sonically, he found them to be much superior sounding to all the other similar devices he tested. Though the two IC's are nearly identical, the LM3886 includes a native mute/standby function, causing him to choose it over the LM3875. While I have been unable to confirm this, I have good cause to believe that the 47 Lab 4706 Gaincard employs the LM3875. Regardless, the one downside to using these remarkable monolithic devices is that you cannot extract more than 40 watts into an 8-ohm load without compromising their reliability. But to Dusty, and to all of you now reading this communiqué, sound quality is more important than raw power development.
While most of the IC based amplifiers in the market place are blatant attempts at copying the 47 Labs design (the so-called GainClones), the CIA VMB-1 is significantly different. Dusty (along with Greg Shug at Monolithic Sound) started development long before the 47 Labs product was available. Where Junji Kimura's approach was to use as few parts as possible for both the amplifier circuit and power supply as well as to keep the signal path short, Channel Islands Audio was concerned only with the latter of those concepts. Dusty's understanding of the importance of hearty power supplies is well know and was about to come to bear on this topic.
Dusty was convinced that a more robust, better-filtered power supply was the more correct methodology so the VMB-1 employs a custom 300 VA torroidial transformer with more than 25,000 micro-Farads (µF) of capacitance. Although the VMB-1 capitalizes on short signal paths, the circuitry around the chip is entirely different from those used by either the 47 Labs 4706 Gaincard or the growing flock of GainClones. To go into his approach any further would empower all the copy-cats out there, so suffice it to say that the result is successful in combining the best attributes of both sand and glass; they offer the extension, dynamics, reliability and stability associated with solid state as well as a smoother, harmonic richness usually associated with tubes. And, it all fits into a cute, tidy little box!
Let's Get Physical
At 6 ½" tall by 5 ½" wide by 8 ½" deep, while not as small as the 47 Labs or some of the GainClones, they are indisputably compact and Spartan. Along with the four stainless Allen heads, one in each corner of the faceplate, and the screened manufacturers name (top center) and model (to the lower left), only the blue Play or yellow Mute pilot led, just above the corresponding two-position push button (to the lower right) adorn the front panel. The back is dominated by the heat sink; if you can envision a 5 ½" square by ½" deep heat sink as dominating. Along the bottom are the IEC power socket, a pair of plastic knobbed, gold plated 5-way speaker terminals, and a gold plated single ended input. That's it.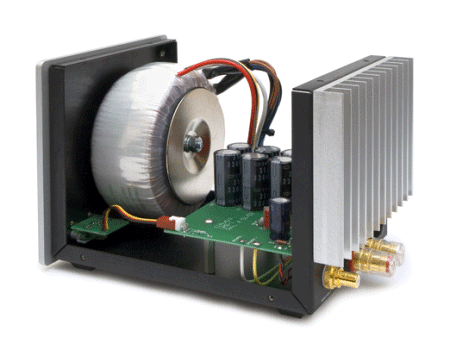 So far, I've used these amps with great success on monitors like the Buggtussel Circas and the Usher X-719s. No surprise really, both are average sized two-ways. What really shocked me was how well they drove both the Von Schweikert Audio VR-4jr and VR-4 Gen III SEs. Neither model 4 is particularly hard to drive, but that I could hit realistic music levels with orchestral music and rock 'n' roll with such relatively low power was astounding. Perhaps more astounding was that, not only could they lift the weight, but that they didn't run out of breath while doing it!
Singin' like Diva's
Bass performance from these 40-watt micros is remarkable. Bass guitar runs or double bass contributions to orchestral works are deep, articulate, detailed, and only slightly shy of the control and characterization delivered from world-class solid-state behemoths. Though not as capable of individualizing pitch definition or recovering all the complexity of texture as my reference amp, sounding just a bit slurred by comparison, they still provide some of the best bass you are going to hear. What the VMB-1 gives up in terms of utter authority it makes up for with emotional tunefulness. Though they can exhibit some slight congestion when pushed, that tendency is obviously a function of their limited output and nothing more.
Midrange is certainly one of its strong suites; big, bold, glasslike. The recreated sounds of vocals from Sarah MacLachlan, Beth Orton, or Julie London, or the violins of Henryk Szeryng, Jascha Heifetz, or Anne-Sophie Mutter, and the pianos of Ivan Moravec, Robert Silverman, Glenn Gould, or David Helfgott, are almost dripping with texture and exhibit rich, full tonal balance. Man these are involving little amps.
Treble extension is exquisite, offering wonderfully detailed layering. Their ability at reconstructing and localizing stage and image cues is first class. The top two octaves are simply exemplary, if slightly less detailed than the best I've ever heard. In absolute terms, treble attack is softened slightly, but not to the degree that I've noted from many other contestants, some in the $2000 range.
With a slightly forward presentation, staging is accurately recreated, never under developed or bloated - unless it is an artifact of the recording. Imaging is wonderfully localized and life sized, if just a tad less focused than my reference. Their capabilities in resolving spatial individuality and air around and between instruments and performers is breath taking. Try the closing minute thirty or so of menu discussion on Lyle Lovett's "Church" from Joshua Judges Ruth (MCADF-10475) or any of the intricate and striking harmonies created by the voices of David Crosby, Steven Stills, and Graham Nash like those found on 1977's CSN (Atlantic 82650) or 1982's Daylight Again (Atlantic 82672). Simply delicious!
Large swings in dynamics, like those you experience when a solo trumpet hits from deep within the soft rhythmic tapestry of an intimate jazz recording, are propelled into the room - if you keep the gain within reason. Because these devices are so quiet, their ability to portray detail down near the noise floor as well as to differentiate small-scale shading is enchanting if not flawless. As I indicated, I found I could achieve music levels in the low to mid 90 dB range just fine with these little fella's. And as long as you keep them within their limited output range, they never seem to falter and the dancing never stops.
These little guys seem to cast their spell on everyone who has heard them in my space. One night, I invited one of my more jaded audiophile friends over under the guise of listening to a new SACD player (Jeff, you know who I'm talking about). An hour into the session he was still under the assumption that we were listening to my reference amp! Once he learned what we were actually listening to, he asked if he could take them home for an extended stay. Keep in mind, this is a guy who is into tubes and owned Wilson Watt/Puppies. Well, after 6 weeks he didn't really want to bring them back. Yes, they are that good! No, really!
If you listen in a large room using wildly reactive speakers, look elsewhere. But, if you are in a real world sized space with moderately well mannered speakers, you may just find Dusty's monolithic miracle workers unleash all the sweet, involving music you could ever want. While they tend to slightly homogenize detail when compared to some big buck, world-class contenders, what they do bring to the party is all top shelf! Keep in mind; the pair sells for less than a grand (the 47 Lab 4706 Gaincards sell for $1500)! The VMB-1s make music, first and foremost. And quite honestly, I find that I often have them running while my reference rig sits idly by, mute and in awe of these diminutive little amps song making ability. If only they were available with something like 100, or maybe even 200, watt output. Oh, wait! That would be the new Channel Islands Audio D-100 and upcoming D-200. Greg Weaver
VMB-1 amplifiers
Retail: $999 a pair
Channel Islands Audio
web address: www.ciaudio.com