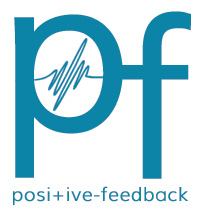 You are reading the older HTML site
Positive Feedback ISSUE 18
march/april 2005
One from Heads Up and three from Telarc
by Karl Lozier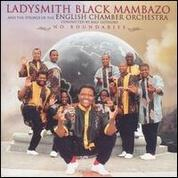 Ladysmith Black Mambazo and strings of the English Chamber Orchestra, conducted By Ralf Gothoni, No Boundaries (Heads Up Recordings HUCD 3092)
Let me clear up some misconceptions about this a cappella group, started by Joseph Shabalala more than forty years ago. First of all, there are no ladies in the group, a fact that will be immediately evident the first time you hear the powerful voices of these ten men. "Ladysmith" is the name of Shabalal's rural hometown, "Black" is a reference to oxen, and "Mambazo" is the Zulu word for axe. The name is meant to convey the idea that the group's singing is so tight, polished, and powerful that they can chop down any rivals. In fact, they were banned from local competitions, though they were able to perform as non-competitors. They came to international fame with the release of Paul Simon's Graceland. Their 1987 Grammy award was only the first, and they received half a dozen nominations in following years.
Dave Love, the president of Heads Up Recordings, has been attempting to expose otherwise hidden artists to the world, and this recording is part of the label's increasingly popular African series. Here, Ladysmith Black Mambazo's powerfully rich voices are beautifully and subtly augmented by the thirteen string players of the English Chamber Orchestra. "Zulu goes classical" is an appropriate subtitle for this unique release. The selections alternate between classic Ladysmith songs and classical masterpieces such as "Amazing Grace," "Jesu, Joy of Man's Desiring," and Mozart's "Ave Verum Corpus".
Not one strident note can be heard from any vocalist or instrumentalist on this very special recording. Harmony and melody reign, even though most of the songs are not sung in English. The Zulu language is pleasing, almost soothing. Though severely taxing my memory, the group reminds me of the vocalists backing Harry Belafonte many years ago.
In my two-channel system, there seems to be no way for the audio quality to be better. The state-of-the-art recording surrounds me almost half way. Hopefully, the surround-sound SACD release of this album will completely surround me. Many of you will be able to hear the group live, as they are currently touring in the U.S. and Canada. If you cannot get to hear them in concert, this album comes surprisingly close to that experience.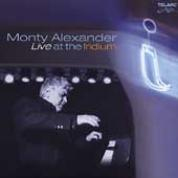 Monty Alexander, Live At The Iridium (Telarc CD 83610)
I "discovered" the great Jamaican pianist Monty Alexander a few years ago, not knowing that he used to live sixty miles down the road from me in Miami, Florida. What caught my attention were his jazz variations on Gershwin's Rhapsody in Blue, also on a Telarc CD. This live recording, done at the Iridium, a New York jazz club, is different, since Alexander wrote nearly all of the songs. Most of the compositions are mainstream in style, but there are a couple of downright cool ones that could be called easy listening. There's not much showing off here—just good jazz, featuring excellent piano playing. The recording quality is generally very good, with little intrusion from the appreciative audience. It is no surprise that Monty Alexander gets most of the spotlight, though on a few tracks, the drums share almost equally. As often seems to happen in recordings, bass player Hassan Shakur is not as prominent as the other performers. The disc is very slightly lacking in clarity and soundstaging, and is not quite the equal of Telarc's best.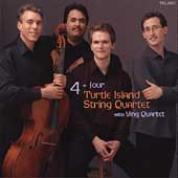 Turtle Island String Quartet with Ying Quartet, 4+four (Telarc CD-80630/SACD-60630)
It would be a gross oversimplification to call this a crossover release. Though these two outstanding groups merged in 2002, when this recording was made, they did not seem to become a traditional octet. The eight tracks on this release, available as both a regular CD and as a surround-sound hybrid SACD, span a wide range, from the jazz/blues tune Yearnin' by Oliver Nelson, to a Beatles tune, Because, to Darius Milhaud's La Creation du Monde. All are treated with sympathetic care, if not uninhibited joy and abandonment.
The fact that it is often extremely difficult to know what is going on just doesn't matter. Music lovers will enjoy listening, then listening again, trying to figure out what is catching their ear. It is not as simple as theme-and-variation, though there is some of that at times. Particularly in the last three selections, themes and brief passages pop up unexpectedly. These passages are as diverse as folk or gospel tunes, snippets of a square dance or Irish jig, some rock (if not rock and roll), and so on. There are strong classical chamber music elements tying it all together—almost.
I wish I could convey a sense of the musical interplay between these two fine quartets, which ranges from symbiotic to challenging. Repetitive listening should be stimulating, and increasingly satisfying. Telarc's recording quality, which is as good as it gets, is clearly evident in the CD, with which I have no caveats. When I sampled the multi-channel disc, the unique interaction of these two quartets was dramatically highlighted, with far greater enjoyment! Whether it was the quartets' unique seating arrangements or the sound engineer playing games, I know not, but I can unequivocally tell you that listening to the multi-channel SACD was one of the most unique and satisfying musical experiences I have had in months. The sound was immersive and all encompassing in my thirty-five-foot-long listening room. This was particularly interesting, as I do not have full-range loudspeakers in the surround positions. I give this recording the highest possible recommendation, particularly the SACD surround version. This disc is for open-minded music lovers who want to hear something new and unique.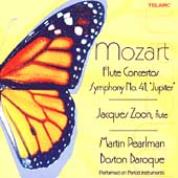 Mozart, Flute Concertos and Symphony No. 41, Jacques Zoon, flute, Boston Baroque, Martin Pearlman (Telarc Hybrid SACD 60624)
Mozart was commissioned to compose three relatively simple concertos for flute. He only finished the two featured in this recording, and only the first is original—the other is a reworking of his Oboe Concerto. The other composition on this disc is Mozart's last symphony, usually referred to as the "Jupiter." It is his most powerful symphonic composition, and many listeners believe it was written by Beethoven the first time they hear it. The Boston Baroque, founded in 1973, is the first permanent Baroque orchestra in the United States. Martin Pearlman, its founder and music director, conducts the orchestra and chorus. The booklet accompanying this recording lists thirty-three performers, plus soloist Jacques Zoon. Seventeen are playing violins or violas.
Though Jacques Zoon's excellent performances are close to faultless, and tough to beat, lovers of the extremely popular Galway and Rampal performances may not be convinced by this disc. On this Telarc release, as usual, the flute is a bit bigger than life, but the excellent sound quality might tip the balance. The performance of the orchestra is truly excellent, and the conducting is sympathetic. The sound quality is probably the best currently available (I have not heard all of the competition), though a tad below demonstration quality. The period instruments used tend to sound a bit rough around the edges, especially with the revealing recording quality found here.
Most performances of the "Jupiter" Symphony are with full-size modern orchestras, though some are with chamber groups, and several of those feature period instruments. This performance certainly shows the close connection to Beethoven, with similar feelings of power and solidarity. The full, rich sound quality—particularly for a recording of a group of period instrument players—is impressive, though it is a bit bright in louder passages and lacks some clarity in the midrange and deep bass. An older Telarc CD with the Prague Chamber Orchestra is competitive in the symphony.
This recording deserves a strong recommendation. The fine performances feature very appropriate recording quality. Its qualities extend to the multi-channel layer of this hybrid SACD, which adds a degree of natural spaciousness and richness.