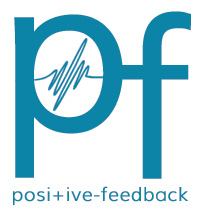 You are reading the older HTML site
Positive Feedback ISSUE 19
may/june 2005
New York, the HE2005 - What the future holds
by John Acton
When I returned home from this year's New York HE2005 show, I felt renewed hope for the future of high-end music reproduction. Not only was there a slew of two-channel products on demonstration, but I was simply amazed at all the ridiculously good offerings at relatively inexpensive prices. Despite the doom-and-gloom prognostications by many of the industry's magnates, I feel this is a great time to be an audiophile. This year's show was evidence that there may be a mini-Renaissance occurring in the audio industry.
Before I get into my show report, I need to make mention of just how many friendly, personable and knowledgeable people I met, from exhibitors to fellow reviewers and show goers. In this hobby, it seems there are as many paths to musical enjoyment as there are music lovers, and it was truly a privilege to speak with so many open-minded and passionate devotees.
Also, before I start, be aware that I was not able to make it to many of the rooms I would have liked to, so please don't infer that a non-mention implies bad sound. All in all, I was pleasantly surprised by the overall quality of sound, considering the room and seating constraints imposed upon exhibitors.
So, without further ado…
As seems to be the norm, the Joseph Audio and Manley room drew long lines of attendees. This year, Jeff Joseph decided on an innovative technique of playing back a three-channel recording in a three-channel setup, utilizing his Pearl loudspeakers in conjunction with a dedicated center channel. While I was not able to listen from the sweet spot, I was very impressed with the overall nice sound and seamless soundstaging from this unorthodox configuration.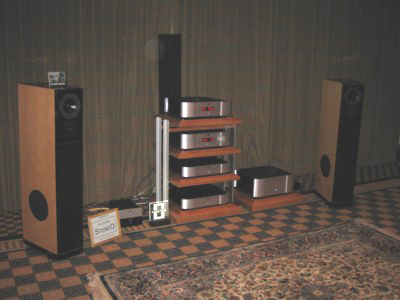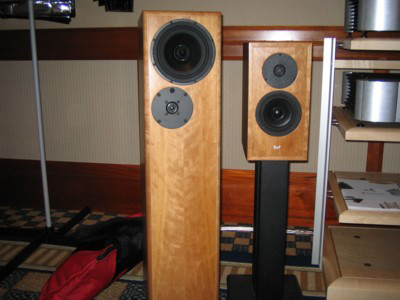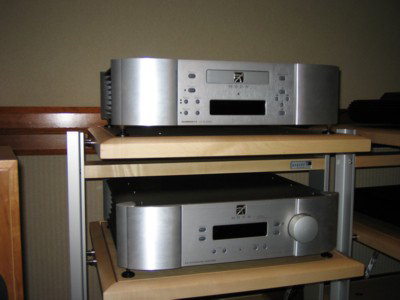 Sim Audio and Devore Audio teamed up to good effect in the In Living Stereo room. Sim Audio demoed their new upscale electronics, including the W-8 amplifier ($9000), P-8 preamplifier ($9500) and Andromeda CD player ($9,800). The sound was very dynamic playing through Devore's flagship Silverback Reference loudspeakers, with large-scale orchestral selections sized appropriately. The new Sim I-7 integrated amp and SuperNova CD player were displayed off to the side with Gibbon's smaller Gibbon 8 and Gibbon 3 speakers. The I-7 looks particularly intriguing, being a fully-balanced design with 150 wpc into 8 ohms and 300 wpc into 4 ohms. The I-7 and SuperNova will each retail for $4500.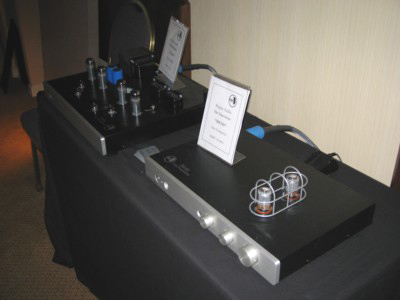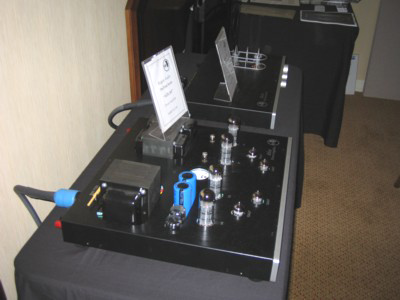 Rogue Audio was presenting with Eggleston Works and Echo Busters. This combination provided some of the best sounds I heard at the show. The newest Rogue integrated, the Cronus ($1795), was making truly excellent music through the Eggleston Fontaine II speakers ($5500). This room demonstrated the efficacy of room treatments, with the strategically placed Echo Busters products really taking the edge off the motel room acoustics and allowing the system to sing. On static display were the Rogue Atlas amp ($1395) and Metis preamp ($995), but it was the Cronus that really stole the show. Stay tuned for my upcoming review of this promising amp.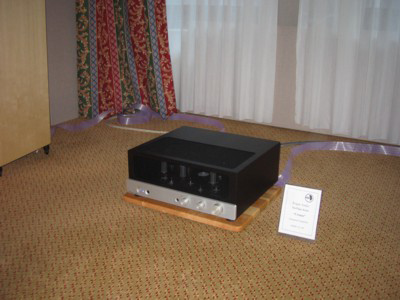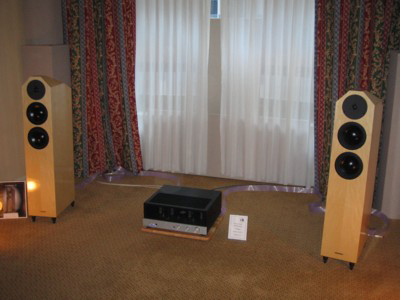 Butler Audio was demonstrating its revolutionary Monad monoblock amps with Escalante Design monitors. The Butler amps ($18,995 for the pair) produce 100 wpc of single-ended power through a single 300B output tube per channel. How is this possible? Butler Audio has discovered a means to DC couple the 300B tube directly to the speakers.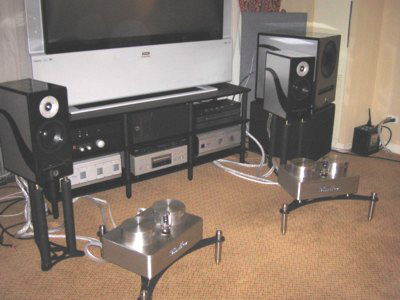 Per the Butler Audio rep, this patented technology also means that the 300B tube never runs hot and never wears out. The never-running-hot part was ably proven when the rep pulled the tube out of the amp while playing (!) and handed it to me. Listening showed that the amps certainly played much louder than I would have ever expected from a single 300B tube, and I was impressed by the sound they produced on solo piano through the Escalante speakers.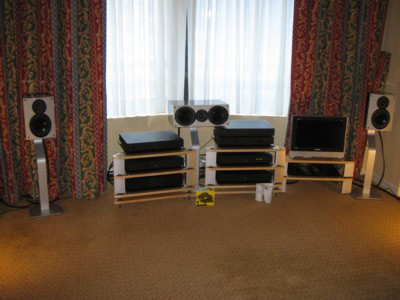 Naim Audio had a full-blown home theater setup on demonstration, but when I visited, was running a straight two-channel configuration through their N-Sat monitors ($1350 + $350 for n-Stands) and n-Sub subwoofer ($2800). Overall, I was impressed by the excellent sound. I heard great dynamics and rhythm, along with very precise imaging and good tonality from this inexpensive setup. Of course, I'm sure it helped to have a stack of high-end Naim components doing the driving!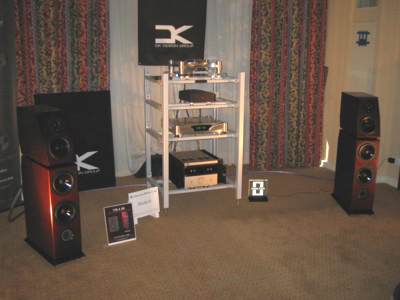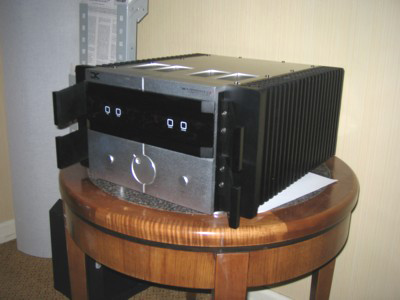 DK Design Group was making some great music with their VS-1 MK 3 integrated driving the Von Schweikert VR-4 JR loudspeakers through Analysis Plus cabling with EquaRack. The source was the amazing-looking Oracle CD transport and DAC. Very good sound, with a natural, warm tone. I heard explosive dynamics and excellent soundstaging on the drum solo demonstration piece.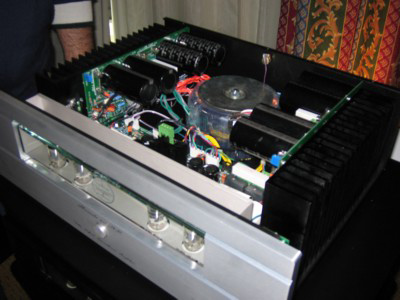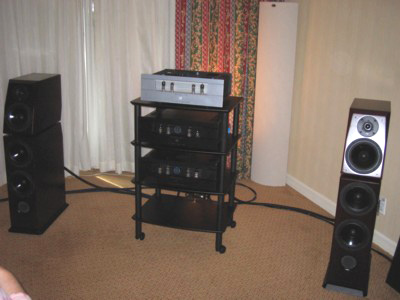 Von Schweikert's VR-4 JR speakers were also in use in the MOSCODE room, who were heralding their return with the introduction of the new 401 HR hybrid amplifier (around $5000). The amp utilizes a tube driver stage with a Cascode emitter, mated to a MOSFET output stage rated at 200 wpc into 8 ohms. Internal construction was top-notch, and the amp has the flexibility to accept a multitude of small-signal tubes, including 6H30Pi, 6922, 6GU7, 12AU7, etc…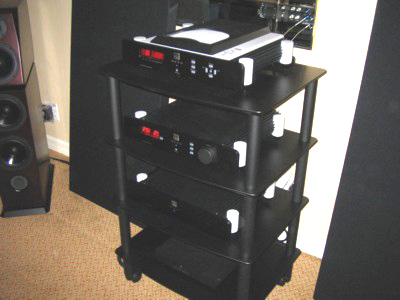 The amp and speakers were paired up with Sim Audio P-5 preamp and Eclipse CD player. This diagonal-room setup produced some very open and dynamic sound. With the Dire Straits playing, I heard Mark Knopfler's voice sounding very present and natural, with lots of air around the cymbal work.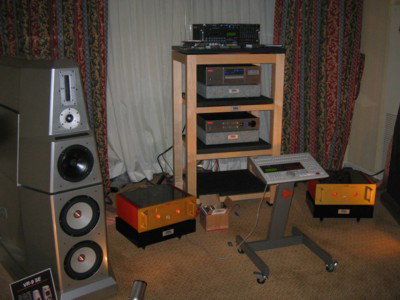 Von Schweikert, in yet another room, was displaying the prodigious VR-9 loudspeakers in concert with Dartzeel monoblocks. While the speakers were entirely too large for the room into which they were shoehorned, I was quite pleased with the clean and dynamic sound that was produced. I can only imagine what they would sound like in a larger room where they could stretch out. Paging Mike Lavigne…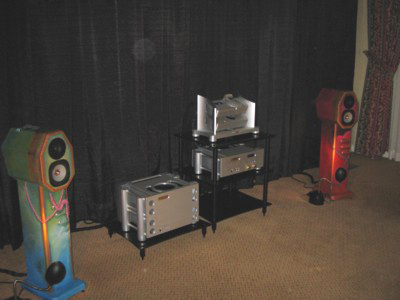 Chord Electronics was demonstrating their distinctive looking wares, including the new Chord 1 one-box CD player ($6000). Also on display was the prodigious-looking SPM4000 amp, which is rated to output 480 wpc into 8 ohms, 750 wpc into 4 ohms and 950 wpc into 2 ohms, although it might have been simpler to publish specs in horsepower. The Chord electronics were hooked up to Tetra Manhattan 305 monitors ($3500 including integral stands). The 305's are an intriguing design, made much more so at the show by their custom finishes. Each speaker was custom-painted by an artist, and these uniquely painted finishes can be had to order for a nominal upcharge. The colorful speakers drew me to the room, but the sound compelled me to stay. This system did a very nice job playing Jack Johnson. The music and sound was toe-tapping good stuff, and I had to pry myself out of the chair to let others listen.
mbl of Germany was displaying their new loudspeakers and amps, including the mbl 116 speakers ($18,900 per pair), which makes good use of the company's radial drivers. The sound was dynamic and open, with excellent midrange and treble clarity. Due to the less than optimum room and placement conditions, the bass was slightly boomy and indistinct. I would like to hear this system in more accommodating surroundings.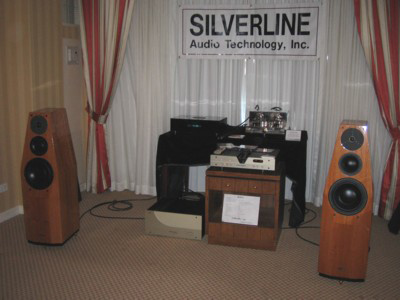 Silverline Audio demonstrated their beautiful Bolero speakers with a proprietary 300B SE tube amp and tube CD player designed by Alun Yun. The 7 wpc amp and CD player are not for sale, which is unfortunate, as the sound they made with the Boleros was extremely musical, with a very refined and resolving sound.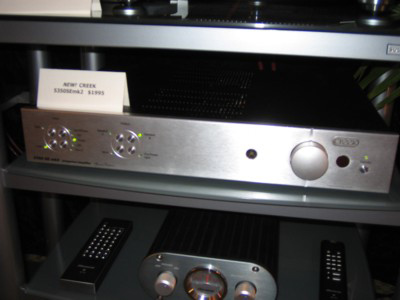 There was big news in the Music Hall room, with the introduction of the new Creek 5350SE mk2 integrated amp ($1995). The 5350 SE mk2 incorporates a larger torodial transformer for a boost in power to 100 wpc into 8 ohms, separate power supplies for the preamp and amp circuitry, and new microprocessor controls on the front panel for source selection, preamp/amp separation and active/passive gain selection. The amp made some nice sounds paired with the Epos M5 speakers and Music Hall MMF-9 turntable.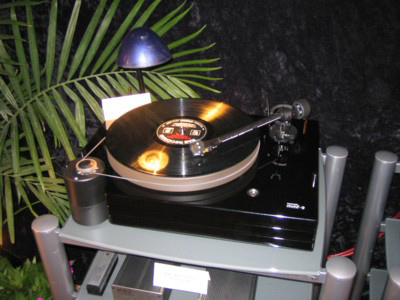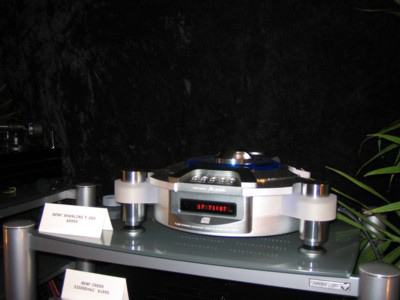 And looking like it came straight out of Close Encounters of the Third Kind, the Shanling T-300 CD player looked like it meant business.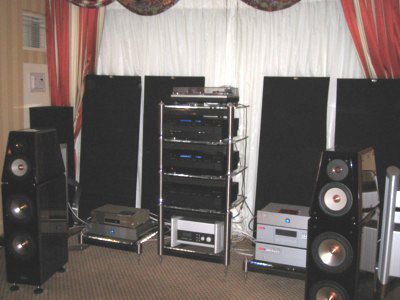 The ELP Laser Turntable folks were demonstrating their laser turntable with Halcro amplification and Joseph Audio pearl speakers. It was difficult to discern how 'analog' the sound was, not being familiar with the LP that was playing, but despite some exacerbation of click-and-pop surface noise, I was overall impressed with the technology, especially as record wear becomes a thing of the past with this approach.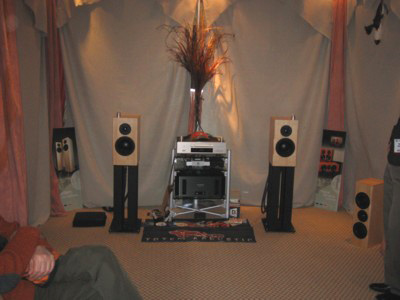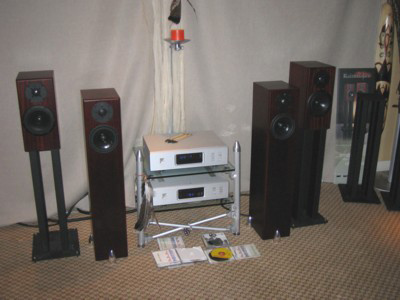 Totem Acoustics was playing their updated Mani-2 speakers in conjunction with a beefy Plinius amplifier and Audio Zone Pre-1 passive preamp. I was flat-out astounded at the room-shaking bass depth put forth by these standmount speakers. On the other wall, the Hawk floorstanders sounded very nice driven by an Ayre integrated amp and CD player, despite being too close to the back wall and too close together. And Totem definitely gets top honor for having the best-decorated room at the show.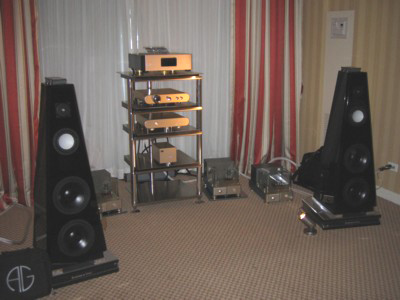 Wavac was displaying their tasty-looking (albeit expensive!) tube amps in partnership with Talon Audio speakers and Symposium audio supports. It was refreshing to hear non-audiophile music, and Paul McCartney and Nat King Cole sounded lifelike and present over the Talon Firehawk speakers. I was also very impressed with the patented technology behind Symposium's line of racks and stands.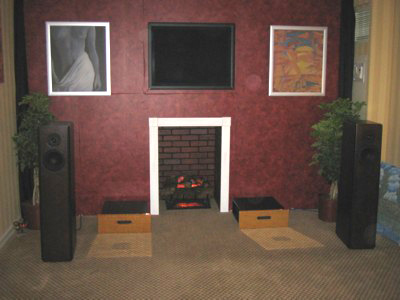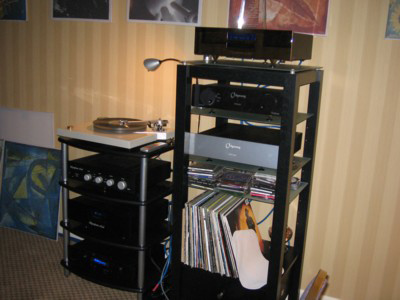 I'm always on the search for gear that breaks the price-for-performance barrier, and if there is ever a candidate deserving of that honor, Odyssey Audio is it. While the flagship Lorelei floorstanders sounded excellent, it was the new line of wall-mount speakers that really caused a stir. Designed to be hung on any wall, they sounded truly excellent, and I have to confess that I was at first fooled into thinking the music was coming from the freestanding speakers in front of the wall. Tonality was good and the soundstaging was pleasantly surprising considering the application. I actually heard a decent sense of depth, which flies in the face of my presumptions regarding speakers placed right in front of or on a wall. There are two models ranging from $1500 - $1900 per pair, and there are many artwork coverings to choose from. Odyssey's excellent and ridiculously inexpensive electronics were driving the speakers, and real music was being played. That's right—from Henry Mancini to Jethro Tull, there was no audiophile music for these guys!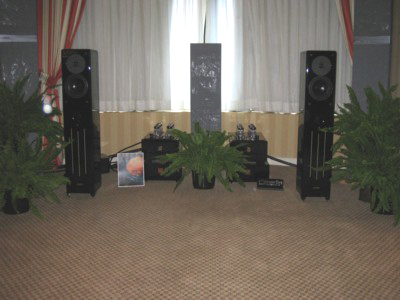 Merlin was making some great sounds with their VSM-MX loudspeakers, driven by Joule Electra tube monoblocks. CD playback was provided courtesy of Audio Aero, with cabling by JPS Labs. I'm almost embarrassed to admit that this was my first time experiencing any of these products, and I'm sorry it took me this long. The system was expertly set up, and the room was acoustically treated, all of which combined to make pure music. There was no compulsion to dissect the sound; rather I just melted into the tunes.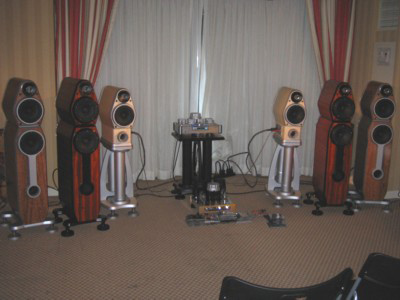 Sound Fusion, of Canada, introduced a new line of beautiful looking speakers, as well as a line of inexpensive isolation products. Employing top quality drive units and exquisitely designed cabinets, these speakers scored very high in the lust category. Passive or active amplification options are available, and a wide range of finishes are offered. Listening showed these speakers to be producing some very promising sounds with open midrange reproduction, dynamic bass, and an airy top end from a radical-looking new ribbon tweeter design.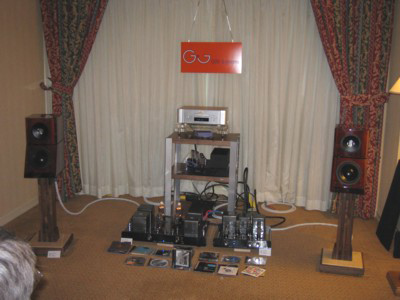 Another newcomer, JAS Audio, was displaying their line of speakers and amps in partnership with their US distributor, GINI Systems. This inexpensively-priced line of products were gorgeous to look at, and even better to listen to.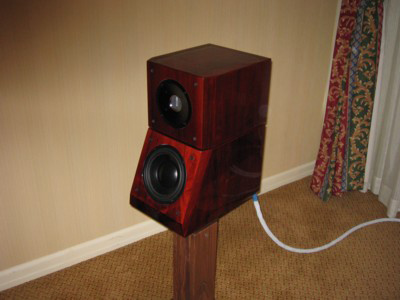 I felt the Orsa monitors, at $2200 per pair, made some of the best sound I heard at the show. The Orsa's appear to utilize the same or similar ribbon tweeter to that employed by the Sound Fusion speakers, and have a radical two-cabinet design, with the bass-reflex port placed between the two cabinets.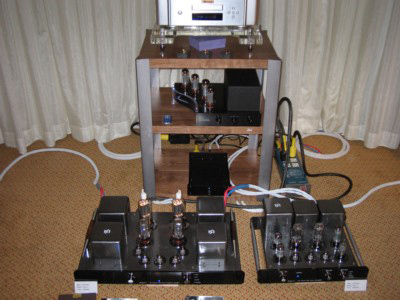 Driving the Orsa's was a massive tube amp employing a 300B tube as a driver and an 805C as an output tube. The amp is said to be good for 45 wpc, and drove the Orsa's to perfection. The best news? The price, at only $2950. Oh, and did I mention that it can be used as a power amp or as an integrated? Also on display was a soon-to-be-released EL34-based integrated tube amp shaped like a miniature grand piano. Lit up in neon blue, it certainly looked very cool.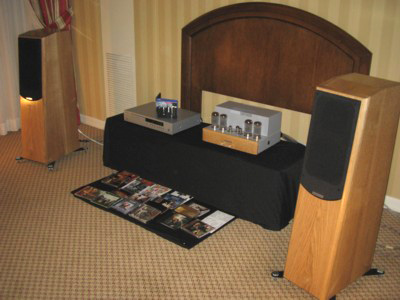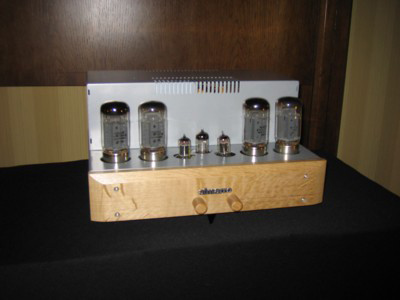 Almarro made some of the most spectacular and engaging sound I heard at the show form their relatively inexpensive A5070A integrated amp ($2250) and M2A floorstanding speakers ($2,900 in oak finish). The amp utilizes 6550 output tubes to generate 70 wpc in push-pull configuration. The speakers employ a NEO-6 6" mid/woofer and a Focal inverted dome. With little regard to placement and room acoustics, the sound this little system made with an Arcam CD player was magical in its involvement and musicality. Dynamics and tonality were excellent, and imaging was some of the best I heard at the show. I didn't want to stop listening, and kept coming back to visit so many times that I felt sure they would call security or chase me out with a broom. Check these guys out, I know I will. Very impressive.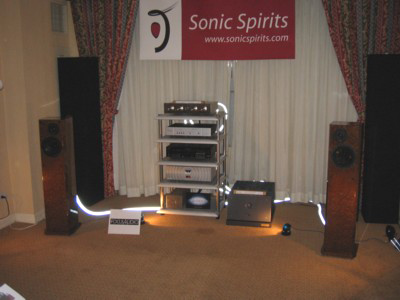 Last but certainly not least, the Sonic Spirits room featured Blue Circle electronics and Focus Audio speakers. Focus Audio introduced their new FS-78SE ($3400 per pair) and FS-68SE ($2000 per pair) speakers. Paired with Blue Circle's hybrid BC202 amp and BC3 Galatea preamp, the larger 78SE's speakers sounded open, dynamic and tonally pure.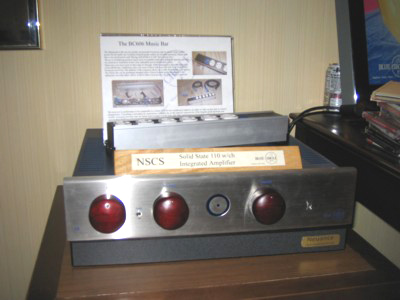 Later, Blue Circle's new 110 wpc NSCS integrated with stepped Shallco attenuator made magic with Focus Audio smaller FS-68SE speakers. This system did an outstanding job with my Traffic and Redshift CD's. I heard subtlety, dynamism and a musicality that was extremely engaging. Stay tuned for my upcoming review of the tantalizing NSCS. On my way out of the room, I found myself strangely attracted to the girl in the hallway sporting Blue Circle's preamp purse, pump monoblock amps and Gallo Nucleus breast implants, but I was too shy to ask for her number. Eh, well. Maybe next year…