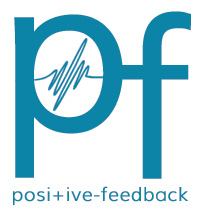 You are reading the older HTML site
Positive Feedback ISSUE 19
may/june 2005
Home Entertainment East 2005
by Marshall Nack
I always look forward to Stereophile's Home Entertainment Show in NYC. In addition to auditioning tons of new gear, it gives me an opportunity to hobnob with fellow metro area audio geeks, meet industry pros and willingly relieve my wallet on some audio bargains.
This year many of the big names, like Linn, Krell and Wilson Audio were missing. I'd guess there were 30% fewer exhibitors than last year. The retailing acreage also shrank by about the same percent, and bargains here were scarce—the only things I acquired were a bottle of Record Research Labs Vinyl Wash and two MA Records CDs. Public attendance was nothing like past years. In spite of that there was more than enough to see and hear and I spent the better part of four days at the show.
Here's a random potpourri of the best I heard, in no particular order.
GTT Audio's CRM 3.2 Room
GTT Audio's smaller venue featured: Kharma CRM 3.2 FE monitors ($21,000), Kharma Ce-Sb-1.0 subwoofer ($9500), Kharma MP150 mono amps ($3400 each), EMM Labs DAC 6e ($11,500), EMM Labs CDSD transport ($7900), Nagra PL-L tube linestage ($9500), Kubala-Sosna Emotion Cables ($2700/meter), TAOC Audio Rack ($2500).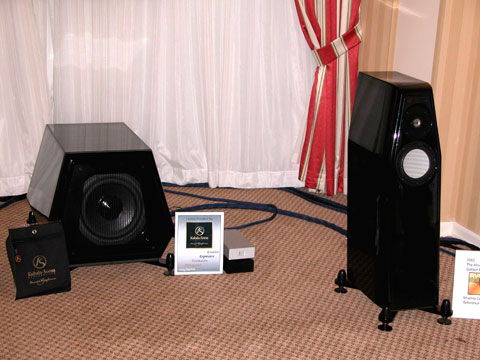 I requested the Bernstein Serenade with Hilary Hahn on violin and David Zinman conducting the Baltimore Symphony Orchestra (Sony Classical SK 60584), a fine demonstration of orchestral effects and audio challenges, as well as a showpiece for Hilary's virtuosity and an accessible and largely unknown work. Somehow the ambient acoustic and expansive soundstage of an orchestra fit inside this little room. The stage was seamless and smooth across its width sans glare, grain, grit or distortion. The compact CRM 3.2 two-way speakers plus Ce-Sb sub were sonically invisible and superbly integrated, a nice trick for any sat-sub system.
As usual for GTT, with no room treatments employed, the stage was somewhat diffuse. Music scaled to crescendo with little in the way of compression on this dynamic, full-range CD. This was accomplished with a solid-state component lineup (excepting the tubed Nagra linestage) that included the US premier of the hardcover book-sized MP150 monoblock, Kharma's first amp, a pulse-width modulated design with an analog power supply, providing 100 watts into 8 ohms. Quote of the day, courtesy of Howard Sosna (Kubala-Sosna Cables): "The key to good sound is speaker placement".
GTT Audio's Big Guns
In the larger GTT room (in terms of the cost of the system), were Kharma Midi Exquisites ($75,000), again the Kharma Ce-Sb-1.0 subwoofer ($9,500), Lamm L2 Line Stage ($14,400), Lamm LP2 Deluxe Phono ($7000), Lamm M1.2 Reference mono amps ($20,000), the dCS digital stack consisting of Verdi LaScala ($17,500), Elgar Plus ($17,500), Verona ($7,900), Kharma Enigma Cabling, TAOC Audio Rack, Kuzma Stabi Ref with Stogi Ref Arm ($9450), Shelter 90x MC cartridge ($2700).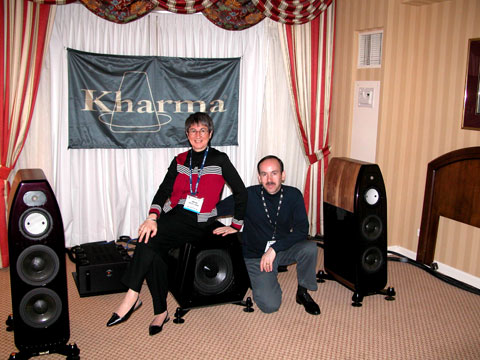 The Nacks in Kharma-land
Effortless control: that about sums up what set this room apart. A lot of what I heard in the smaller GTT room was here, too, but Hilary's violin on the Bernstein was focused and full of nuance with great string tone through the dCS stack, a world-reference front-end. Similarly, LPs spun on the Kuzma Stabi Ref were stunning, performance on par with the mega-buck tables—and this isn't even their top-of-the-line product! The reissue LP, Martha Argerich Spielt, was typical DG from the 1960s—dry, very direct, and midrange dominant—but very accurate piano sound, with uncommon subtlety and low-level information. The sound in this room brought to mind those high-end advertisements with graphs of cable response, where cable A (the GTT room) better approximates the square wave while others are rolled off in one way or another.
Something New and Something Good on the Horizon:
The Bösendorfer Loudspeaker
I was anxious to hear this new loudspeaker line from legendary piano manufacturer Bösendorfer. Famous for their power and rich low-end, not to mention luxe appearance and price tag to match, the advance press release caught my attention with descriptions of tuning boards inside the speakers similar to those in their pianos. If nothing else, I figured it would at least be musical.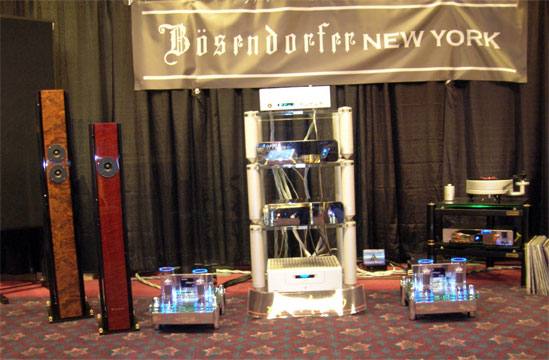 The Bernstein Serenade was conveyed with sweet, smooth and spacious sound. Hilary's violin navigated the octaves with noticeable evenness, leading me to think the mid through treble response uncommonly accurate. Instruments had plenty of overtone richness and body, and were musically centered—not the usual sound of systems we label accurate. The unimposing size of the VC7 speaker ($17,000) did not prepare me for its dynamics and room-filling acoustic. Crescendos were powerful thanks to an abundant, if not very deep, bass, which evidenced occasional congestion, but I would chalk this up to the treacherous makeshift hotel ballroom acoustics. I was impressed, and made a note to pay a second visit.
The next day I heard the VC2 ($12,000) playing less ambitious fare. It bore a similar signature and was not far behind the performance of its big brother, the VC7. The rest of the system consisted of the Art Audio Vinyl Reference Tube Phono Amp ($4000), Acoustic–Solid Small Royal LP Turntable ($2998), Art Audio Adagio Tube Mono amps ($20,000), Ensemble Dirondo Drive CD Transport ($8000)), Gill Audio Elise Tube DAC ($6000), Gill Audio Alana Tube Line Stage ($4500), Exact Power EP 20A AC Voltage Regulator ($4000) and Synergistic Research Cabling.
Sonic Spirits
The smallish Focus Audio Signature FS-78SE speakers ($3450) produced surprisingly big, open and nearly full-range sound. This Tenth Anniversary Edition of the popular FS-78 floorstanding two-way sports much higher quality parts and, judging from my limited exposure, represents very good value. The system consisted of the Blue Circle BC202 hybrid stereo amp ($5295) with two tubes/channel, and the Blue Circle BC3 Galatea MkII full tube dual-mono preamp ($4995). The Digital front-end consisted of the Dodson Audio DA-218 DAC ($7995), Sony S7700 DVD Player/transport with Empirical Audio mods (N/A). Power conditioning by Audience adeptResponse ($3800), cabling by Acoustic Zen, component rack by TAOC ($2500).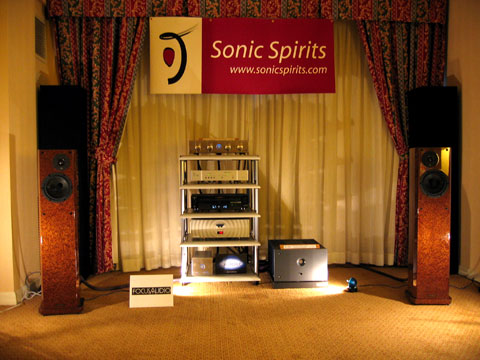 Tonally in the zone, without glare or grit, if at times a little boomy, the Sonic Spirits room once again delivers ninety-percent-plus of the big guns at a fraction of the cost.
ARS aures
ARS aures Midi Sensorial speakers ($19,000), Art Audio Adagio Tube Mono amps ($20,000), Art Audio Quartet Mono amps ($13,000 in Ferrari Blue finish), Yamaha Musicast MCX1000 server/transport ($2,200), Gill Audio Elise Tube DAC ($6,000), Gill Audio Alana Tube Line Stage ($4500), DAXX interconnects, Dynamic Design power cords and prototype Art Audio "The Bridge" speaker cable ($3,000/8' pair).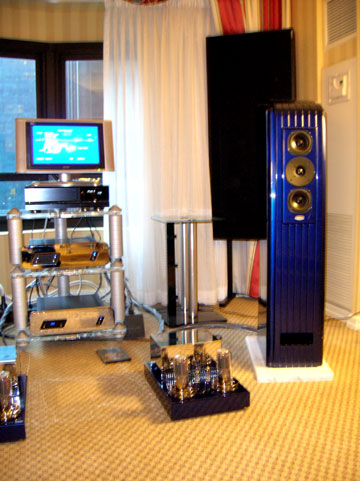 On my first visit, the Art Audio Adagio SET mono amps were driving the Midi Sensorial speakers from Italy. The sound caught my attention. However, the room was packed, so I let it go. When I came back early the next day I found the ART Audio Quartet push-pull monos in place of the Adagio monos. Tenor Ian Bostridge singing French art songs, with various instrumentation including string quartet, double bass and piano (French Melodies, EMI 5 57609 2) was surprisingly intimate and relaxed with the push-pull Quartet amps. His voice was big—the speakers were overpowering the little room—and there was some shouting on peaks. Still, even if it was less full-bodied and less luscious than the day before with the Adagio SET amps, the sound was engaging and a standout. The new Gill Audio components looked and sounded full of potential.
Brinkmann
The Brinkmann lineup: Marconi Preamp ($11,050), Mono Amps ($13,750), Fein Phono stage ($2250), Balance Turntable, Tonearm & Cartridge ($14,850, $3650 & $2850), Tube power supply for turntable ($3100). Speakers were the Marten Design Duke Ellington ($15,000), Audience cabling, HRS component racks.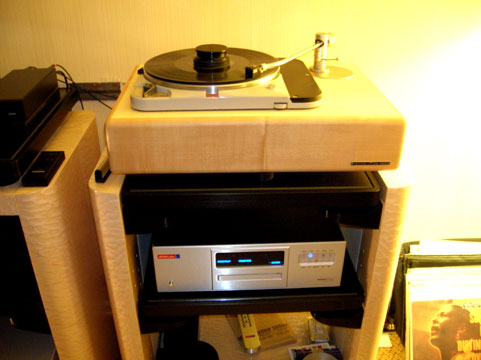 The Thorens turntable; below is the EMM Labs CDSD transport
While all the buzz has been about the Balance Turntable, it was the other turntable in this room that turned my head—a vintage, refurbished Thorens. While the Balance sounded direct and very clear, with a soundstage on a refreshingly human scale compared to the oversize proportions in many rooms, it presented Billie Holiday (Classic Records re-issue LP) in sharply defined relief and somewhat thin. Swapping the LP onto the NHT Thorens 124 turntable with Ortofon SPU cartridge ($8750 for the package) was like night and day—Billie acquired a zaftig body and became curvaceous. The Thorens was honey sweet, lithe and liquid and brought back the Golden Age of Analog, while lessening the tweeter prominence of the Duke Ellington speaker. Some will like the Balance, others will prefer the Thorens—it's a matter of taste and system synergy.
Reimyo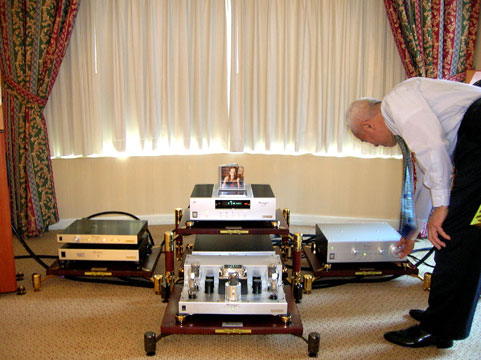 This room was filled with silky smooth and ultra refined sounds. Hilary's violin on the Bernstein Serenade had such great string tone—sweet, beautiful, light and ethereal. Ian Bostridge languished in a soft, smooth coma of alluring sound. The Bravo speaker ($4295) is not there, if you can believe your ears. The Reimyo lineup included: ALS-777 AC Line Stabilizer ($4195), PAT-777 300B Stereo Amp ($24,995), CAT-777 Control Amp ($15,495), CDP-777 CD Player ($15,495), Harmonix cabling and accessories and, new this year, the Harmonix Royal Stage, a modular, stacking rack system.
High Water Sound
Hørning Hybrid Perikles speakers ($8500), Sound Engineering SF-1 LP turntable ($12,500), Dynavector XV1-S cartridge ($4000) on a DaVinci Audio 10" arm ($6200), Tron Electric Syren pre-amp with phono stage ($15,000), Tron Electric Cantata 300B mono amps ($20,000), 47 Labs flatfish transport ($3600) and Gemini DAC ($3400) with a total of three Power Dumptys ($1800 ea), Audio Note Japan KSL, Harmonix SLC, Stealth Audio, Sound Applications Reference AC conditioning ($4200), Finite Elemente Master Ref rack ($8000), Shakti Holographs and Shun Mook accessories everywhere.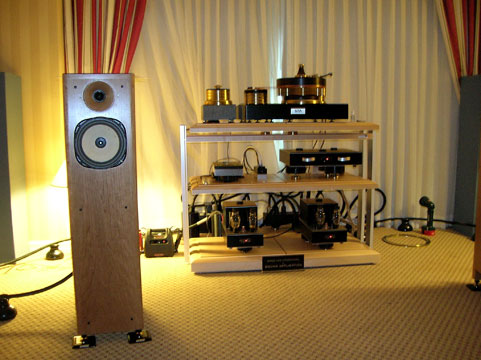 High Water
Stepping inside after the haze of so many similar sounding rooms, this one made you pay attention. The first notes told me the humidity level was quite high in the sense that the sound was warm and supremely acoustic. Between the 8-watt/channel Tron amps and 96dB sensitivity Hørning Hybrid Perikles speakers, this was closest to the classic SET experience. Listeners here had a sense of being immersed in a coherent, integrated, room-filling and atmospheric soundstage—and Hilary had a properly sized violin to boot!
Hørning speakers provide lots of fill or ambient sound energy with their rear ports and downward firing internal horn. This balances with the direct sound from the forward-firing Lowther mid-range and the tweeter. Sure enough, the adjustable rear ports on the Perikles were fully opened, accounting for the sense of immersion and the charged atmosphere. The compact Perikles speakers exhibited an even frequency response, wide dynamics, no distortion, and were nowhere to be found, in an auditory sense. Vinyl on the Sound Engineering SF-1, one of those grandly oversized and over-built turntables, sounded flawless. Ditto for the performance of the Tron Electric tube gear. As one show-goer commented to me, "This is a well-put-together system."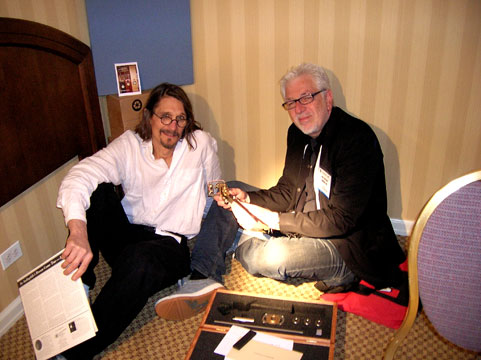 Jeffrey Catalano and Jules Coleman examining a DaVinci tonearm
General Impressions
There were fewer cable and footer product introductions, although I spied new racks by HRS, TAOC, Harmonix and Acoustic Systems. All of these are serious, if radically different, approaches to component support and all are cutting edge. I'm going to be auditioning for a new rack soon, probably one of these or the Finite Elemente. Which one will make the cut? Only auditioning will tell. Component support is at the nascent stage of acceptance just as cables used to be, and is fast becoming the hot accessory,
I spied only one newcomer to the room acoustics market: Real Traps freestanding MiniTrap product tamed the corners of many rooms, and I expect this is a good reason more speakers were able to do the disappearing act. Finally, LP turntables were very much in evidence.
In general, some will see the low show attendance as a harbinger of declining interest. My own take on it is to keep perspective, and not start shouting fire. Other shows, like the new Rocky Mountain Audio Fest, did quite well—I hear they're looking to do an expanded show next year. Oh, well, bad weather, a public demonstration on Saturday, and a bike race that closed avenues around the hotel on Sunday, no doubt took their toll.