ED KOBESKY'S SYSTEM
LOUDSPEAKERS
ProAc Tablette 2000
ELECTRONICS
NAD 3400 Monitor Series integrated amplifier, Rotel RC-980 preamplifier and Rotel RA-970 amplifier, Denon DRA-395 stereo receiver.
SOURCES
Technics SL-1200Mk2 turntable, NAD C521i CD player, Phillips CDR-785 CD changer/recorder, Denon DVD-900 DVD player.
CABLES
Audioquest Diamondback (used to replace the pre-out/main-in jumpers on the NAD and also between the Rotel preamp and amp), MonsterCable Interlink 400MkII & 300MkII, and Audioquest Coral (to connect the digital sources), MonsterCable Z1 speaker cable, Grado 15' headphone extension cable.
ACCESSORIES
MonsterPower HTS2500 isolation transformer, Record Doctor II record cleaning machine with Disc Doctor brushes, Sennheiser HD580 headphones, Sony Professional MDR-7506 headphones, Audioquest MC cartridge demagnetizer.
Stereo receivers are an endangered species, and no wonder. FM isn't what it used to be, in sad contrast to twenty years ago, when every hi-fi store sold cassette deck timers for time-shifting your favorite broadcasts. Rock stations hosted "headphone hours" on Saturday nights. You could even tune in to high-quality stereo simulcasts of your favorite concerts. Back then, receivers were modern sculpture–giant steel monoliths with glowing analog tuner dials and signal strength meters promising a world of musical discovery. That's ancient history.
Which leaves me to wonder: Who is buying stereo receivers nowadays? Nonconformists bucking the home theater trend? Aging hippies who won't part with their old tower speakers? Talk-radio junkies who've never heard of a Tivoli Model One? Don't get me wrong. I'm glad a few mass marketers—Denon, Yamaha, Marantz, and Harman/Kardon—still make good, reasonably priced receivers for two-channel music lovers. Harman/Kardon in particular has cleverly reinterpreted the classic receiver concept for a modern generation geared toward digital audio and video.
At $450, their HK3480 is just right in terms of value and performance. It's a giant leap above $100-$200 units from the likes of Sony, KLH, and Sherwood, but a step down from more expensive units by Rotel and NAD. While it can't quite compete with audiophile units in terms of resolution, it puts out 120 clean, clear watts per channel and includes many welcome features like an MM phono stage and a headphone jack, and one that isn't—the horrendous VMAx simulated surround sound processing. It looks the part, too, with a handsome metallic faceplate trimmed in fashionable cool blue lighting that harkens back to the glory days of gyro-touch tuning. This is what a modern Marantz receiver should look like, but doesn't.
There are many good reasons to consider a receiver-based system. You get three components—tuner, preamp, and amp—in one simple, space-saving package. Because they share a power supply and chassis, you save money on interconnects and power cords. The HK3480 even includes a credible phono stage, a rarity among mass market and boutique brands alike. Pre-out/main-in connections allow the HK3480 to be used as a tuner/preamp should you upgrade to a stand-alone power amplifier, though most audiophiles will use the HK3480 as-is for a second system or in a bedroom.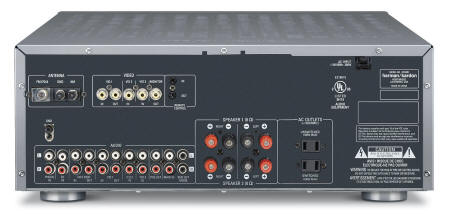 Connectivity is another strong point. If you're planning to build a simple two-channel home theater, you're in luck. You get basic video switching capability (composite only—no S-Video or component inputs), along with seven—count 'em, seven—line level inputs. Drag your old tape, MiniDisc, and laserdisc players out of the basement and you still won't run out of jacks. The HK3480 can power two pairs of speakers, but leave those spade connectors behind. The terminals accept only bare wire, pins, or bananas.
The remote control handles all of the important functions, but you can just as easily operate the HK3480 using the front panel controls, which are small and fiddly but work fine. Conspicuous in its absence is a tone defeat feature, which would have been nice. That said, the bass, treble, and balance controls don't noticeably affect the sound quality when engaged. There is plenty of empty space inside the chassis, leading me to believe that it's big because big sells. On the other hand, considering how many dullards will likely stack components atop the warm-running HK3480, the extra ventilation can't hurt.
Naturally, when three components share a single power supply, they can't perform at the same level as separates. Noise leakage between the sections can be a problem, too, though the HK3480 was exemplary in this regard. This brings me to my biggest caveat regarding mass-market receivers–they don't usually offer the control and punch of similarly priced integrated amplifiers. The HK3480, though powerful, is no exception. It is at its best with big, power-hungry speakers that benefit from brute force. Paired with monitors like Mission's lovely M31s, the HK3480 lacks the delicacy and nuance of lower-wattage but higher-performance products like Rotel's RA-02 integrated amp.
Despite this, the HK3480 does a lot right for such a reasonable price. It's relatively lightweight but chunky—a big, handsome bruiser adorned with a large, easy-to-read fluorescent display, brushed aluminum trim, and a glowing blue volume knob. It gets the music mostly right, too. The meat of the music is present, but what's between the notes is often missing. This receiver's rather lean sound is a constant reminder that more music is waiting to be uncovered. Before you cross the HK3480 off your shopping list, though, remind yourself what you're getting for $450—three components plus a free phono stage and remote control. Now read on.
If you're buying a receiver, it should be because you plan to use the tuner, and the HK3480 has a good one. From my home in the northeast corner of Pennsylvania, it pulled in local stations easily, with only the included wire antenna. This sounds unimpressive, but I live in the middle of a big valley. Faraway signals can be impossible to tune in, even with a rooftop antenna, and stations just north of the hills are often impossible to lock onto. Despite the challenge, noise rejection was good, the stereo sound was clean and full, and listening was always enjoyable. The large display was a relief. Too often, consumers must choose between squinting at tiny readouts from across the room or going nose-to-plastic in order to see what station they've tuned in.
I tested the HK3480's phono stage using Harman Kardon's T25 turntable ($189 when last offered in 1985) and the Audio-Technica AT-440ML cartridge ($220—review forthcoming). It should satisfy casual LP listeners, though in audiophile terms it's a bit thin and strident sounding on poorly recorded material. Surface noise had nowhere to hide, but backgrounds were acceptably quiet. All in all, it's quite listenable, though vinyl-philes should consider adding Music Hall's excellent, $120 MMF Phono Pack.
The only sour note came when I tried the HK3480's VMAx simulated surround processing. It's the worst I've heard. With music, about the only thing it surrounds you with is fuzz, distortion, and an ear-shredding metallic echo. With movies, it confuses the soundstage beyond comprehension. Far better is this receiver's headphone jack. Compared with the HeadAmp Gilmore Lite headphone amp ($300), its shortcomings were the same as those of the receiver itself—a lack of extreme insight and ultimate smoothness. The sound was a little bright with my Grado SR60s ($70), but just right with the laid-back Sennheiser HD580s ($350). Another plus is that you can adjust the volume from your listening chair, something nearly all stand-alone headphone amps cannot do. Many times, the added convenience made me plug into the HK3480 instead of a stand-alone amp.
I compared the HK3480 to Denon's DRA-395 ($350), an 80-watt-per-channel receiver that's otherwise identical in functionality (except that the Denon offers multi-room capability). The Denon was smoother, and its phono stage had more depth, but the Harman Kardon was livelier, more detailed and involving, not to mention far better looking. Personal taste will dictate whether you prefer the Harman's sparkle or the Denon's easy listenability, so audition both if possible.
There you have it—a veritable Swiss Army knife for the music lover. This handsome, well-designed receiver should satisfy audiophiles while exceeding the expectations of hi-fi novices. Though the HK3480 retails for $450, it's often available at a 10- to 20-percent discount, making it a solid value. With its sensitive tuner, above average preamp and amp sections, plus a competent phono stage, it delivers a lot of value. Add great looks, a remote control, video switching, and the ability to be used as a stand-alone preamp, and it becomes even more attractive. Spend more and you'll get more, but if $450 is your limit, the HK3480 is perfect for the bedroom, vacation home, or budding audiophile. Even if you don't need a tuner, the HK3480 is worth comparing to similarly priced integrated amps because of its flexibility and convenience. You may outgrow it, but chances are you'll always find a place for it. Ed Kobesky
HK3480
Retail: $450
Harman Kardon
web address: www.harmankardon.com