LARRY COX'S SYSTEM
LOUDSPEAKERS
ATC SCM 35.
ELECTRONICS
E.A.R. 509 amplifiers and E.A.R. 864 preamplifier.
SOURCE
Audio Note CD3.1x CD player.
CABLES
Ensemble Dynaflux and Calrad balanced interconnects. Speaker cables are either Ixos 6003 or Belden 1219A.
ACCESSORIES
API Power Pack. BDR cones.
GamuT stormed the audio world with its single-Mosfet-driver amplification, then with its CD-1 player, and then it seemed as if the company sailed off into the horizon, not to be heard from again. Do they still exist? Here's what I know. They are still in business, still producing the same excellent amps and preamps. They've expanded into speakers, and that's an interesting development, but this story is about the CD-1. With the Euro kicking the dollar around the block, the CD-1's price has gone from $2995 to $3999! It's a tough time for European products.
The CD-1 looks rather plain. Its simple, brushed aluminum faceplate and polished round control function buttons don't do much to catch the eye, and the odd sequencing of the controls threw me for a while. The fact that it's still a CD-1 instead of a CD-9 MkIII made me wonder if it could keep up with the near-daily digital breakthroughs we're supposed to be experiencing. Heck, the CD-1 doesn't even have upsampling. What's under the skirt? According to the U.S. importer's website (www.rayofsound.com):
The first GamuT CD player is a major improvement in sound quality over our previous DAC, which used the famous Burr Brown 20 bit 1702K DA converter IC... GamuT CD-1 is based on a Crystal CS 4390 DA converter IC with reduced jitter sensitivity. This IC delivers a wonderful fluid and non mechanical sounding midrange as well as treble with an exceptional smooth resolution of fine details. The Crystal CS 4390 does oversampling at 128 times 44,100 Hz. That is 5,644,800 Hz. This is twice the speed of DSD/SACD. Most upsampling only go [sic] to 192,000 Hz…. Inside the unit there's lots of unoccupied real estate. In part this is due to GamuT's intention to make their players upgradeable over time. Even so, the digital and analog circuits each have their own power supplies. Also, GamuT pays close attention to damping vibrations, like having each circuit board mounted on rubber footers.
As a new, sleep-deprived father with a whole new world of responsibility in front of me, I'm into action unless there's an opportunity to sleep, so this review will be short and to the point. The GamuT CD-1 has an excellent balance of virtues. It's sufficiently detailed to flesh out the music. It does not pursue detail for detail's sake, but in service of the music. Its rendition of timbre is realistic, and there are no noticeable frequency aberrations. Bass and treble extension honored all of the music I asked it to play, and it conveys epiphanies of musical meaning. In short, this player leaps ahead of my reference Audio Note CD 3.1x, with better information, better imaging, and a greater sense of ease. The CD-1 is more focused than the Audio Note, while retaining some of the 3.1x's relatively light touch. Even using the GamuT as a transport with the Benchmark DAC1, the balance was more natural than with the 3.1x doing the same job.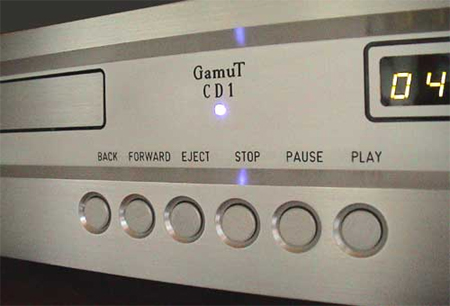 The CD-1 does not reach out and grab you. What it does, it does subtly, and well. It does not have an obvious personality. Without resorting to a bass/midrange/treble report, I'll say that the CD-1 does its job in a slyly musical way. Its musical communication made me notice something about Ry Cooder's Jazz, a recording that I've been playing for years, on both LP and CD, but never noticed before.
The CD-1 gave me a new appreciation for two songs. "Shine" is the story of an irrepressibly happy, African-American man. He disregards insults and harangues, including the threat of being "piped," i.e., being beaten with a pipe. This is a bright, upbeat tune. Immediately after it is the much more somber "Nobody," in which the narrator says, "I've never done nobody no wrong" and "Nobody's helped me, never, no time." The song is a serious downer, and I'd never enjoyed it, but via the GamuT, the humanity of the narrator's hardship became obvious. Through the GamuT, I discovered Ry Cooder's organizing structure. The brilliant bookends of "Shine" and "Nobody" create an encapsulation of African-American culture of the 1910s and 20s. The CD-1 was able to make a delightful CD all the more soulful.
For me, finding my way to the message of the music is fundamental to the audiophile pursuit. Unlike the very fine Benchmark unit, which practically shouts "transparency" in a way live music doesn't, the GamuT's charms were invisible. Subtle in its delivery, complete in its communication, the GamuT was a delight. By comparison, the Ensemble Dirondo/hi-DAC combination (see that review here) had a more even balance than either the GamuT or the Benchmark, but at nearly four times the price, the Ensemble pair is simply not within the reach of many people.
When I say that the CD-1 sounds life-like, I mean that listening to it is like experiencing music in a live setting. Live music isn't always pretty or finely filigreed. It is sometimes pretty, often overpowering, and many other things, and the GamuT covered that range. A pretty sounding CD player may be nice, but it isn't consonant with reality. The GamuT is. Its aplomb was not limited to Cooder's Jazz. John Williams' Pops in Love (Philips 416 361-2), with its huge range of scale, was well treated. The pulsing line of Tomas Albinoni's Adagio in A Minor was emotionally expressive, with a good sense of the plodding rhythm of the bass line. Grieg's Piano Concerto No. 1 had a coherence that allowed me to appreciate the quality of expression. The CD-1's honesty was not always appreciated. Holly Cole's overly mannered, uninspired presentation on Temptation was laid bare, like a rotten egg placed in the room, leaving me hoping that I might be shot before the CD was over. More emotionally engaging music like Mary Black's No Frontiers was gotten right, with its longing and passion clearly presented.
The CD-1 is a no-nonsense player that doesn't soften or sweeten the sound to make the unappealing appealing. The sound was slightly on the removed or analytical side. Whereas some players are like coffee with lots of cream and sugar, the GamuT struck me as black coffee–no cream and no sugar—but good black coffee, from good beans. The CD-1's presentation is cerebral. Coupled to my Ensemble Figura loudspeakers, which are a bit lean and analytical, some of the elegance of the music may have been lost. Some players might communicate more emotion, but without being true to the notes. The GamuT remains artistic, like a black-and-white picture, but perhaps lacks some romantic feeling. The GamuT conveys musical emotion, but it's a cerebral rendering of emotion.
The GamuT CD-1 is more than likeable. It brought musical meaning to my system. Its rendering of detail was among the best I've heard. The musical palette of colors and shapes and ideas is delivered with a coherence and cogency that allowed me to get something out of familiar music that I had not gotten before. It is not inexpensive, but it will draw music out of your CDs, and that makes the CD-1 a player that should be on your short list. Larry Cox
CD-1
Retail: $3999
GamuT
web address: http://gamutaudio.com
In the US:
Contact Ray Lombardi at Ray of Sound
web address: www.rayofsound.com