FOWN-MING TIEN'S SYSTEM:
LOUDSPEAKERS
Thiel CS 2.2
ELECTRONICS
Aesthetix Callisto line stage, Scott Endler Passive Stepped Nude Attenuators, Jeff Rowland Model 10 amplifier, and an Onix H34 tube integrated.
SOURCES
Digital: McCormack Audio UDP-1. Analog: Oracle Delphi MkII, SME 3009 tonearm w/ Cardas cabling, Denon 103 cartridge.
CABLES
Paul Speltz Anti-Cables speaker cables, CryoTweaks Trinity speaker cables, CryoTweaks Silver Reference MkII interconnect, Aural Thrills WBT Gold digital S/PDIF coax interconnect, custom Dodson "secret skunkworks" digital S/PDIF coax interconnect, and Eichmann eXpress6 AC power cable, Electraglide Reference Tri-Glide power cord.
ACCESSORIES
Tice Power Block power conditioner with Hubbell 20A hospital grade outlets, Hubbell 20A hospital grade outlets in wall, Bedini Ultra Clarifier, Auric Illuminator Optical Playback Resolution Enhancement, Quantum Symphony Pro, Black Diamond Racing cones Mk3, Polycrystal amp stands (2), and Verastarr Granite Vibro- Slabs.
After spending thousands of dollars on my audio system, I found that my musical enjoyment had soared to heights I had never thought possible. Then I received a pair of speakers and an integrated amplifier that, together, cost less than my CD player and, for a split second, forced me to question why I had invested so much money when a small fraction of the amount could have gotten me most of the way there. The products that had me scratching my head were the $999-per-pair Rocket RS550MkII loudspeakers and the $695 A-120MkII solid-state integrated amplifier, both by Onix. These are only two among many products in the company's lineup that deliver hard-hitting value.
The Rocket RS550MkII is a two-way, three-driver loudspeaker that features two custom 6.5-inch, low-distortion, long-throw aluminum-cone woofers partnered with a Vifa Ring Radiator tweeter. The published frequency range is 40Hz to 20kHz at +/-3dB. The nominal impedance is 6 ohms, while sensitivity is 88dB @ 1 watt/1 meter. The third-order crossover is set at 3.8kHz. Tipping the scales at 55 pounds each,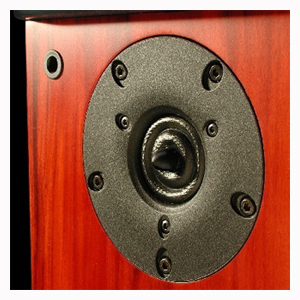 these slender and elegantly-shaped floorstanders are almost three feet tall. Like previous Onix products that I have reviewed, the aesthetics and build quality are unheard of at this price point, from the 1-inch MDF fiberboard to the beautiful satin-finished South American rosewood or African Macassar ebony veneer. The MkII suffix was added to the RS550 model designation when the crossover network was revised to improve the control of the woofers, resulting in tighter, more dynamic bass and better clarity across the board compared to the already-impressive original model.
The Onix A-120MkII is a 120wpc (at 8 ohms, 180wpc at 4 ohms) solid-state dual-mono integrated amplifier with five line inputs plus a tape input. All the RCA connectors are gold plated except the beefier CD inputs, which are copper and of higher quality. The speaker terminals are solid copper, for the best signal transfer. Current comes in through an IEC connector, which allows experimentation with power cords. The A-120MkII is solidly constructed, weighing over 30 pounds. Two 315VA toroidal transformers are largely responsible for the weight, along with the heavy-gauge steel chassis. At its rated power output, THD is a mere 0.01%. The beautiful faceplate is made of shiny black acrylic. Three gold knobs—an input selector, a volume control, and a balance knob—offer touches of elegance and class that I have not seen at anywhere near this price point. Every other integrated amp I know of that offers similar aesthetics and specs sells for well over $1000. Any that are near the A-120's price sport boring black faceplates. The A-120 also has a front-panel headphone jack. Finally, the Onix earns brownie points for the wafer-thin remote control, which offers only volume control. That may not seem like much, but I am so accustomed to turning two separate volume knobs on my line stage that remote anything is fancy.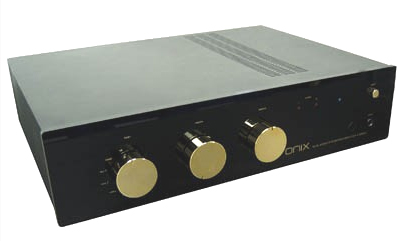 Let's move on to how it sounds. When I received the A-120MkII, it was new. I plugged. I played. I frowned. The A-120MkII sounded harsh, colored, and very dark, with poorly controlled bass. From experience, I knew that all this could be temporary, so I left the amp on and left the room. After a few hours, I found that the sound had improved, but not by much. I let it play for several days, and to my dismay, the sound had improved only slightly. I experimented with power cords to no avail—the sound was still dark and opaque. The probability of a positive review for the A-120 was plummeting faster than internet stock in the late 90s.
Dreading the chore of writing a negative review, I procrastinated, but this was not normal procrastination—it was procrastination with a capital P. I do not normally view procrastination as a good thing, since all it does is postpone the inevitable, but this was the first time that it turned out to be okay in the end. Although the amount of improvement this amp needed was far more than break-in tends to provide, I held a glimmer of hope that more time would help. As the saying goes, "Good things come to those who wait," and wait I did. I had some speakers and cables in for review, so I used the A-120 to break in those components while I waited.
Over the next few months, the A-120 played background music while I weeded the back yard, paid bills in the office, or watched the news in the family room. Gradually I began to notice a remarkable improvement in the sound. The difference in transparency between the Onix and my reference amp was still evident, but not as enormous as before. The harshness had pretty much disappeared. The dark, congested sound had blossomed and opened up. The natural intonation of brass and percussion instruments had finally surfaced. Before, the thwack of a drumstick on a snare had sounded more like a dull thud, while brushes tapping a cymbal sounded more like pink noise. Now they sounded much more accurate.
The A-120MkII had come into its own. Its overall balance was very enjoyable, with a rich, warm midrange. The amp did not have the air and transparency of pricier gear, but it was no longer congested, closed in, and dark. I did encounter some limitations in the amplifier's power delivery when driving my Thiel CS2.2s. A track with a demanding bass line on The Bad Plus' These are the Vistas caused the amp to clip, and triggered its protection mode. After a five-minute cooldown period, the A-120 was back to normal. Pushed to the limit, the amp will exhibit some harshness and a collapsing of the soundstage. The A-120 had no problem driving the 550s Rocket RS550MkIIs, which have a higher sensitivity rating than the Thiels, to earsplitting levels, with enough bass extension and slam to satisfy most folks.
This solid-state integrated amp is quiet, dynamic, and wonderfully musical, for a mere $695. A lot of solid-state gear at this price sounds unremarkable, with bright highs, sterile mids, and thin bass. The A-120MkII, by contrast, is forgiving in the highs, and the midrange and bass have fullness and warmth. It is not the last word in transparency and detail, but that would be too much to expect from an amp in this price range. The combination of the Rocket 550s and the Onix A-120, fed by a Pioneer Elite DV-47A universal player, made for a nice budget system that exhibited balance across the board. Every type of music I threw its way was impressive, with good imaging and a broad soundstage.
Time Out by the Dave Brubeck Quartet was very satisfying, with good weight and slam. Paul Desmond's saxophone had nice body and timbre. The piano did not sound hard and icy, as it often does with budget solid-state gear. The speed, attack, and decay of the drums were outstanding given the price of the system. RCA's SACD remastering of Rimsky-Korsakov Scheherazade was sweet, dynamic, and engaging. I often chose to fire up this system instead of my reference system if I only had time for an abbreviated listening session. The warm sonic signature of the A-120 was able to coax out enough emotion from vocals that my plan to listen to a single track from Tom Petty and the Heartbreaker's Echo was thrown out of the window, and I ended up enjoying the entire album.
Although the A-120 was hooked up to the RS550s for most of the review period, I was able to test its versatility with a variety of speakers, from the single-driver, no-crossover, 90-dB-sensitive Omega Mini MEs to the Von Schweikert VR-4 Jrs (89dB sensitivity, fourth- order crossover) to my Thiel CS2.2s (86dB sensitivity, first-order crossover). The A-120 was a capable partner with each pair of speakers. Although, as I said earlier, the Thiels were a difficult load at higher volumes, they sounded quite good at normal listening levels. This is no easy feat, as the Thiels are known to sound thin and harsh when driven by lower-quality electronics.
As much as I found myself marveling at the A-120, I was even more impressed with the RS550MkIIs. I honestly think that these speakers have no peers when it comes to value versus performance. They simply deliver more any other speakers I can think of in the under-$1,000 price range. With a published efficiency of 88dB and a nominal impedance of 6 ohms, I did not find the RS550MkIIs difficult to drive. The fact that the 6 watt-per-channel Red Wine Audio Clari-T amp (in for review) was able to drive the 550s fairly cleanly at reasonable volume levels supported my observations. $1000 buys you one of the best looking and best sounding speakers at the price.
With the exception of those audiophiles who are willing to do whatever it takes to have the ultimate audio system, a system built around the A-120MkII amp and Rocket RS550 speakers would satisfy most music lovers, and would do so at a virtually unbeatable price. The combo can be rather forgiving at the top end, but I consider that as a good thing. Anyone looking for solid performance needs to place these two products on their list. The best part is, with AV123's generous no-questions-asked return policy, you can try these components out for thirty days, risk free. Fown Ming-Tien
Onix RS550MkII loudspeakers
Retail: $999
Onix A-120MkII integrated
Retail: $695
av123
web address: www.av123.com