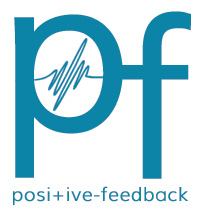 You are reading the older HTML site
Positive Feedback ISSUE 20
july/august
2005
Leroy Jodie Pierson - Analogue Productions Originals APO-005, Direct-to-Disc LP
by Dave Glackin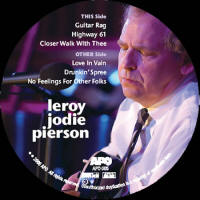 If you love old-time acoustic country and folk blues as much as I do, you simply must own this record. Leroy Jodie Pierson may look like an average white guy in his fifties, but when he sits down to play his National ResoLectric guitar, and then he opens his mouth to sing, you realize in an instant that he is nothing short of a phenomenon. I saw Leroy perform at Chad Kassem's Blues Masters at the Crossroads festival in October, 2004, where he brought down the house. Here is what co-author John Volk and I said about him at the time: "Leroy Jodie Pierson, the slightly built white man with neat business shirt, slacks and conservative necktie, had those unfamiliar with him wondering. After the first few bars sprang out from his National resonator guitar, the uninitiated realized that they were dealing with one serious blues man. A master of the bottleneck slide with firm soulful voice and deep repertoire, Leroy made one realize that he was born into the blues and has lived it ever since. Leroy Jodie Pierson has spent years trading chops with the likes of Mississippi Fred McDowell and other greats. Leroy is serious about his craft, which is finely honed, and he is also a prominent blues scholar. This immensely talented and thoughtful musician captivated the audience like no other that evening, and was the clear favorite of both of your authors." (For more information and photographs, please see http://www.positive-feedback.com/Issue16/salina04.htm.)
This is one of my top three blues albums of all time. And that's saying a lot. I have been a blues lover for decades and a blues reviewer for years. If I ever wind up on that proverbial desert island, this is one disc that I want to have on hand (assuming that there's more than a wind-up 78 rpm Victrola to play it on!). I sat in the church at Blue Heaven Studios in Salina, Kansas, for one side of this direct-to-disc recording session, about fourth row center, and was in the recording booth during the other side. This LP captures Leroy Jodie Pierson's performance perfectly in terms of immediacy, dynamics, transparency, and purity. While sitting in my dedicated listening room, I can close my eyes and easily imagine that I am back in that church in Salina watching a consummate master at work. When you put this record on your own turntable and close your eyes, you can easily imagine yourself being transported to the vicinity of a back porch in the late thirties, listening to a spirited, heartfelt, and expressive performance by one of the top bluesmen of the era. Except you're not. You're listening to a spirited, heartfelt and expressive performance by one of the top bluesmen of our own era, who simply sounds like he's been transported directly from ages past. Leroy Jodie Pierson is unique, and in my opinion he will win a W. C. Handy award in the not too distant future. He certainly deserves to.
This LP contains six cuts, comprised of five blues pieces and one blues-tinged gospel piece. "Guitar Rag," a spirited instrumental, is the opening piece, and when you hear it, you'll know what I'm talking about above. While playing the next cut, "Highway 61," by Mississippi Fred McDowell, I defy you to sit still as this classic guitar-and-vocal blues piece unfolds. The traditional gospel tune "Closer Walk With Thee" closes out side 1, with the dexterous Leroy bending and sliding notes like crazy. "Love in Vain" by Robert Johnson, which opens side 2, is a timeless blues tune, and if you didn't know that this version was recorded in October, 2004, you never would guess. Leroy's vocal talents really shine on this piece. "Drunkin' Spree" by Skip James may have been spelled by someone who was slightly drunk at the time, but Leroy was in top form during the recording, and his spirit just springs from these grooves. "No Feelings for Other Folks," an original composition by Leroy, closes out the LP.
Leroy was 56 years old when this recording was made, and he hails from St. Louis. Those friends of mine in the audience who are from that city noted how highly revered Leroy is in his hometown. This recording (only his second) should help to spread his reputation worldwide. I can't recommend this release from Analogue Productions Originals highly enough. Please buy this record and help to support Chad Kassem in his efforts to make lesser recognized but eminently worthy blues artists known to the world.
Sound 10/10
Performance 10/10
Music 10/10
You can find this LP over at our good friends at Acoustic Sounds: http://www.acousticsounds.com.