ED MORAWSKI'S SYSTEM
LOUDSPEAKERS
DIY with Scan Speak 9700 & 8535 Drivers and Series Crossover or Magnepan MMG with modified crossover and stands.
ELECTRONICS
DK Design VS-1 Mark II integrated and Bel Canto EVO2 digital amplifiers (bridged) and an E.A.R. 864 preamplifier.
SOURCES
Musical Fidelity Nu Vista D CD player, Roku M1000 SoundBride Music Server, and Musical Fidelity 21 TriVista DAC.
CABLES
Empirical Audio interconnects and speaker cables, Stealth XLR interconnects, Analysis Plus Oval 9 Speaker cables, and Cardas Cross XLR interconnects
ACCESSORIES
DIY Flexy rack of plexiglass, dedicated circuits with Brick Wall surge suppression, Balanced power transformer feeding the CDP and Acoustic First foam panels. Vibrapods, Herbie's Magic Feet and good old hockey pucks. Stillpoints ERS paper
When I built my current home in 1998, I planned for a home theater, and prewired for surround speakers. Although I'm sure that in-wall speakers were available at that time, I wasn't aware of any, so I just installed jacks and use bookshelf speakers for the surrounds. Now, of course, there are dozens, if not hundreds of in-wall speakers to choose from. These new ones from the Danish high-end speaker manufacturer DALI are most interesting. When I unpacked the Helicon Phantoms, I immediately recognized that they were high-quality components. They are weighty, and very well made. All of the drivers are custom-made for DALI by Scan-Speak.
Among the Phantoms' impressive features are the sturdy "dogging" fasteners that lock them into the wall. When you insert the speaker into the cutout, you employ a supplied allen wrench to give them a half turn, rotating them 90 degrees behind your wallboard. As you continue to tighten, the arms lock down in the perpendicular position and begin tightening against the wallboard. This makes the blind installation foolproof, and should ensure a long lasting, tight seal. There is also an eyebolt that allows the installer to connect a safety cable when mounting the units in the ceiling, so that if they ever slip out, they are prevented from dropping on someone.
Another nice feature is DALI's inclusion of plastic protective covers that fit over the drivers so that the installer can spray paint the frames to match your décor. A heavy cardboard cutting template is also in the box, and this too is well thought out. Even the binding posts are very strong, yet easy to use. They are gold plated and spring loaded, and take any gauge wire or banana plugs. The spring ensures a very tight connection for a long, long time. I really appreciate such attention to detail from a manufacturer.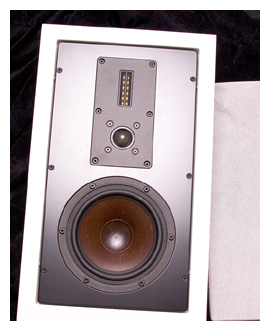 I was anxious to hear these gems, but it was apparent that giving them a fair audition was going to be challenging. Although the speakers are sealed within plastic enclosures, there was no way to place them on stands, as the bottoms are too shallow to be supported. I certainly wasn't going to cut holes in my walls, so I struggled to come up with a plan. I ended up sitting a pair on the floor and propping them up just to get an idea of how they sounded. Although they weren't bad, the sound was distinctly hollow and there was very little bass. Ben Gosvig, DALI's sales manager, had already warned me to use a subwoofer, so I was prepared for the weak bass. According to Ben, virtually all manufacturers engineer bass humps into their in-wall speakers, making them louder at low frequencies. The downside is that phase coherence is damaged, compromising the speakers' capacity to create soundstage and focus. In order to attain correct phase alignment, DALI's engineers elected not to employ a bass hump in the Phantoms. They chose tradeoffs that would optimize accuracy and the "high-end experience" while avoiding artifacts. However, for best results, a subwoofer is required.
While I pondered a solution, I had to consider the whole idea of in-wall speakers. In-walls violate just about every rule of audiophile speakers. They have no cabinets to speak of, and even when they do, the enclosure volume is way too small. Physical placement is severely limited, so you can't place them optimally in a room, and even worse, you can't move them once they're installed. Another thing I really hate is the necessity of listening with the grilles on. In the case of the Phantoms, the grilles are perforated metal, and I can't even stand fabric!
Back in the 40s and 50s, there was a lot of talk about infinite-baffle loudspeakers. As I recall, the enclosure volume was of little concern, as the idea was to mount the drivers in a large board or wall. The premise was that sound waves could not propagate backward, only forward toward the listener. Although I was never able to build such a speaker, I did hear one in a friend's house, and thought it had potential. In the ensuing years, speaker design turned toward smaller and smaller enclosures and narrow baffles, which pretty much negated the infinite-baffle theory. Car audio buffs may recognize the term, but the audiophile world has pretty much forgotten it. Nevertheless, this is the concept behind in-walls. I'm surprised that you don't find much mention of it, but I believe that's how in-walls are acting.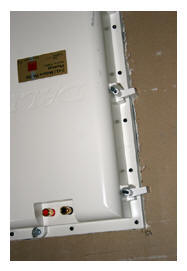 I tried propping the Phantoms against the wall and on every kind of contraption I could think of, to no effect. They just wouldn't stay upright. Finally it hit me. Although I wasn't going to cut holes in my wall, I could do the next best thing and cut holes in something else. A quick trip to Home Depot for a 4 x 8-foot sheet of wallboard that cost only a few bucks, plus a few minutes spent cutting it in half, and I was on my way. I now had two 4 x 4-foot pieces, one for each of the two speakers I intended to use for the front mains. I carefully measured and taped the provided templates and used a pencil to mark the cuts. After a few minutes with a drywall saw, I was ready to install the speakers. They fit perfectly, and using the provided wrench I turned each of the six fasteners until they were snug. The finished result was relatively flush and attractive.
I need to digress here for a moment to discuss the manual that comes with the Phantoms. While it is well written and illustrated, and quite helpful about installation and placement, it has two glaring omissions: (1) There is no mention of how to remove the metal grilles. Not wanting to damage anything, I was quite hesitant to pry them off, but that was what was required. This requires a lot of force, which scared me even more. (2) There is a thin fabric liner inside the grille. I wasn't certain whether this was supposed to remain or was there to keep dust out. I imagine that professional installers are trained in this, but since the rest of the manual is so good, why not make it perfect?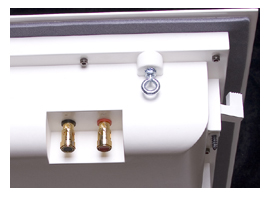 On to the listening. After setting up the two DALIs in their drywall mounts as front mains, another went horizontally under my plasma TV and the other two were set on end tables in the rear as surrounds. Then, using a test signal, I spent a few moments adjusting my ACI Titan II subwoofer to integrate with the DALIs. A crossover frequency of about 80Hz sounded best, and after determining this, I popped in the Superbit version of The Fifth Element and sat back to watch and listen. The effect was now quite a bit different than before. The DALIs sounded rich and full, and the hollow sound was completely gone. I had expected the ribbon tweeter to emphasize the highs, but if anything, they sounded subdued. While I wouldn't call them neutral, they certainly weren't bright. The soundtrack sounded great. The dialog was crisp and clear. I slid in Diana Krall's Live in Paris DVD, and that sounded just as good as The Fifth Element. The presentation was dynamic, alive, and exciting. Detail and resolution were good, and Krall's voice sounded sweet.
I achieved the same result with every movie and concert video I threw at the Phantoms. These were high-end speakers, and sounded that way. Reading the DALI literature revealed that their engineers had gone to great lengths to make the Phantoms throw a wide-dispersion soundfield. The importance of this cannot be overemphasized in a home theater environment, since the speakers can't be moved or toed in and the listeners tend to be spread all over the room. I moved to each end of my room and sat at various heights, then got up and walked back and forth, and was quite pleased with the sound in all positions.
The real test for me was two-channel music. Without video for visual distraction, the ears take over completely. Madonna's American Life went into the player, and after a few moments I began to crave more detail. I was really surprised that the ribbon tweeters weren't more evident, and I immediately suspected the grilles. Taking them off did in fact improve the high-end detail, but not as much as I expected. I certainly preferred the DALIs without the grilles, but this will not be a choice that most home theater owners have. The typical Phantom customer will not listen to them without the grilles—at least not without a divorce lawyer handy.
Then I wondered if removing the fabric behind the grilles would improve the sound. It was not easy to remove, and I didn't want to damage anything, so I again contacted Ben Gosvig, who explained the fabric was there to dampen mechanical ringing from the metal grilles, and that it was perforated to match the grilles and was acoustically transparent. I spent the weekend watching movies with the grilles on, then switched back to my Infinity speakers. The DALIs were superior in every way. In fact, the differences were quite startling, especially in the midrange, where the DALI ribbons produced a clearer, crisper sound. I assume the DALI engineers went upscale on the ribbon to compensate for the grilles. If so, I commend them for a wise decision!
I really appreciated the DALIs late in the evening, when others in the house were asleep and I was forced to turn down the volume. Their low-level detail was superb, and I had no trouble hearing dialog. The Phantoms are a little on the pricey side at $1195 each, but you get what you pay for. If you're in the market for audiophile-grade home theater speakers and need in-walls to satisfy your interior decorator, the DALI Phantoms are worthy of your consideration. Ed Morawski
Specifications:
Frequency range (+/- 3 dB): 58-28,000Hz (enhanced)/64-28,000Hz (normal)

Sensitivity (2.83 V/1m): 89dB

Nominal impedance: 4 ohms

Maximum SPL: 108dB

Crossover frequencies: 3100 Hz/15,000 Hz

Enclosure type: Sealed

Placement: In-wall

Recommended amplifier power: 50-200 watts

High-frequency drivers: 1 x 29mm soft dome/1 x 10x55mm ribbon

Low-frequency drivers: 1 x 6.5-inch

Controls: Low frequency level

Connection inputs: Single-wire

Dimensions: 47.7 x 28.5 x 11.0 cm (H x W x D)/18.78 x 11.22 x 4.33 inches (H x W x D)

Weight: 7 kg/16 lbs.

Finish: White (NCS S0502-Y)
Phantom in-wall
Retail: $1195 each
Dali
web address: www.dali.dk
DALI USA
3957 Irongate Road
Bellingham, WA 98226
TEL: 360-733-4446
web address: www.dali-usa.com
email address: beg@dali.dk