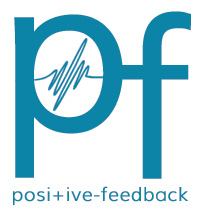 You are reading the older HTML site
Positive Feedback ISSUE 21

september/october
2005
East Meets West: Two Budget-Priced Headphone Amplifiers
by Ed Kobesky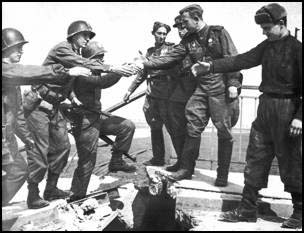 Credit the folks at HeadRoom for starting the headphone amp craze. They may not have been first to market—Stax electrostatics date back in the 1960s—but they were first to make a successful case for spiffing up your average headphone jack. Today, it seems that everybody is marketing a headphone amp, which is a good reason to be wary. Anyone can shove ten bucks worth of parts into a machined enclosure, insert a blue LED, cook up a fancy name like "Richmond Research Labs Reference Headphone Accelerator V1.1," and slap on a $500 price tag. Some will even be successful. Nevertheless, good headphones and headphone amps offer value in reverse proportion to their pint-sized price tags. The amps in question here, the hand-built-in-America HeadAmp Gilmore Lite, and the portable, Taiwanese-made Firestone Battery Cute, deliver their fair share of musical enjoyment.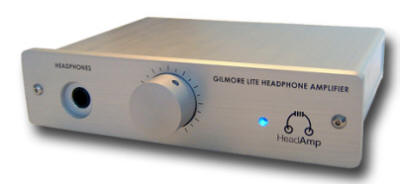 The Gilmore Lite ($299), the better sounding of the two, is based on a design by acknowledged headphone guru Kevin Gilmore. I was skeptical of its appearance at first. It looks pretty and well built, but who knows what lurks inside? My skepticism didn't last long. Schematics for the Gilmore Lite's amplifier board are posted right on HeadAmp's website (as well as their original source, the project library at www.headwize.com). Gilmore Lites are sometimes backordered, and a five- to ten-day wait for one is not uncommon. Your patience will be rewarded with careful hand assembly and commendable attention to detail."). Your patience will be rewarded with careful hand assembly and commendable attention to detail.
The Gilmore Lite is not portable, and is supplied with a very, very good Elpac regulated power supply. I've used Elpac power supplies with other headphone amps and found them to be equal to many premium OEM upgrades, at a fraction of the cost. The Gilmore Lite is also available with a dedicated power supply for a package price of $499, but for this review, I bowed to my cheapskate tendencies and did without it, as if I were spending my own money. The Elpac was all I needed to get the Gilmore Lite cooking.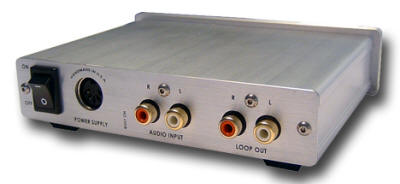 This is a superb amplifier. I'd love to report that it blew me away at first listen, but that's not the case. In fact, I was wholly unimpressed during my initial listening session, so much so that I put it away for a few weeks, and even thought of returning it. When I took it out again, I couldn't stop listening. The Gilmore Lite is neutral to a fault, offering an un-hyped presentation that's as true to the source as you will find for $300. At the same time, it is not ruthlessly revealing. You could easily enjoy it with a mass-market CD player—I certainly did—but when I paired it with my Rega Planet 2000, I began to appreciate the capabilities of this talented little amp. The Gilmore Lite offers an unclouded sonic presentation that can verge on the clinical, but with proper matching, it has excellent resolution as well as the ability to give appropriate heft and scale to voices and instruments. Paired with my Sennheiser HD580 headphones, the Gilmore Lite's soundstage was deep, dimensional, and altogether impressive. I couldn't really think of anything to dislike about it, given the price, plus it's solid as a rock and looks like it will last a lifetime.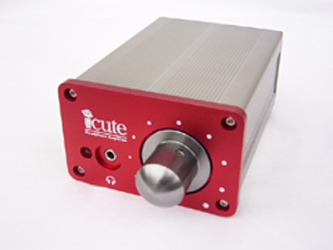 At $100 less ($199), the fun and quirky Firestone Battery Cute offers its own set of virtues. The unit is housed in a lightweight yet tough enclosure. Its size is just right for your desk, or a bedside table. It's also small enough to take on trips, and seems like a perfect match for Apple's iPod. While chunky and slickly styled, it doesn't feel quite as sweated-over as the HeadAmp. It also doesn't seem to have quite the same level of oomph. Driving my Sennheisers using the output of a Sony Discman meant turning both units' volume controls way up, increasing background noise. The Firestone fared far better at home, driven by my Toshiba SD-6915 universal player.
Despite the name, I didn't even realize that the Firestone was battery-powered when it arrived. It came with an optional AC power supply, so I just plugged it in and started listening. Somewhere along the line, the plug got knocked out of the wall. I must have listened for days until the little blue LED on the front panel began to fade. I never got around to measuring the battery life, but I got about six to eight hours from the unit's built-in rechargeable battery packs—not bad at all. Compared to the HeadAmp, the Firestone sounded somewhat dark. I didn't find it to be the best match for the HD580s, but that's a matter of personal preference. If you are looking for a very lush and laid-back combo, the Cute/HD580 pair would be a great one. I got more satisfying results with the crisper, more forward-sounding Grado SR60s ($69). In fact, that would be my recommendation in terms of bang for the buck.
The Firestone has a smooth, non-fatiguing sound that is easy to enjoy for hours on end. It was also a significant improvement over the excellent headphone jacks on my vintage Sony ES CD players. The Battery Cute is a cool and totally unpretentious little package for under $200. If you like its funky styling, portability, and flexibility, give it a listen. It offers good value for the money, and would make a great gift for the iPod junkie in your life who doesn't realize that there is a whole world of musical enjoyment waiting beyond cheap earbuds. About the only thing I'd love to see added to this headphone amps—and, for that matter, to the HeadAmp, and every other headphone amp on the market, is something like HeadRoom's crossfeed circuit. It really does make a difference, eliminating what HeadRoom calls the "blobs in your head effect" without sacrificing much in the way of sound quality. If you're prone to pulling headphone all-nighters, it's almost indispensable.
This was not intended to be a shootout between the HeadAmp Gilmore Lite and the Firestone Battery Cute. They are different products, with different missions and their own special virtues. I like both for different reasons, and if I could, I'd keep both.
HeadAmp Audio Electronics: www.headamp.com
Firestone: www.firestone.idv.tw