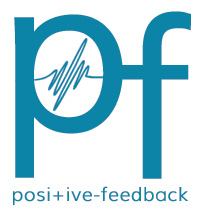 You are reading the older HTML site
Positive Feedback ISSUE 21

september/october
2005
Mobile Fidelity: Three Vinyl Picks
by Roger Gordon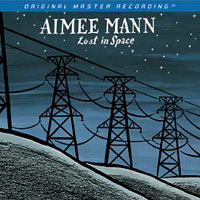 Aimee Mann, Lost in Space
Lost in Space is the fourth solo album from singer/songwriter Aimee Mann. It is hard to believe that she cut her first EP way back in 1982 (Bark Along with the Young Snakes), and is now 45 years old. Having done punk with the Young Snakes (1982-1984) and New Wave with 'Til Tuesday (1985-1988), she became her own person singing her own music when she went solo with Whatever in 1993. Her second solo album, I'm with Stupid (1995), was a critical success, but not a financial one. The same could be said for her third solo album, Bachelor No. 2 (2000). The lack of financial success caused a lengthy dispute with her record company, Geffen, that resulted in Mann buying back her recording contract and launching her own label, SuperEgo Records. SuperEgo re-released Bachelor No. 2, with sufficient success that Mann was able to record and release Lost in Space in 2002.
Is Lost in Space as great an album as Bachelor No. 2? Most Mann fans will say no, but few albums are as good as Bachelor No. 2, so what will you hear when you drop the needle on Lost in Space? You will hear a smooth and silky female voice that really does not need accompaniment. You will also hear great tunes, with real melodies and lush, multi-layered instrumentation, written by someone who can play more than three chords. Finally, you will hear the lyrics, which are simple yet poignant. Each song tells a story that tugs lightly at your heart. The lyrics are a little on the sad side, but after you listen to the album, you will feel relaxed and content. This is a great record to unwind with at the end of a hard day.
In reissuing this album on vinyl, MoFi has done their usual exemplary job. It is wonderfully pressed on clean, quiet, 180-gram vinyl, yet this is a music lover's album, not an audiophile record. The liner notes, written by co-producer Ryan Freeland, say it all:
There is a concept of audio engineering in which one attempts to accurately, and pristinely, capture the sound of an instrument. You listen to a piano, guitar, bass, drum or voice, and try to record it with appropriate microphones, in acoustically-treated rooms with good isolation, in an attempt to reproduce a sound that is as close to the original source as possible. In Lost in Space this concept rarely entered our minds. While we did record some pristine and accurate sounds, most of the time we focused on manipulation of sound in strange and interesting ways that had nothing to do with being accurate to the original source…. We recorded pianos in mono with so much compression they resembled rubber bands more than pianos. We ran sounds through every gadget you can imagine in order to lovingly give them a unique character. We created entire tracks out of what some would think of as just unwanted noise. And we loved every minute of it.
If you love simple songs with deeper meanings, sung by a woman with a unique voice, you will love this album.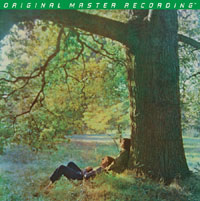 John Lennon, Plastic Ono Band
In every art form, there is one work that sets a clear boundary between that which went before and that which came after. In painting, Picasso's Demoiselles d'Avignon, and in film, Orson Well's Citizen Kane, are two examples. Both works were so explosive that people did not know how to react to them. Many were repulsed, but the world was forever changed. Now, people who were not alive when these works burst upon the scene can't see what all the excitement was about.
Plastic Ono Band set a similar boundary in rock music. For those who have grown up listening to grunge, or rap, or virtually any of the nihilistic rock music of the last few decades, Plastic Ono Band may seem quaint and crude, but to people who grew up in the 50s and 60s, Plastic Ono Band was completely new and different. Here was raw emotion on an album by a major artist. Here was John Lennon speaking his mind, plainly and clearly, on sensitive subjects like politics, organized religion, and love. With the release of this album, all restrictions on rock music were done away with. The F-word appears in several songs, so profanity was now legitimate. Talking disrespectfully of organized religion (and by extension, any subject) was now legitimate. Expressing any emotion, no matter how primitive or agonizing, was now legitimate. Rock was forever changed.
Some have said that the music on Plastic Ono Band is irrelevant, that what is important are the words and the raw emotion with which they are delivered. Clearly, Lennon needed to bare his soul to his public, and the music was secondary. Devoid of the words, the music is good but not great. It is simple, and it is played very simply—sometimes it is just Lennon playing guitar or piano, and sometimes he is accompanied by Ringo Starr on drums and Klaus Voorman on bass. There are no real production values, no overdubbing or string sections playing in the background, just some added reverb. What you do have is John Lennon screaming his lungs out. Prior to making this album, he had been undergoing primal scream therapy. Singing does not get more raw or emotional than his primal screams on the first cut, "Mother," where he laments the untimely death of his mother.
Some think that this is one of the greatest rock albums. Others think it is an outdated masterpiece, important for what it represented at the time, but no longer worth a listen. If you like easy-listening rock music, this is not for you. If you are more cerebral, can understand the emotion and feel the pain, this album is remarkable. You need to listen to it to determine which camp you are in. If you have an extensive collection of rock albums, you need this one.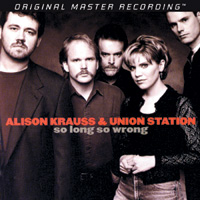 Alison Krauss & Union Station, So Long So Wrong
If you are not familiar with Alison Krauss & Union Station, you have to understand that AKUS is a band. It is not Alison Krauss backed by four musicians. Of the thirteen songs on the album, she sings lead vocal on only seven. Dan Tyminski sings lead on three, Adam Steffey and Ron Block each sing lead on one, and there is one instrumental. The fourth musician, Barry Bales, sings backup. There is no percussion—just guitar, banjo, fiddle, acoustic and electric upright bass, and mandolin. This is contemporary bluegrass, not Country Western. There are no steel guitars, no achey breakey hearts.
Having said that, I must say that this is one of the best bands for listening pleasure that I know. Whether playing traditional songs such as "Little Liza Jane" or new songs like "It Doesn't Matter," this band is foot-stompin' fun. This is partly due to their high level of musicianship. Krauss' fiddle playing can take your breath away. Ron Block's banjo picking will have you thinking of Flatt and Scruggs. Dan Tyminski's guitar playing ranks with the best, as does Adam Steffey's mandolin playing. Barry Bales' thumping bass lines drive the music along so well that you don't even notice the absence of percussion. Krauss' voice is crystalline and pure, and Tyminski is no slouch as a vocalist. You heard him doing the voiceover for George Clooney in the film Oh Brother, Where Art Thou, and he has released one solo album.
I have heard criticism of AKUS from bluegrass purists who claim that the band has betrayed its roots by going commercial. It is true that some of the songs on So Long So Wrong are not pure bluegrass. Some could be classified as folk, pop, or perhaps New Bluegrass. Unless you are a bluegrass snob, this will really not make a difference. What will matter is that this is fun music, superbly played and recorded. MoFi has done its usual splendid job in mastering and pressing it. This is a great album, and even your non-audiophile friends will love it.