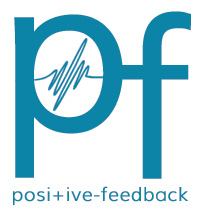 You are reading the older HTML site
Positive Feedback ISSUE 21

september/october
2005
The Rocky Mountain Audio Festival, September 2005: My Favorite Rooms
by Albert Porter
I arrived at the Denver, Marriott Tech Center about 4:00 PM Thursday in anticipation of the show that would not begin until lunchtime the next day. Most of the rooms were ready when the crowds arrived Friday and I was determined to see, hear, and photograph every room. With twice as many exhibitors as last year, it was a lot harder to cover all the ground in 2005, and my report isn't intended to be exhaustive. Instead, I'll concentrate on the rooms that really caught my ear, and share quick impressions and images with you.
The Rocky Mountain Audio Festival surprised me last year, providing a breath of fresh air and unique location compared to other audio shows. I was taken by both the quality and quantity of high end audio on display last year and this show did not disappoint, larger still and even better organized than my last visit. The rooms sounded better to me than a typical CES with more than a few rooms interesting enough to report on.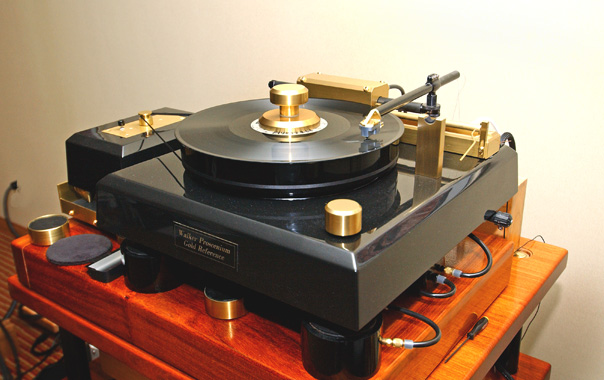 The Walker Audio Proscenium Gold Reference turntable system
The first was Tower suite 7224, where Lloyd Walker's Proscenium Gold turntable and the Magic Diamond cartridge were making music.
Phono step up was via the solid state Walker Reference and the line stage was Walker's Tube Reference pushing signal into a pair of Renaissance Monoblocks (push-pull tube design amps) playing through Verity Audio Sarastro speakers.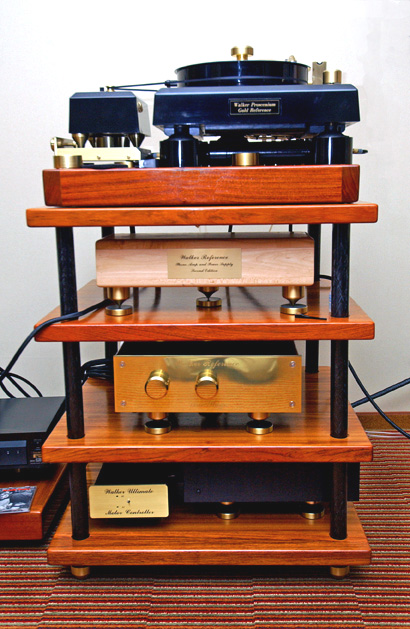 The Walker Reference Rack, featuring (from top to bottom), the Proscenium turntable, motor and phono amp (behind the table); the Walker Reference Power Supply; the new Walker Audio Reference Line Preamplifier; the Walker Ultimate Motor controller (bottom left) and line preamplifier power supply (bottom right).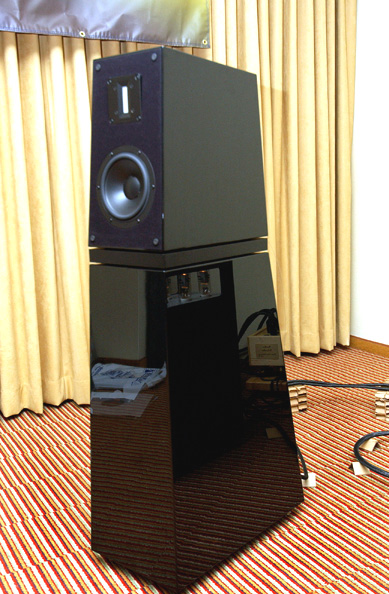 The Verity Audio Sarastro Loudspeaker
The combination of Lloyd's solid state phono stage and Reference tube line made for a nice overall balance. I listened to multiple LPs during several visits to this room and the sound was very good. I did not look at the back of the Verity Audio speakers but wager they were fitted with Lloyd Walkers HDLs, a product that I use in my own system. [As a matter of fact, Albert, you're right; the Veritys were outfitted with the latest revision of the Walker Audio High Definition Links. – Ye Olde Editor]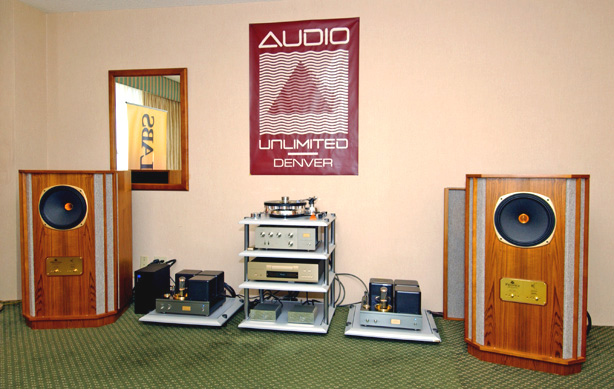 At the Audio Unlimited room
A visit to room 7213 found my friend Ronnie Caplan in charge, great guy and undisputed Koetsu expert. Ronnie spun several LP's and answered questions for visitors, playing the music at a comfortable (lower) average volume level than other exhibitors' rooms.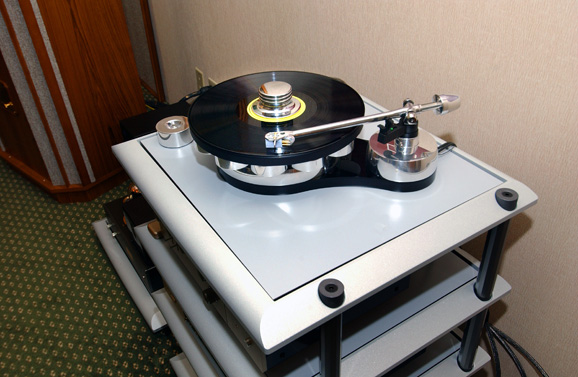 The Transrotor Atlantis/Koetsu combination in action
His analog source was a Transrotor Atlantis turntable with Koetsu cartridge stepped up by a Transrotor phono stage and AirTight ATC-2 preamp. Airtight ATM-211 amps drove the Tannoy Yorkminster loudspeakers while Running Springs brand power conditioning cleaned up the power.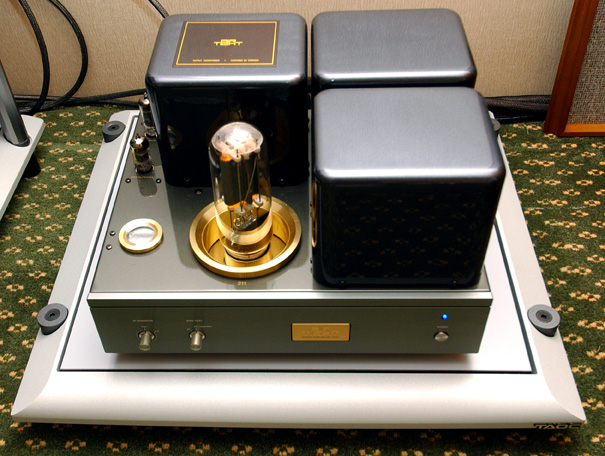 The Air Tight ATM-211 monoblock amplifier
This was a VERY sweet sounding room. No "Hi-FI" sound, just music. The AirTight ATM-211 mono Blocks sounded a bit softer and sweeter than the Air Tight ATM3 monoblocks found in my own system. Cables were by Tara Labs and on static display were the Accuphase T-100 Tuner, Accuphase C-2400 Preamp and Accuphase A-60 power amps.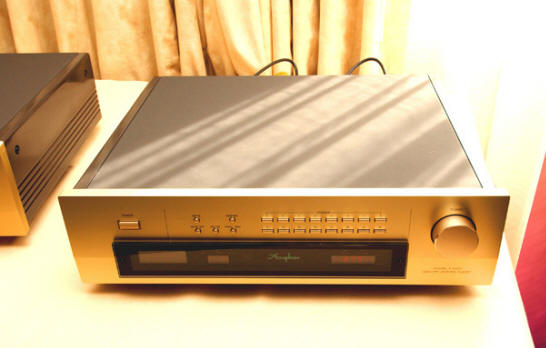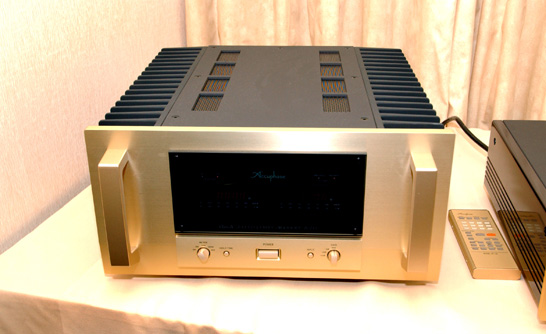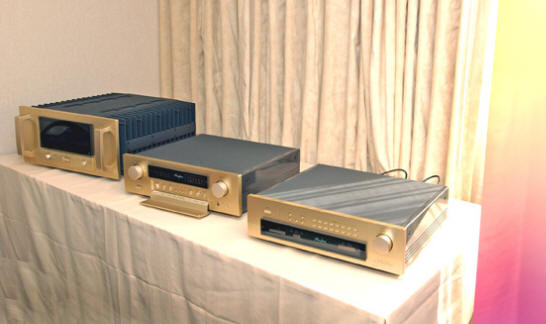 The Accuphase lineup on display
Although the Accuphase DP-57 CD player was part of the active system, I did not have the opportunity to hear it.
What I did hear made me want to just sit down and listen. Beautiful, high quality sound not often heard at these shows, particularly in the confines of smaller hotel rooms. This analog rig delivered textural, seductive sound that made it hard for me to leave.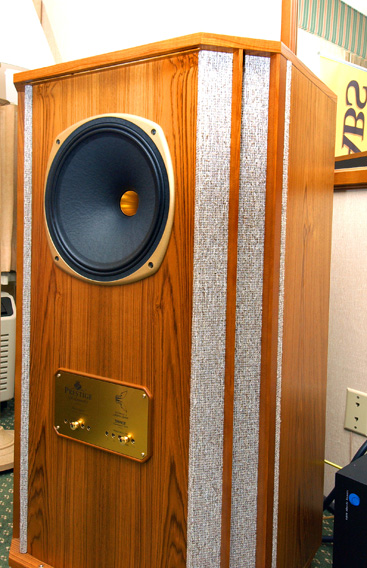 The Tannoy Yorkminster loudspeaker
In room 7030 I met Chris Brady and now understand why so many Internet discussion groups are buzzing with excitement over the Teres turntables.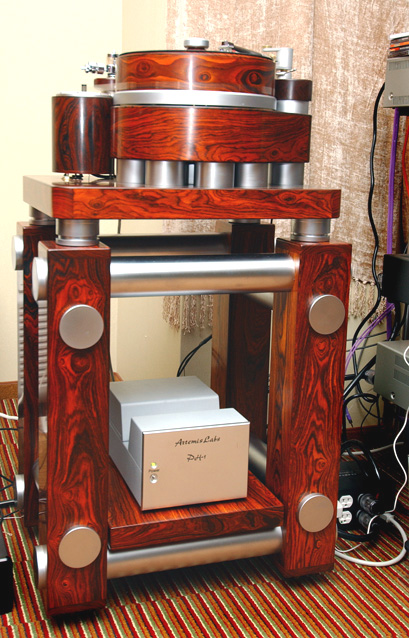 The Teres 360 turntable on its not-yet-named stand
Like Lloyd Walker, Chris Brady is dedicated to analog reproduction and very excited about his product. Chris was displaying his top of the line Teres 360, supported by the brand new (yet unnamed) custom stand that was drop dead gorgeous! I will refer to it as the 360 stand until corrected.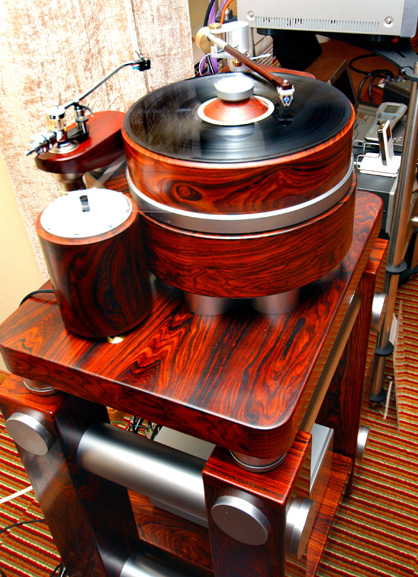 The Teres sported two arms, the Schroeder Reference with cocobolo wand and ZYX Universe cartridge (to the right in the photograph above). The second tone arm (to the left in the above image) was the Moerch UP-4 with Shelter Crown Jewel SE.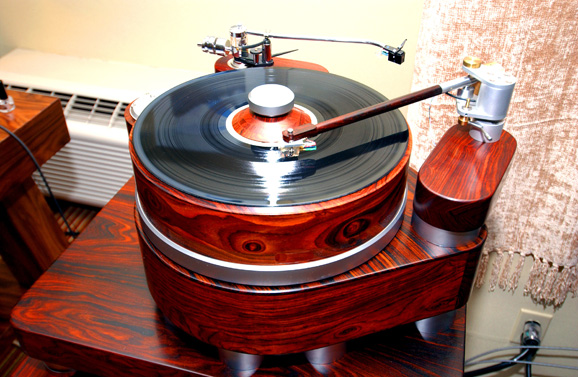 Another angle on the Teres 360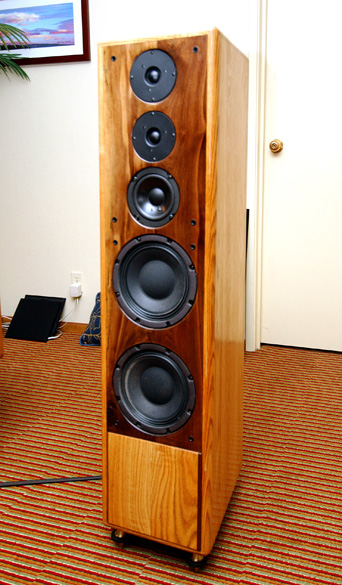 The Daedalus Audio DA-1 loudspeakers
Step up for the two moving coils was provided by an Artemus PH1 tube phono. Tube amps were the Song Audio SA 300 MB driving Lou Hinkley's Daedalus Audio DA-1 Speakers. I was highly impressed by the musicality and beauty of this room and hope to hear more from these companies in the future.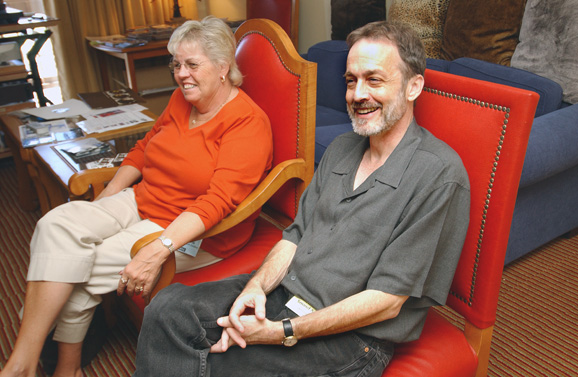 PFO's Lila Ritsema and Dan Meinwald of E.A.R. USA, digging the music!
Next was Audio Federation, room 7930. I would visit this room if for no other reason than to see Dan Meinwald's smiling face. Like Ralph Karsten at Atma-Sphere, you cannot help but like this guy the first time you meet him.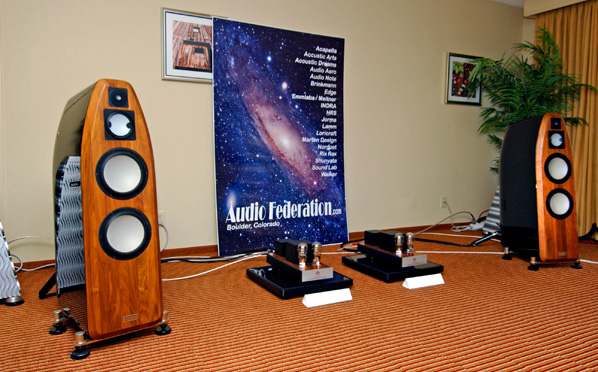 Audio Federation was showing the exceptional Marten Design Coltrane speakers driven by Audio Note Kegon Amps. Although the Audio Note provides only 22 watts per channel, beautiful music flowed into every corner of the room.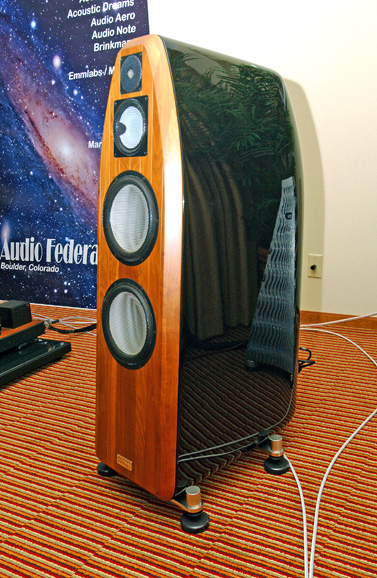 The Marten Design Coltrane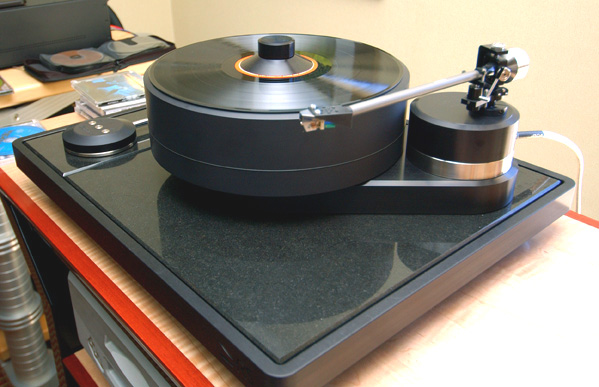 The Brinkmann Balance turntable with Brinkmann arm and Lyra Titan cartridge
For analog, there was a Brinkmann Balance turntable with Brinkman tonearm and Lyra Titan cartridge. Phono stage was the Lamm LP-2 Deluxe and Lamm L2 reference preamplifier.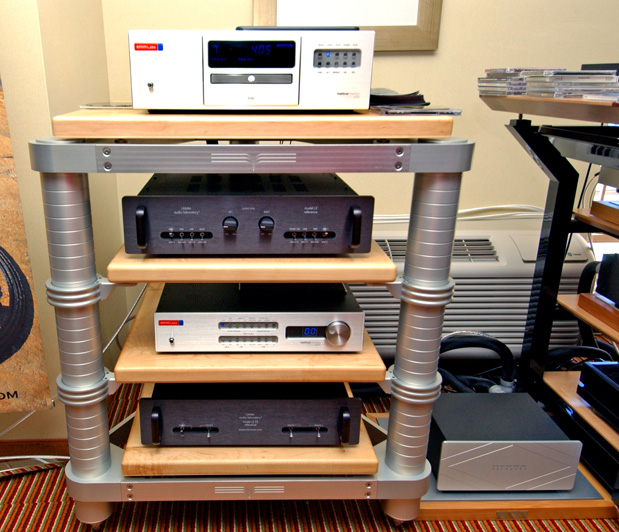 Those with silver discs had state of the art choices for their auditions as well. Audio Aero Prestige multi-channel plus CD and EMM labs CDSD transports, decoded by the EMM Labs/Meitner DCC2 D-A converter.
In the far corners of the room, well behind the Martin Design speakers, were the huge Edge Electrons NL Reference solid state amps. These were almost as large as the speakers themselves and rated at a staggering 800 watts per channel. I did not have the opportunity to hear them, so I cannot comment on their performance.
Overall, this room wins my award for "most improved sound" over the previous year's set up, where Dan displayed the same great speakers.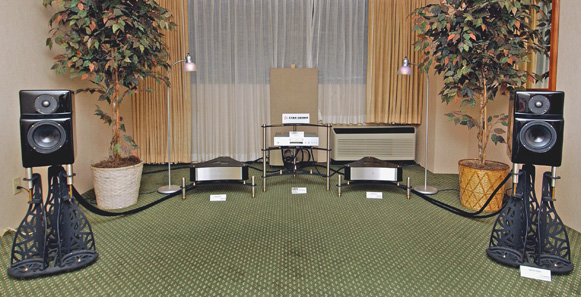 In Room 7202: Harmonic Precision, Starsound Technologies, and cabling by Sonoran
Next, I met with my friend Tom Lyon who was at this year's RMAF providing support for Sistrum in two different rooms.
I caught up with him in Tower Suite 7202, where for the second time in two years I auditioned their small bookshelf speakers capable of larger musical images and greater dynamic contrast than I would have thought possible.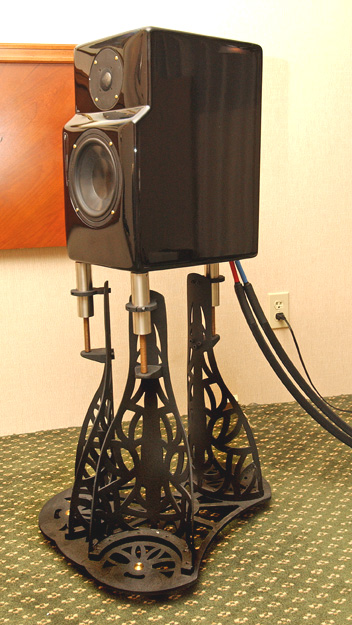 The Harmonic Precision Caravelles on Starsound Technologies Sistrum speaker stands
I'm referring to the Harmonic Precision Caravelles. The speakers are finished in beautiful gloss black; sitting on custom stands reminiscent of the fancy ironwork in the French Quarter of New Orleans. Tom mentioned that a newer, simpler stand design was in the works, so perhaps others thought them a bit busy as well.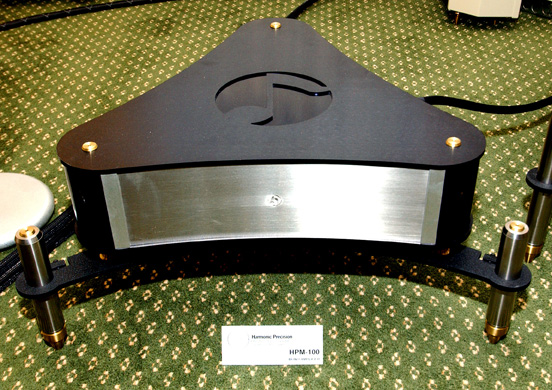 The Harmonic Precision HPM-100
The Caravelles were connected by Sonoran Plateau speaker cables, Sonoran interconnect cables and power cables and all the electronics were Starsound Technologies design and manufacture except for the Shanling CD player, which I understand was heavily modified by Starsound.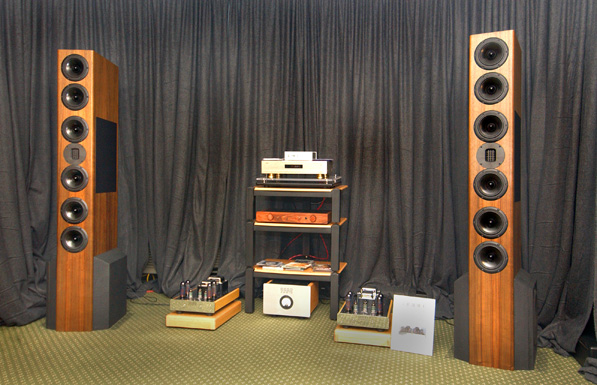 In Room 7216
I made several trips to room 7216 and enjoyed dinner one evening with Gary Dodd and Danny Richie who shared that space. Danny was showing an entirely new speaker design from GR Research making its world debut at Audio Fest. This is an open baffle, three-way tower with a built in 150 watt plate amp powering the 12" woofer.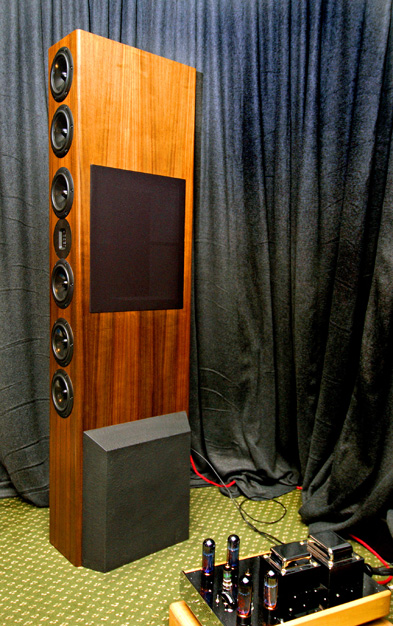 The music source was from a CEC transport decoded by a battery powered ACK DAC with zero upsampling. Gregg Straley provided his Reality Line cabling, utilizing a cryo treated, and spiral copper conductor design. The amps were the Dodd Audio monoblocks, alternating between the 120 watt EL34 tube version and the 50 watt 829B tube design. Both amps showed their strengths with the higher power unit producing superior dynamics and sound pressure levels and the 50 watt version winning in the sweet seductive musicality category.
These (yet unnamed) GR Research speakers will be sold exclusively through high end audio retailers. The suggested retail price is between $5595 and $5995, depending on finish. Response to this product was so great that a representative has already spoken for the line.
You know, there was so much to see and hear I could have easily spent another day at RMAF 2005. Ironically enough, the rooms were at their best Sunday, as everyone began congregating in the hotel lobby in search of airport transportation.
The Rocky Mountain Audio Fest is smaller and more intimate than CES, a reminder of times when there was less pressure on the high-end audio community, and we could enjoy a show a lot more. If you weren't there, you missed a great show—mark your calendar for next year.