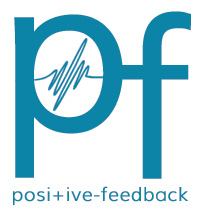 You are reading the older HTML site
Positive Feedback ISSUE 21

september/october
2005
RMAF - the People's Show, page 2
by Dave and Carol Clark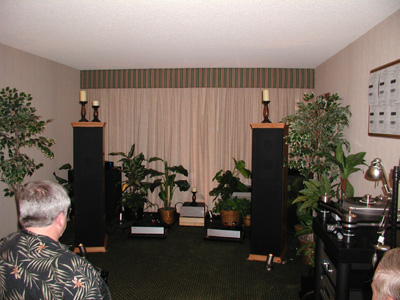 The Herron room had that deja' vu feel to it... hey, it's just like the room at CES! Herron VTSP 2 Vacuum Tube stereo preamplifier $4995, Herron HL-1/PH1 Solid State stereo preamplifier $4995, Herron M1 Solid State mono power amplifiers $6850/pr, Herron interconnects $225/1 meter pair, Herron FTPH-2 Vacuum Tube Phono preamplifier (prototype) $3650, Herron ESP-1 speakers (prototype) price TBD, Herron S118 subwoofers (prototype) price TBD, and Balanced Power Technologies AC filtration. Keith and his wife are first class people.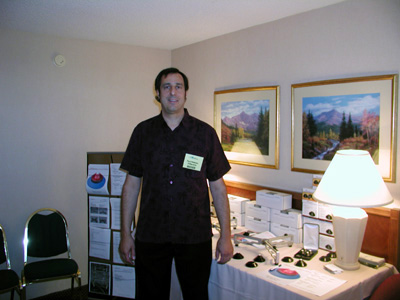 Paul Wakeen of Stillpoints. Send me some stuff Paul!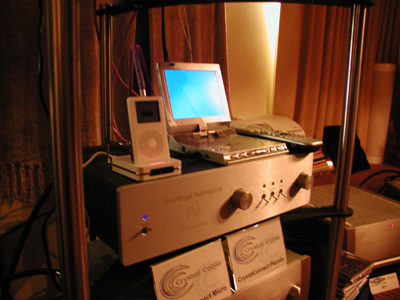 Daedalus Audio used the Apple iPod music server, Parasound, Empirical Audio, Bottlehead, Crystal Cables, and a ModWright line stage along with their loudspeakers. Very gorgeous stuff with an "natural" sense of musicality.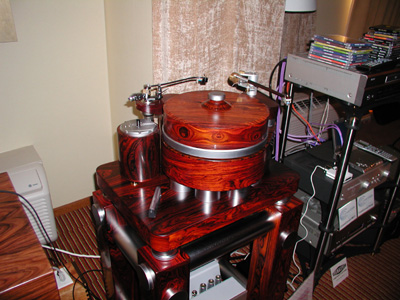 Beautiful. Teres. Nuff said.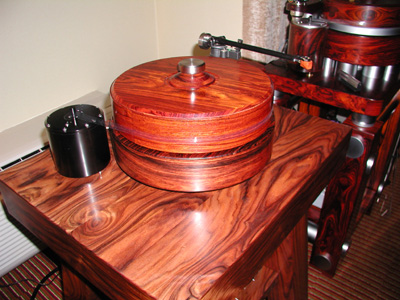 Beautiful. Teres. Nuff said, ditto.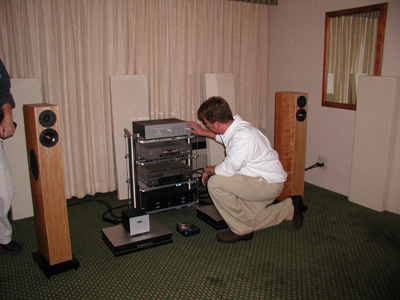 Dan Wright of ModWright. ModWright Denon 3910 with Universal Truth Mods, Sony 999ES with Platinum Signature Truth mods, ModWright Instruments SWL 9.0SE preamplifier, Channel Islands Audio D-200 monoblock amplifiers, Penaudio Serenade speakers, Jorma Design No.1 Speaker cable and analog IC's and Super Power AC cables, World Power Wing AC power conditioner, Symposium Ultra Platforms, Still Points Component Stand. The Eno disc sounded very nice with a palpable presence. A tight, yet big sound from very small speakers. Way cool too!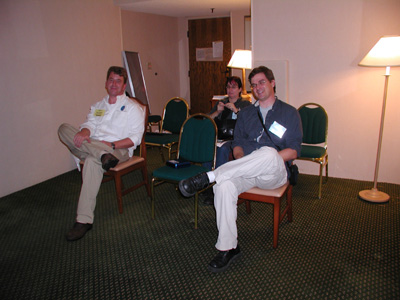 Dan Wright and Paul Candy (6Moons). What nice boys!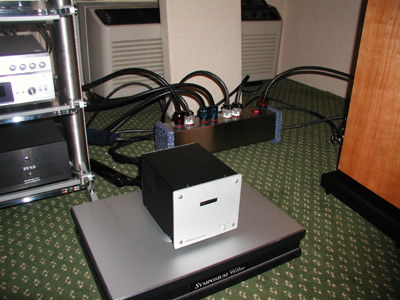 The Channel Islands Audio D-200 monoblock amplifiers.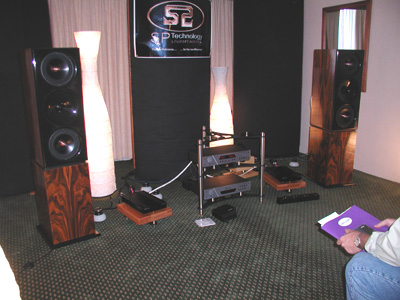 SP Technology speakers Continuum 2.5, McCormack MAP1 preamplifier and UDP1 CD player, and NuForce amplifiers (below) in the TweekGeek room. Really liked this place. Mike is way cool and the room was too. Nice sound and easy on the ears. Good stuff!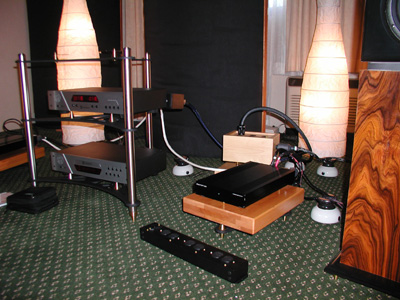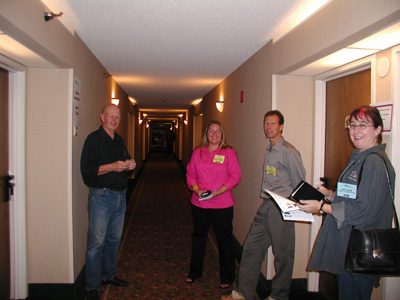 Allen Wright, Deborah and Tom Maker from Edge, and Carol take five in the hallway. While it appears to be light crowds, most rooms had several people inside grooving to the notes.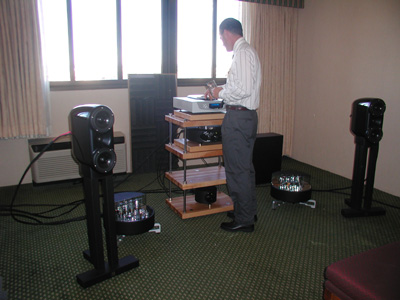 Karl Schuemann of AudioMachina with his stellar Ultimate Monitors (with sub) used Thor amplifiers and preamplifier, and an AudioAero Capitole CD player to make music.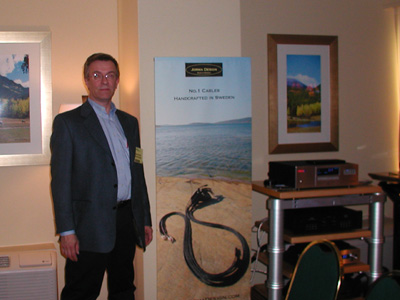 Jorma Koski of Jorma Designs in the Audio Federation room. Electronics included EMM, Lamm, and Audio Aero.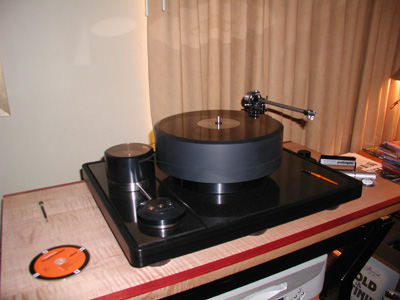 The Brinkmann Balance table.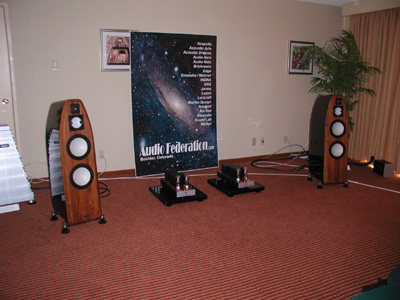 Marten Design Coltrane loudspeakers flanked by the Edge NL Reference amplifiers.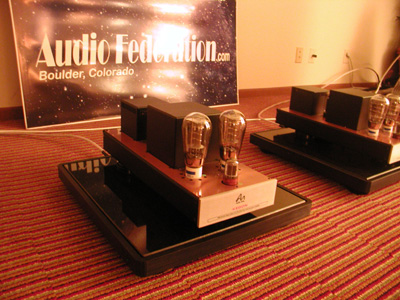 Audio Note Kegon amplifiers.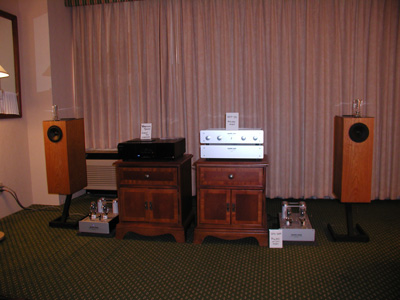 Vacuum State showed Sony SCD-777ES player with Vacuum State Level 5 true dual differential balanced output mod, Vacuum State TRP3D preamplifier with separate power supply, Vacuum State dpa300B monoblock power amplifiers (below), Warren Gregoire's Ikonoklast 5 speaker systems, and Vacuum State interconnects and speaker cables.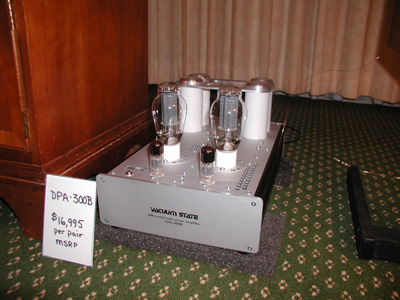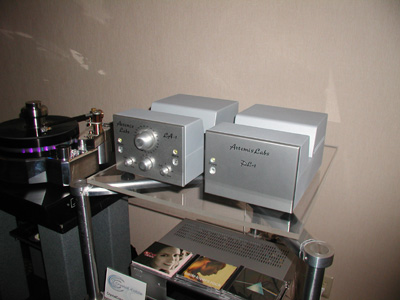 The Aydn room (yo... Sean and Chi), Artemis Labs SD-1 stereo amp w/outboard power supply, Galiber Design Stelvio turntable, and Artemis Labs LA-1 line stage. even thought eh speakers were not dialed in, we still found this room to be quite nice. Not quite the right bass, but the Eno disc sounded very nice.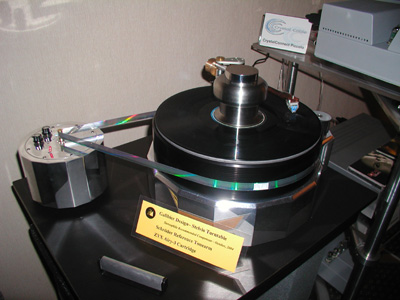 Galiber Design Stelvio turntable.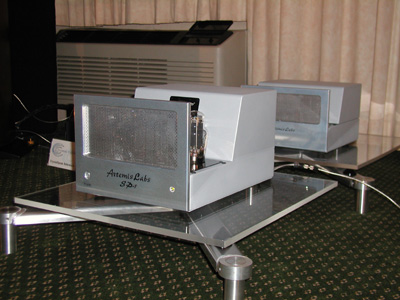 The new Artemis Labs SD-1 stereo amp (front) w/outboard power supply (rear).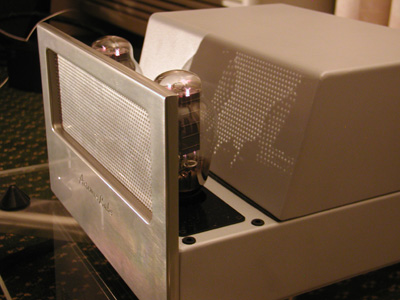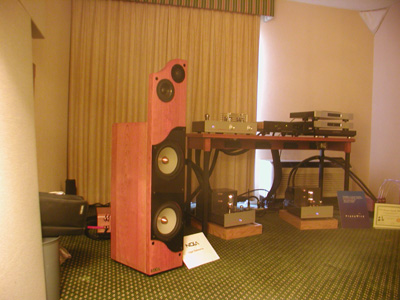 The new Nola Viper Reference speakers with deHavilland electronics and Prana wire. Always good music.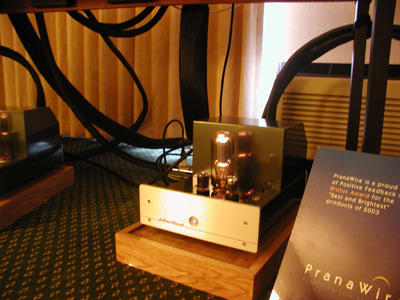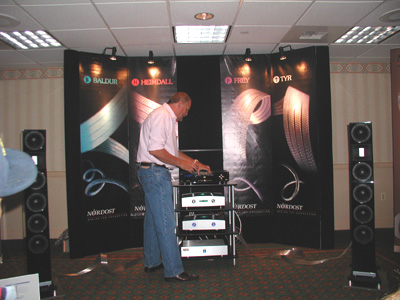 Nordost cable demo courtesy of Lars. Nice to talk to Joe and give a listen to their new line of Baldur, Heimdall, Frey, and Tyr cables. All pushing the limits and very nice. The system was built around Chapter electronics and Eben loudspeakers. We found this room to be one of the better at the show.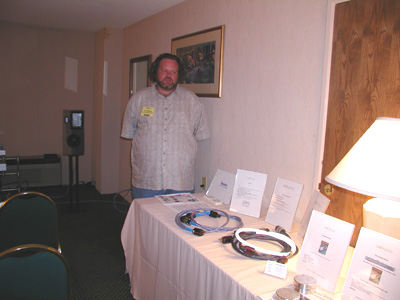 Locus Design Group's Lee Weiland with his line of cables. Cyro'ed and ready to go!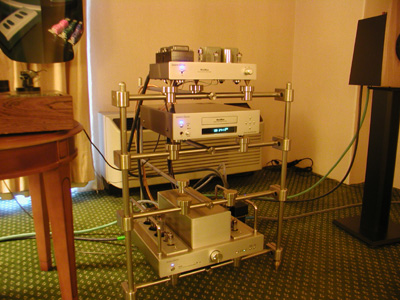 A very cool stack of Eastern Electric electronics; M520 integrated, MiniMax CD player and phonostage on Dynamic Contrasts' What Rack rack..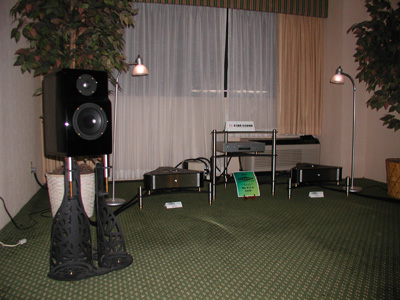 Starsound with their Sistrum platforms, Harmonic Precision electronics and speakers. We really liked this room and the Eno disc sounded quite nice—very organic with excellent drive and pace.