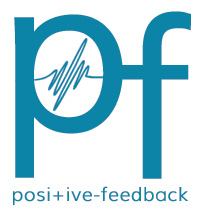 You are reading the older HTML site
Positive Feedback ISSUE 21

september/october
2005
The Rocky Mountain Audio Fest 2005: A Photo Essay, Part 1
by David W. Robinson
All images, image processing and frescos by Robinson.
A good audio show is hard to find.
Just ask the fellow who's tried. Most audio shows are too much of everything: crowds, noise, hectic velocity, lousy acoustics, inferior setup, crummy recordings (including too much "Tibetan Yak Music"), pompous presenters and overbearing shills. Not enough time or opportunity to find and hear the good stuff; too many missed friends; not enough commitment to the "fine" in fine audio. (While I'm thinking about it, what say we lose the term "high end audio"? Do we speak of "high end dance" or "high end symphonic"? Fine audio needs to take its place in the pantheon of the fine arts.) CES is particularly bad in this regard ("Can anything good come from Las Vegas?"), but Stereophile's shows over the years haven't been much better…and since those events have seemingly become a "profit center" for Stereophile's corporate ownership, I doubt this will change any time soon.
As a result, audio shows are always hard work for an audio journalist, and all too often real drudgery. Instead of inspiration, you end up with perspiration; instead of exaltation, exhaustion. That's why you see relatively few "comprehensive" show reports—and why most of those are composed mainly of "There's a room! And look! There's another! And yet another! Right there next to another! How cool!"
Yawn.
That's why I've enjoyed the development of smaller, regional audio shows more and more over the years. My particular Pacific Northwestern favorite was the run that the Vacuum State of the Art (VSAC) show had up in Silverdale, Washington. This show concentrated mainly on SETs and tube-based audio and analog sources, though there were also some excellent presentations of DSD/SACD that were done. A small handful of these events took place between the late '90s and 2003, put together by folks like Doc B., Ron Welborne, etc., etc., a group who really cared about fine audio, and about community formation (as opposed, say, to corporate bean-counting). But putting on a good audio show takes a lot of hard work, and the Silverdale gang finally tired of the enormous effort required. VSAC played out its run in 2003, and apparently has no plans for continuation.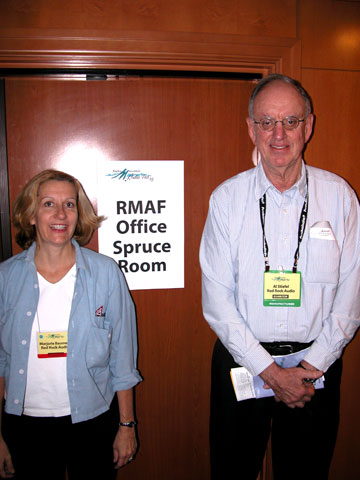 Marjorie Baumert and Al Stiefel, organizers of RMAF 2004 and 2005.
The good news was that Al Stiefel and Marjorie Baumert made the decision in 2004 to take this regional show and move it to Denver, a more central location, and one with a number of local fine audio resources. The show was re-christened the Rocky Mountain Audio Fest (RMAF), and was housed by the Marriott Tech Center, a very fine venue. They also broadened its emphasis beyond SETs, and made room for everything from solid-state to home theatre/surround sound, and DSD/SACD demonstrations. Positive Feedback Online has helped to promote this show, just as we with VSAC, had a very large number of its editorial group at the charter 2004 show launch. (See the "Show Reports" section of PFO Issue 15, http://www.positive-feedback.com/Issue15/toc15.htm, and Issue 16 at http://www.positive-feedback.com/Issue16/toc16.htm for our coverage of the 2004 RMAF.) As far as we were concerned, RMAF 2004 was an excellent audio party, one of those all-too-rare events in which music and fellowship was in a decent balance with the necessary business aspects of such an event. There were over 50 exhibitor rooms, which made it possible to cover during the three days of its run.
At any rate, RMAF 2004 did well enough for Al and Marjorie to essay it once more in good balance between business and pleasure ...though this time, there were roughly double the number of exhibitor rooms (113) and still only three days, which made it noticeably less easy to go everywhere and see everything with the attention required. (For a sense of the flavor of this event, see Bryan Gladstone's excellent streaming video sampler of RMAF 2005 at http://www.positive-feedback.com/media/RMAF2005.wmv.) This year PFO had over 20 (!) members of its editorial group in attendance, most of whom flew or drove in on Thursday afternoon or evening, the day before the show started. Even at that, many of our people did not get a chance to see and hear everything. As a matter of fact, I'm one of them. I didn't attempt to hit everything: I went to those places where the quality of the music, curiosity, or friendship took me. No apologies; I go to these shows for enjoyment and my own audio education, and travel where my preferences take me. My readers are along for the ride.
As always, I took my trusty Nikon digital camera with me for this year's photo essay of RMAF. The highlights of what really struck me follow…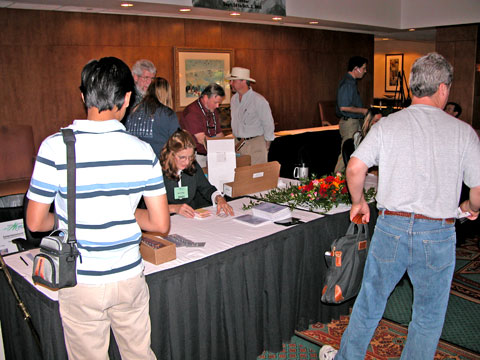 Friday was the first day of the show. Registration was held in the lobby of the center, and things seemed to go very smoothly there. I was impressed by the quality of the volunteers who assisted here. Al and Marjorie seemed to be everywhere, handling the inevitable questions and problems that come up at an event like this. According to Al, attendance at RMAF 2005 was up a very impressive 80% over 2004, while, as I noted, the number of exhibitors increased from around 56 or so last year to 113 in 2005. This is impressive progress by any measure; kudos to Al, Marjorie and company!
I should also observe that the sound in many of the rooms was better than I expected. For "show conditions," this was very encouraging …usually shows are little better than execrable in this regard.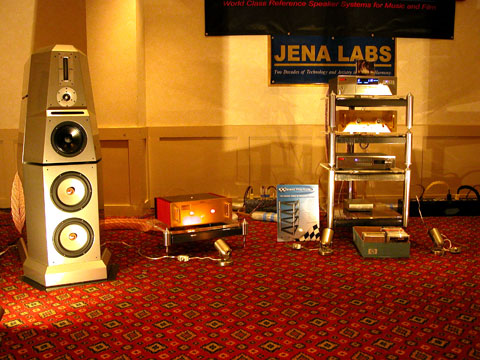 My first stop on Friday morning was the Blue Light Audio/EMM Labs/Von Schweikert Research/darTZeel/JENA Labs/Grand Prix Audio room, where Jonathan Tinn and Kevin Malmgren were just starting to heat up the room. This room was chock-full of world-class gear: bi-amped darTZeels, being fed SACDs by Ed Meitner's superlative CDSD transport and DCC2 stereo converter/preamp, which was in turn feeding the incredible new darTZeel NHB-18NS preamp. All cables and line conditioning were by JENA Labs …always superior…while the racks were by Grand Prix Audio. All this was in a very large room—which was in some ways good, in some ways bad.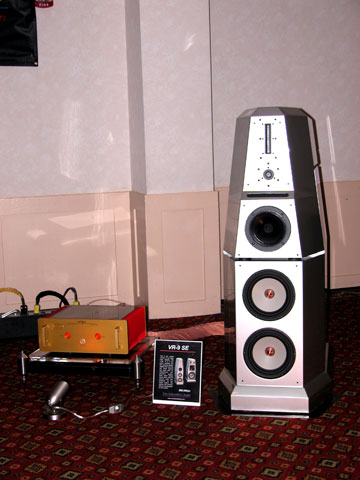 A fine combination: the darTZeel NHB-108 on Grand Prix Audio amp stand, cabled by JENA Labs to the Von Schweikert VR-9 SE loudspeaker.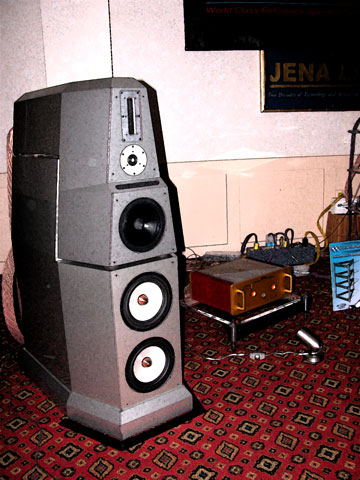 Another view of the VR-9 SE and darTZeel/Grand Prix Audio in fresco. In the rear is a JENA Labs Fundamental Power line conditioner.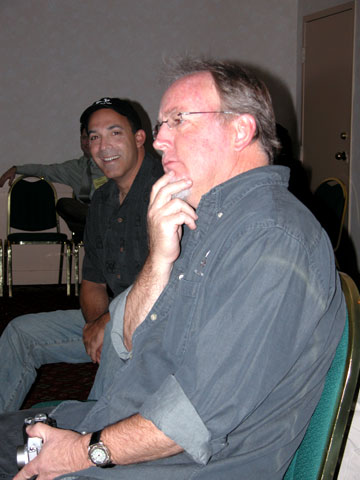 Dave Clark catches some SACDs in the Blue Light Audio room; behind him is Jonathan Tinn of Blue Light Audio. Dave didn't like the sound (though I did on Sunday - Dave Clark) …Carol Clark did …so did I, though I thought that the room was being overdriven. Provided that the volume wasn't up too high, I thought that this room was excellent—one of the very best of the show. Otherwise the room overloaded (this is a potent system!), and the sound could become "very forward," very quickly…not a good thing.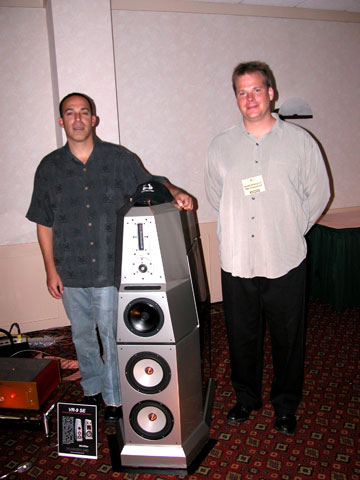 Jonathan Tinn (left) of Blue Light Audio and Kevin Malmgren of Von Schweikert Research with the VR-9 SE.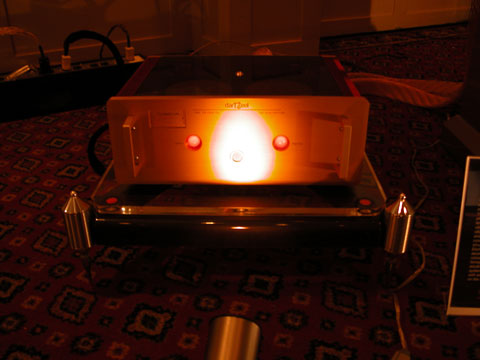 The darTZeel NHB-108 amplifier on its Grand Prix Audio amp stand, in subdued natural glow…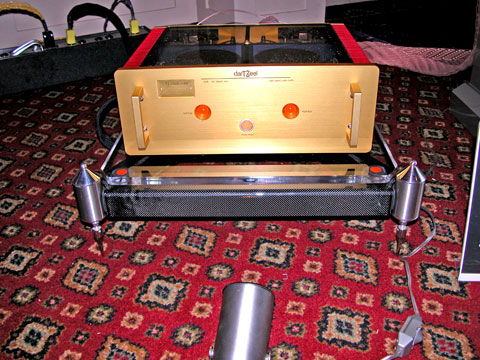 …and in the harsh light of camera flash. Me, I prefer natural light.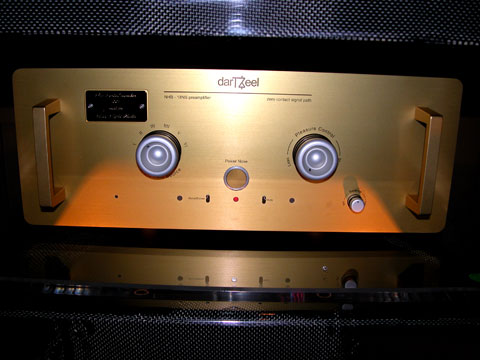 At last! The darTZeel NHB-18NS reference preamp. I had heard the prototype of this pre at Jonathan Tinn's place last year, and have been awaiting its release with eagerness. RMAF 2005 was it. I was extremely impressed with what I heard of its performance, though I'd want to hear it in my own listening room for conclusive commentary. That should happen by 2006.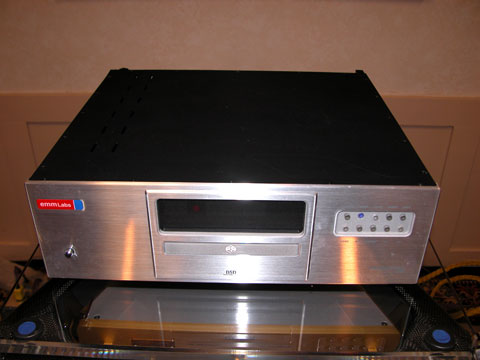 The EMM Labs CDSD transport, my personal reference for SACD/CD playback, and a PFO Brutus Award winner in 2004.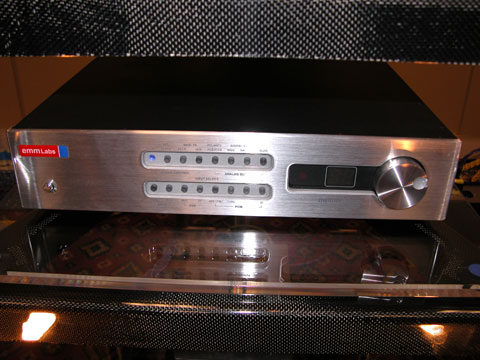 Another PFO 2004 Brutus Award winner: The EMM Labs DCC2 converter/preamp. Superb!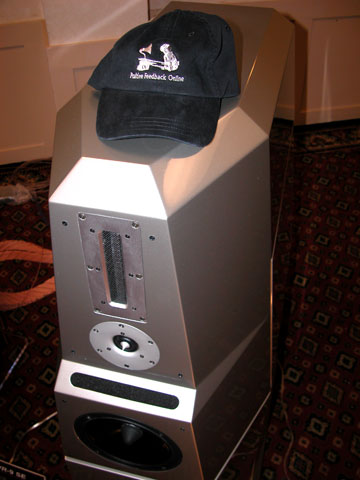 The VR-9 SE wearing a very spiffy PFO baseball cap …the height of fashion!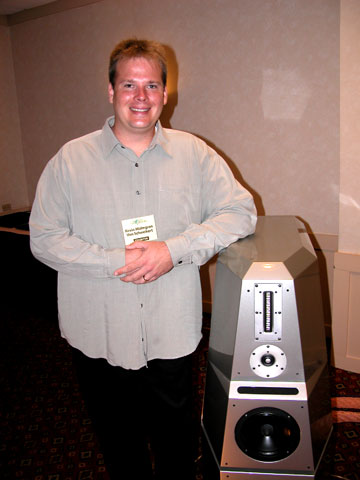 Kevin Malmgren of Von Schweikert Research.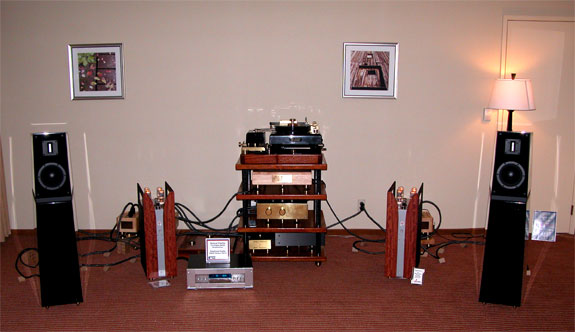 After leaving the Blue Light Audio/etc. room, I went up to visit the Walker Audio/Red Rock Audio/Verity Audio/Silent Source Cable room. My listening room is currently equipped with the extraordinary Walker Audio turntable system, including the latest generation Velocitors, Reference Phono Amp, and Power Supply, with some Silent Source Cables, to boot …and Al Stiefel's very fine 572-based Renaissance monoblocks are also there, feeding a pair of Von Schweikert VR-9 SE loudspeakers. (See the top of our "Meet the Writers" page for current photos of my listening room at http://www.positive-feedback.com/staff.htm.) What I don't have currently is the new Walker Audio preamp, launched here at RMAF 2005. Lloyd Walker and Fred Law are winners of the PFO Gizmo Award for 2004, and also took more Brutus Awards in 2004 than anyone ever has. Deservedly so, too …Lloyd and Fred are nothing less than extraordinary, world-class audio designers. If they build it, you should listen to it, my friend.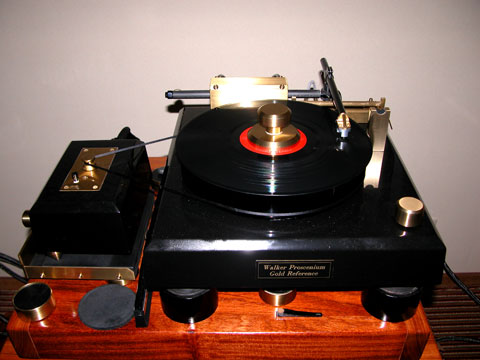 There it is: what is, in my opinion, the finest turntable system on the planet. The Proscenium Gold Signature with Walker Audio's current favorite MC cartridge, the Magic Diamond out of Switzerland by way of Art Manzano and Axiss USA distributing, is bloody incredible. Just ask the guy who knows….
The sound in the room was great, and got better as the show went on. I would pick the Walker Audio/Renaissance Audio/Verity Audio/Silent Source Cables room as the best turntable-based sound of the show, bar none. I went back time and again, whenever I needed a breath of fresh air!
BTW: The Walker Audio Rack was done in Jacoba wood, a first for them. (Mine is Maple.) Very attractive, and sounded terrific, too.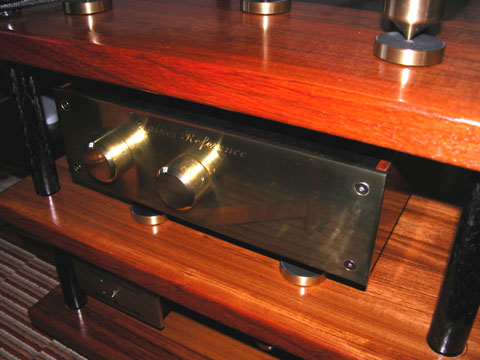 The new Walker Audio line preamp was in action for the first time. This is one that I'd love to hear in my listening room sometime in 2006 …it sounded quite promising. (Wish I had natural light here, though …it's tough to capture the brass beauty of this component with flash.)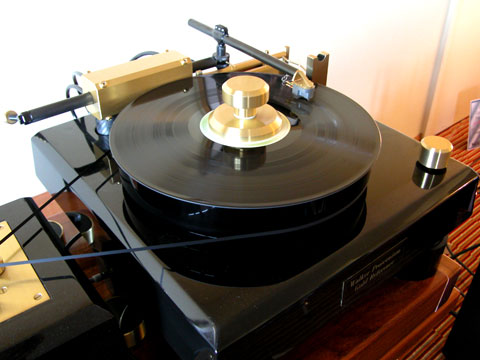 Ah! The Proscenium Gold Reference turntable in natural light …as it should be! A true work of fine audio art, and top o' the planet, to boot.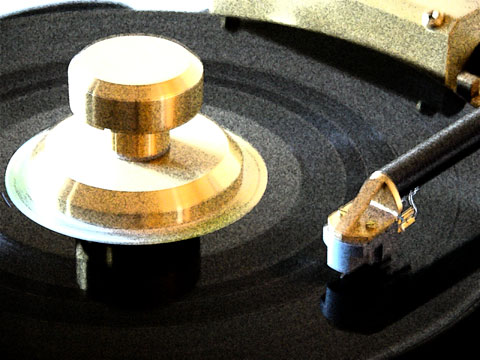 The Proscenium Gold Signature solid brass record clamp, Proscenium carbon fiber tonearm, Magic Diamond cartridge, and an LP, in fresco. It's amazing what lives down in those grooves …more amazing is the fact that the Proscenium Gold Signature gets it out!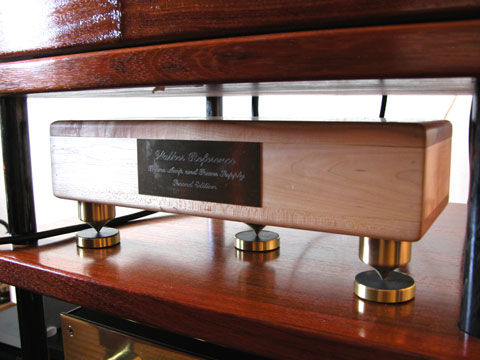 The Walker Reference Power Supply, Second Edition, with latest internal upgrades, in natural light. World class, period.

A fresco closeup of the Walker Reference Line Stage Preamp…beautiful looking, beautiful sound.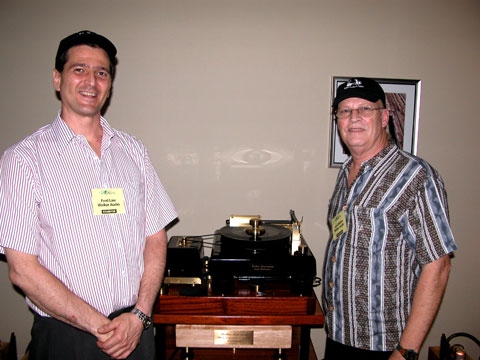 Fred Law and Lloyd Walker of Walker Audio.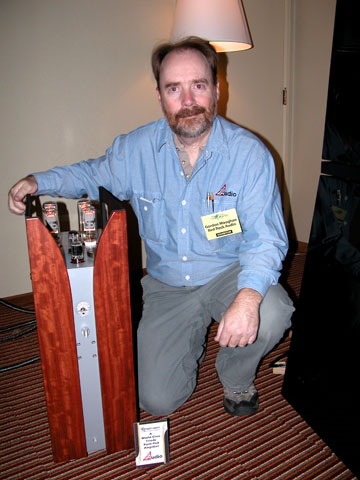 I have also been very impressed by the sound of the Red Rock Audio Renaissance monoblock tube amplifiers. 572-based, and 50 Watts per channel of parallel push-pull. There was very tasty sound in the room with these amps, just as there's very fine sound in my listening room these days. Gordon Maughan of Red Rock Audio poses by his design.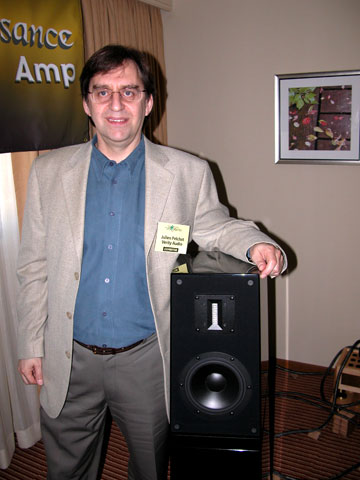 Julien Pelchat of Verity Audio poses with his handiwork, which performed well throughout the show.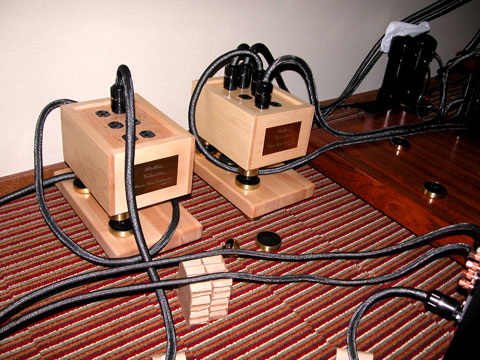 A fresco of the Walker Audio Velocitors, latest edition, on their isolation stands with Valid Points tuning discs, and with power cables by Silent Source. The Velocitors are another Walker Audio "top o' the planet" product …line conditioning that's unsurpassed, in my experience. And they sure like the Silent Source cables!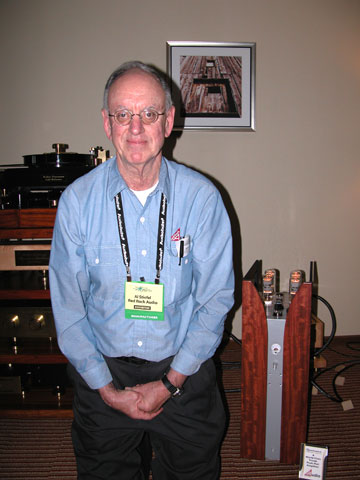 Al Stiefel of Red Rock Audio—and also the RMAF 2005 show organizer. He's done a terrific job with both …a great audio show, and a terrific amplifier in the Renaissance monoblocks (behind him, and to the right). This man has a few things to smile about, all right.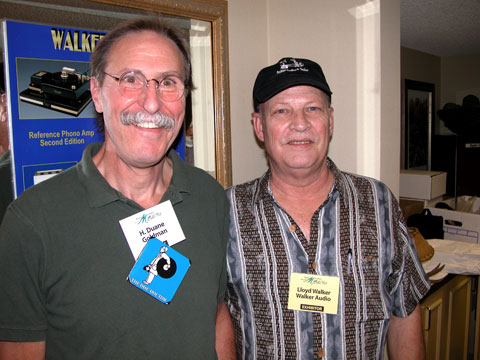 While in Lloyd's room, who should I run into but Duane Goldman of The Disc Doctor fame, standing here with Lloyd Walker. I had some contact with Duane years ago, in Positive Feedback's print days, but had lost touch with him since then. Lloyd made me aware of the latest generation of Duane's record cleaning system earlier this year, and friends, after some careful comparisons in my listening room, I have to say it: The Disc Doctor is the best cleaning system for LPs that I've encountered to date. I think that Duane can expect a certain award here at PFO by the end of the year….
I do believe that Walker Audio handles The Disc Doctor line; vinyl lovers should order this product immediately. Give Lloyd a call at 610-666-6087, or contact him via email at lloydwalkeraudio@aol.com.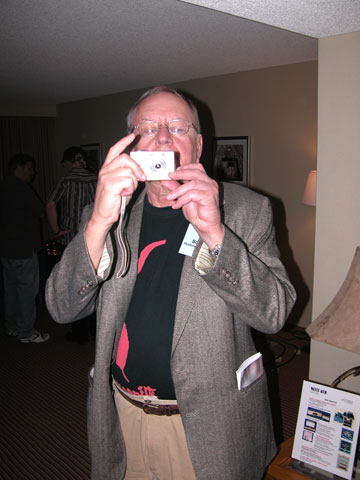 Zap! A "Kodak moment"! PFO's Bob O'Neill takes a photograph of me photographing him…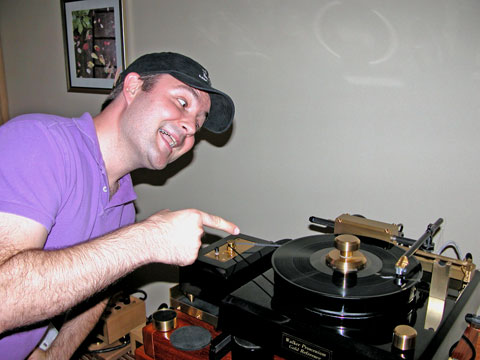 PFO's Danny Kaey lusting after the Walker Audio Proscenium Gold Reference turntable. No drooling, Danny!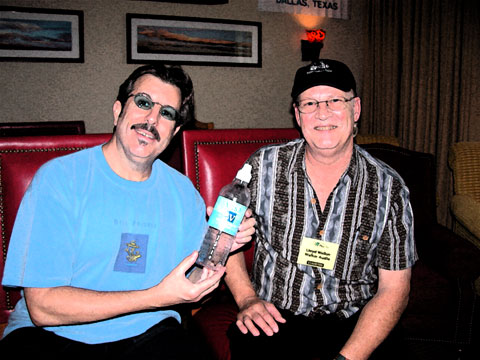 In which audioexcellenceaz's Alan Kafton presents Lloyd Walker with an honorary bottle of water …in fresco, no less! See how impressed Lloyd is?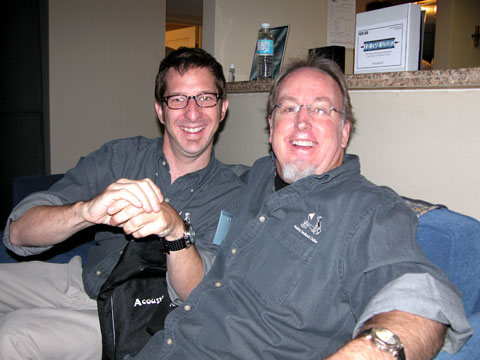 PFO's Bryan Gladstone and Dave Clark taking in a show moment.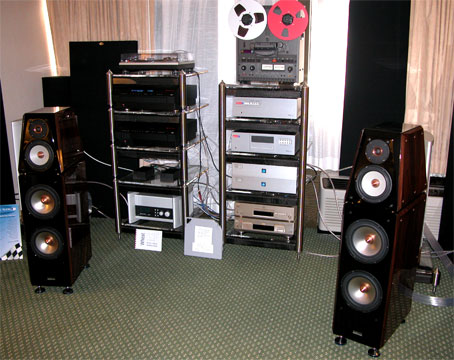 Out of real curiosity, I spent some time in the Audio Turntable, Ltd./ELP Laser Turntable room. There were some very fine sources in play …the EMM Labs CDSD SACD transport, DAC6e DSD converter, an Otari open reel (ably shepherded by Rich Brown, a Portland open reel tape maven). The electronics were by Halcro, with speakers by Jeff Joseph. There was a Technics (?!) turntable as part of an A/B/C demo, and two of the ELP Laser Turntables on hand.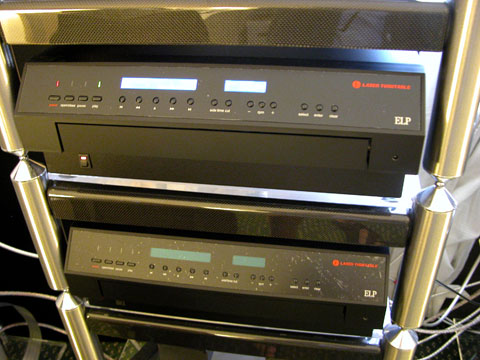 The ELP Laser Turntables, en raque.
How was the sound? Well, with all the usual disclaimers about "show conditions" and unknown synergies in play, I'd have to say that I found the ELP Laser Turntable to sound dry …very dry. Certainly not what one expects from a turntable, anyway. I ended up back in the Walker Audio room immediately afterwards, for revival….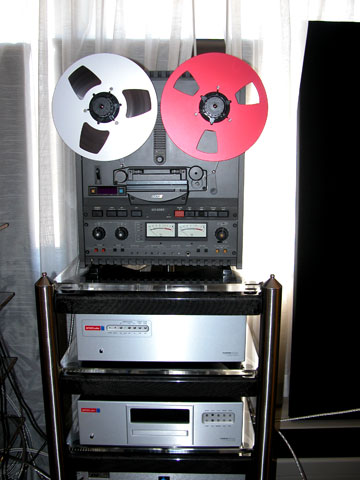 To their credit, the Audio Turntable, Ltd. Room did feature both EMM Labs and an Otari open reel. A restored Ampex or Studer it ain't …but I do love open reel! Rich Brown was playing some tapes from his collection, which were the high point for me in this room …thanks, Rich!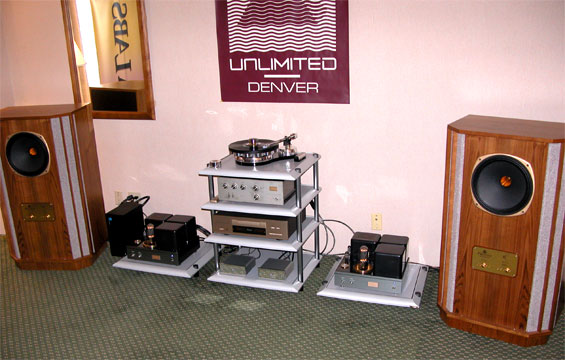 I was drawn into the Audio Unlimited room, wherein a very pleasant synergy was in full swing. The combination of Transrotor, Koetsu, Accuphase digital, Air Tight amplification, and Tannoy speakers were sounding righteously musical, despite the smallish room. I spent some time here, listening to Art Manzano doing his DJ thing. Well done, Art!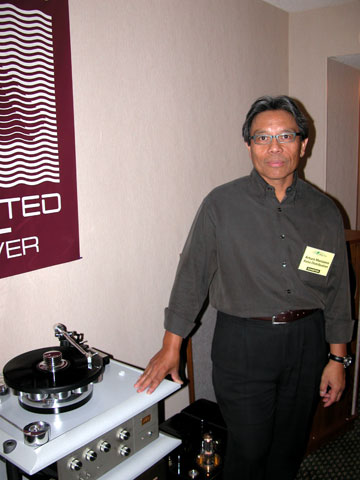 Speaking of Art, here's the man himself …a very fine fellow.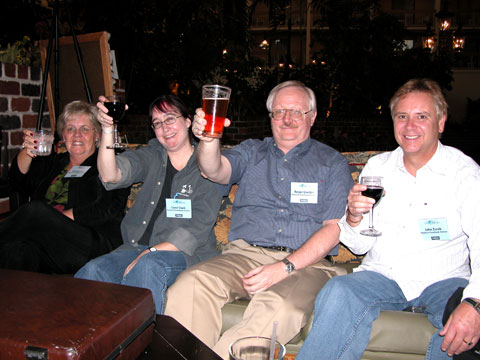 After spending some hours taking in the rooms that first day, it was time for the PFO Gang to head for The Great Divide bar in the atrium and relax with brew and in vino veritas! Above, left to right, are PFO's Lila Ritsema, Carol Clark, Roger S. Gordon, and John Zurek. Cheers, mates!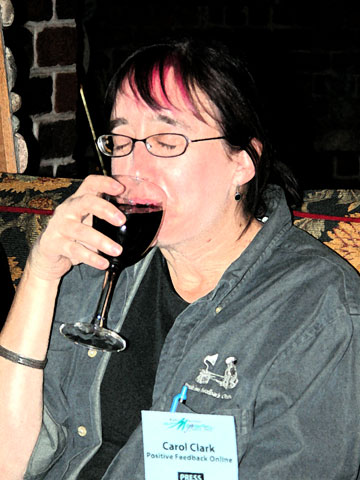 No PFO show is complete without me adding at least one "Carol Clark tippin' the glass" photograph to my collection. Done! And in fresco. Once more, Carol shows terrific technique…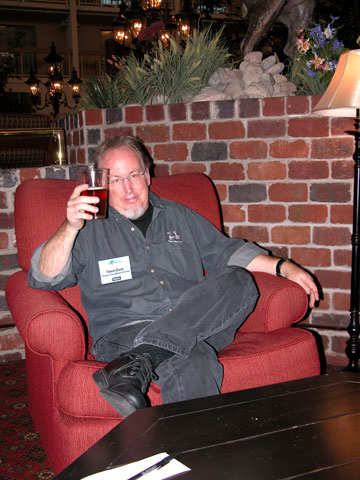 My unindicted co-conspirator, Dave Clark, tippin' it hearty with some of the local microbrew. Clark Johnsen, ye really missed it! (My personal fave rave brew of the show: the Butt Head Bock. Smashing!)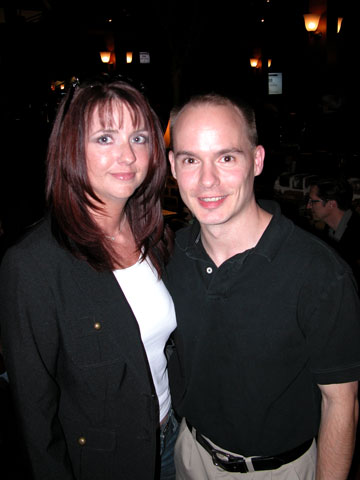 PFO's John Acton, with his S.O. Margaret, enjoying a moment at The Great Divide.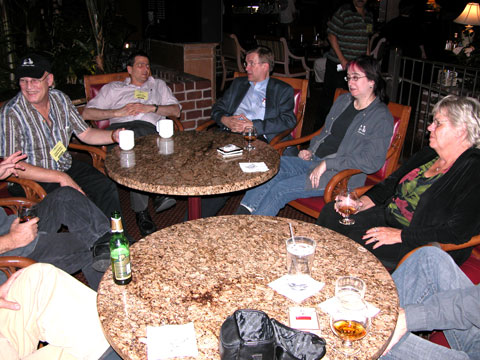 One portion of the PFO "General Congress, Assembled." From left to right, Lloyd Walker, Fred Law…hmmm, don't remember that fellow…Carol Clark, and Lila Ritsema. The rest are mystery legs.
We partied into the night for a while, and then headed for bed. If past history was any indication, Saturday was going to be a very busy day.