DAVID ROBINSON'S SYSTEM
LOUDSPEAKERS
Von Schweikert VR-9SE loudspeakers; Nova Rendition II loudspeakers outfitted with Walker Audio High Definition Links (HDLs) on the upper bi-wire, and Townshend Audio Supertweeters; all contacts treated with Walker Audio Enhanced SST Contact Enhancer.
ELECTRONICS
Red Rock Audio Renaissance monoblock amplifiers; Linn Klimax monoblock amplifiers; Wavac PR-T1 preamplifier; Joule Electra LA-150 line stage preamplifier; EMM Labs Switchman-3 (SWM-3) 2/6 channel preamplifier; Linn Klimax Kontrol preamp; Walker Audio Reference Phono Amplifier; Joule Electra OPS-2 dual mono phono amplifier; Aesthetix Rhea phono amplifier; E.A.R. 324 phono amplifier.
SOURCES
DIGITAL: EMM Labs DAC6e 2/6 channel DSD D/A; EMM Labs CDSD SACD/CD Transport; EMM Labs Philips SACD 1000 w/optical DSD and PCM output (2/6 channel); Linn CD-12; Theta Digital Pro Gen Va D/A converter; Panasonic SV-3900 DAT player with Vimak DS-500 A/D converter; Tube Research Labs modified Sony SCD-CD595 SACD player.
ANALOG: Walker Audio Proscenium Gold Signature reference turntable system with the Magic Diamond cartridge and direct connection to the Walker Audio Reference Phono Amp (upgraded to the latest version, with the Walker Audio Power Supply, Second Edition, also upgraded to the latest revision, both as of 09/2005); Linn LP-12 turntable, with the Akiva reference cartridge, Ekos tonearm, the new Lingo power supply, Cirkus subchassis, and Linn reference silver phono cable; Revox B-77 Mk. II 15 ips half-track reel-to-reel tape recorder; Pioneer RT-707 7.5 ips quarter track reel-to-reel tape recorder; Nakamichi Dragon reference cassette deck; Magnum Dynalab FT-101 tuner w/Audioprism 6500 internal antenna.
HEADPHONES
Beyer Dynamic DT-990 headphones.
CABLES
Interconnects by JENA Labs, Cardas, Omega Mikro, Harmonic Technology, Empirical Audio, Kimber, and Linn. Speaker cables by JENA Labs, Cardas, Omega Mikro, Kimber and Linn. Power cables by JENA Labs, Cardas, Omega Mikro, First Impression Music, Kimber, Silent Source, and VansEvers.
ACCESSORIES
Walker Audio Prologue Rack; Walker Audio Component Stands; Walker Audio Valid Points and Valid Points tuning kits; three Walker Audio Velocitors (latest version, upgraded as of 09/2005) on Velocitor Stands (line conditioning for Walker Audio Proscenium turntable system and its associated Linn Kontrol preamp); Walker Audio equipment stands; Vibraplane turntable isolation platform; Sistrum SP-101 amplifier stands and SP-4 multiple platform rack; Black Diamond Racing "The Shelf" and cones; Extremephono VCS Platforms w/Black Diamond Racing cones under the Switchman-3; JENA Labs Fundamental Power 6.1 revised (line conditioning for SACD and CD sources and selected electronics); Dedicated Audio Cable Tower cable supports; equipment racks by Walker Audio, Michael Green, Sistrum, and Target; Shakti Stones and Shakti Onlines; Tice Signature III Power Block (line conditioning for tertiary sources), VansEvers Clean Line; VPI 17F LP cleaning system with the latest Record Research Lab LP cleaning/deep cleaning systems; Disc Doctor Miracle Record Cleaning System; Walker Audio Ultimate SST Contact Enhancer; latest version (09/2005) of the Walker Audio Vivid SACD/DVD/CD enhancer; Record Research Labs Shine-Ola SACD/CD surface treatment; Bedini Ultra Clarifier; and acoustical treatments by ASC, VansEvers, and Michael Green.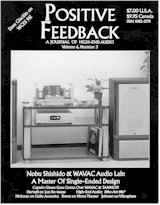 Positive Feedback, Vol. 6, No. 3
Background, and memory…
"Set the wayback machine, Sherman, for 1996…"
Gizmo it was ...Gizmo was the one who turned me on to Wavac, nearly ten years ago. He was raving at the time about Nobu Shishido and the amazing work that the Japanese audiomaniacs were doing with directly-heated SETs, pulling glorious chunks of musical ecstasy out of obscure tubes and remarkable refinements of vintage circuitry. He wrote up a rave about things Wavac that so impressed me that we put it on the cover of Positive Feedback, Vol. 6, No. 3, for the Spring of 1996. Nobu—a truly fine gentleman—sent me gift bottles of sake for a couple of Christmases thereafter, until, alas, he passed away. Gizmo wasn't finished with the line, though: in 1998, the Giz had gushed about the remarkable Wavac HE-833 monoblocks, 100 WPC of SET that could put the muscle on just about any speaker without losing the finesse that SETs bring to the fine audio game.
I also knew another audiobud of mine, that maven of mastering Steve Hoffman, who had also tried the HE-833s and had used them in mastering a number of terrific SACDs and LPs. He liked them extremely well, and recommended them to me.
100 Watts per channel, and SET too, eh? I had to hear that, having spent much of a year with the flea-powered jobs, Lowther PM-2As and the Sony SCD-1 SACD player (see Positive Feedback, Vol. 8, No. 4, online in our archives at www.positive-feedback.com/pfbackissues/0804/Setsandsacd.htm). I had developed a real respect for the seductive virtues of low-powered SETs, but I wasn't enamored of their inability to move air and provide full-range performance with less than highly efficient speakers. The very thought of SET with 100 WPC was enough to get me on the phone with Jim Ricketts of tmh audio (www.tmhaudio.com), the US importer of Wavac, to arrange a review. Being the fine person that he is, Jim got a pair of the HE-833s to me as soon as he could.
The result was a smashing wonderful time: glorious sound without the inevitable compromises at the amplifier-speaker interface layer inherent in the lower-powered brethren 2A3s, 300Bs, and so on. Pace, lovers of flea-powered gear, this is no insult to you or your sensibilities—but the HE-833s were simply the best SETs that I'd ever heard to that point in time. My review glowed in the dark, just like the potent 833 tubes themselves. (See my review at www.positive-feedback.com/Issue9/wavac833.htm.) As a result, there was simply no question about giving a Brutus Award to the Wavac HE-833 in the charter group back in December of 2003, and I did so enthusiastically. (See my initial batch of Brutus Awards in PFO Issue 10, at www.positive-feedback.com/Issue10/brutusawards.htm.)
When the 833s left, I hoped to hear them again, in one iteration or another. Throughout 2004 I was occupied with other projects, and Wavac was out making a splash with the cost-no-object multi-chassis version of its 833 design, the SH-833. (This amplifier somehow ended up being a litmus test for "social conscience" among some audiophiles, who felt that its price was "obscene," etc., once more demonstrating with a vengeance that one man's ceiling is another man's floor—and that one man's feeling is another man's roar.) Time went by, Jim was busy, my queue filled up, and nothing connected. By year's end, Wavac and I had missed each other completely.
It happens.
The 833s return!
I'm delighted to say that things changed at CES 2005. Jim Ricketts and I met once again at his splendid sounding room, and agreed that I should not have another year without Wavac. We decided that I would give a listen to next step up in 833-based design from Wavac: the HE-833 v1.3. Wavac had done something extraordinary in this design: power output was now no less than 150 Watts per channel. More than that, Jim said that the quality of the sound had also improved. Now I trust Jim's sensibilities, and I know him to be a man of real integrity, but this was a claim that I felt was pretty hard to believe. The original HE-833s had left an indelible impression on me; I found it hard to conceive of anything more than minor improvements (though I was willing to be convinced.)
Jim delivered on his promise to get the v1.3s to me: the HE-833 v1.3s arrived not too long after CES. Needless to say, they went directly into place to be assembled in my listening room. I didn't spend much time getting into this project.
Assembly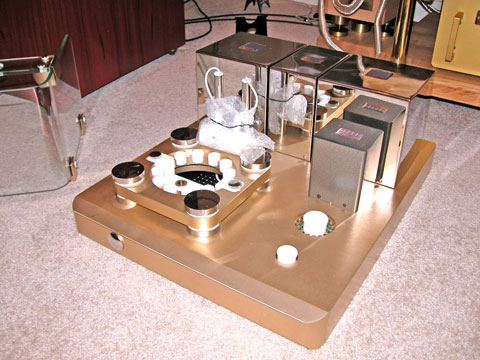 The Wavac HE-833 monoblock immediately after unpacking. Note the wrapped anode and cathode connectors and the protective Pyrex shield off to the left.
First of all, you need to know that the HE-833 v1.3s are beautiful to behold, even stark naked out of the shipping box (see above). The brush gold solid aluminum block with the chrome-plated transformer and capacitor covers is just about as thoroughly seductive as any true 'phile can bear. Sometimes beauty is skin deep in fine audio, teasing you with a pretty face, but then dumping you when it comes to a long-term relationship. There's nothing much behind the smile. Sometimes, though—just sometimes—beauty goes through and through, and what's at heart turns out to be even finer than what you saw at the surface.
Second of all, you need to know that the v1.3s are heavy. At 121 pounds (55 kilograms), the Wavacs require some very serious lifting to get out of the box. The solid milled aluminum chassis and the world-class transformers on the v1.3s make for some serious mass. Since I knew how to handle these monoblocks from my previous time with them, I was able to get them unloaded by myself…but don't try this at home, kids.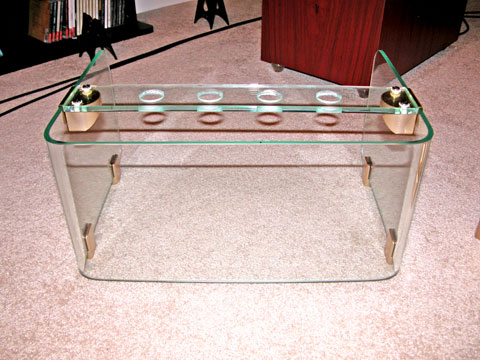 The heavy duty Pyrex shield is a remarkable accomplishment in its own right. It keeps various appendages from getting too close to the tubes and juice—you've been warned!
Out of the accessory boxes came the thick Pyrex glass shields, and the tubes for the 1.3s. These need to be handled with care; the shields are expensive to replace, and I wouldn't want to run these amplifiers without them.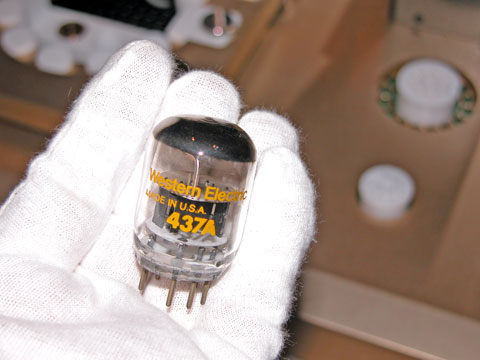 One of the Western Electric 437As for the incoming side of the equation…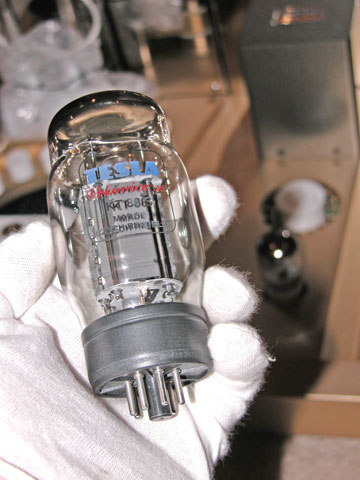 …together with its cooperating Tesla KT-88.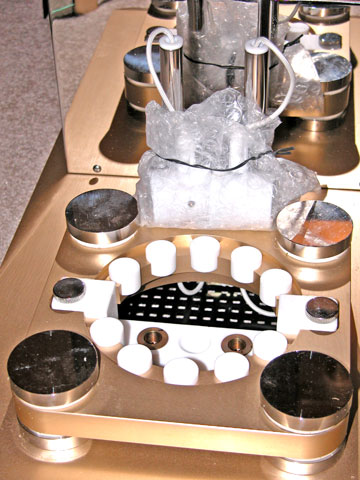 The tube socket for the enormous HE-833 tube: a lunar crater, for sure.
Socketing the 833 tubes is quite a task. The anode and cathodes have to be unpacked from their protective covers (see above). Then the two thumb screws at the top of the base are unloosed, so that the entire assembly can be carefully lifted out. This allows you to loosen the thumb screws acting as binding posts below, so that the 833 tube can be dropped into place according to the documentation, and clamped down.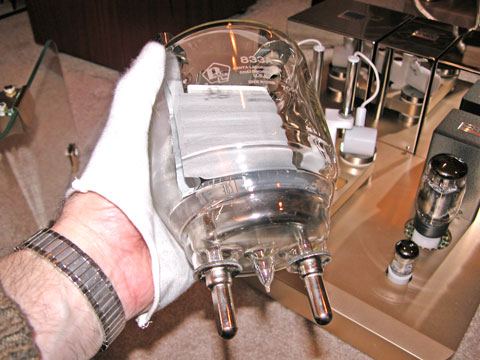 A serious beastie of a tube!
Once that's in place, then you carefully lower the entire assembly back into the chassis, and clamp down the upper screws to secure the 833.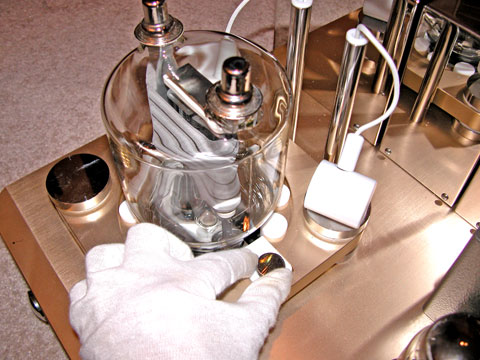 Clamping down the 833's upper thumb screws.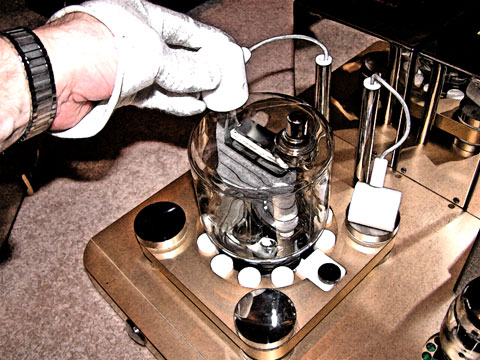 Placing the Teflon-coated anode and cathode connections into place.
Place the anode and cathode contacts into position, tighten them with an appropriate hex wrench, and you're done. From start to finish, and proceeding with care, this took me about 30 minutes per amplifier.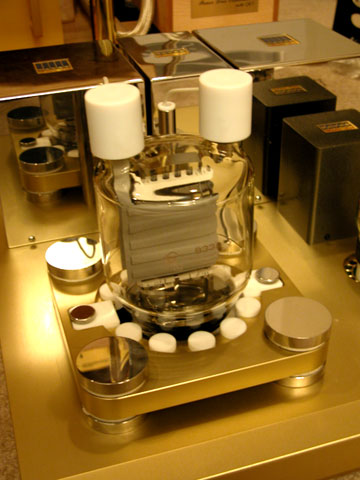 The mighty 833 in place.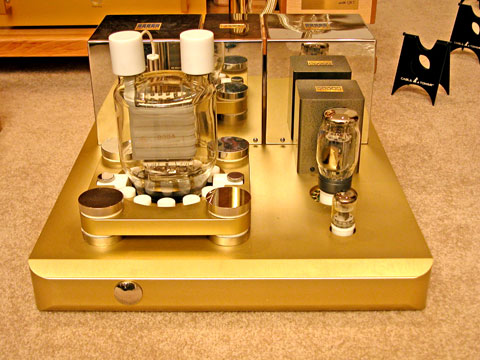 The completed assembly: the 833 to the left, with the WE 437A to the right front, and the KT-88 to the right rear. The round button on the front faceplate is the main power switch.
These amplifiers have two binding posts for the speakers: one for 4 Ohm operation, and one for 8 Ohm. I used the 4 Ohm taps to connect the v1.3s to my Nova Rendition II loudspeakers with their Walker Audio High Definition Links (HDLs) and Townshend Audio Supertweeters via JENA Labs Symphonic speaker cables, all treated with the Walker Audio E-SST Contact Enhancer. A quick connection of JENA Labs shielded unbalanced RCAs to the inputs from the EMM Labs SW-3 preamp, and I was ready to roll.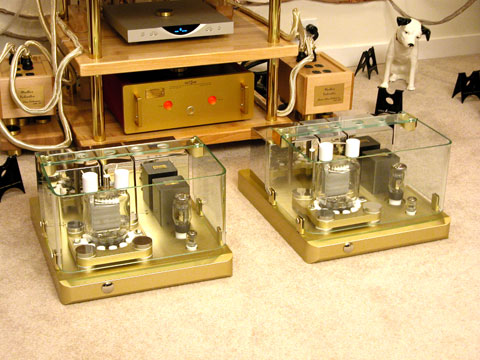 The assembled pair of Wavac HE-833s before being hoisted onto their Starsound Technologies Sistrum SP-101 stands.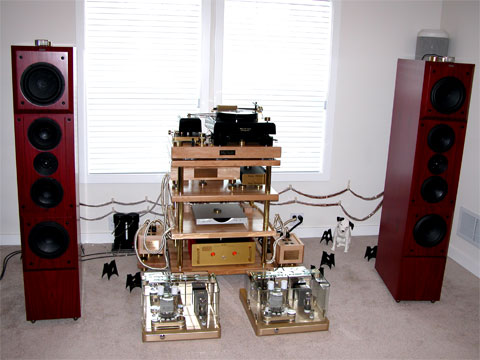 The review system ready for the addition of speaker cables and the Sistrum SP-101 amp platforms. Nipper looks on!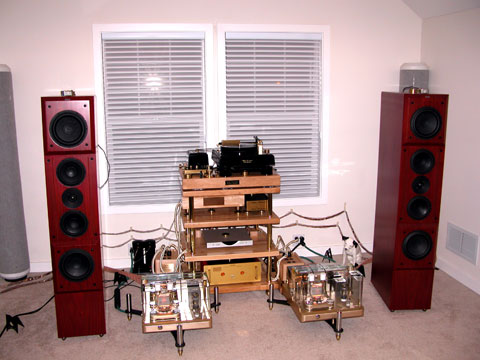 The final configuration, with amp stands in place.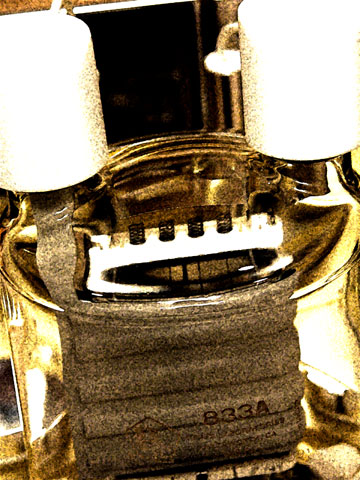 The Sound
Just to be sure that the amps were up to speed, I gave the HE-833 v1.3s a few days to come up to speed, playing SACDs via the EMM Labs CDSD/DAC6e front end, and LPs via the Walker Audio Proscenium Gold Signature turntable system. The v1.3s have a variable output control at the back of each amplifier; I ran these wide open during this review. There were no problems with hum or noise throughout the review…always a relief when reviewing tube amps.
Once the amps had settled in, my first impression was that all the virtues of the original HE-833 had been noticeably increased in the v1.3. First of all, the proverbial glorious midrange tonality of SETs felt spot on to me with this amplifier. No matter what sources or recordings were being used, the mids were both silky and well delineated, without any discontinuities or nasality that some low-powered SETs can produce. The tonal balance strikes me as being perhaps just the lightest touch on the golden side of neutral …maybe …but only by a microscopic margin. The effect is aurally seductive at all levels, and did not pall on me the way that some tube amps have done over the years.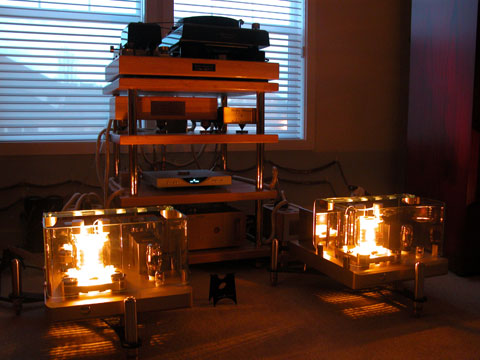 What is much more impressive is that the v1.3s have such terrific extension at the high frequencies (its -3dB point up there is around 100kHz …made for LPs and SACDs!), and such incredible authority in the bass (being -3dB at 20Hz). The modified Nova Rendition IIs have a -3dB at 25Hz, and entend up to about 90kHz or so with the Townshend Supertweets, so they're able to give me a sense of the performance of a wide bandwidth amplifier like this one. Did the v1.3s please? You bet! I have some acid test SACDs like Spitball's Pop Condition, Joe Satriani's Engines of Creation, or The Who's Tommy that press the audio spectrum from one end to the other.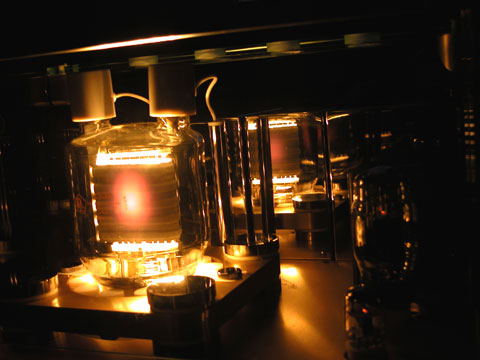 Over on the LP side, I tossed both Japanese pressings and the Classic Records reissues of Led Zeppelin I, II and III. All knocked my socks off! No lower-powered SET has ever been able to handle these recordings in full range and with full dynamics, in my experience. At absolutely no point did the v1.3s ever run out of juice…the top-to-bottom performance was without any flaw that I spotted. Furthermore, there was no SET-like Bell Curve clustered around the midrange; the v1.3s behaved like a very powerful solid-state amplifier when it come to delivering all frequency ranges with aplomb. And yet it did not sound like solid state. The roundness of the presentation and imaging was like SET, but it had a greater authority than any SET I've ever heard—even the earlier 833s.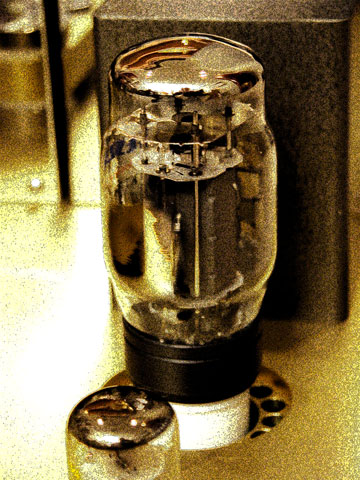 Tonality and timbre also shone on the v1.3s with some of my favorite jazz recordings: Mobile Fidelity's Blues in Orbit SACD, Sony's release of Mingus' Ah Um SACD, or, say, Benny Carter's Jazz Giant on Fantasy. In each case, the sound of spit on reed, wind on brass, percussives, and the sense of presence was exceptional. The Wavacs gave each performance a sense of life and the glow of real music that was truly captivating.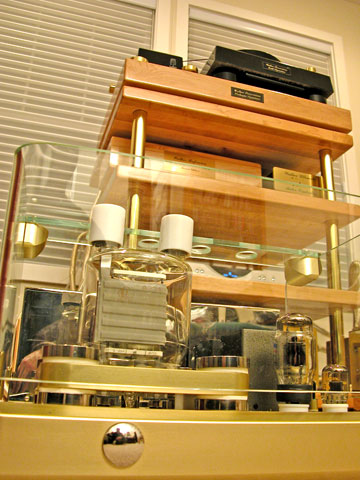 There was more: I noticed that the soundstaging struck me as somewhat deeper with the v1.3s, and perhaps a touch wider, than the earlier 833 model. For example, the new RCA Living Stereos on SACD demonstrated excellent soundstage depth, which is a hallmark (no pun intended) of that family of recordings. You can generally judge depth much better with the RCA Living Stereo library than you can with the Mercury Living Presence recordings, which were mic'ed more closely. Open reel tapes, SACDs and LPs can develop such depth with much greater fidelity than Red Book CDs …the phase and time domain correctness is higher in those formats than in your typical CD. (The EMM Labs CDSD/DAC6e and the Walker Audio Proscenium Gold Signature are the finest front ends that I've heard, and assure an extraordinary level of playback in either SACD or LP.)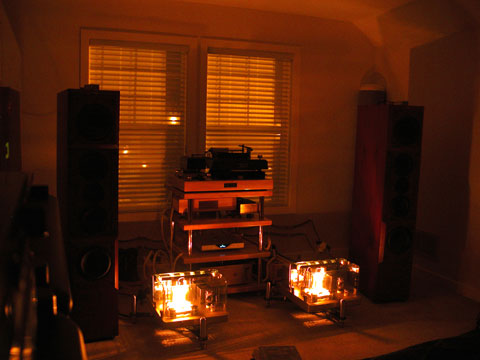 I always listen for depth with superior stereo recordings; it's one of the best ways to know whether or not a given format or source is delivering the goods. The best of the RCA LSCs still set a benchmark for audio playback decades later …and the Wavacs showed once more how good they are, either in LP or in SACD. As examples, on LP, the Classic Records reissues of Scheherazade, or Respighi's The Pines of Rome, helped to get the range on the Wavacs while twirling on the Proscenium; in the SACD domain, the Strauss Zarathustra, Ravel's Daphnis et Chloé, and the Bartok Music for Strings, Percussion and Celesta pointed the way for soundstaging—and also for dynamics.
Speaking of which, the Wavac v1.3s are breath-taking when it comes to dynamic range, and a quickness that delights the soul. Whether listening to the quiet delicacies on First Impression Music's The River of Sorrow on pure DSD SACD, or the wondrous Mahler Second or Third symphonies in DSD with Tilson-Thomas and the San Francisco, there's no doubt that the Wavacs have the ability to present a shimmering Chinese string, or a massed orchestra, with ease. Notes hang in the air; climaxes do just that.
The Wavac's performance is more than impressive: it's glorious! The effortlessness of its authority is exceptional, and had me cheering on my listening couch. This kind of ease and natural presence is pretty rare in audio reproduction; only a few amps have done this for me over the years.
I should also note that there is a characteristic to the v1.3s that is extremely important to me, one that was definitely better in this amplifier than in the earlier HE-833 model: the sense of transparency in audio reproduction. The longer I've listened to fine audio gear, the more I've become convinced that transparency—the ability of a component or of a system to vanish, and get out of the way of the signal—is a kind of "holy grail" for audiophiles and music lovers. I have elsewhere called this "gain without pain." I don't think I could better that description right now …maybe ever. Certainly the v1.3s have this quality to a very high degree. I didn't feel that the Wavac amps were getting in the way of the music, editorializing it, or romanticizing the signal. To my lasting pleasure, they simply passed it along in a way that I couldn't resist the beauty of beautiful recordings.
And as Gizmo would have said, "Ain't that what this is all about?!"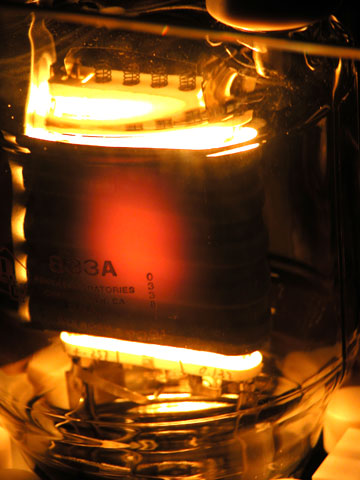 Conclusion
What can I say? The v1.3s left me pleased in every regard, and enjoying music from the beginning to the end of the day. There was not one problem, not one glitch, not one difficulty. They fired right up, and ran flawlessly, quietly, and with effortless musicality. I can think of no area in which I would fault these superb amplifiers; I just wish that they could have stayed a lot longer. It was painful to have to ship these back to Jim Ricketts …but I'm thankful to have experienced them, especially in tandem with the front ends that I had at the time. They really extended my education in fine audio.
So where does this leave me? Well, in my review of the Wavac HE-833s from a couple of years ago I concluded that "…if I could choose only one amplifier to use for the rest of my life …well I think that the WAVAC HE-833 would have to be it." I wisely left myself an out, though, when I parenthesized, "(Unless it's the HE-833 Model 1.3….)"
Having heard the v1.3 now, I'm glad that I left the door open. The v1.3 definitely outdoes its "little" brother, and marries authority, ease and delicacy at an even higher level. I wasn't sure that this could be done in the world of SETs. I was wrong.
The HE-833 v1.3 monoblocks fuse the incredible coherence and all the virtues of SET with a true authority, effortless dynamics, excellent transparency and seamless top-to-bottom performance. They do so without any compromise that I could detect in my time with them. I am truly impressed. Unless I ever get to review the Mark II version of the HE-833s, or the truly stratospheric SH-833s, I reckon that this will be the top of the SET mountain for me.
Once more Wavac triumphs, and a new "King of SET" reigns in my experience: the Wavac HE-833 v1.3. If you are operating in this price range, and want supreme performance in SET playback without second thoughts or regrets, then in my opinion you simply cannot go wrong with the HE-833 v1.3.
Wavac HE-833 v1.3
Directly Heated Triode Single Ended Power Amplifier, 150 Watts per channel, Pure Class A operation
Retail: USD $69,000
For more information:
Wavac Importer for the USA
tmh audio
PO Box 751681
Dayton, OH 45475
TEL: 937. 439. 2667
email address: info@tmhaudio.com
web address: www.tmhaudio.com