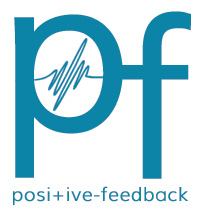 You are reading the older HTML site
Positive Feedback ISSUE 22

november/december
2005
Bluesapalooza
by Francisco Duran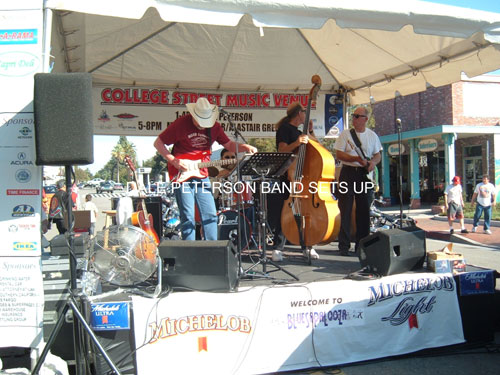 Every year radio station KJZZ advertises their Long beach Blues Festival quite a few months in advance and every year for some reason or another, we miss it. The same goes for the annual Bluesapalooza which is held in beautiful downtown Covina, California. Actually, it has been quite a few years since we attended the last one. Now, life in Covina is arguably less exciting than in Long Beach, but still this yearly event gives us east San Gabriel valley residents something to celebrate besides Halloween in the month of October. The event is actually billed as the Valley's best car show and Blues Festival. Covina's main drag, Citrus Avenue in Old Town is blocked off, lined with over 200 vintage, classic, race cars and some pretty wild custom motorcycles. Dotted among all of this are a hand full of small stages loaded with guitars, drums, and amps of all kinds in the service of the Blues. This year those stages were filled with some of the hottest working Blues bands in Southern California. With the likes of Jumpin' Jack Benny, Disappointing Joseph and The Federales, blues music was served up hot and loud!
The Fret House, a local guitar shop which also hosts acoustic concerts throughout the year, proved a welcome respite for those weary of high decibels—be they from Marshall stacks or from an "uncorked" big block V-8 revving up for the crowd. 6pm was the time scheduled for the extraordinary blues man Doug MacLeod to come on stage and do his thing. His acoustic set—which was preformed in the basement of the Fret House—turned out to be the highlight of the festival for many. MacLeod held his audience captivated with his great story telling, masterful guitar work, and burnished honey dew vocals. Prior to MacLeod's performance, the duo of Nathan James and Ben Hernandez played their blues set with a multiple of acoustic instruments, which included to the amazement of the audience a wash board bass! These guys were highly entertaining and loads of fun to watch.
Outside, the bands were split into two shifts from 1pm to 4pm and from 5pm to 9pm. While we caught many of the 1 to 4 bands, most of the second shift bands' performances were sacrificed for MacLeod's show. The word from other show goers'—like our own Victor Chavira and family—was that bands such as Little Chris and the Nightcrawlers, Zac Harmon, and Dave Leon and Little Jugs proved that the night shift were kicking out the jams every bit as hard as their day time compadres. While assembling the pictures for this report, I noticed the cars outnumbered the photos of the bands. Having owned more than a few classics myself back in the day, I have to admit for having a sweet spot for many of the beautiful vintage tin on display (especially anything with flames painted on it). But it was the music that ultimately won the day for me. Wheather you like your blues served up hot with an R&B tinge, or unplugged and down home, the Covina Bluesapalooza has something for everybody. Even a guy playing a wash tub bass. One more thing, the price of admission is free.