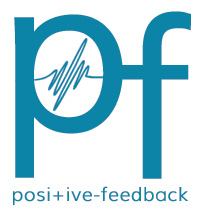 You are reading the older HTML site
Positive Feedback ISSUE 22

november/december
2005
The Higher End: Robinson's Brutus Awards, and the Gizmo Award for 2005
by David W. Robinson
[All photographs and image processing by Robinson, unless otherwise noted.]
It's amazing. This year has dashed by so quickly that I can barely believe that it's time for PFO's annual Brutus Awards…and yet it is. Where does the time go? (The same place it always goes, I reckon.)
To review the criteria that the Positive Feedback Online Brutus Awards embody, I'll quote from my original article announcing their launch, back in December of 2003 (Issue 10 at http://www.positive-feedback.com/Issue10/brutusawards.htm):
[The Brutus Award] will be recognition given to "the best and the brightest" products that we have experienced in various categories in a given year. In hardware, these will range from "best bang for the buck" to "the best period, and hang the expense!" designs. In recordings, we'll be paying tribute to the best that we've found in various formats. In addition, we'll have a "Lifetime Achievement Award" that will recognize individuals whose contributions to fine audio in various respects has been both superior and sustained.
All products that are so recognized by PFO will be work that has been reviewed by us personally; no design will be recognized that we do not have experience with in our listening rooms.
In other words, the Brutus is not given to a product that we heard at a show; the product must be tried by the editors in their own listening rooms, and must impress us sufficiently to merit the honor after consideration at the end of the year. (I give one set of Brutus Awards; Dave Clark gives the other.)
The Brutus Award for Lifetime Achievement recognizes individuals who have made outstanding contributions to the audio arts over long periods of time.
The other editors and writers of PFO contribute to this recognition of superior fine audio products by nominating products for the PFO Writers' Choice Awards. These will be announced shortly, and will appear elsewhere in this issue.
As always, readers are encouraged NOT to use these awards in place of their own ears, but RATHER as indicators, or guides to what might be worth checking out on their own audio journeys. We are all busy, and no one can hear or experience everything, so it can be very helpful to have some idea of where the audio gold might be. That's why PFO is here: to entertain, but also to educate.
Or, as I put it in my Brutus Award 2004 comments in PFO Issue 16 (http://www.positive-feedback.com/Issue16/brutus04dr.htm):
Our readers should use these awards as indicators that the listed products are worth further investigation and trial listening, if possible. No slavish mindlessness, please; no loud cries, screechings, or cursings from the aisles… use our awards as guides, not as substitutes for intelligent and passionate personal experience and educated appraisal.
Hope that clarifies things for you. We want the PFO awards to be meaningful to their recipients, and helpful to our readers. So far, I think we've done a pretty good job of both.
Last year's awards had a number of solid state components; this year the balance shifted back to a much stronger representation of tubed gear. I have to say that I was blessed with a number of truly outstanding components in 2005, so my Brutus Award selection reflects an embarrassment of riches.
Lifetime Achievement Award
Gordon Holt of Stereophile for his many accomplishments in the realm of fine audio journalism. Gordon helped to write the book, period. Anybody who doesn't know why I gave this award shouldn't be reading PFO; anybody who said "Who's Gordon Holt?" gets to go to the back of the bus.
Enough said.
The 2005 Brutus Award winners
These are listed in no order or pre-eminence or priority; browse away.
Product categories
SACD/CD playback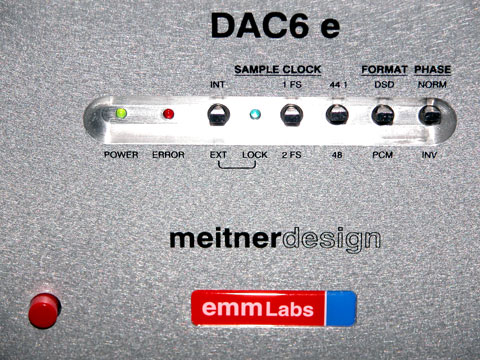 The EMM Labs DAC6e, Meitner's updated DSD DAC that sets the standard for transparency, detail, soundstaging/imaging, and incredible musicality with SACDs. Heck, it even makes Red Book CDs sound much better. As more than one visitor to my listening room has said, "There's so much there, that it's almost overwhelming!" They're right; if you love SACDs (or CDs), you should be listening to a Meitner…get thee hence!
Turntable playback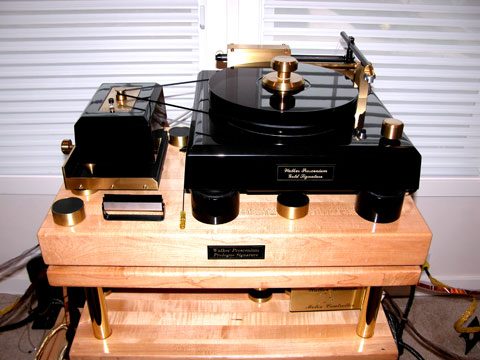 The latest revisions to the Walker Audio Gold Reference Proscenium, installed by Lloyd Walker in September of this year, are collectively amazing. I therefore give the Brutus Award to each of the following Walker Audio products:
The updated Walker Audio Reference Phono Amp, which now hits even higher levels of detail and depth…and I didn't think that this was possible in such an unprepossessing component. For more on this, see below.

The latest revision of the Walker Audio Power Supply for the Walker Audio Motor Controller and Phono Amp, which is adds a clarity and "blackness" to the Proscenium playback that it did not have before.
Tubed preamps

No doubt on this one: the triple box (transformer, power supply, and preamp, left to right above) Wavac PR-T1 preamplifer is remarkable in every way. Transparency with golden dragon eyes. Quick, responsive, elegant, and utterly seductive. Just to see and touch it is to fall in love…but then, when you hear it, you want to turn the lights down low, sit there, and take the music in. I can't praise this preamp enough; like my EMM Labs SWM-3 in the world of solid state pre's, the Wavac sets the standard for what can be done with a no-holds-barred approach to tubed preamplification. I'll listen to this one just as long as I can!
And I have to say it: over the years, I've never seen a Wavac product that was anything less than superlative. Ever. The PR-T1 simply adds to the richly-deserved accolades that Wavac has been receiving for years now. Kudos to Yuzuru Ito and company for another triumph!
Solid state preamplifiers
None this year.
Tube phono amps
None this year.
Solid state phono amps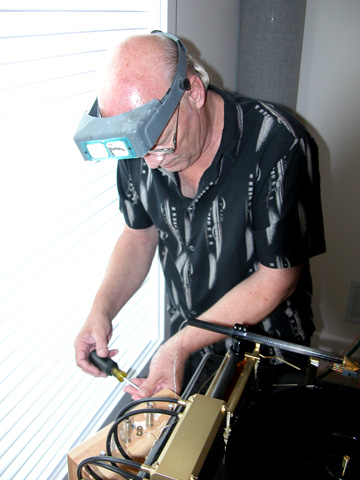 Lloyd Walker at work on his Reference Phono Amp
Walker Audio's upgraded Reference Phono Amp wins for the second year in a row. After seeing the upgrade done in September (the workmanship in the interior of this phono amp is extremely fine) and listening to it for the past two months, there's no doubt about it: the Walker Audio Reference Phono Amp is bloody amazing. Better than it was before—quieter, even more detail, and better dynamics—in fact, it's the best phono amp that I can ever remember hearing. The purity of this component with its very short internal path and its minimal external path fed by pure naked silver leads is phenomenal. In tandem with the rest of the Walker Audio Proscenium system, this is the finest LP playback I've known.
Tube amplifiers
Last year I had no Brutus recipients in this category, since none had been submitted for review that qualified for the honor. This year I am pleased to say that there are several tubed amplifiers—each different from the other, including an OTL, an SET, and a parallel push-pull—that unquestionably deserve Brutus Awards. On the list for 2005: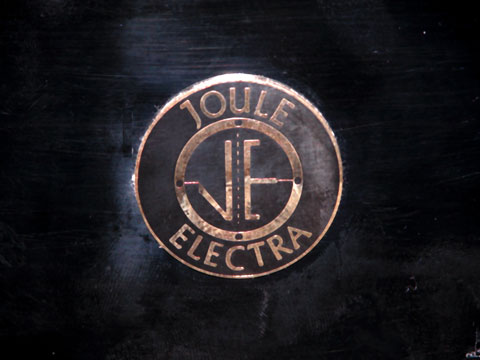 Joule Electra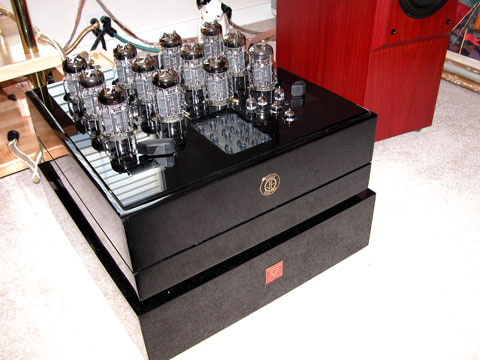 A Rite of Passage monoblock on its matching Critical Mass Systems isolation platform
Jud Barber and Joule Electra for their stellar achievement in OTL amplification, the VZN-220 Rite of Passage Monoblock OTLs. A smashing 220 Watts of mono power, a pair of Rites can handle any speaker load that you're likely to encounter, and do it with ease. Quick, clear, detailed, and light on its feet, the Rites take all the qualities that I enjoyed in their little brother, the VZN-100 Marquis Mk. III monos, but ups the ante something fierce. More dynamics; greater ease of presentation; greater three-dimensionality, as compared with the Marquis Mk. III's. OTLs have a theoretical edge by losing their output transformers and the problems thereof, but getting OTLs right is a dickens of a task. Jud Barber and company have done so, and have been doing so for years. If your listening room can handle the thermal dissipation requirements of 24 6C-33CB tubes and you're looking for tube amplification that is both richly musical and transparent, then the Rites may well be your ticket to heaven. (By the way: please note that my comments on the Rites assume that you use the Critical Mass Systems isolation platform designed for the Rites; see my separate award for Joe Lavrencik and Critical Mass Systems below.)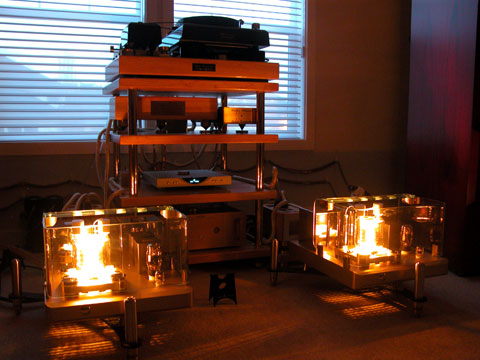 The Wavac HE-833 v1.3
Wavac for its very substantial chunk of the heavenly realms, the HE-833 v1.3 monoblock SET (mounted on an earlier Brutus Award winner, the Star Technologies Sistrum SP-101 isolation platform). At 150 Watts per, the HE-833 v1.3 can float like a feather, but slam you like a dragon! Dressed in Wavac's traditional champagne gold solid block aluminum chassis, the v1.3's have all the superior tonal qualities of Directly Heated Single-Ended Triodes, but without all the compromises at either the upper and/or lower frequencies of so many of its brethren. VERY authoritative, transparent, with just the lightest touch of gold, and yet able to convey incredible delicacy…can you tell that I love these amplifiers? Once more, Wavac shows why it reigns as "king of SET"! Unreservedly recommended—with rapture.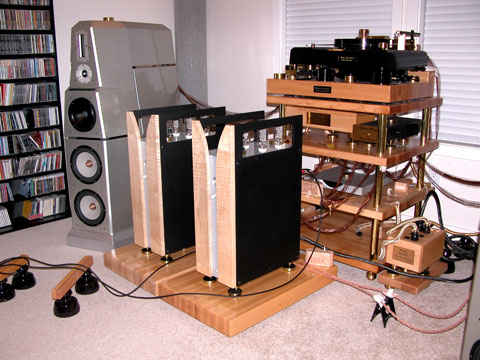 The Red Rock Audio Renaissance amps on Walker Audio stands, with Walker Audio tuning discs; in the background, the Walker Audio Proscenium Gold Signature turntable system and a Von Schweikert Audio VR 9 SE
A surprising late-comer to the tube amps in my listening room this year was the Red Rock Audio Renaissance monoblock amplifier. I had heard an earlier revision of the Renaissance at RMAF 2004, and had come away unimpressed. It didn't distinguish itself in any particular way at that time. Lloyd Walker recommended that I give the revised Renaissance a try in September of 2005; I'm glad that I agreed to do so. The Renaissance is a parallel push-pull design based on the 572 tube, with 50 Watts per channel of output (though I would guess that it has some real dynamic headroom, based on what I'm hearing). Serious work has gone into the re-design of this amplifier; it doesn't sound anything like what I heard in 2004. Properly set up on Walker Audio stands, with Walker Audio tuning discs and Walker Audio E-SST Contact Enhancer, the Renaissance was…well…reborn. (Renaissance scholars will pardon the minor pun.) I am listening to the Renaissance right now (Glenn Gould on a Japanese SACD pressing), and am once more taken by the delightful transparency, ease, naturalness, and surprising authority of the Renaissance. Quite un-tube-like, yet with a becoming musical detail. Like the Joule Electra and Wavac amps, the Red Rock Renaissance shows itself to be a category killer, and slayer of lame stereotypes. I'm convinced that all great amplifiers transcend facile characterizations, and the Renaissance is another in the relatively small company of such stellar designs. Yes, at this point I would put this amplifier, set up as described, in the company of names like Wavac and Joule Electra—so pay attention! Al Stiefel and Gordon Maughan of Red Rock Audio definitely have something exceptional here…and with a tube that doesn't get much exposure. (I've only heard one other 572 design in my listening room, a very good single output tube layout from deHavilland years ago.) I salute an exceptional new amplifier and a very promising audio company here!
Solid state amplifiers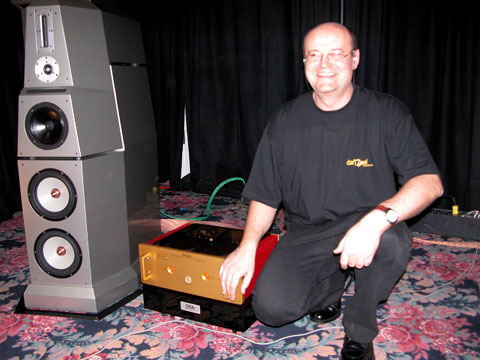 Hervé Delatraz at CES 2005 with his NHB-108 stereo amplifier on an SRA isolation stand, with the mighty Von Schweikert Audio VR-9 SE loudspeaker…an excellent combination.
No question at all here: Hervé Delatraz's darTZeel NHB-108 stereo amplifier, running in balanced mode, sounded even better than last year's Brutus Award winner, the NHB-108 stereo amplifier in unbalanced mode. I got an all-too-brief opportunity to hear the 108 in balanced mode earlier this year. Ambrosia! When you add a darTZeel NHB-108 to your systems, it only takes moments to realize that you're hearing something very special. The darTZeel is "solid state"…but doesn't sound quite like it…but it isn't "tube" in its sound, either. The NHB-108 is perhaps the most chameleon-like amplifier that I've ever heard —the 108 seems to morph according to the music that is passing through at the moment—which to me is a unique quality in the world of solid state devices. This makes it controversial in some quarters, I realize, but that doesn't bother me one bit—this is quite a special design, no matter what others think. I consider the darTZeel NHB-108 to be truly outstanding in every way. Kudos to Hervé and company for their continued progress!
Loudspeakers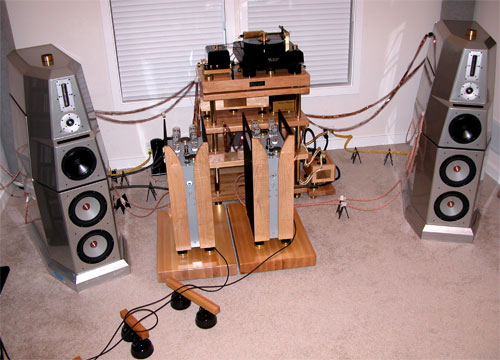 The Von Schweikert Audio VR-9 SE loudspeakers in my listening room with the Red Rock Audio Renaissance amps on Walker Audio isolation platforms, the Walker Audio Proscenium Gold Signature turntable system with updated Velocitors, and cabling by JENA Labs and Omega Mikro…world class performance in every way.
Well, sports fans, 2005 gave me a chance to return to the world of Von Schweikert Audio late in the year by way of their smashing VR-9 SE loudspeakers, a magnificent achievement in loudspeaker technology. I've been in touch Von Schweikert products over a number of years now, having owned the original VR-4's, the VR-4 Silvers, and the VR-6's. CES 2005 gave me a chance to hear the VR-9 SE's in a surround configuration, as I outlined in one of my CES reports (see PFO Issue 18, at http://www.positive-feedback.com/Issue18/ces05dr3a.htm). I was really taken by the sound, and was able to arrange delivery of a demo pair with the help of my good audio friend, Jonathan Tinn. I've been listening to them continuously since September, and I can say that the VR-9 SEs are the finest speakers that I've ever had in my listening room. Transparent, utterly authoritative, highly detailed without fatiguing the listener, possessing an incredible ability to project and control a soundfield while nearly vanishing in the process, moderately high efficiency (94 dB/Watt/meter) and reasonable load (6 Ohm average), and almost ruler flat in my listening room…the VR-9 SE's have it all.
As I said, these are utterly the best loudspeakers that I've had in my listening room over the past 16 years.
Highest praise to Albert Von Schweikert and Kevin Malmgren for producing a world-class reference speaker that has transformed my listening room at PFO!
Line Conditioners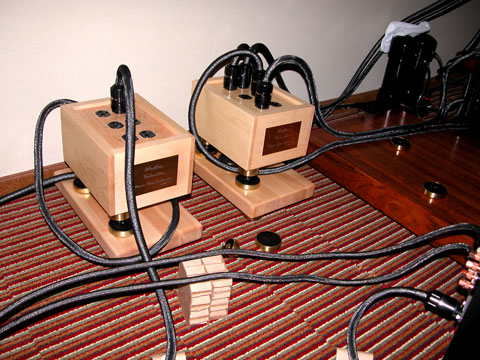 A pair of Velocitors at RMAF 2005, powered by Silent Source cables
For the second year in a row, Walker Audio takes a Brutus Award for its updated Velocitor. The original Velocitor was good; the new model is definitely better. What transparency! What quickness! What delicacy! Your system will certainly improve with the Velocitor; as a matter of fact, I'd find it to be amazing if the use of the Velocitor didn't noticeably perk up with the Velocitor in place. Walker Audio's cryo-treated Velocitor is the best line conditioning that I've heard.
Isolation platforms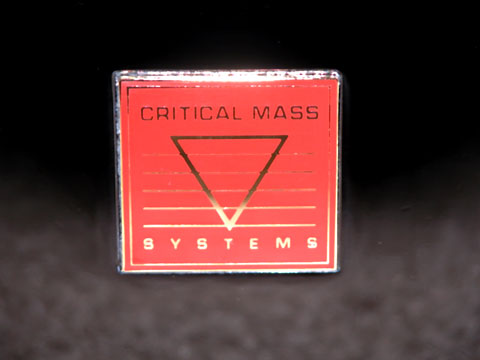 Critical Mass Systems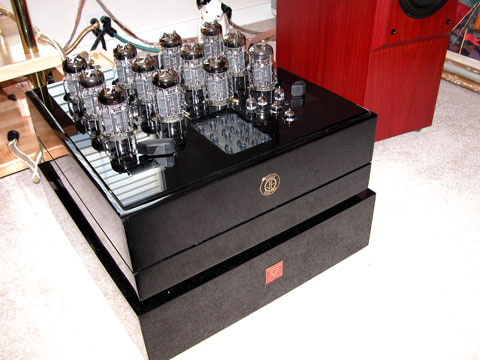 The Critical Mass Systems isolation platform for the Joule Electra Rite of Passage OTL monoblock
There are two awards in this category for 2005. One goes to Joe Lavrencik of Critical Mass Systems for his beautiful amplifier stand for the Joule Electra Rites of Passage monoblocks (see above). Joe's stand provided noticeably better isolation for the Joule Electras than the Townshend stands that I had used with the Joule Electra Marquis Mk. III monoblocks. There was definitely more detail, more coherence, a greater sense of tightness, and improved silence in quiet passages. The CMS stands contributed to the superior performance of Jud Barber's Rites, and so deserve this recognition.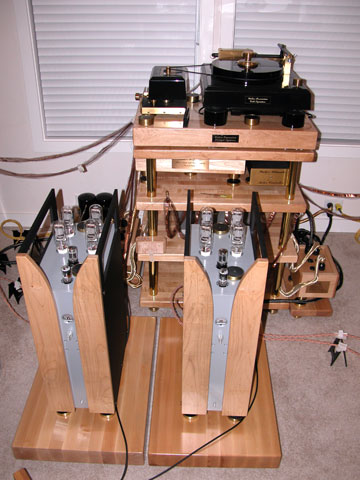 The Walker Audio isolation platforms and tuning discs doing their duty with the very fine Red Rock Audio Renaissance amps.
The other goes to Lloyd Walker and Walker Audio for their new maple-based isolation platforms. I can tell you that these stands and the Walker Audio tuning discs really brought both the Linn Klimax solid state monoblocks and the Renaissance tubed monoblocks to life. They impart a sense of tight, clean, quick response to both products; I wouldn't want to listen to them without these stands. I'm impressed with this product; I think that you will be too. If your system is sounding a bit tubby or slow, by all means try the Walker Audio isolation stands…I consider them to be indispensable.
System tweaks and enhancements
This past year has seen some notable products come through my door, tweaks that have improved the sound and musicality of my listening room. The following items definitely merit Brutus Awards: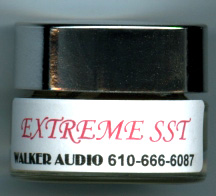 Walker Audio Extreme SST Contact Enhancer (photo courtesy of Walker Audio)
Lloyd Walker and Fred Law of Walker Audio receive a Brutus in 2005 for their Extreme SST (E-SST) Contact Enhancer. It was excellent in 2004; the new formulation of this product is better than ever. In my experience, all of Lloyd's tweaking products share some common denominators in their performance: improved transparency and quickness, greater detail and resolution (consequently improving soundstaging and imaging, as well), an enhanced sense of silence during quiet passages in the music, and a better delivery of that elusive spaciousness that the best recordings can deliver to us. I said it last year, and I'll say it again this year: if you haven't tried Walker Audio's E-SST Contact Enhancer, you don't know what your CURRENT system can do. Don't upgrade components until you try this product first—it's that good. Who knows? You might save yourself thousands by spending dozens…always a good thing.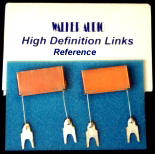 Walker Audio High Definition Links (photo courtesy of Walker Audio)
In addition, Walker Audio takes Brutus Awards for their High Definition Links (HDLs). The HDLs are an external crossover network that ties into your mid/upper speaker connections via spades and improves the high end performance of loudspeakers by rendering more detail in higher frequencies and making the enhanced resolution smoother at the same time. That's pretty amazing; so's the sound in my listening room. Spooky good, for sure…you should definitely try these on your speakers. By the way: I always treat the HDLs with Walker Audio's E-SST Contact Enhancer, so my notes and this award assume that you'll do the same.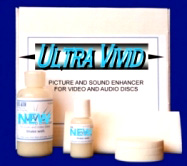 Walker Audio Ultra Vivid Picture and Sound Enhancer (photo courtesy of Walker Audio)
Also going to Walker Audio is a Brutus Award for their new Ultra Vivid SACD/DVD/CD Enhancer. Like the improvements that Walker Audio brought to the E-SST formula, the Ultra Vivid seems to have taken the next step to increase the clarity and detail of SACDs and CDs. I liked last year's Vivid a lot; I like the Ultra Vivid a lot more. I haven't found an SACD or DVD that hasn't been improved by applying Ultra Vivid. SACDs seem to have improved resolution, but at the same time they achieve a kind of smoothness that I find to be most agreeable. My DVDs show improved color and video resolution, while the sound tracks are clearer. I've gotten to the point at which I don't listen to SACDs or watch DVDs without first applying the Ultra Vivid, no matter how inconvenient that might be. It's worth it, believe me. If I was you, I'd give Ultra Vivid a try…it's the best optical enhancer that I've found so far.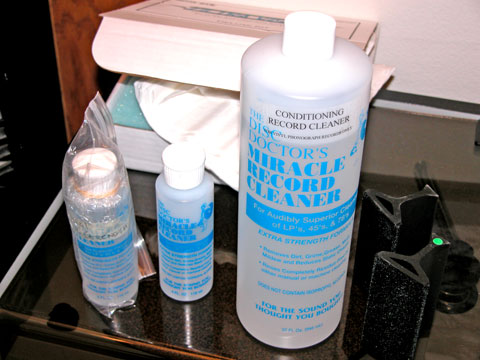 Duane Goldman's Disc Doctor Miracle Record Cleaner
In the vinyl domain, I'm awarding a Brutus to Duane Goldman of The Disc Doctor for his new LP cleaning system. Two application brushes, an incredible cleaning solution, distilled water, and my trusty VPI 17-F LP cleaning machine, and I've got better sound from my LPs than I've ever had in my life! I've tried a number of LP cleaners over the years, from a number of people I really respected, Duane Goldman included. Lloyd Walker turned me on to this new formulation from Disc Doctor this year, and we got a chance to do some very interesting A/B comparisons with my previous reference product. The results were pretty startling: the Disc Doctor system took LPs that I had just cleaned and listened to, and hoisted them to a much higher level. I was pretty surprised at the improvement…and was also delighted at the improvement. I heard resolution of details in the grooves that had previously been hidden to me, even on the prior playing. (And we're talking on a Walker Audio Proscenium here…vinyl resolution in spades!) Every use has confirmed the stellar nature of this product. Duane's on to something really important here. LP lovers, take note. (BTW: You can obtain this product via Walker Audio if you don't have your own source.)
Recording Companies that merit Brutus Awards
Top Music for their exceptional series of SACDs issued in 2005. (See, for example, my notes at http://www.positive-feedback.com/Issue21/robinson_sacd.htm). Every title that I've tried, regardless of the original source (analog or 96/24 PCM) has been a real treat to hear…no duds. I recommend these without reservation.
Dennis Casady and Stan Ricker for the Pure Audiophile series of half-speed mastered LPs issued in 2005. Dennis and Stan have been producing half-speed mastered LPs since 2002, and it's about time that I gave these gents their due. The Ray Charles Genius Loves Company was an exceptional piece of work, but with Stan at the helm, that's no surprise. Any of the Pure Audiophile LPs are worth having, that's for sure…keep 'em flying, Dennis!
Chad Kassem of Acoustic Sounds/Analog Productions is awarded a 2005 Brutus for continuing to reissue terrific blues and jazz titles in LP (more SACDs, please!), and for supporting blues artists all over America. Chad isn't just a distributor of fine music…he helps to make the music, and helps the musicians, too. I've already given him a PFO Brutus Lifetime Achievement Award in 2003, but it deserves underlining this year. Done!
SACD lovers have been blessed with terrific classical reissues from Sony/BMG, with the RCA Living Stereo and Mercury Living Presence series meriting Brutus Awards in 2005.
Pentatone receives a 2005 Brutus for its continuing series of classical SACDs which are truly exceptional in quality and excellent in content. I'd like to see more from this talented group as the years go by.
I likewise salute the ongoing SACDs coming from BIS, Hyperion, Linn Records and Channel Classics for their exceptional production values, and in recognition of this general excellence of their titles award each a Brutus for 2005.
In addition, I award David Elias a 2005 Brutus for the brilliant work that he's done with DSD in 2003 and 2005 on his exceptional recordings, The Window and The Crossing. If you haven't treated yourself to these two exceptional recordings, you're missing what DSD can do with well recorded sources. Not only that, but David writes terrific music!
Gus Skinas of the Super Audio Center is given a 2005 Brutus for the superlative engineering that he has done in DSD on a number of projects. Gus combines remarkable production values with a clear sense of the importance of DSD as a format. Gus deserves recognition as an audio engineer who really gets it—congratulations, Gus!
While I don't spend nearly as much time with XRCD24 these days, the work of Winston Ma of First Impression Music continues to show what is possible with this format. Frankly, I prefer his SACDs, and hope for more releases in the future, but Winston's XRCD24's show that Red Book can certainly be better than it usually is. The audiophile world is certainly the richer for Winston's efforts—kudos, Winston!
Ying Tan of Groove Note is awarded a 2005 Brutus for the outstanding nature of his work with reissues in both SACD and LP over the past several years. Ying gets it right; his titles and production values never disappoint me. He deserves recognition for the great work that he's accomplished—consider it done.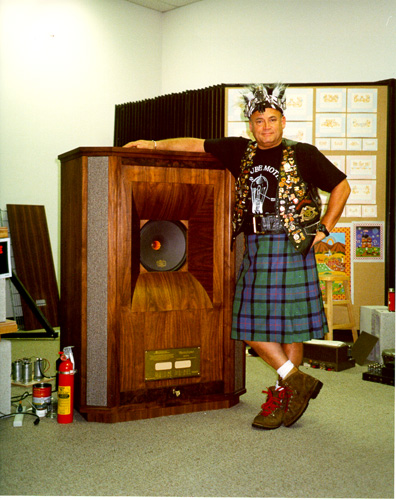 Harvey "Gizmo" Rosenberg
The Gizmo Award is given in memory to my good audio friend, Harvey "Gizmo" Rosenberg. The Gizmo goes to the audiomaniac(s) who, in my opinion, presses the possibilities of the audio arts. Again, quoting from Issue 10, I said that the Gizmo would be:
…a one-only-per-year recognition of a person/design that is surfing the edge of audiomania, going all-out to push the frontiers of fine audio. There will be no multiples of this prize… no hard-and-fast categories… and if nobody floats our boat in a given year, it won't be awarded.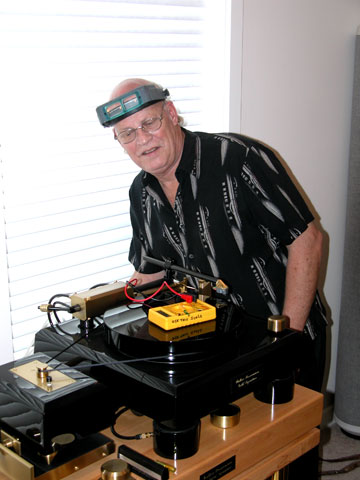 Lloyd Walker, Audio Gizmologist extraordinaire, at work…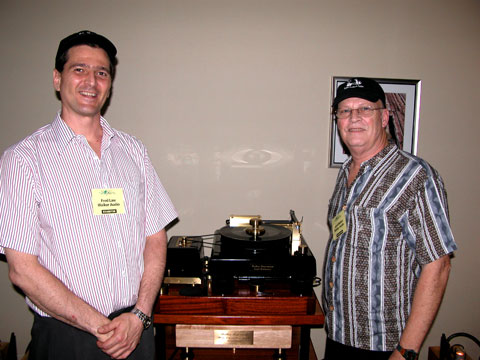 Fred Law and Lloyd Walker, winners of their second Gizmo award in a row, with the Proscenium Gold Signature turntable system at RMAF, 2005
For the second year in a row, I award the Gizmo to Lloyd Walker and Fred Law of Walker Audio. Walker Audio has spent most of the past two years messing with my mind and hearing—to my great benefit, I should add—and mightily impressing me with the creativity and excellence of its products, tweakery, modifications, and constant audio/video innovations, including the products listed in their Brutus Awards above. If you're wise, you'll drop over to http://www.walkeraudio.com and check out their lineup…your ears will thank you.
Congratulations, Lloyd and Fred…keep the brilliant work coming!