GREG WEAVER'S SYSTEM
LOUDSPEAKERS
Von Schweikert Audio VR-4 Generation III Special Editions, Von Schweikert Audio VR-4 jr, Buggtussel Somu, Buggtussel Circa.
ELECTRONICS
Marsh Sound Design P2000b, Channel Islands Audio VPP-1 (passive) preamplifiers. deHavilland Electric Amplifier Aries GM70 Monoblocks, Spectron Musician II (Class D), Channel Islands Audio D●200 Monoblocks, Channel Islands Audio VMB●1 Monoblocks. DSA Phono ONE, Monolithic Sound PS-2 with HC-1 supply, and Channel Islands Audio VPP-1 with VAC-1 Supply phono stages.
SOURCES
Oracle Delphi Mk III/with Mk V suspension and other mods (including sapphire thrust plate), Origin Live Silver 250 Arm, Clearaudio Virtuoso Mk II, Denon 103-D/with vdHul Mods, Monster Sigma Genesis 2000, Monster Alpha Genesis 500, Sumiko Blue Point Nude, McCormack UDP-1.
CABLES
Audience Au24 bi-wired speaker cables, Harmonic Technologies Magic Woofer and Tweeter bi-wires, Audience Au24 single ended and balanced interconnects, Magic and ProSilway Mk III interconnects, Audience powerChord AC cables, Magic and Fantasy AC cables, and Platinum CyberLink. Audience Au24 interconnects, digital, and speaker cables.
ACCESSORIES
Grand Prix Audio Monaco Modular Isolation System equipment stand. Audience adeptResponse, Furutech eTP-80, Monster Cable HTS 800, Quantum Products, Inc. Symphony Pro's for power conditioning. Aurios 1.2 MIB (speakers), Extreme Phono Solid State Stylus Cleaner, Nitty Gritty Mini-Pro, Buggtussel Vinyl-Zime, Disc Dr. Miracle Record Cleaner, KAB phono Tools, AudioQuest DM-100 demagnetizer, Cascade Audio Engineering Foam and tubes, CornerTunes, DIY "Room Lens" Helmholtz Resonators, Furutech RD-2 demagnetizer, and Auric Illuminator.
For as long as I've known Channel Islands Audio's Dusty Vawter, approaching a decade now, he has never failed to impress me, both as a firmly rooted, sincere individual and with the sonic result of any product with which he has been associated. His motivation has consistently been that a music lover shouldn't have to be a millionaire to enjoy reproduced sound. All things considered, I'd have to say that's a pretty good aspiration.
I first became aware of Dusty through his connection to Mark Schifter, when he was the Technical Service Advisor at Audio Alchemy. When AA packed it in back in '97, Dusty both founded Channel Islands Audio and joined forces with Greg Schug at Monolithic Sound. My first-hand exposure to his work came when I got into his straightforward and affordable modifications to the then very popular Audio Alchemy line of DACs, and the upgraded MPS power supply. I was also duly impressed with the Monolithic Sound Phono Stages PS-1 and PS-2, especially when powered by the HC1 high-current power supply.
Following a path through his line of creations, I was very taken with the VPP-1 phono stage and the VDA-1 DAC, especially when they were powered by his matching VAC-1 power supply. Simply put, they were, and still are for that matter, stellar over-performers for their modest asking prices. His passive preamplifier, the VPC-1, utterly blew away a $4000 highly regarded, tubed preamp I was using at the end of the millennium to become my reference for a number of years.
His VMB-1 monos have set new standards in the under a grand market and have redefined what could be done with a killer linear power supply and a single LM3886 device. His D-100, the predecessor to the D200 under review here, won a HUGE following at the 2005 CES, and both his D-100 and the VHP-1 headphone amplifier have been a little more than well received by Wes Philips over at Stereophile.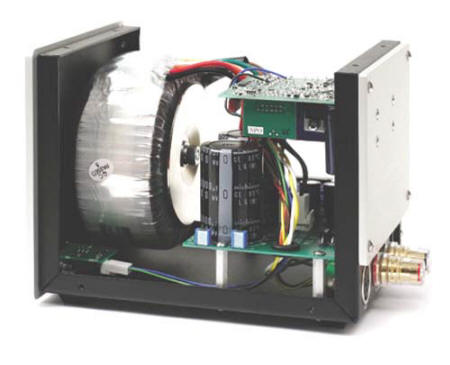 Class D Innovations
The D-200s are a natural evolution of the D-100 in that they use a similar circuit, but with separate power supply voltages for the regulated input stage and a higher voltage unregulated output stage. The CIA D series amplifier circuit uses the UcD Technology designed by Bruno Putzeys, one of the world's most renowned Class D designers. As a former chief engineer in Class D audio at Philips DSL, he designed and created Universal Class D. He is now chief engineer of Research & Development at Hypex in the Netherlands, who manufacture the Class D modules for Channel Islands Audio.
Dusty has worked closely for some time with both Bruno and Jan-Peter Van Amerongen of Hypex, as well as the afore mentioned Greg Schug of Monolithic Sound to modify the amplifier modules for the D series to his liking.
There are a host of design approaches that set these amplifiers apart from other Class D offerings like those from Nuforce, or any of the ICE or Tripath based designs. First, they operate on a split power supply, which means they have no floating DC on their outputs. All of the above-mentioned Class D entrants suffer this undesirable trait.
Another common problem with many other Class D designs is that frequency response is load dependant. For example, while an ICE module may be reasonably flat into a 6-ohm load, at 8 ohms the high frequency will rise, and at 4 ohms, the frequency response will prematurely roll off. Since a speaker is not purely resistive, but is rather a reactive and variable load, this presents both a design challenge and consistent performance problems for such amplifiers.
The CIA D series do not have this problem because the comparator/modulator sensing is done directly at the output jacks. This facilitates perfectly accurate frequency response regardless of the reactive load presented by the speakers. Again, because of the inherent advantages of the UcD design, the D Series amplifiers are completely stable, even when they have no load connected. Many of the previously mentioned designs do not enjoy this advantage and suffer fairly high instability problems when they are not connected to a speaker.
Quite honestly, it was these two distinct advantages, which drew Dusty to the UcD design. As with all Class D designs, they are highly efficient (in the 90% neighborhood) and generate very little heat. They are compact, well built, and have lower RFI/EMI due to Bruno's careful module design, a quality linear supply rather than a noisy switcher, and proper chassis design and shielding. Man, if this isn't a win/win scenario…there has never been one!
Power output is a healthy 200w into 8 ohms, 325w into 4 ohms, and is stable into loads as low as 2 ohms. Protection includes current limiting (20A) and over voltage. In addition, like all the Channel Islands Audio products, they are handmade in Port Hueneme, California and configured to order. About the only downside with the D series is that you can't get one that will take both single-ended and balanced inputs. However, your configuration options are as follows:
LGR configuration - 26dB gain, single-ended RCA input
LGX configuration - 26dB gain, balanced XLR input
HGR configuration - 32dB gain, single-ended RCA input
HGX configuration - 32dB gain, balanced XLR input
Reveling in Class D Splendor
The D-200s have a full, rich flavor that is akin to "tube" sound, but with less coloration. They are warm and lush, harmonically rich and vibrant, yet extraordinarily detailed. Well-recorded strings and female voices are rendered in goose-flesh creating splendor. Ride and crash cymbals are creamy bronze in flavor and just plain "real" sounding.
Lows are tight, extraordinarily fast, and are blended seamlessly with the densely fertile midrange and treble. Bass drum strikes, organ excursions down to the left most keys, snapped, and plucked double bass or bass guitar strings have an uncanny presence and corporal energy. And the lowest to highest frequencies are all reproduced with complete tonally coherence.
Image depth is quite accurate, no more nor less than what I've come to expect from many expensive amps like the VAC Phi Beta or the darTZeel NHB-108 model one (both about $19,000), and sound stage size is remarkably large, wide and deep. Instrumental placement is both remarkably honest, recording permitting, and presented with an uncannily proper intra-instrumental perspective. This is one of the D-200s inherent strengths.
There is an ease of presentation that is, again, almost tube-like, giving the D-200s one of the most organic presentations I've ever noted from a solid-state amplifier. Things just get louder or softer and I have yet to encounter any distortion limit, even at very loud levels, with any of the speakers I've had in house. They will play loudly without strain or distortion, seemingly well beyond what I have come to expect from a 200-wpc device, and they just don't get glassy at high volume levels. They give up a tremendous sense of dynamic range, all the while never distorting or causing the lights to dim when peaks are hit.
Go ahead, dig out the Cincinnati Symphony Orchestra/Erich Kunzel Telarc Tchaikovsky 1812 (DG-10041). Light up those tracks from the Crown SASS™ Demonstration disc (SAR D649010), with those incredibly lifelike fireworks in the mountains or that Harley on the city street. Be prepared to be impressed…if the rest of your system is up to it!
Come and get it…
Over the years, there have been a number of amps that have delivered the lion's share of "Super Amp" performance for some fraction of the price. The Rotels from the 1970s, David Hafler's XL-280 in the 1980s or Steve McCormack's DNA designs introduced in the 1990s are just a few very germane examples. Yet they all have had their shortcomings, enough so as to bear out the old aphorism that there is no such thing as a "free lunch." With his new D series, Dusty has finally defeated the old adage. I have heard a true "David" in the Channel Islands Audio D-200.
If you are foolish enough to dismiss an amplifier that weighs in at a trifling 15 pounds and displaces only about one sixth of a cubic foot per channel as not worth your time, then the joke is on you! This UNRIVALED class-D amplifier is a hands down winner; and no, not just in the "for the money" category. It may well be the best sounding amplifier I've ever heard! No foolin'. I know of one music lover (David, are you reading this?) who, upon my recommendation, put them up against a $10,000 "Super Amp". The $10K entrant went back to the manufacturer! Give them a listen and you'll understand why. Mine aren't going anywhere anytime soon! Greg Weaver
Power Output: 200 watts @ 8 ohms/325 watts @ 4 ohms

Bandwidth: 50kHz

Frequency Response: 10Hz - 20kHz, +0dB/-0.5dB

Damping Factor: >1000

Input Impedance: 100k ohms

Gain: 32db (for use with VPC•2 or other passive preamplifiers) or 26dB (for use with active preamplifiers)

Dimensions: 6.25"w x 5.5"h x 8.0"d

Weight: 15 lbs (each)

Warranty: 1 Year Parts & Labor
D-200 amplifiers
Retail: $2299/pair
Channel Islands Audio
web address: www.ciaudio.com
We received this email in response to Greg's review. At the end of this email is Greg's response.
Hi Greg,
I enjoyed your recent review of the CIA D-200s. I was hoping though that you would have compared them to the Spectron Musician II for which you felt set new standards in amplification. "In broad strokes, this is simply one of the finest amplifiers I've yet heard. In many ways, in fact, it may be the best. It is so good, and in so many ways, that I have had to rethink all I once held true and sacred about amplifier design."
Being the owner of the Musician II I would greatly appreciate any comments on how the two amps compare. I love the Musician II, and if the D-200s have a more harmonically rich and full sound along with all the other strengths of the Musician II, I'd love to give them a try.
Thanks for any feedback,
Gary
Hello Gary,
I have to admit that your admonishment here is justly deserved. In my haste to get the review done by my self-imposed deadline (I told Dusty that I should have it done "around Thanksgiving"), combined with the demands of my IT engineering position at the University of Notre Dame, and keeping up with our three teens, I admittedly missed an excellent opportunity.
While I certainly believe that it should be seen as no surprise that the "state-of-the-Class-D-art" would have substantially advanced in something like the 3 years since the Musician II review appeared, you are nonetheless correct that this would have been a perfect opportunity to address some detailed comparisons of, and contrasts between, the two devices.
That notwithstanding, the answer to your question is that the D-200s do offer an appreciably more vibrant and harmonically luxuriant presentation, especially through the midrange and treble, without sacrificing clarity or detail, than the Musician II.
While both are extraordinary at excavating subterranean bass, I would have to say that the Musician II ever so slightly edges out the D-200s here, perhaps because of its raw horse power advantage. Both are splendid at rendering dynamic contrasts, with a slight nod to the Musician II. Yet, I have to point out that, even with only 40 percent of the rated power of the Musician II, the D-200s can keep up, seemingly without effort. With microdynamics, while both amps are more than merely proficient, somehow, the D-200s seem to portray these contrasts in a slightly more articulate and faithful fashion.
Once you get into the midbass region, the D-200s start to take the clear lead. Midbass is rendered with slightly better pitch definition and somewhat more harmonically fleshed out than by the Musician II. In the mids, the D-200s leave the Musician II seeming somewhat antiseptic or cold by comparison, and this was an attribute of Musician II that won me over initially. Its ability to portray the "rightness" of bow, rosin and string was, well, exemplary. Yet the D-200s really bloom here, giving special vitality to the tones of strings, woodwinds, horns, pianos, or female vocals, all the while infusing them with breath-taking detail and finesse.
In the treble, again an area where the Spectron Musician II handily bested all its Class D contenders, as well as many solid state entrants in general, the D-200s easily take top honors. Shimmer and sparkle with complete detail, and not a shred of glare or grain.
And when it comes to instrumental image size and specificity or soundstage regeneration and accuracy, well, they seem to almost come alive.
While I admit that the Musician III seemed to clearly surpass the II in midrange involvement and microdynamic capabilities during my all too brief experience with it (driving the VSA VR-4jrs) at CES 2005, the CIAudio D-200s have so convincingly bested the Musician II that mine was offered and sold on Audiogon last week. And why should that be so odd? Look at the advances in computing power and the subsequent lower pricing today as compared with what was available as state-of-the-art for Christmas of 2002. Greg