JOHN BRAZIER'S SYSTEM
LOUDSPEAKERS
Reference 3A MM De Cappo i's atop Z5 24" Sound Organizations Stands. Each filled with a unique mixture of sand from Mother's Beach (in Marina Del Rey, CA) and sand from Venice Beach.
ELECTRONICS
Edge G3 integrated.
SOURCES
Naim CDX2, which is sometimes cabled with Naim's Crystal RCA to Din, but otherwise cabled with Acoustic Zen Silver Reference IIs.
CABLES
Acoustic Zen Hologram Speaker Cable (single wire), Acoustic Zen Silver Reference II or Naim Crystal for connection between CDX2 and the Edge G3.
ACCESSORIES
Acoustic Zen El Nino Power Cords, Wiremold Outlet Strip.
When products try to be all things to all people, one of two things happens. Either they are prohibitively expensive, or—most commonly—they fail to do anything really well. The new Range Rover Sport comes close to doing everything well (a true performance SUV), but at a starting price of $73,000.00 it is not in my future. Same for people. No doubt, we all are acquainted with someone that cannot say "no", they are just have to be a friend to everyone. In the end, they aren't really successful in being a true friend to anyone, only a moderate friend to most.
When the Cary 303/300 came around the corner, I had similar doubts. I assumed it would be a good player, but not a great one, and at $4000, it should be a great one! With its plethora of options, it was clearly designed to appeal to a wide variety of listeners, and while this is an ambitious goal, it is a tough one to pull off.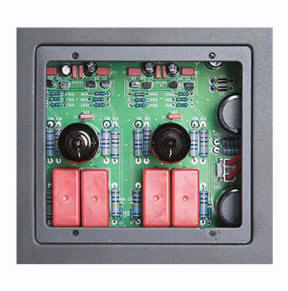 The Cary 303/300 has both a tube and solid-state output stage. It decodes HCCD, has five upsampling settings, four large adjustable cone feet, and a bubble level on top. The output stage and upsampling options can be selected from the remote or by buttons on the face of the player. There is a small trapdoor just above the tubes, giving easy access for tube rolling. The internet scuttlebutt was that the sound of the player—with the stock tubes—could be greatly improved upon. I lacked the knowledge, time, money, and (to a lesser extent) motivation to experiment with tubes, but I believe that if you purchase this player, you should choose the appropriate output stage and upsampling combinations first, then change tubes to get the most musically out of this player. I reviewed the tubed based, upsampling Cary 308T a few years back and enjoyed it very much. However, I ultimately found the benefits of the upsampling were sullied, to a degree, by the warmth of the tube output. For the record, I am a fan of upsampling having been a long time owner of the Perpetual Technology Upsampling DAC and digital correction engineer, which currently rests in my headphone set up.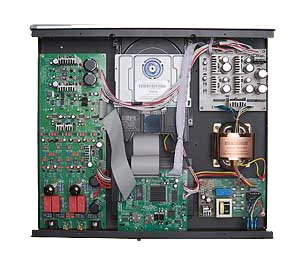 Over the three months that I had this player, I used two amps with different sonic signatures. My reference integrated, the Edge G3, is a clean, dynamic, solid-state design. The other amp, the Pathos Logos integrated, has a tube preamp section. The variations of amplification/CD output/upsampling were endless, and the combination I preferred varied from disc to disc. As a rule, vocal-driven tracks faired better with tubes in the chain, whether in the Cary or the Pathos. Harder, more rock-ish music sounded better with solid state—no surprise. I found that the Pathos/tube CD output combination was a bit too much of a good thing, and the same was true when I used both the Edge amp and the solid-state CD output.
Finding the appropriate upsampling rate was more of an adventure. The options are 96, 192, 384, 512, and 768 kHz (with 44.1 being an option for "no up-sampling"). Without looking, I clicked through the cycle several times via the remote, then slowed down and listened intently until one step sounded better than the prior one. As I played my game of upsampling roulette, I consistently landed on 192. The law of diminishing returns applied above that point, if I could hear any difference at all. Once I found my preferred setting, I tried not to vary from it, although I had to struggle to resist playing around while I listened. I often found myself pondering whether another setting would sound better, and it distracted me from my enjoyment of the music.
With the Logos amp in the chain, I broke out the Cake disc, Fashion Nugget. The bass notes kicked throughout and, as often happens, I kept making the volume louder and louder before I caught myself and turned it down for the sake of the neighbors. With the solid-state output in use, the 303/300 handled this punchy CD very neatly and believably. The same was true for the Black Eyed Peas. On their Don't Phunk With My Heart, the bass was tight and deep, but not very deep. When I selected the tubed output on the Cary, both the tightness and the depth suffered, with no other part of the spectrum being improved. Lesson learned.
Ray Charles' "Heaven Help Us All," from Genius Loves Company, has strong bass, lively dynamics, a brass section full of bravado and gusto, and a lot of energy. The complement of tube preamp in the Logos and solid-state output in the Cary created a comforting midrange, smooth highs, and a relaxing sonic signature. Switching to the Cary's tubed output again diminished certain aspects of the musical message, but this time there was a distinct gain. The vocals sweetened, tugging a more emotional string, and the bravado of the brass section was kept intact, though it took on a smoother edge.
In his latest effort, Magic Time, Van Morrison reels in the listener with "Gypsy in My Soul." The Cary brought out the fact that Morrison was being closely mic'ed.
At the beginning of "They Sold Me Out," the picking of the lone guitar lacked a bit of realism. The tube section of the Pathos mellowed it just a tad, but the solid-state output of the Cary rehabilitated it. Then, "Evening Train" started off with very realistic bass and percussion. The cymbals and snare gave me the feeling of being there. No matter what configuration of amp and CD player output I used, the soundstage was consistent and stable. The brass on Magic Time was not confused, nor was it spread too thin—simply coherent and real. Throughout the duets on Genius Loves Company, the singers were placed left, right, and center in a most believable way. Even compressed and thump-intensive discs fared well.
I found it very difficult to come to a conclusion about the Cary 303/300. My reference, the Naim CDX2, costs about 25 percent more, its options are minimal, and the CD tray has to be manually opened and closed. It is a no-frills CD player, but it offers truly fantastic sound. I have assembled all of my other components around it, in an effort to make it sound as good as it can. The sound of the 303/300 is directly related to the type and quality of the amplification, which is then either complemented or not by the user's selection of player's tube or solid-state output. The Cary can be set up so that it sounds very good, if not great, in many different situations. At its best, it is a very competent CD player, one that stands strong among its peers. At its worst, it is an above-average, though less than exceptional player.
In the end, I prefer a simpler CD player that plays music without compromise, and I am willing to pay for that privilege. Cary is betting that I am in the minority, and I suspect I am. If you are in the majority, you will probably appreciate a player that offers so many options. Whether or not you like the 303/300 will depend upon your personal preferences. No matter what those may be, the Cary 303/300 is a very good CD player with great potential, and it is surely worthy of your attention. John Brazier
Specifications
Weight: 38 lbs.

Dimensions: 4" H x 18" W x 15" D

Transport: 3 Beam CD/DVD ROM drive

Frequency Response: 2 Hz - 384 kHz (768 kHz Fs)

Signal-to-Noise Ratio: 127 dB (1 kHz)

Total Harmonic Distortion (THD): 0.004% (1 kHz)

Channel Separation: 109 dB (1 kHz)

Power Consumption: 60 Watts (15 standby)

Digital/Analog Converters (DAC): (2) Burr Brown PCM1792u 24 bit DAC chip sets

Sample Rate Settings: (Fs) 44.1, 96, 192, 384, 512 or 768 kHz sample rates for CD, CD-R or CD-RW disk playback to the analog output, digital output Fs of 44.1, 96 or 192 kHz

Audio Output Level: Single-Ended 3.0 Vrms, Balanced XLR 6.0 Vrms

Analog Outputs: (1) pair balanced via XLR connectors (1) pair single-ended via RCA connectors

Features:
48 bit DSP digital buffer circuit, bubble level balance on the chassis top panel, adjustable metal cone feet, variable analog volume control, vacuum tube and solid state output sections with remote selection or front panel button, dimmer light control for display, C-core power transformer, fully regulated power supplies, RS 232 port control for custom installation systems, chssis top removable panel above the 12AU7 vacuum tubes in the output stage, HDCD decoding with Cary DSP-300 digital filter

Digital Outputs: (1) Balanced (1) Coaxial (1) Toslink

Power Input: 100-120 or 200-240 VAC, 50-60 Hz

Finish: Black or Silver Anodized Aluminum Faceplates, Black Epoxy Coated Steel Chassis, black anodized cone feet

HDCD, HDCD®, High Definition Compatible Digital® and Pacific Microsonics™ are either registered trademarks or trademarks of Pacific Microsonics, Inc. in the United States and/or other countries.
303/300 CD player
Retail: $3995
Cary Audio
web address: www.caryaudio.com