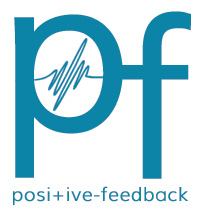 You are reading the older HTML site
Positive Feedback ISSUE 23
january/february
2006
CES 2006 - Part 1
by Dave and Carol Clark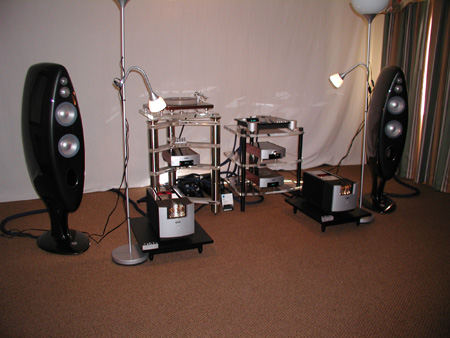 Musical Surroundings featured Vivid Audio K1 loudspeakers ($20,000 pair) with Pathos InPower monoblock power amplifiers and the InControl preamplifier. This sounded really good with a very open and clean sound. Amazingly deep bass from smallish speakers. Why? From the Vivid site, "K1 employs a single D50 mid range driver (patent pending), between 900Hz and 4 kHz with the range beyond being handled by a D26 tweeter (patent pending). Below 900Hz the K1 uses four C125 mid-bass drivers (patent pending), two mounted on the front baffle and two mounted on the rear baffle of the cabinet. These four drivers are internally coupled in pairs via screw tensioning units for reaction canceling. All drivers receive the same signal at frequencies below 100Hz while above this point the drive to the rear is progressively attenuated leaving only the front upper driver to operate all the way to 900Hz to ensure good vertical dispersion at crossover. Fourth order filters ensure phase coherence through both main crossover points resulting in a seamless and symmetrical polar performance." Really cool.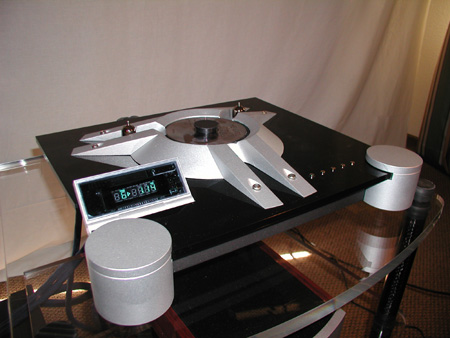 The soon-to-be-released Pathos Endorphin CD player $7950 (D/A Conversion: dual differential 24-bit delta-sigma DACs. Analog stage: dual, fully balanced tube, class A, zero feedback. Conversion rate: up to 192kHz. Available April 2006.) Very Italian ...very beautiful.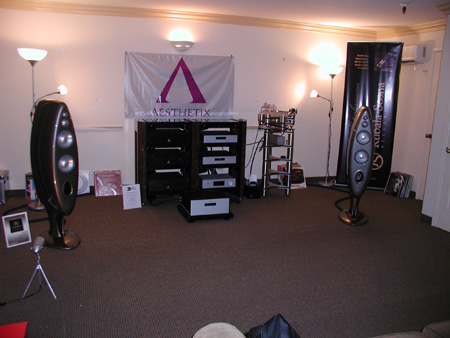 In the Aesthetix room were the Rhea phono stage, Calypso line stage, Atlas amplifier, and the Vivid K1 loudspeakers. An Ayre Evolution CD player, Clear Audio Master Reference turntable with Master TQ-I arm and Goldfinger cartridge.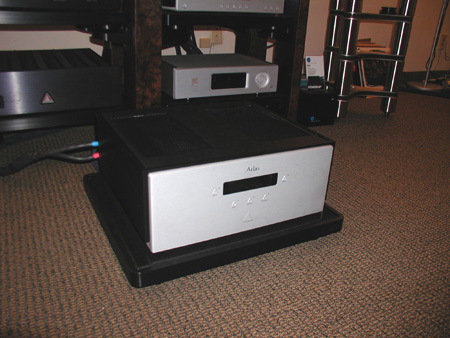 The Atlas amplifier is brand new ($TBA).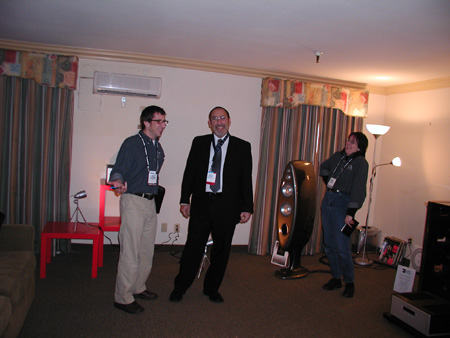 Bryan Gladstone, Garth Leerer, and Carol Clark sharing a good laugh. Ah ...life is good. But the room is tilting to the right..... ahhhhhhhhhhhhhhhhhhhh!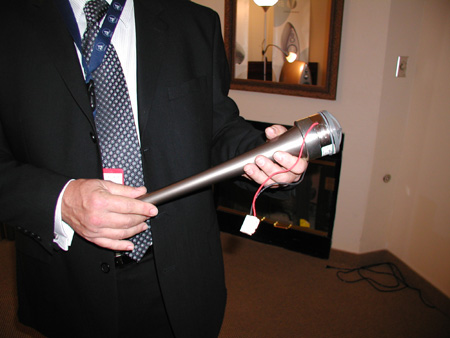 Garth holding the Vivid Audio loudspeaker's tweeter unit. The rod-like extension allows the tweeter to, well... from the Vivid site, "In order to keep the fundamental resonance of the driver well below the intended frequency band, the rear radiation from the diaphragm passes through a tapered hole in the central magnetic pole and into an inverted exponential horn. A graduated density fibre filling ensures that the wave is progressively attenuated without exciting any resonances or discrete reflections. Isolation between the magnet system, the horn and enclosure is ensured by the use of high compliance elastomeric seals between each element. In this way, the reaction forces of the motor system are contained within the driver without direct mechanical excitation of any external modes." Cool.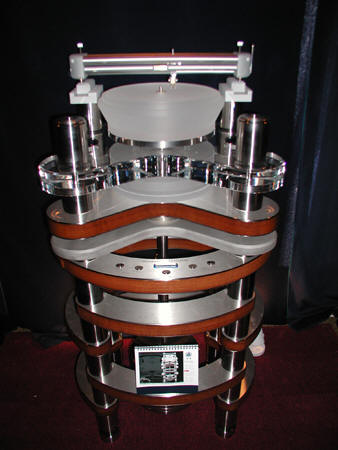 Clearaudio Statement turntable ... a cool $100,000. Very slick and very wanting of table am I ...but alas!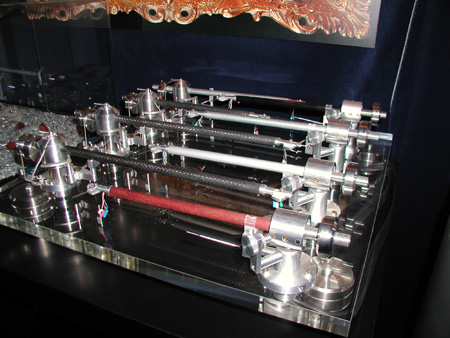 Clearaudio tonearms all lined up and waiting for a table to swing to and fro.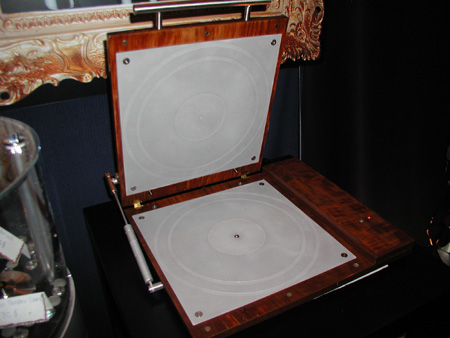 Clearaudio LP Flattener ($2300).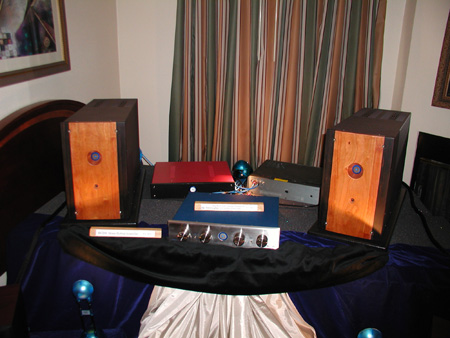 In the Blue Circle room was the BC208 Mono Hybrid amplifiers ($24,995 up to $26,800 pair depending on options and such).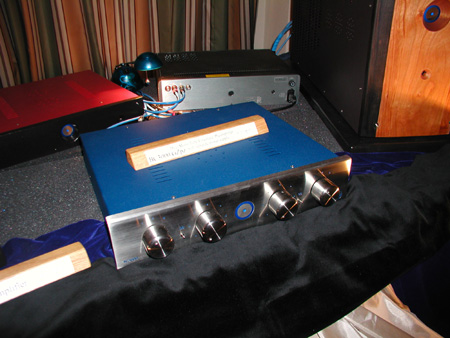 The BC3000 GZPZ line stage preamplifier with power supply ($7995 to $9500, depending on options and such ...once again).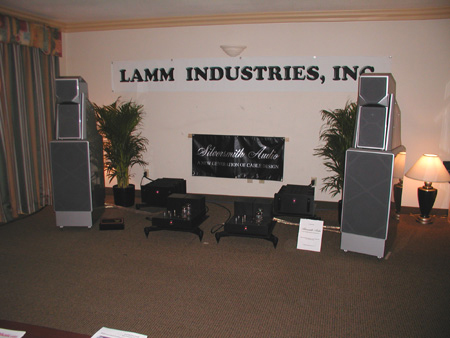 In the Lamm room was the Lamm ML2.1 and M1.2 Reference amplifiers, Wilson Maxx 2 loudspeakers with Silversmith cabling. Which sound sounded like Wilson... we like Lamm (or is that Lamb?), but Wilson has never done it for either of us.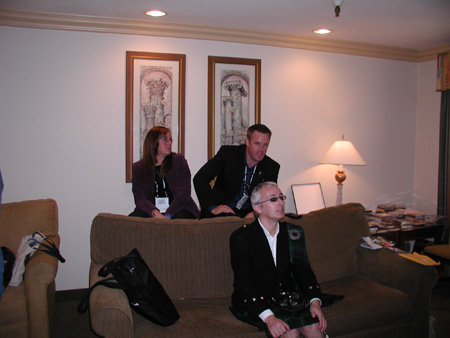 Jeff Smith from Silversmith Audio. Good man that Mr. Smith, the gent in the kilt ...not so sure what the deal is here.
Bel Canto used Verity loudspeakers and their new line of electronics. Shown here is the REF 1000 monoblock amplifiers.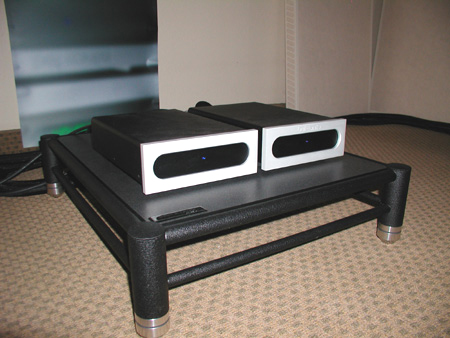 The REF 1000 monoblock amplifier features the ICEPower module (1000w into 4 ohms, 500w into 8 ohms).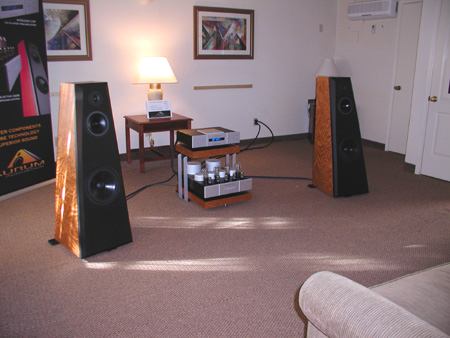 In the Aurum Acoustics room was the Integris Active 300B loudspeakers ($27,000) and system.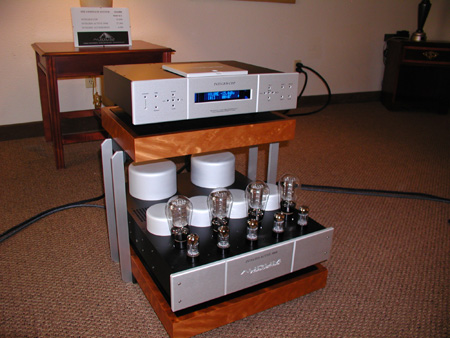 Aurum Acoustics Integris CDP CD player/preamplifier and amplifier ($10,800) with the Integris Isolation rack. The come from a system approach―this is a complete system, cables and all!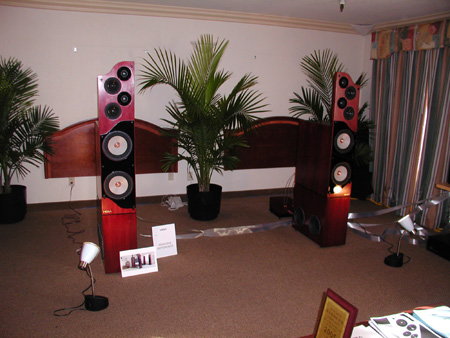 In the Nola room was the Pegasus Reference loudspeaker. Big, BIG sound with no hint of restraint! Nice people too!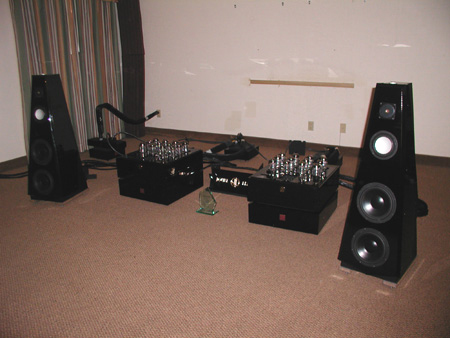 In the Joule Electra room was the Joule Electra Rite of Passage VZN-220 OTL monoblock amplifiers ($24,000 pair), Talon Audio Firehawk Diamond loudspeakers ($32,000 pair), Critical Mass stands and such, and all Elrod cabling. Always sounding good, these guys have got it DOWN!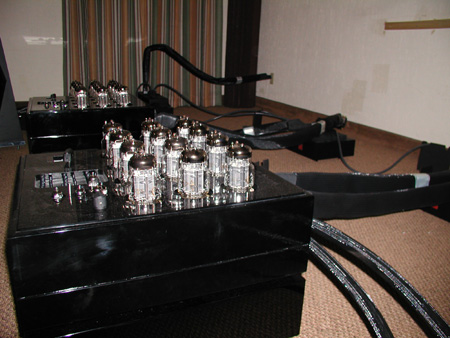 Joule amplifiers and Elrod EPS Signature speaker cables (4 piece system $3000).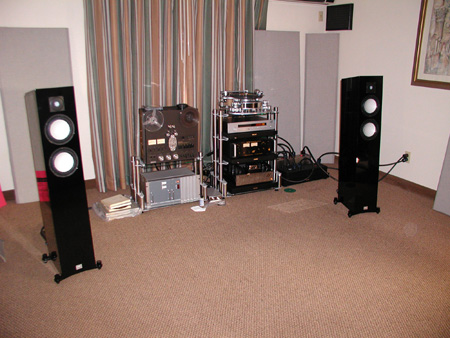 In the E.A.R. USA room was the Marten Design Mile III loudspeakers, Jorma Design cables, with E.A.R. electronics ...ah, duh!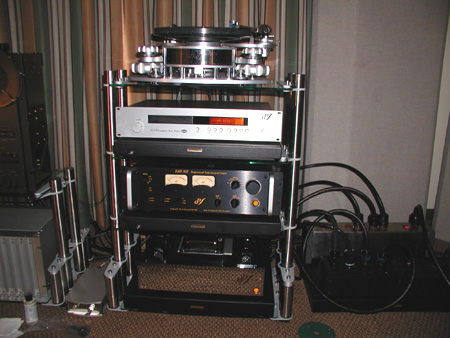 E.A.R.'s new CD player and the finally finished turntable, making for really nice music.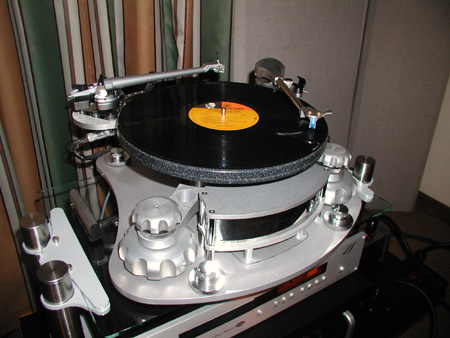 The E.A.R. turntable, way cool!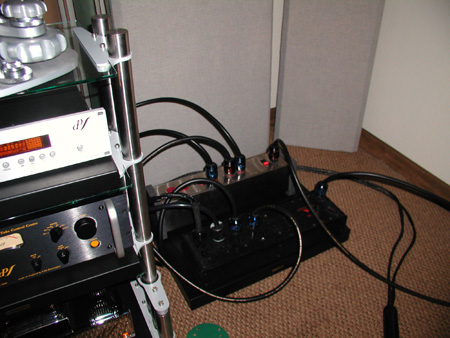 The Power Wing from World Power (audioexcellence az) getting good clean AC to the E.A.R. gear. BAD AC=BAD MUSIC!
Frank Madrid, Eric Madrid, Dan Meinwald, Carol Clark taking a break!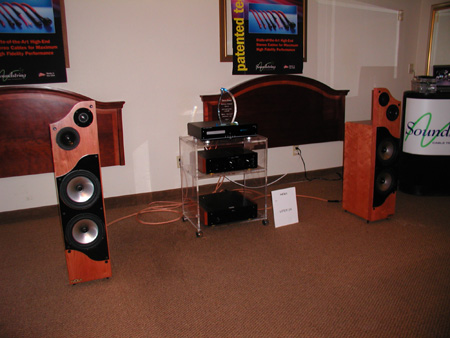 The Soundstring Cables room featuring Nola Viper IIA speakers, Lector Zoe hybrid amplifier, and of course Soundstring cables. Great people to talk to and their product is a true value!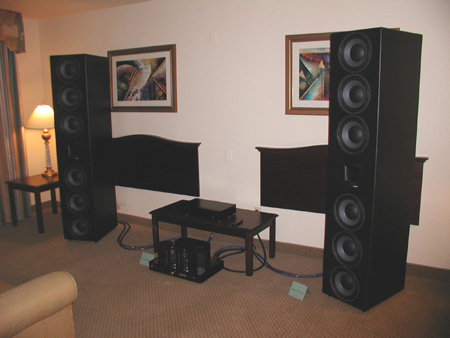 The KR Audio Electronics room used the VA340 stereo integrated amplifier with On Track Audio loudspeakers. Big speakers! Almost too imposing to stay...
Manley Labs with Coincident Total Victory II loudspeakers. This is the same room, same system every year―meaning good times for one and all. This system caused so much rattling and rumbling in the room we had to skedaddle for our own safety. Seriously good sound.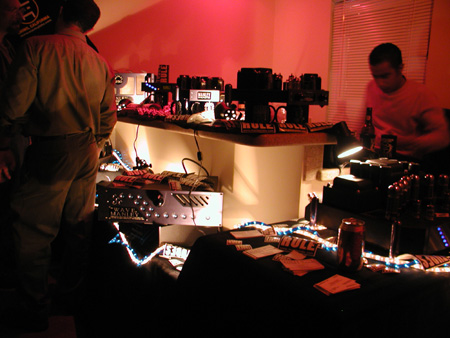 The Manley Labs' room. Pretty lights... beer too!