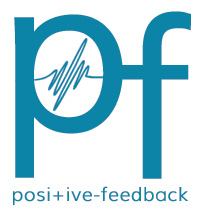 You are reading the older HTML site
Positive Feedback ISSUE 23
january/february
2006
CES 2006 - Part 2
by Dave and Carol Clark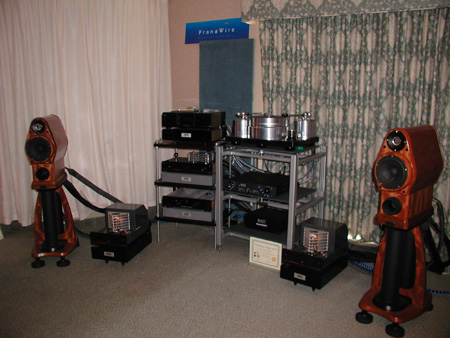 deHavilland room used the Mercury II preamplifier ($3995), Aires GM-70 monoblock amplifiers ($9950 pair), all Prana cabling, an EquaRack, a Redpoint Audio Design Series "D" turntable (from $16,000) with an Ikeda IT405 arm and Ortofon SPU Royal GM cartridge (from $9000), and loudspeakers from Sound Fusion out of Canada. Always a good sounding room with a very natural musical presentation that draws one to sit and stay awhile ...along while!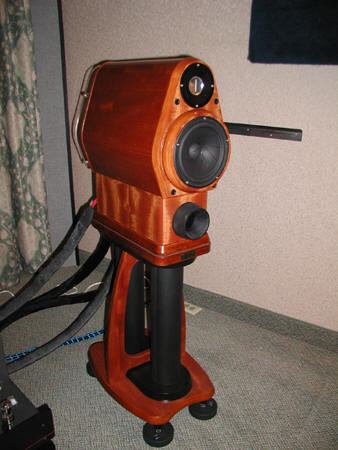 Sound Fusion SF70 loudspeakers ($6995 pair). Very different and yet, very nice!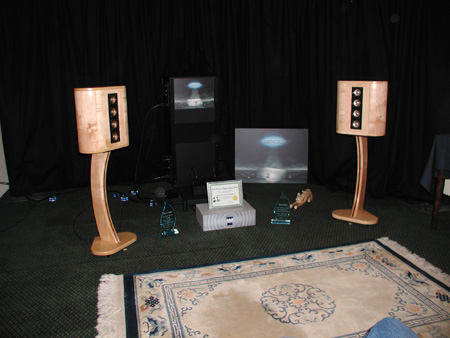 Audience room featured their Adept Response with their own speakers and electronics. Again, this room excelled on musical terms. Small sounding, but very musical.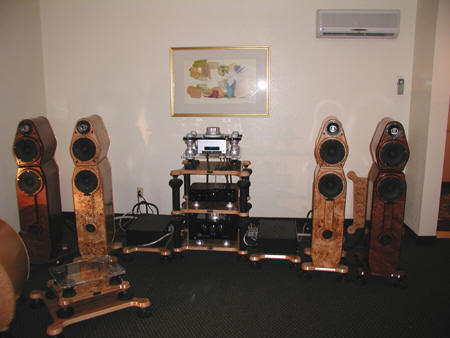 In the Sound Fusion room, one could find (see and hear) their a full line of products. They featured the Hyperion (darker wood) which are an active loudspeaker system ($13,999), and the Nova (lighter wood) which are a passive loudspeaker system ($9999) powered by ASR electronics.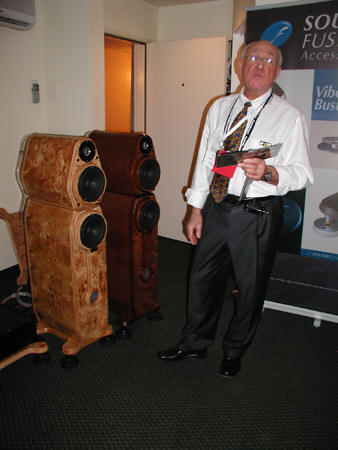 Marlen Mogilever of Sound Fusion, very informative.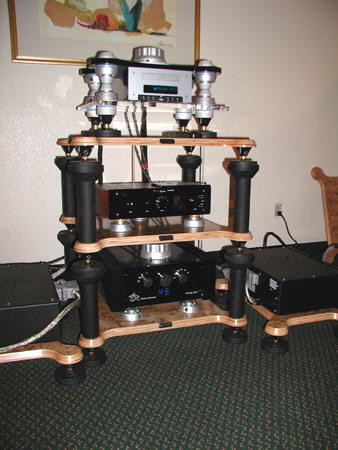 Sound Fusions Component Stand II are made to order and are supported by their Vibe Busters.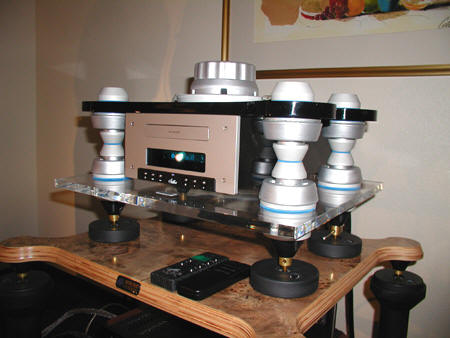 A Blue Note Sibbert CD player surrounded by Sound Fusion's Sound Boosters and Vibe Busters. Very cool stuff and not pricey.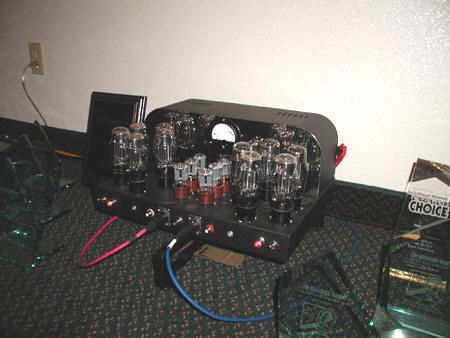 The Atma-Sphere room featured an S-30 MK III Class A triode OTL amplifier. Also featured in the room were Classic Audio Reproductions T-3 loudspeakers, and a Kuzma Reference turntable using a Tri-Planar MK 7 tonearm.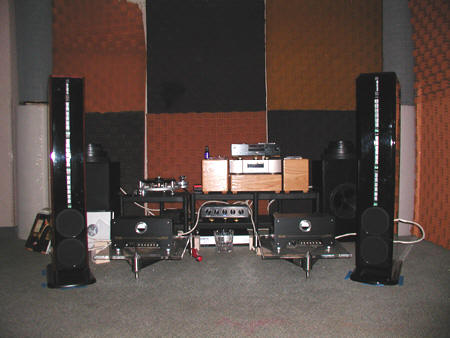 The VMPS/Xtreme Cable/Bruce Moore room, featured the VMPS RM30-C Planars with new Constant Directivity Waveguides ($3500 list, $4500 as shown with FST, capacitor and Xtreme Cable wire upgrades) and the VMPS Original Subwoofers (x2) with 1000 wpc amplifier ($949 each), along with Bruce Moore Audio Designs Nomad Phono preamplifier ($6000 with phono stage; $4000 line stage) and Bruce Moore Audio Designs 225 WPC KT-88 monoblock amplifiers ($15,000 a pair), all tethered with Xtreme Cables' X5 Gold/Silver Hybrid Interconnects between CDP/SACD and preamp ($825 for 1-m pair), X3 Copper/Silver Hybrid Interconnect between preamp and amps ($646 for 1-m pair), X2 Copper/Silver Hybrid Interconnect between preamp and subwoofers ($646 for 1-m pair), X4 9.25 AWG Copper/Silver Hybrid Speaker Cables ($1500 for a 6-ft set), X4 8.5 AWG Copper/Silver Hybrid Power Cables (x3) for each amp and APS power conditioner ($1500 for a 6-ft length), and X3 10 AWG Copper/Silver Hybrid Power Cables (x4) for preamp, SACD/CDP and subwoofers ($1100 for a 6-ft length). Also in use was a Tube Research Labs (TRL) modified Sony DVP-NS900V SACD/DVD Player (~$950) and Grand Prix Audio Monaco Amp Stands ($2,500 for two amp stands). WHEW!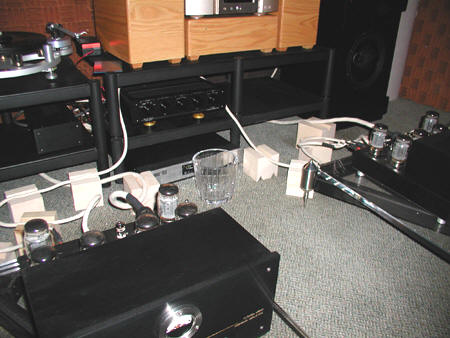 The VMPS/Xtreme Cable/Bruce Moore room was very nice. Big and powerful with pin-point imaging and a very natural sense of tonality.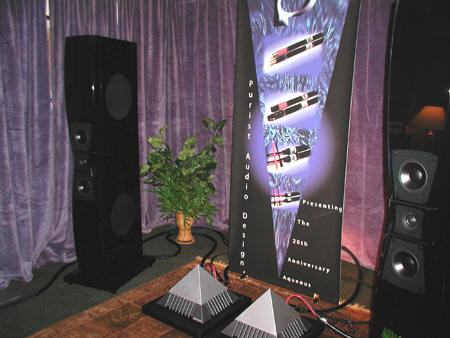 Purist Audio Design, celebrating their 20th anniversary were showing with Rockport loudspeakers and Nagra amplifiers. Way to go! Georgeous stuff and it sounded good too.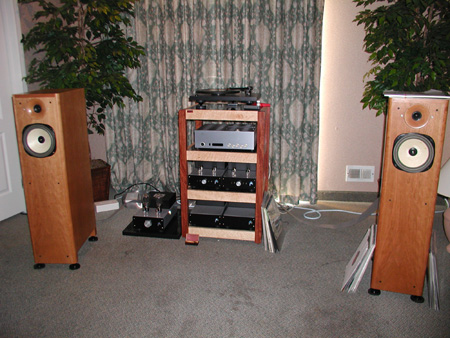 Ray of Sound featured Horning Speakers with Audion Quattro preamplifier 4 box version ($14,995) and Audion Silver Night Stereo MKII PX25 stereo amplifier ($5495). Nice!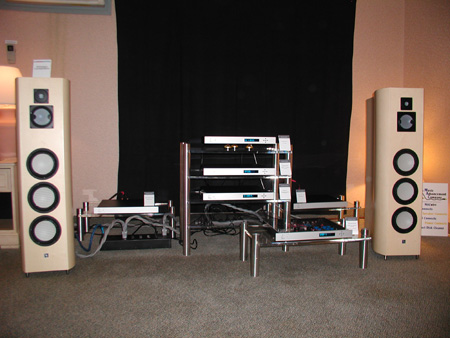 In the Orpheus Media room they featured the Lumenwhite Whitelight loudspeakers and a full line of Orpheus products. The Orpheus Zero CD player. The P model features an integrated D/A converter, and the D model features a pure CD drive. The Orpheus Two preamplifier. The Orpheus M (monoblock) and S (stereo) amplifiers. Clean!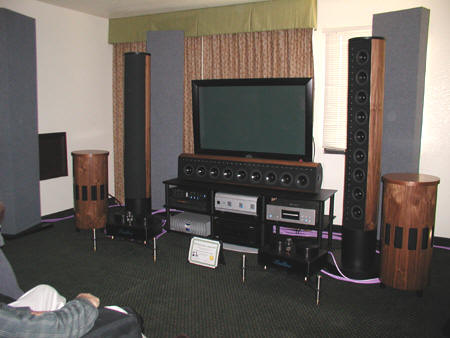 Pipe Dreams 930 System loudspeakers ($16,000 pair) shown with Butler Audio's Monad amplifiers and Revelation Audio Labs cabling. Talk about loud and dynamic! Man this rocked big time.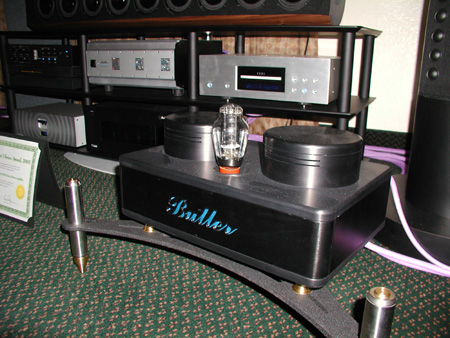 Butler Monad amplifiers, very, very cool stuff!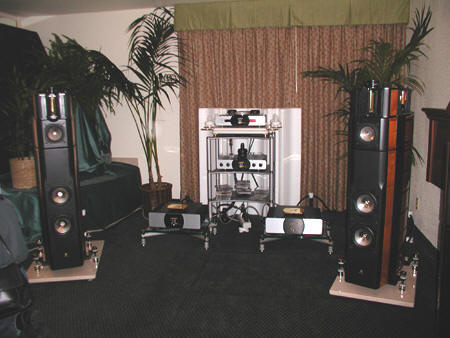 The Omicron Group from Italy showed M Acoustics Coherence Stage II loudspeakers ($45,000 pair) with Pi Greco F50SE mono amplifiers ($4200) and P15SE preamplifier ($3900). Everything mounted on Easy Sound stands with Magic Dream accessories. Gorgeous stuff and very Italian.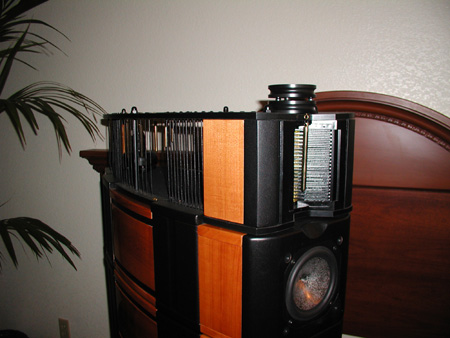 M Acoustics Coherence Stage II ...that is a "chime" hanging in front of the ribbon tweeter with a damping device on the very top.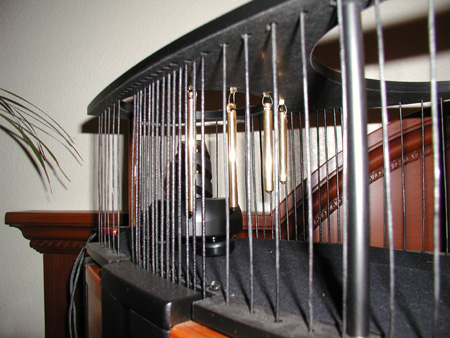 Close-up of what can best be described as "chimes" hanging inside the top of the speakers ...tuning? Unfortunately the issue of language rose-up and well ...Italian and English do not mix., so I can only speculate as to what this is doing for the speaker.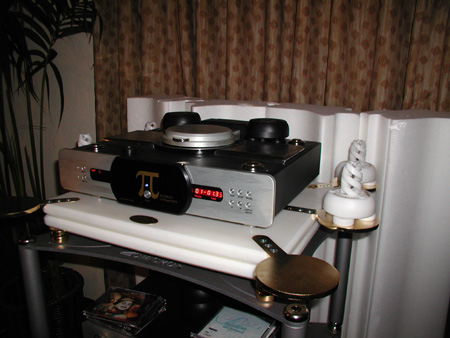 Pi Greco CD1X player ($5800) shown with the Magic Dream earthquake-proof base. The spiral do-dads to the right rear are to address resonances and vibrations. Check out their website.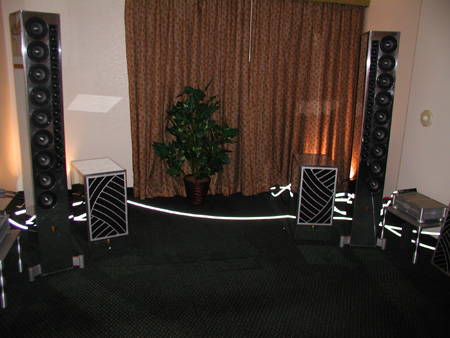 Precision Acoustic Labs showed the Model 27 loudspeakers ($69,000 pair). The speakers can be ordered with custom grilles.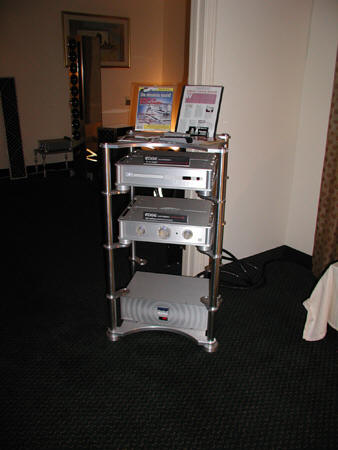 Precision Acoustic was featuring the Edge GM 8 mono Statement amplifiers and another Audience AdeptResponse.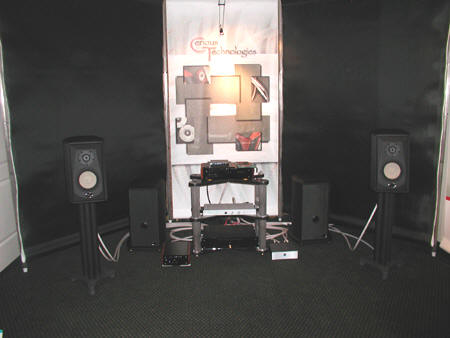 Cerious Technology showed the Cerious Too mini monitor loudspeakers ($3800) paired with Cerious Bass subwoofers ($4000 pair) with ceramic drivers and Liquid Ceramic Composite Conductor Audio cables.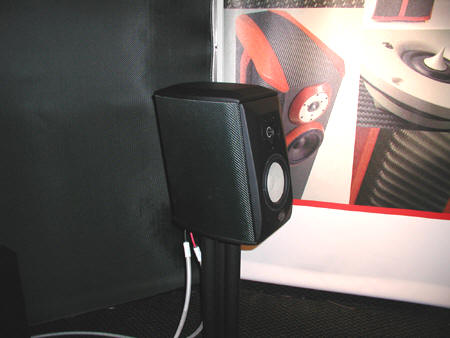 The Cerious Too mini monitors are new and made some serious music. Very sweet and natural sounding with no hint of glare or grit. Relaxed to the nines! Fun people too.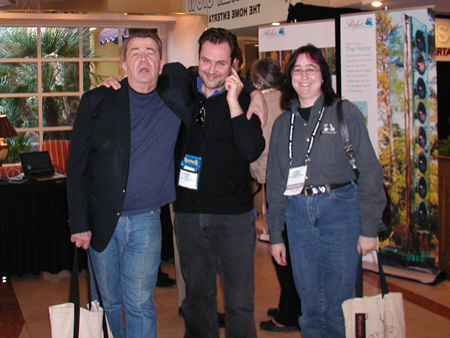 Harry Pearson, Danny Kaey, and Carol Clark. A motley crew...