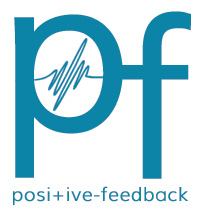 You are reading the older HTML site
Positive Feedback ISSUE 23
january/february
2006
CES 2006 Show report
by Danny Kaey
Indeed, another year, another CES! Notwithstanding the usual bonanza that always surrounds CES/THE Show, this year proved to be quite nice, as in warm, sunshine filled weather. As the years go by, it seems that my pre-show excitement level seems to wane a bit each year: no doubt, manufacturers using spectacular terms such as "revolutionary", "world's best" etc, have all somehow left a bit of a sour taste in my mind regarding the validity of such commentary and choice of adjectives to describe the latest and greatest. As a result, my attendance mood this year was perhaps the best in recent memory: no false pretences where clouding my judgment; I already new what to expect going in to CES.
No doubt, one of the highlights of the show was the Swedish Statement room, a collaborative effort of 5 Swedish manufacturers (too bad they weren't all 5 Swedish Bombshells!) in an effort to show the world "hey look at us, we can do it too!". I should qualify the anticipation of the Swedish room with the fact that I own a pair of really cool Marten Design Duke speakers, which have proven to be de facto reference speakers for me as they are in my opinion the best value for high-end dollars at this time.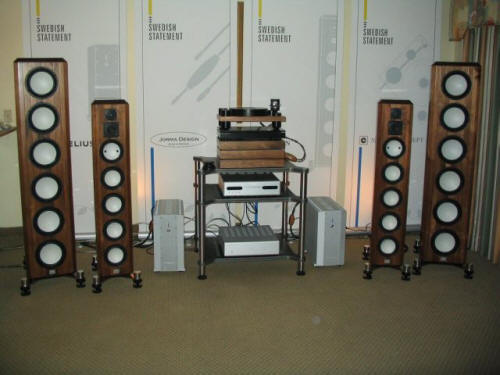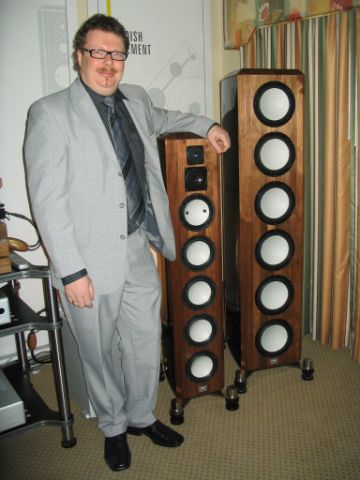 No doubt, the $250,000 Marten Coltrane Supremes looked supreme and that's not even a stretch of the imagination. Just shy over 5 feet tall, the Coltrane Supremes are a sight to be seen, what with the world's first application of a 3 inch diamond mid-range, diamond tweeter, 5 ceramic upper-bass and lastly 6 (!) 9 inch bass drivers in a separate cabinet, all carbon-fiber with real wood panels. Phew! Gorgeous, luxurious and in a proper room no doubt the most amazing sound you could ask for. Alas, as is typical for shows, setting up such behemoths in a hotel room always proves to be a difficult if not impossible task. Speaking of Marten Design (actually, they just recently changed their corporate identity to simply "Marten"), Dan Meinwald's room, home to such brands as Townshend Audio, EAR, Helius and of course, Marten, is always a memorable experience, because Dan always manages to extract the most rewarding sonic experience with what he's given. This year proved no different—the new Marten Miles III in all black lacquer playing through the EAR 912 preamp, 890 power amp, Acute CD player, DiscMaster turntable sounded absolutely superb, dynamic, expansive, detailed yet never shrill or "unmusical"—in other words much like what they sound like in my home, albeit I do have pack considerably more whallop in the bass department courtesy of the classic Velodyne DD15. I do however think that in a system with just the Miles III playing, bass extension will not be an issue, as these floorstanding puppies are quite capable of energizing moderate sized listening rooms.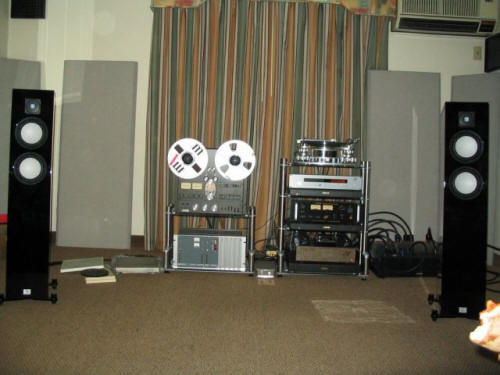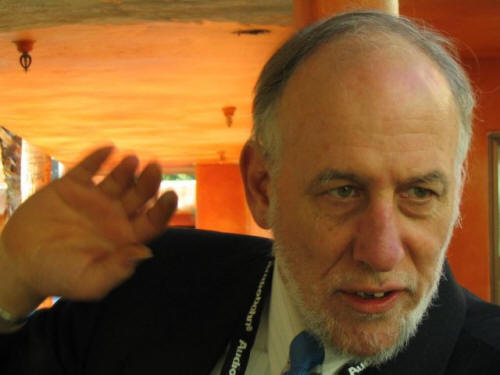 Of particular interest was Tim de Paravicini's completely reworked Technics RS-1500 reel to reel deck, which save for the classic and legendary closed loop Technics transport contains all new Tim d.P. electronics. Suffice is to say that with Tim behind the electronics department, this deck proved absolutely astounding and for all intents and purposes a real "pro" machine. Paying back some exquisite pre-recorded classical and pop music genre tapes, as well as some master dubs Tim brought along, the sound of this deck was utterly transparent, dynamic and full of music. With stock heads (!), Tim specifies the machine as a 10-40k monster with 80dB s/n at 15ips 2-track, 1/4" tape of course. Judging from the sonic picture, I wouldn't doubt that one bit.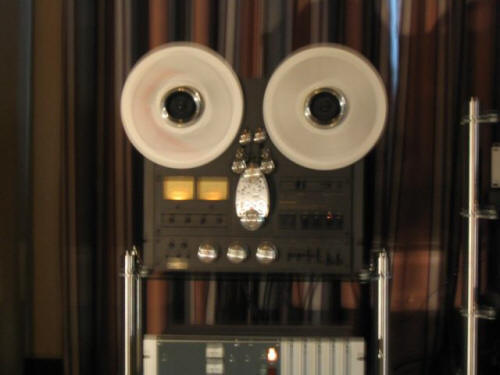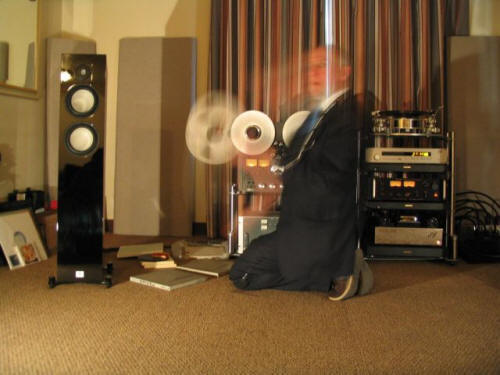 Arturo Manzano, the man behind Axiss Distribution, is also one who makes good sound at shows, this year no different then many times before. Accuphase, Transrotor and Air Tight were always among my favorites; this year, Arturo is also bringing in the brand new Shelter 3000, 5000 and 7000 cartridges, along with a new Phase-Tech P3 model priced at under $1000 (see my smitten review of the Phase-Tech P1 in the previous issue). Also of interest, Arturo was demonstrating his all new flash loaded website, on a stylish and totally purposeful Mac mini with 23" Apple display. Nice work Arturo!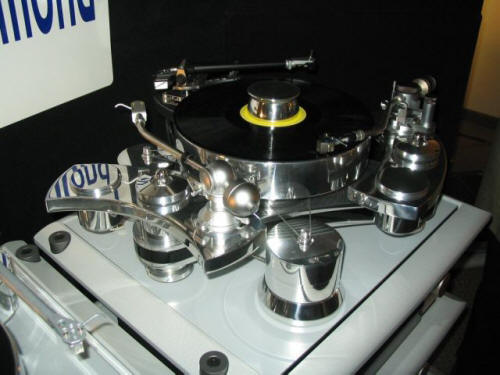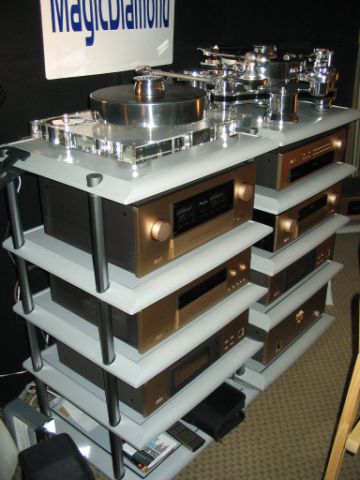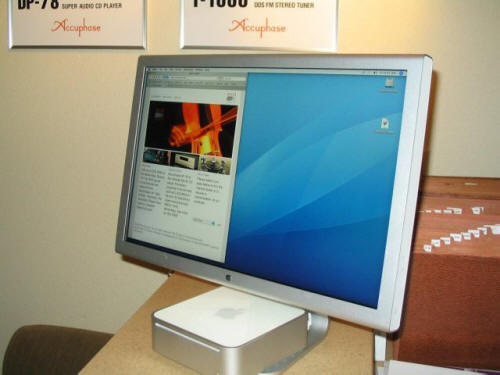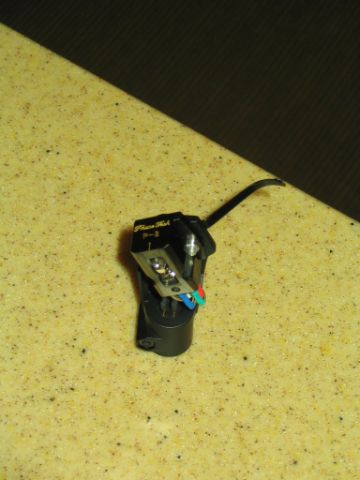 On to my very special friends, Zu's Sean and Adam: ok, I've said it again and again—you want to succeed in high-end audio? Take the Zu approach to bringing Hi-Fi back to the masses, the way it should be. Music was playing in 2 different rooms, with Zu Definition's and Zu Druid's playing through a Technics SL-1200 mkII, Apple G5, Consonance Droplet CD player to such fanfare and fantastic sound that I wish I could have spent more, much more time with those guys. Clever guys, with sound business acumen and knowledge, indeed!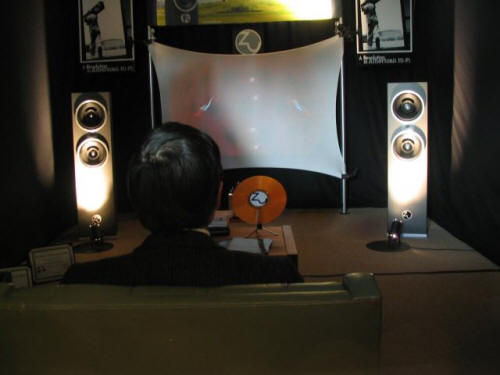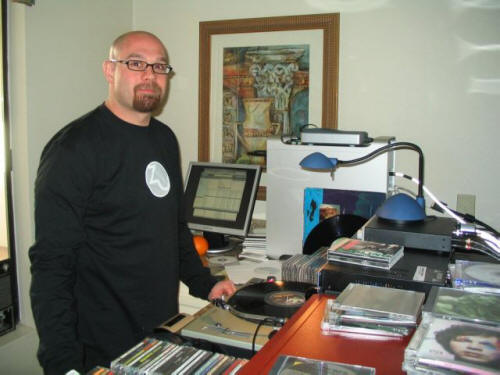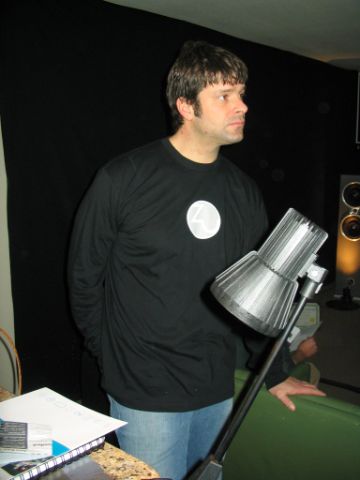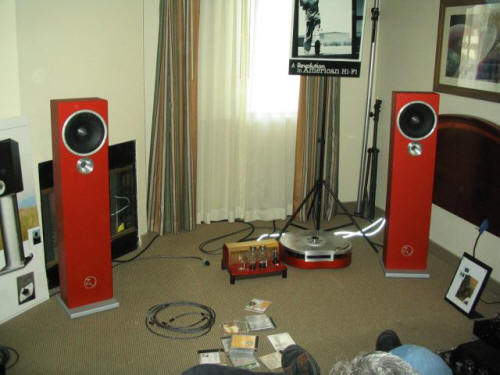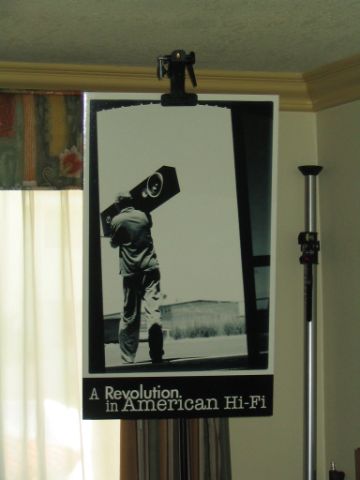 Looking around for stuff to report on, I ran into what was perhaps one of the highlights of the show, the new Pioneer TAD developed S-1EX floorstanding loudspeaker. This was truly a fantastic experience, sound that was so coherent and 3 dimensional, with a fantastic center fill, that I was duped into believing a center channel was being used! The guys behind the TAD project, Andrew Jones and Raoul Bauer (in the US and France respectively) did their number crunching properly and designed a truly outstanding loudspeaker, which at 9k retail is to be considered a bargain. Indeed, so good was the result that shortly after mentioning this to colleagues and friends at the show, I must have gone back to the Pioneer TAD room a good dozen times by the end of Saturday, the day of my departure. Word of Pioneer's good fortunes must have spread quickly, as by the end I had heard the Pioneer "Buzz" from many others as well… hrmmm… could my enthusiasm have started it all?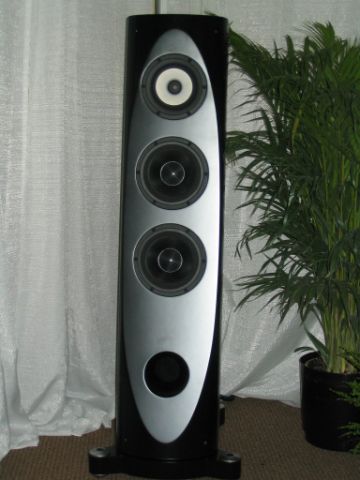 Marching on to take a break of the day's morning events, I ended up at the record/retail area, where upon getting some super fine examples of modern remastering courtesy of Chad Kassem, Steve Hoffman and Kevin Grey, I ran into Tyll Hertsens, who was walking around with a new pair of AKG hedphones I had recognized from afar. Literally chasing him down, I inquired if indeed this was the newly designed AKG 701 model, to which the answer was a "yes, they are!" I invited Tyll to sit down so I could give them a quick listen—wow! Ok, being owner of a pair of K1000's which, after a 15+ year production run are sadly not being manufactured anymore, I was totally surprised by the sound of the 701s. Running of Tyll's latest gear, the Headroom Micro DAC and Headroom Micro Headphone Amp, they sounded rather open, dynamic, vibrant, and not at all like headphones; I was totally impressed with these new babies, so much so, that I have a pair on order to complement my now no doubt Über-classic K1000s, the best headphones I have ever had and heard.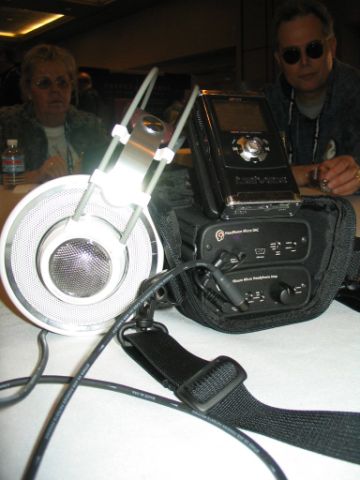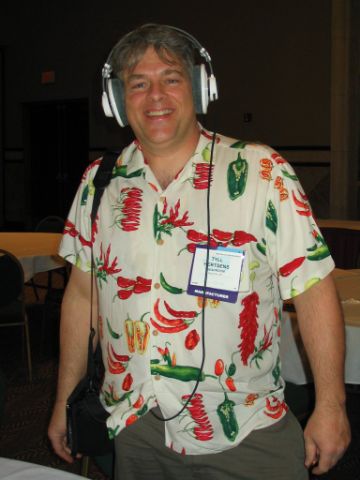 Over at the otherwise esoteric THE Show, I ran into Norm Schneider, the gentleman who brings in the Loricraft record cleaners, Garrard record players amongst other things. Norm is a super nice and pleasant guy to talk to and the products he carries are of course among the finest available, in case of the Loricraft cleaners THE finest available. Several new models where on display, including the mac daddy 5k top model, though I will happily settle for the regular standard model, which is already the best cleaning machine I know of. Thanks for the warm hospitality Norm!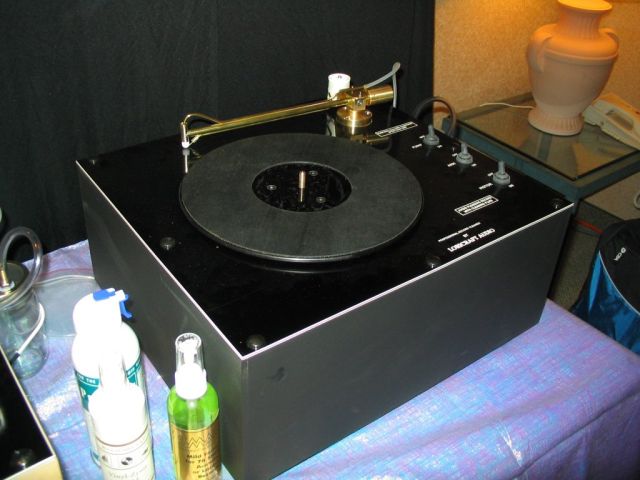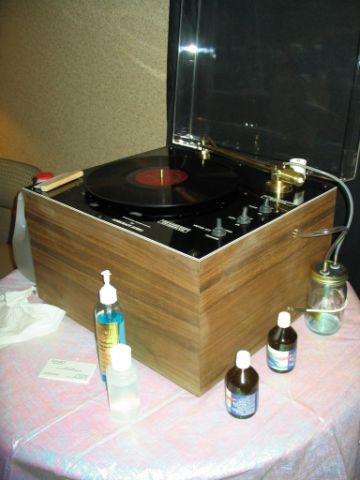 Last but not least, I ran into totally unchartered territory, which for me as a tech freak, was a total and never before seen surprise: HD Radio. Yep, that's right, HD Radio, unlike XM and Sirius is free and is intended to replace FM and AM as the future sound of well, "Radio". Piggy-backing the digital FM and AM signal onto the existing FM and AM carrier, some 1500+ radio stations are already broadcasting in HD Radio from far and wide. All this was to me so surprising, because until I had walked into the DaySequerra room, where I heard the all new Reference DaySequerra play HD Radio (they had an HD Radio signal generator in the adjacent room) I had never even heard of HD Radio! Impressed with the sound they had running through the new tuner, I immediately made a formal request for a review, which I am told will happen as soon as the production models become available. What's particularly neat about the new Reference tuner is that its modular in design, thus allowing for regular analog FM and AM as well as HD Radio to be in an all-in-one design that will set the pace for others to follow no doubt. Topping the experience off was the fabulous opportunity to meet with David Day himself, and hear first hand the technology that went into the design of this Reference tuner.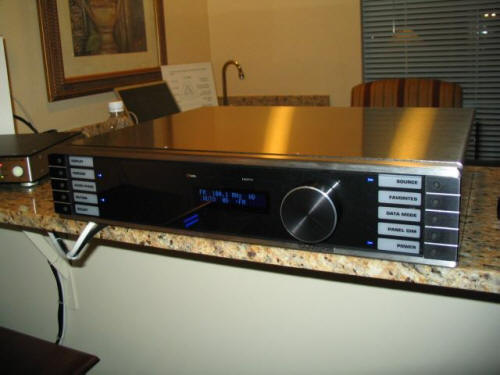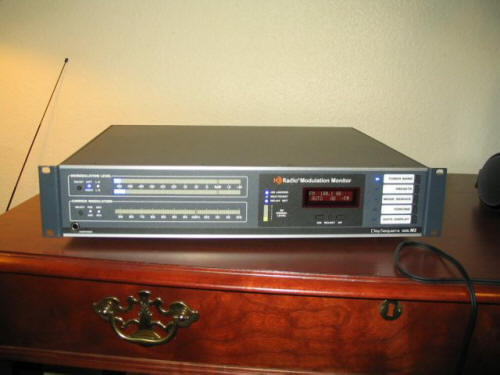 All in all, CES 2006 was what I thought it would be: another year, another CES, with the exception of a few outstanding discoveries: HD Radio, via DaySequerra, Tim de Paravicin's DiscMaster turntable and modified Technics 1500 reel to reel, the new Pioneer TAD S-1EX floorstanders and the out-of-this-world Marten Coltrane Supremes. Boy, it will be a good year, let the reviews begin!
PS: as a footnote, I am leaving you with this final picture of the state of high-end audio: the first showing the line to the convention center, the second the line to high-end audio, Alexis Park… I'll leave it up to you to decide…