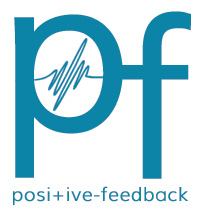 You are reading the older HTML site
Positive Feedback ISSUE 23
january/february
2006
Impressions: CES 2006 & The PFO Audio Oasis Awards
by David W. Robinson
All photographs and image processing by Robinson
True confessions time: I've given up on "seeing everything" at CES/T.H.E. Show. You just can't do it and maintain your sanity. In my opinion, the best person writing that kind of show report was PFO's Dave "Iron Man" Glackin, who finally hung up the proverbial towel a couple of years ago. He offered to transfer the title and function of "Iron Man" to some other worthy at PFO, but got no takers. (Knowing the work load, I wasn't surprised.)
And I can sympathize. If you haven't been to a large audio show with the responsibility of trying to do the whole thing—and report on same—well, brother, you just haven't lived. The pace is frantic, keeping the notes both straight and sufficient is a major pain, and photographing people/gear/settings is a feat in itself. Having attended many of these events since 1994, and having engaged in the pain of the long distance runner, I've reached the point of picking and choosing in order to avoid frustrating myself and jading my senses.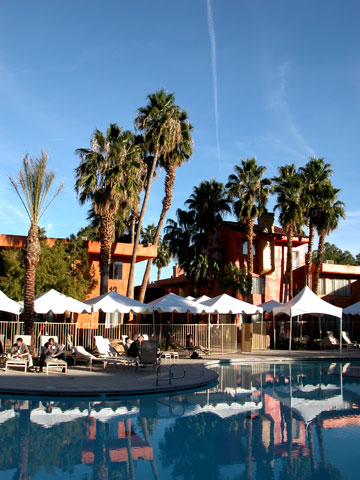 To that end, I concentrated on CES's "Performance Audio" (the recent euphemism of choice by CES) Show at the Alexis Park, and let my PFO colleagues do the elsewhere places this year. (See their reports elsewhere in this issue.) The liberty of a more leisurely pace is a real blessing, and it gave me the opportunity to re-visit some superior rooms and confirm their quality, which is not something you can do if you're trying to see "everything." (Steve Wright: "You wouldn't want to have it all—where would you put it?") Instead, I spent a couple of days browsed various settings, looking for the ones that pulled me in, and had me coming back for more.
The result of this approach is a new PFO show honor, which I'm dubbing the "Audio Oasis!" awards. This is my personal recognition of the rooms that, even under show conditions, really connected with me, and refreshed me in the midst of the tyrannous urgency of CES. If these systems can connect emotionally at CES, I reckon that you can count on them doing great things in your listening room at home. That's a good thing to know if you're looking for guideposts on your audio quest.
A word of warning for my readers: the "Audio Oasis!" awards should not be viewed as a variant of the nearly worn-out "best of show" recognitions that are all too common in audiodom. I did not see every room at CES and T.H.E. Show, and can have no idea of how what I didn't hear sounded like. Furthermore, there aren't nearly enough days at CES to do that properly in the first place, and its hotel-based environment is marginal, at best. "Best of Show" is only a legitimate designation if the listener: a) heard every room at CES/T.H.E. Show, and b) knows what he or she is talking about. Think of it as the combination of opportunity and sensibility. I don't think that these conditions are met very often; if they were, there would probably be fewer of such pronouncements. Enough said.
Here are the results, in no particular order, and with no ranking at all:
EMM Labs/darTZeel/Von Schweikert Audio/Grand Prix Audio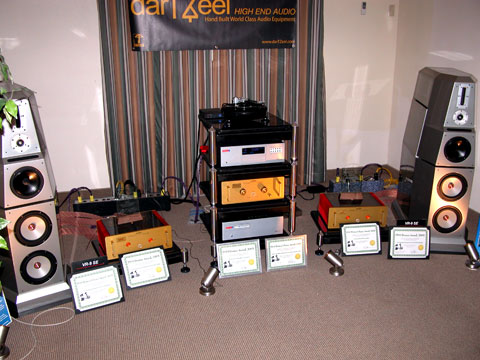 Talk about a room that had it all—this was it! The world-class EMM Labs CDSD and DAC6e SACD/CD front end …the new and very promising Grand Prix Audio Monaco turntable, the new darTZeel NHB-18NS preamp with phono section, dual NHB-108 amplifiers, Grand Prix Audio racks and stands, JENA Labs cabling and line conditioning, and the mighty Von Schweikert VR-9 SE loudspeakers.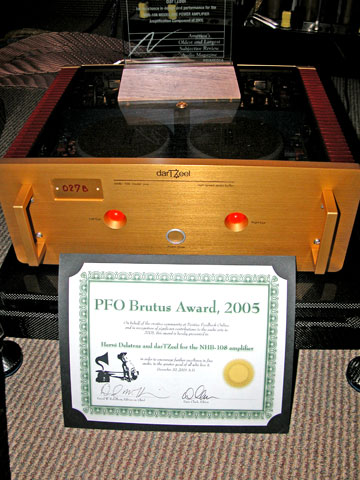 Friends, I don't think it gets any better than this; I went back again and again. (This explains the slug of PFO Brutus and Writers' Choice awards you see in the photo above; my colleagues and I have been raving about these components. Pay attention!) So did an awful lot of other people, I noticed …the room was usually crowded.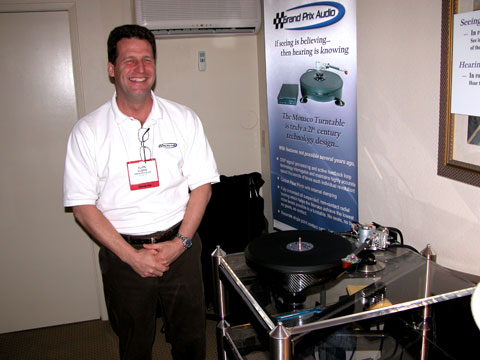 Alvin Lloyd, President of Grand Prix Audio, with his remarkable Monaco turntable.
This system is so good that every component herein has either already been reviewed by PFO, is being reviewed, or will be reviewed. I can't pay higher praise to a fine audio system than this.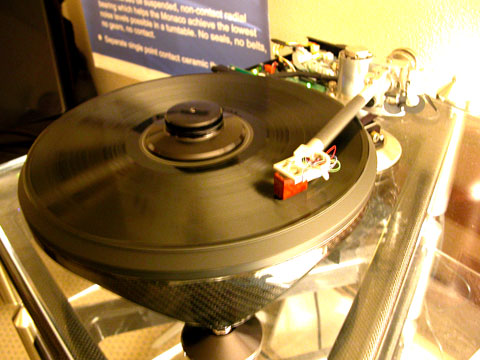 Kudos big-time to Jonathan Tinn and company for putting together a stellar system that sizzles with synergy!
Kimber Kable IsoMike Room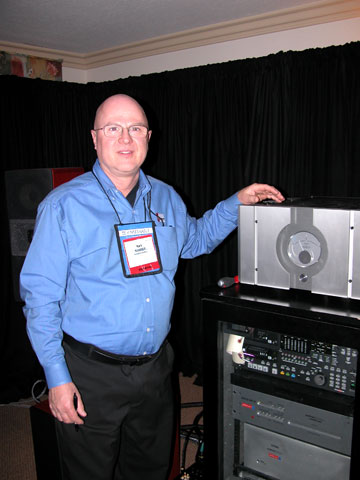 Going into Ray Kimber's IsoMike room encompassed deep audio delight for me, and epitomized what my "Audio Oasis!" awards are all about. Ray has been producing his pure DSD surround recordings for a few years now, and if you haven't heard his SACDs, you're really missing out on some exceptional work. (Visit his site at http://www.isomike.com for details about the innovative IsoMike equipment and processes, and to obtain IsoMike SACDs. Note that Ray donates his profits to support a local university program, a truly worthy cause.)
I first heard Ray's surround demos at the Rocky Mountain Audio Fest in Denver last fall, and was quite taken with both the man and his recordings. (For my notes and photos of Ray at RMAF 2005, see Part 2 of my report at PFO Issue 22, http://www.positive-feedback.com/Issue22/rmaf05dr2.htm.)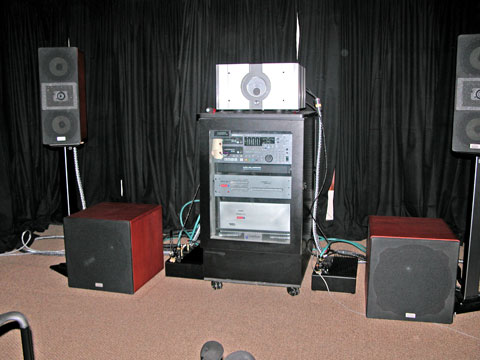 Sitting down in the IsoMike room at CES 2006 seemed to be even better, for some reason. Perhaps it was the smaller, more intimate room; perhaps it was the electronics/speakers. Whatever it was, it meshed very well together; I went back several times just to sit and listen. (Sitting there long enough could put you into a trance, take my word for it.) Pure Meitner-based DSD multi-channel played back via the Genex DSD transport and Meitner's EMM Labs gear (Switchman 3 and DAC8) via the Pass Labs X350.5 to the Lipinski Sound L-707 Mastering Monitors and subs gives you an astonishing sense of DSD's unprecedented promise for delivering the "mic feeds and master tapes" that I've been talking about for years now. If you are at CES or RMAF and don't take the time to hear Ray's demos—shame on you! You have no idea of what DSD can do.
Many thanks to Ray Kimber for providing a unique oasis for weary CES travelers! My hat is off to the man, and to his work.
E.A.R./Marten Design/Jorma Design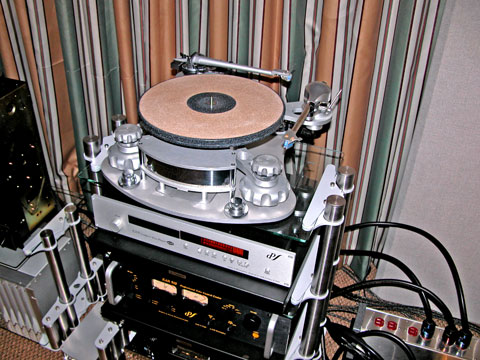 Dan Meinwald's room was another audio oasis, particularly for those of us who love analog sources/recordings. Tim de Paravicini's E.A.R. turntable has finally graduated from the intriguing prototype that I saw at CES 2005 to full production status in 2006. There's room for a couple of tonearms/cartridges, a fascinating magnetic suspension system, and buckets full of music in its playback. It was hard to resist the temptation to hog the couch when Dan was spinning LPs from his connoisseur's collection. The new E.A.R. CD player was on hand, as well. I own E.A.R'.s excellent 324 phono amp, and wouldn't mind hearing more of the line in the preamp/amp portion of the spectrum. The E.A.R. room always sounds good, and Tim de P. knows how to design and build extraordinary gear. Perhaps I'll give Dan a call one of these days…
I have to admit that the Marten Design Miles III loudspeakers that Dan featured in his room were a treat to hear. Then again, I have yet to hear a ceramic driver design that I didn't think was doing pretty well by my ears. This is clearly an advance in driver technology, if you can handle it properly.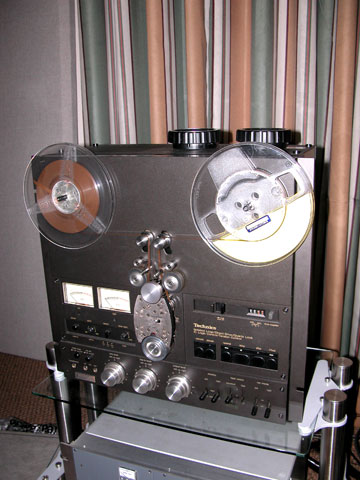 Not only that, but Dan had brought along a Technics open reel ma-cheen, thus stoking my ever-present love for that format. My Revox B-77 Mk II has been in my system for a very long time now …I only wish that there were more open recordings available.
Kudos to Dan Meinwald and company for treating my ears to some great analog sound.
Balanced Audio Technology/Running Springs Audio/Cardas Audio/Dedicated Audio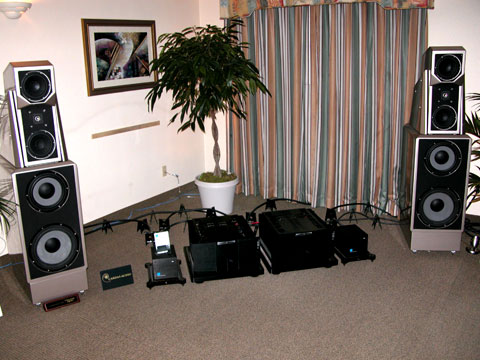 Steve Bednarski and Geoff Poor's Balanced Audio Technology room was a place with plenty of authority over on the "lotsa juice" portion of the audio spectrum. The combination of BAT VK-600M SE monoblocks with the BAT VK-51SE preamp, VK-P10 SE phono amp, VK-5SE CD and Avid turntable player feeding the Wilson speakers via Cardas cables, the Running Springs Audio "Duke, the Running Springs Audio "Jaco," and the Dedicated Audio Cable Towers, was dynamic and musical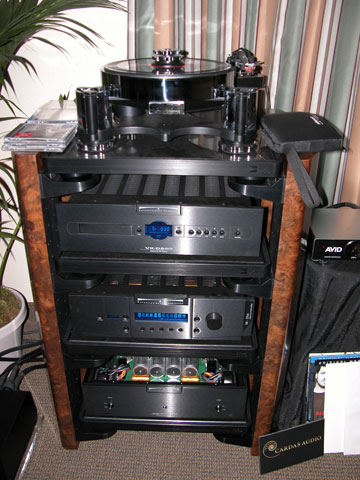 The BAT stack…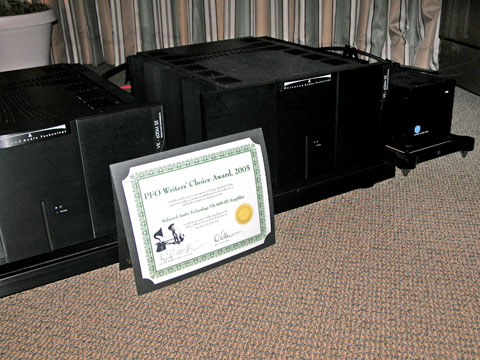 …the BAT VK-600M SE monoblocks with their PFO Writers' Choice Award…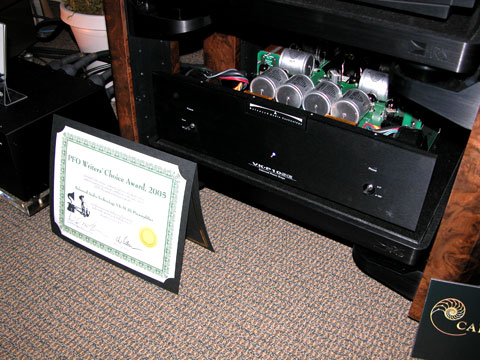 …and the BAT VK-P10 SE phono amp posed next to the PFO Writers' Choice Award for the BAT VK-51 SE preamp.
I congratulate Steve, Geoff and Balanced Audio Technology for the terrific sound that I heard in their room—and for the fact that they always play MUSIC. No "audiophile-for-audiophile's-sake" recordings here!
Signals SuperFi/Stereovox/Continuum Audio/Peak Consult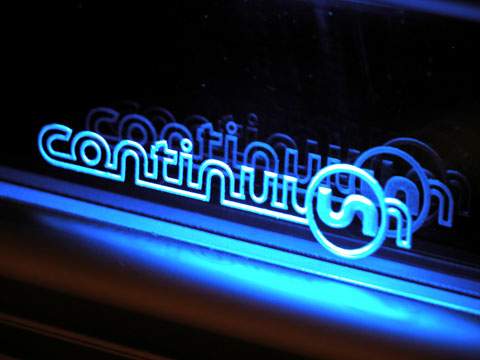 This was a surprise …I didn't realize that the highly regarded Continuum Caliburn turntable with the retro-radical Cobra tonearm was going to be at CES 2006. Turns out, it was not only there, it was in action! My old audiobud and former Positive Feedback contributor Chris Sommovigo is now handling the line, together with Peak Consult speakers (in this room, the Zoltans) and his Stereovox products. For CES, Chris also obtained a Boulder phono amp, Boulder preamp, and Wavac HE-833 v1.3 monoblocks (150 WPC SET …and one of my favorite amplifiers on the planet.)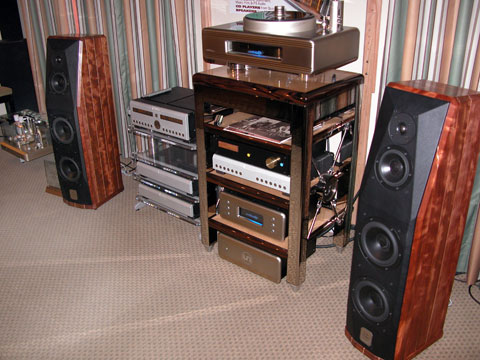 I knew the amplifiers in this room extremely well, but was unfamiliar with the rest of the system. Didn't matter one little bit, though; from the time that the preferred stylus hit the groove, that room became very special. Music, music, music. I sat there, mesmerized, listening to one LP after another. (I particularly liked the LP of Crosby, Stills and Nash live in Australia back in 1991 …bloody wonderful!) Michael Fremer told me how much he liked his new Continuum turntable system ("I bought it, didn't I?"); now that I've heard it, I understand what he means. It's remarkable.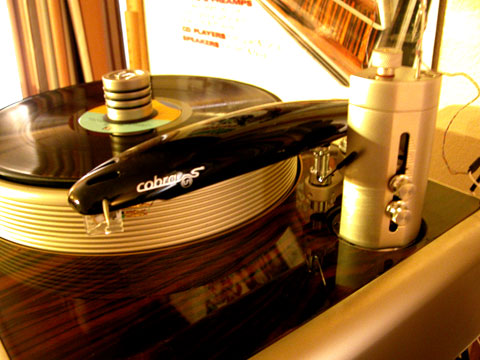 This is what I meant by "retro-radical." The Cobra tonearm is like something out of the '50s or early '60s …but is made out of ultra-light organic resin, and has been scientifically designed to minimize resonances. I held the tonearm in my hands …it's very light, and has the feel of my Mont Blanc Dostoevsky fountain pen, the body of which is also carved out of resin. The result in both cases is extraordinary.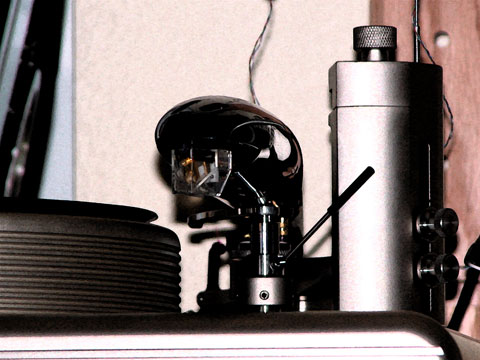 The Cobra tonearm, front-on, in fresco …looks dangerous! The look brings back memories from my childhood, but the sound is cutting edge fine audio.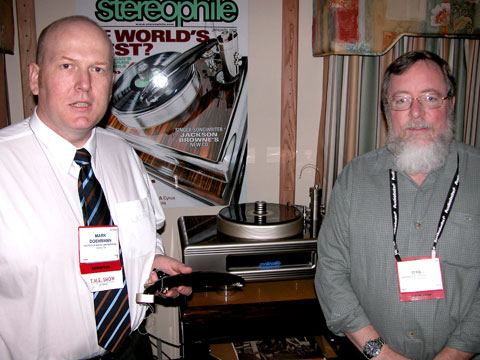 Mark Doehmann (Continuum designer, holding the Cobra tonearm) and Rich O'Neal of Continuum Audio Labs, two terrific fellows. I wish that I could have taped an interview with Mark; this man is taking a truly different tack in turntable and tonearm design. Watching creative new approaches in the audio arts is a particular passion of mine….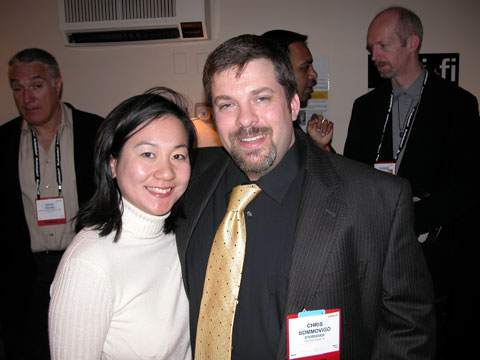 The Sommovigos enjoying the moment in Chris' room …a good time was had by all!
Kudos to Chris, Mark, Rich and company for a real "Audio Oasis!"—this room was a rare pleasure, and an education in fine turntables. Who knows? Perhaps PFO will get a chance to hear the Continuum system one of these days….
Merlin Music/Joule Electra/Cardas Audio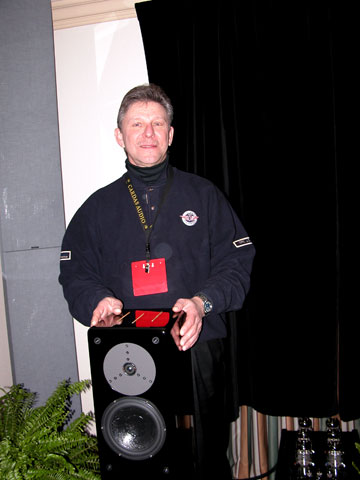 Every year—and I mean every year—I can count on Bobby Palkovic's Merlin Music room to be a musical oasis. This year was no exception. Bobby's VSM-MM and BAM module continues to improve, year by year, as he works to get the last bit out of every design element. Here's one of the nicest guys you'll meet in fine audio, with a real passion for music.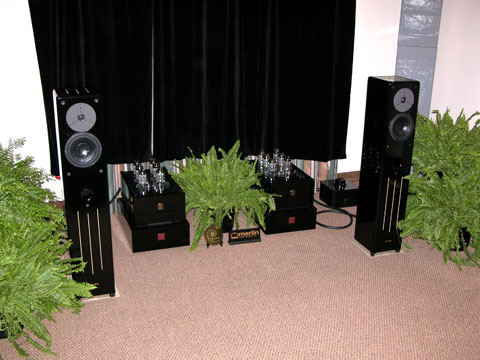 Bobby's room was sounding terrific, as usual…which is a very high compliment to him! Not everybody can keep making magic in his room, in season and out of season—but Bobby does. This year Bobby was using his beloved Joule Electra VZN-100 Marquis Mk. III OTL amps (100 WPC), with Cardas cabling (which Bobby has used forever). How good was it? So good that I listened, fell into a long conversation with Bobby and Rich Brkich, and completely forgot to check out the front end.
Now that is a compliment!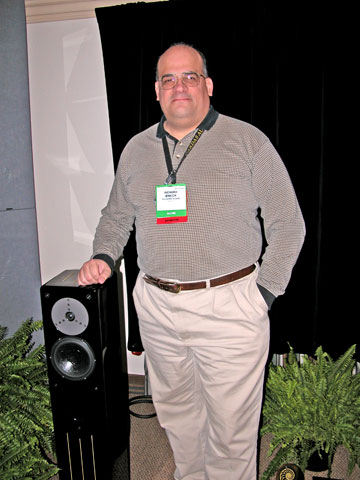 My good audiobud Rich Brkich of Signature Sound, a long-time friend and former contributor to Positive Feedback. Rich is a very fine person, owns and operates Signature Sound (http://www.sigsound.com) over in New York, helps over at Audio Asylum, and can generally be found at CES in Bobby's room.
Good vibes and good friends in this room, which was an "Audio Oasis!" in every way. Many thanks to Bobby and Rich for sheltering audio wayfarers at CES.
The "Swedish Statement" Room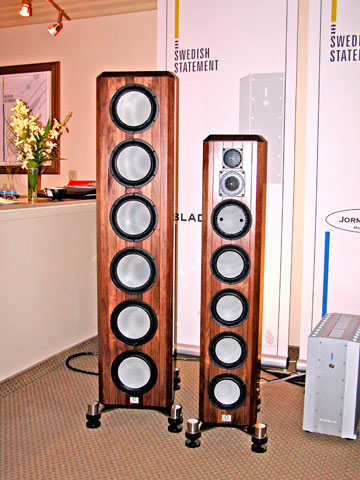 At the far end of the audio expense continuum was the "Swedish Statement" room. It was composed of five different Swedish firms (Marten Design with the Coltrane Supreme two-tower-per-side loudspeaker; Bladelius with their Beowulf monoblocks and Gondul SACD/CD/etc. player; cables by Jorma Design; Woo Design with their racks; and Audio Concept supplying the Nordic Concept Artist Signature turntable), all contributing key reference-level components to a cost-no-object system—in this case, with a retail price tag of some $450,000 (!).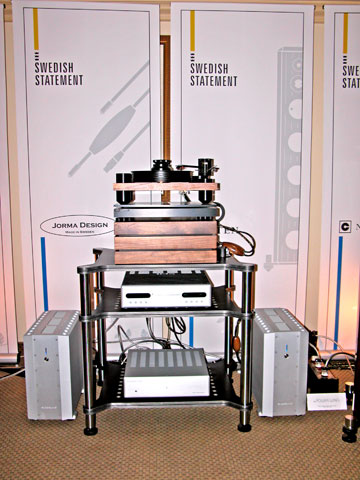 Normally this is the sort of thing that I avoid at audio shows; too often, the results are a sorry mess sonically. I was therefore planning to skip it, but Alan Kafton of audioexcellence az, a good friend, urged me to check it out.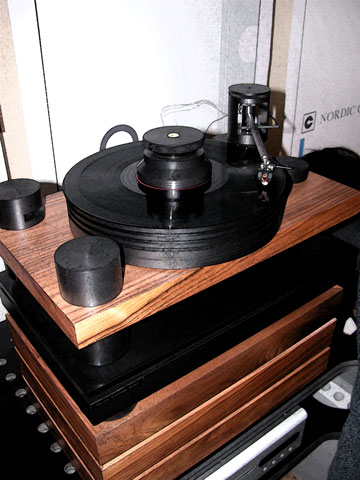 The Nordic Concept Artist Signature turntable, presented in fresco.
OK, so maybe I'd try it. But I had a feeling that the results would not be pleasant.
And you know, I was wrong.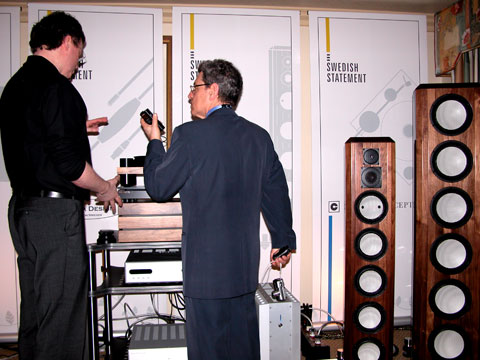 Michael Fremer of Stereophile discusses the Nordic Concept Artist Signature design with its designer, Robert Grubstad.
To be sure, the room was rather small for such an impressive array of loudspeakers—the speakers needed more room laterally, and could have stood to have been out into the room a bit further—but the driver columns were well integrated, and the sound was effortless. Michael Fremer and I happened to be in this room at the same time, and both noted a problem with the turntable playback. I noted that the bass seemed strange and that the soundstage was flat; Michael said "It sounds like mono!" A playback of one of Fremer's CD'Rs revealed that the SACD/CD player was fine; as it turned out, the LP playback was going through an unfamiliar EAR phono amp, which had apparently been set to mono.
Apart from that show glitch, the sound in the room was effortless, seamless, and felt quite natural. I was able to sit back and enjoy the ride …a sure sign of an "Audio Oasis!" room.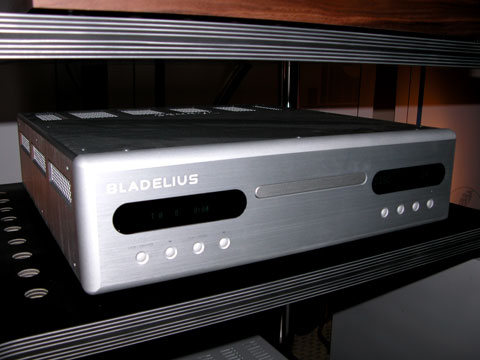 The Bladelius Gondul universal player (yes, SACD too!)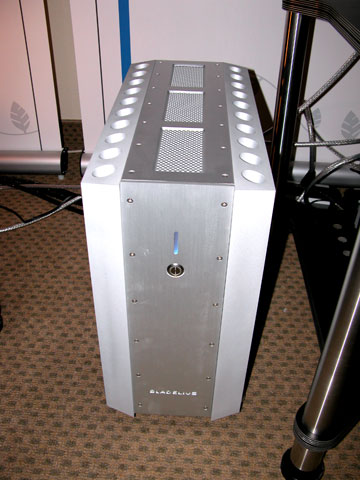 The Bladelius Beowulf monoblock; about 450 Watts per channel, as I recall.
I am hoping to review at least some of the pieces in this system if the logistics can be arranged, a response to this system that I never would have expected before I went into the room.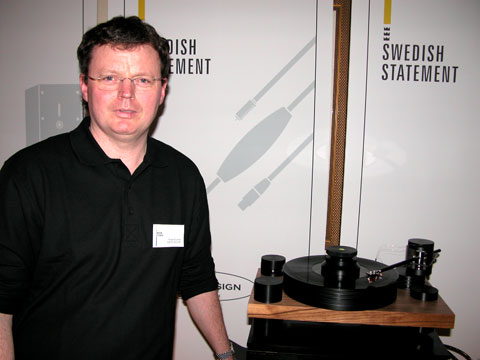 Robert Grubstad with his turntable.
Anyway, a rather surprised kudos to all the folks in the "Swedish Statement" room …it was more, not less, than I expected.
tmh audio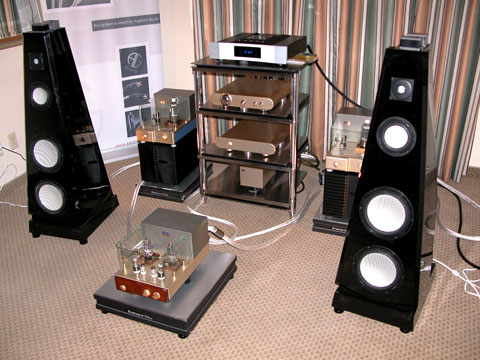 On the other hand, I was not surprised by the excellent sound in the tmh audio room. Jim Ricketts is another person who assembles first-rate sound at CES every year. It's always a pleasure to drop by and hear what he's put together, generally wrapped around some luscious Wavac core.
Yep! No exception this year, either. Jim was featuring the Wavac MD-805 monoblocks on Symposium stands, with the PR-T1 reference preamp handling the feed from a Metronome CD player. Loudspeakers are the Talon Firehawks …ceramic drivers in evidence, yet again. Up front was a Wavac 300B stereo amp on another Symposium stand, for a change of pace.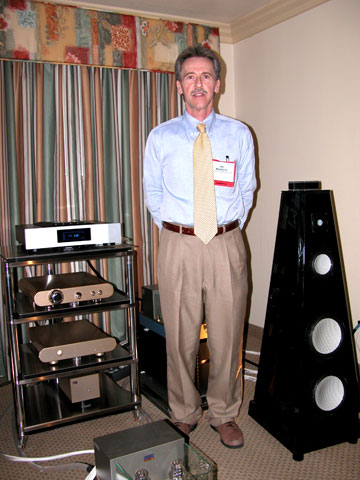 Jim Ricketts in the midst of his passion…
For sheer holosity and audio gorgeousness, I haven't found anything that is better than the Wavac line. Different systems, perhaps; equivalent levels of quality in a few cases, yes …but I haven't heard anything better. If you can afford it, Wavac definitely gives you "return on investment." (Not all expensive gear does, by the way.)
So a hearty congratulations to Jim and tmh audio for providing a place for the jaded audio editor on his weary way—kudos, Jim!
Joule Electra/Elrod Power Systems/Critical Mass Systems
As a final entry in the "Audio Oasis!" charter group, I would be remiss if I didn't include the Joule Electra/Elrod/Critical Mass room. The combination of the superb Rites of Passage OTL monoblocks (220 Watts per side) on their Critical Mass Stands (a 2005 Brutus Award winning duo that I will be commenting on in PFO in the next few months) driving the Talon Firehawks (the second mention of these very promising speakers in these awards, and the third or fourth time that I've heard them in shows over the past year…intriguing, that) was really alluring. I just had to drop in.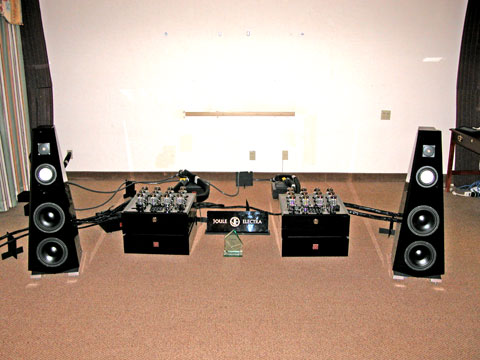 The room arrangement was clean, not cluttered, resulting in a lively, dynamic presentation. Not a hint of harshness, though …authority with musicality, always.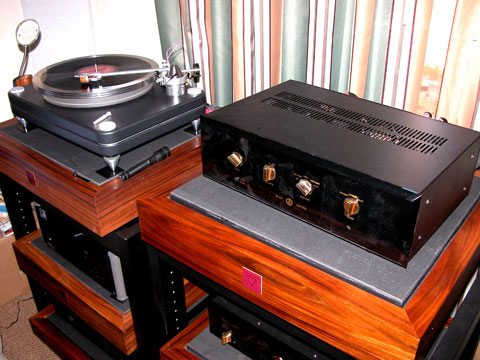 On the other end of the chain was a VPI Scoutmaster providing LP signals via the Joule Electra OPS-2 Mk. III two-box reference phono amp to the Joule Electra LA-150 reference line preamp (top right in the photograph above). The CD player was a Wadia player highly modified by Steve Huntley of Great Northern Sound Lab. All cabling was with Elrod Power Systems …power, interconnects, and speaker cables.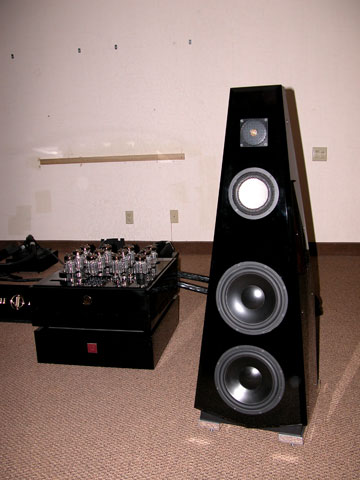 There was a powerful synergy going in this room, with all components working extremely well together. The listening experience that it provided the listener with is spilling over with full-range sound that was clean and clear—a real strength of great OTLs with muscle (those 6C-33CBs have oomph, all right) and linear preamplification. Jud Barber certainly builds that …he's a master of OTLology. Elrod and CMS seem to go hand-in-glove into this system…and I was able to relax, listen, and not worry about being perplexed.
A real blessing, that.
My only regret this year was that I missed talking with Jud Barber this year; he had returned back east due to a family emergency. Jud is a true gentleman with a passion for great music, and is always a pleasure to chat with.
Next year, Jud!
In conclusion…
I want to say thanks to all the people and rooms mentioned in this charter group of PFO's "Audio Oasis!" Awards. Dread is a bad thing for the soul; you really helped me to enjoy CES 2006, in that sad, driven, crazy, heartsick city of Las Vegas.
And as long as I can find these audio oases in the midst of that desert, I reckon that I'll continue to pursue my audio journey….