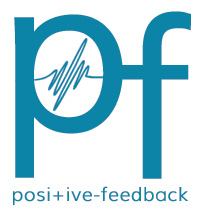 You are reading the older HTML site
Positive Feedback ISSUE 23
january/february
2006
Impressions: Vignettes from CES 2006 - a Photo Essay
by David W. Robinson
Thought: Fine audio equipment is a delight, but real joy is found in the people.
Here are a few of my images from the human side of the show …I only wish that I had had the time to make many more.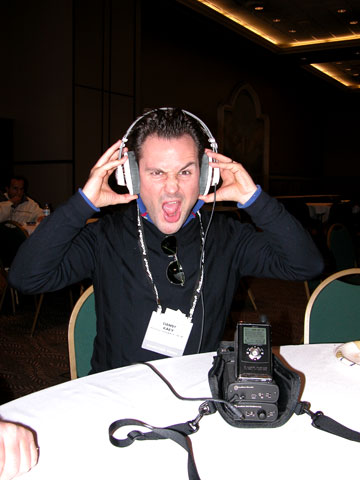 In which PFO's Danny Kaey listens to a HeadRoom headphone amp stack driven by a simple MP3 player and gets his mind blown. Who is the fiendish culprit who has destroyed the tender life of yon wee bairn?!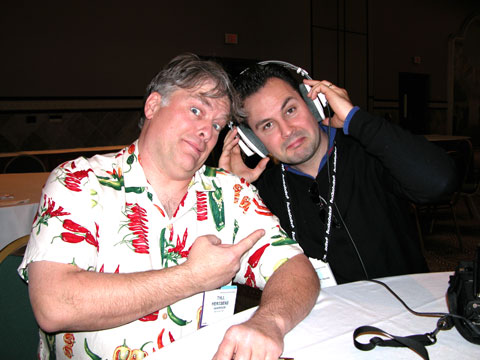 Aha! And forsooth! In which HeadRoom's Tyll Hertzens contributes to said delinquency of said (no-longer-a) minor bairn.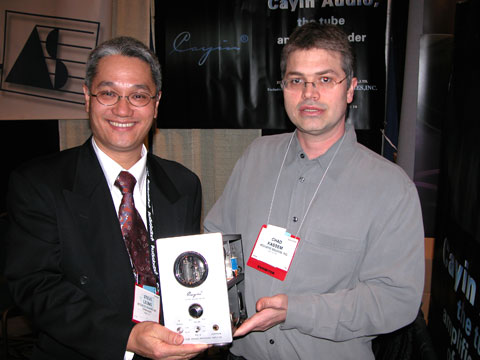 Steve Leung of VAS, the importer of the Cayin Audio line, poses with Chad Kassem of Acoustic Sounds. Acoustic Sounds will be the sole USA online source for the line (see http://store.acousticsounds.com/stores.cfm?store=cayin&banner_id=2513). The lovely little article they're holding is the new Cayin Audio HA-1A tubed headphone amplifier, which can be switched to drive speakers, as well. We'll be reviewing some of the Cayin Audio line in the near future.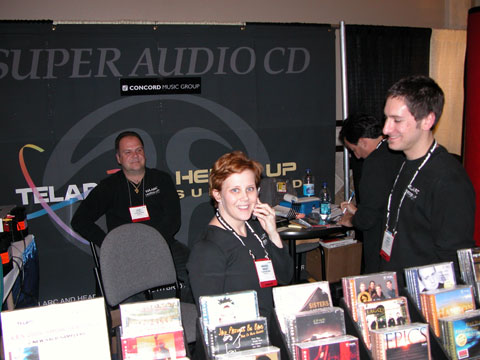 Lo! And behold! Amanda Sweet and the Telarc gang with piles of luscious SACDs, both theirs and those of Concord Records. There's some really great music here.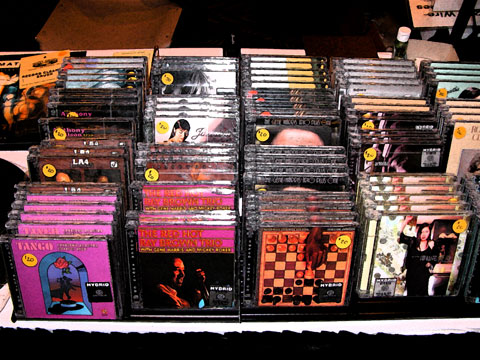 Yes, more SACDs over at the Elusive Disc booth …a vista in fresco. (No people, but I do love SACDs!)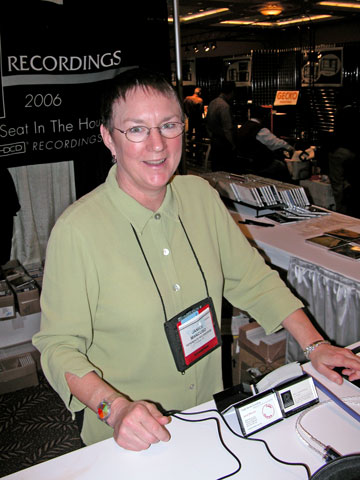 I ran into Jan Mancuso, formerly and again with Reference Recordings. Jan now resides in Portland, OR, where a certain editor also lives. Lotsa great audio folks live here …but don't tell anybody!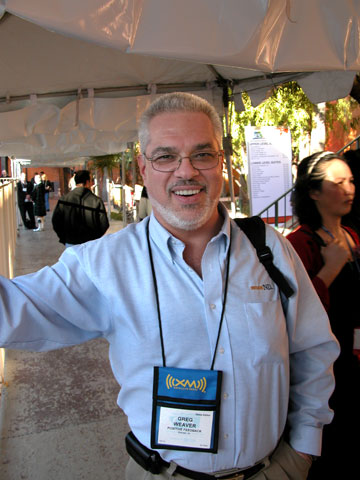 PFO's Greg Weaver on the prowl …another righteous lover of fine single malts! We did bend the elbow a bit with a wee drammie or three while at CES….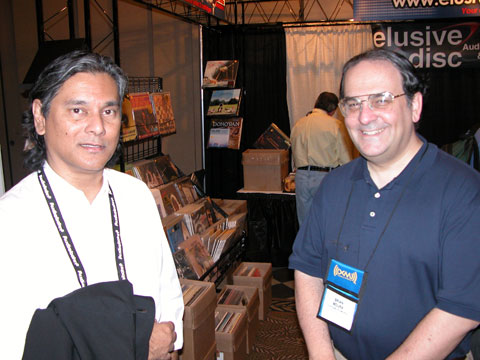 While in the neighborhood of the Elusive Disc SACD racks, I ran into Ying Tan, maestro of Groove Note Records (left), conversing with SACD maven Brian Moura of High Fidelity Review. Ying received a Brutus Award in 2005 for the quality of his SACD reissues, recognition that was richly deserved. Brian has been an indefatigable advocate of DSD and the SACD format from very early on …he and I are of one mind on that subject.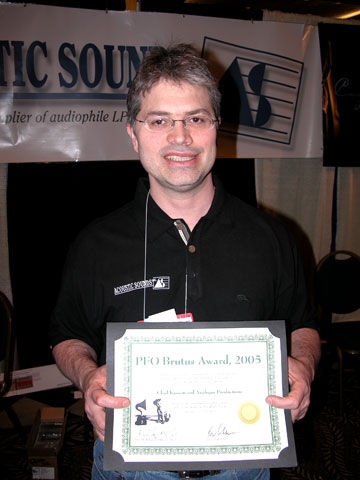 Speaking of Brutus Awards, here is Chad Kassem with his Brutus, recognizing his superior work with Analogue Productions to produce important recordings, both old and new. Chad is one of the truly great folks of fine audio…he doesn't just sell recordings, he makes them, and supports many classic jazz and blues artists via Analogue Productions and his Blue Heaven Studio. PFO has covered Chad and Blue Heaven many times in the past, and will continue to do so in the future.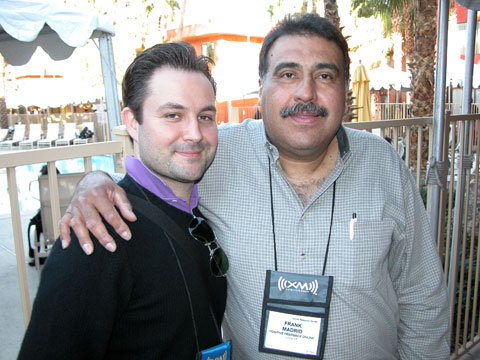 Danny Kaey and Frank Madrid of PFO: los dos hermanos y caballeros de audio!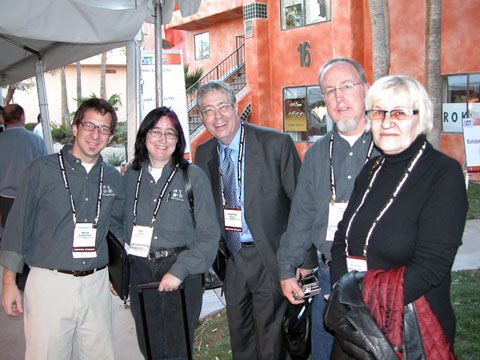 Another CES 2006 "sidewalk moment": Bryan Gladstone, Carol Clark, Jonathan Scull, Dave Clark, and Kathleen Scull on the bricks during the show. J-10 and K-10 are good audio friends, and always a lot of fun.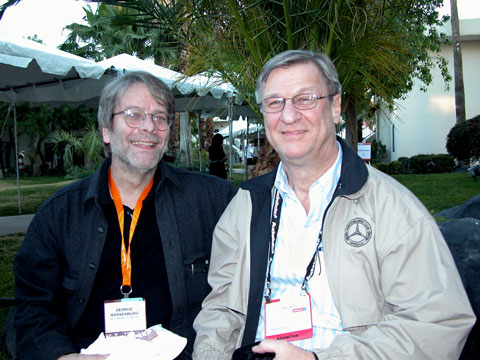 I ran into George Massenburg of the Recording Academy and Ed Meitner of EMM Labs talking with each other on one of the benches at the Alexis Park. You see a lot of this at audio shows—friends and acquaintances catching up with each other.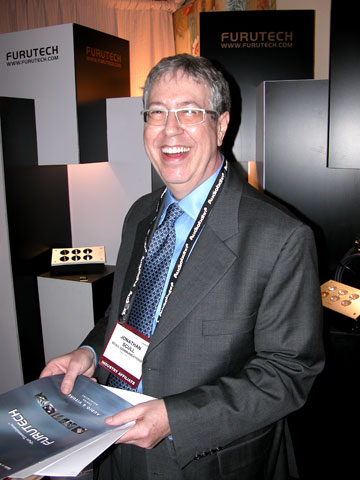 Jonathan Scull gets ready to launch a press conference for Furutech …you can tell that he isn't having any fun at all! C'mon, Jonathan—loosen up!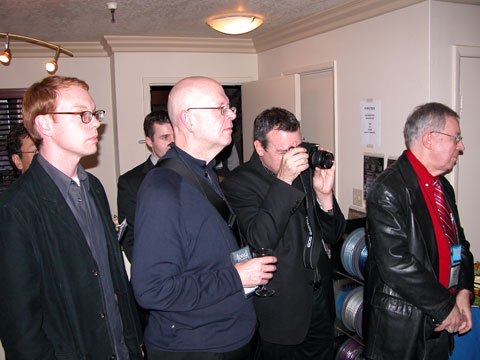 Four members of the Stereophile gang catch Jonathan doing his Furutech talk for the audio press.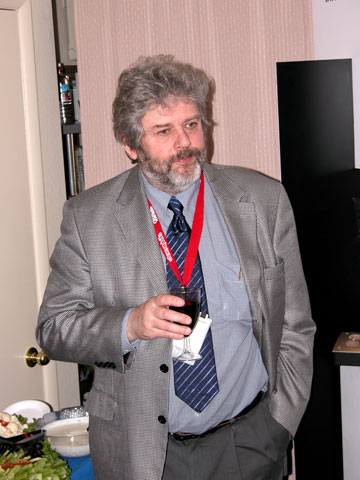 John Atkinson, editor of Stereophile, listens to Jonathan Scull's presentation while enjoying a glass of wine. And actually, it was pretty decent wine.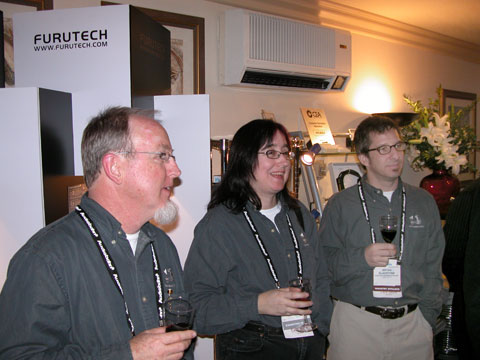 Dave, Carol and Bryan also enjoyed the wine, and tried not to throw too much popcorn at Jonathan as he gave his presentation. Carol has her "oh cool, I like the wine here!" look on, while Dave actually tries to pay attention and Bryan looks the executive, all the way….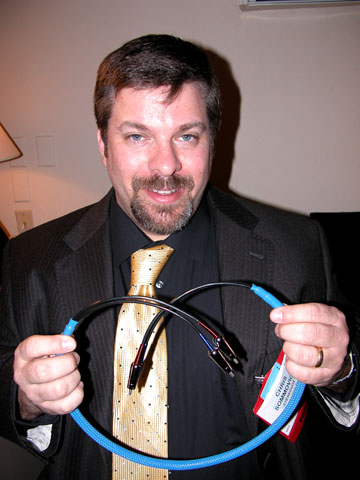 Chris Sommovigo of Stereovox and SuperFi LLC showing off one of his latest cable designs. This man does know a thing or two about cables.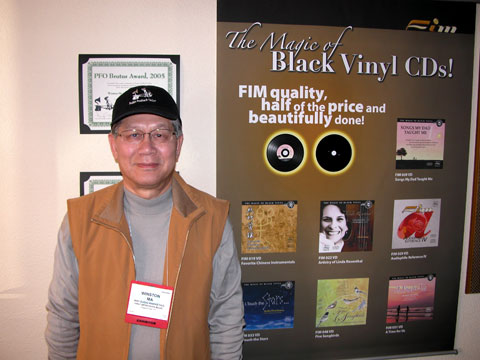 Winston MA of First Impression Music, sporting his brand new Positive Feedback Online cap, right after the presentation of a PFO Brutus Award, and a PFO Writers' Choice Award. Winston is one of the true gentlemen of fine audio, and a person that I have the greatest respect for. Anyone who's listened to an FIM recording knows the brilliance of his work.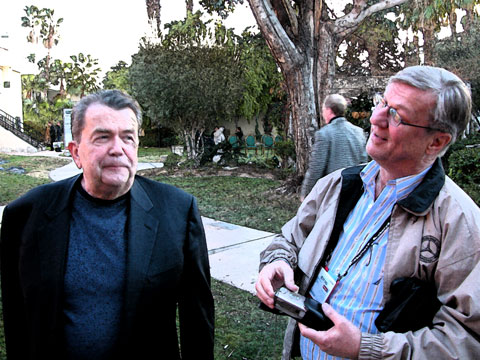 Now here's a moment for you: the first meeting between Harry Pearson of TAS and Ed Meitner of EMM Labs—a portrayal in fresco. Harry told us of his very high regard for the EMM Labs CDSD and DAC6e/DCC2, which transformed his opinion of the capabilities of DSD and SACD. I told him that I agreed completely. Harry and Ed chatted for a few moments …one of those providential sidewalk encounters that happen at audio shows.
I should mention that this was also the first meeting between Harry and myself. We had spoken on the phone a time or two over the years, and had emailed from time to time, but had never met directly.
"So you're David Robinson. I didn't think you were real; I thought you were just an astral projection," sez Harry.
"Oh, so that was you out there," sez I.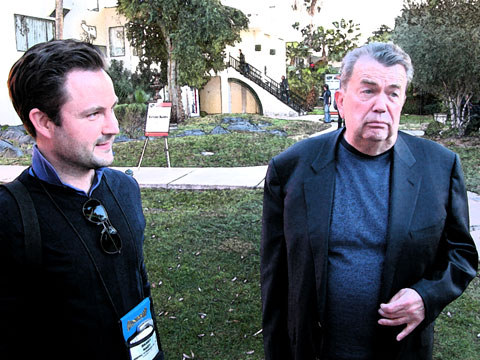 PFO's Danny Kaey with Harry Pearson, another fresco. Pearson was quite complimentary of Danny's work with PFO. To tell you the truth, we kinda' like it too….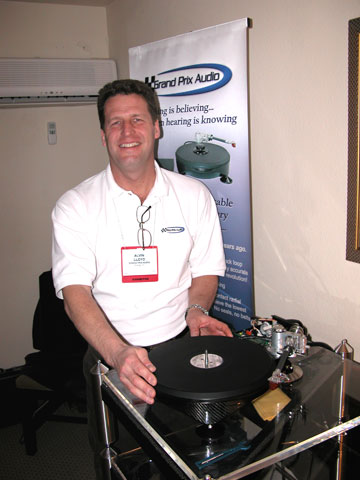 Alvin Lloyd of Grand Prix Audio was one of the new faces for me at CES 2006. The reputation of his audio racks and stands have been growing rapidly …I'll be reviewing them in 2006 …and his radical new turntable design, dubbed the Monaco (solid carbon fiber plinth with direct drive (!) motor controlled by a dedicated DSP), represents a creative new response to the challenge of turntable resonance and linearity. Alvin and company have their roots in auto race design, but have crossed over with materials science into the world of fine audio. It looks like we will all be the beneficiaries. All this, and a heckuva nice guy!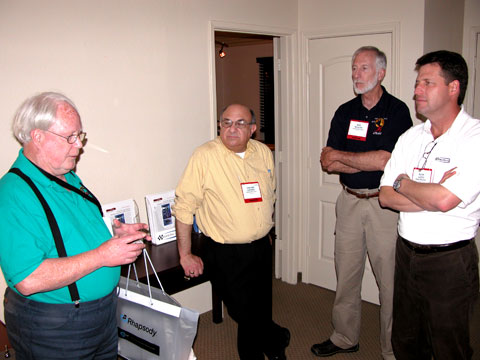 As a matter of fact, I was so impressed with the promise of the Grand Prix Audio Monaco that I brought my dear friend Stan Ricker along to meet Alvin Lloyd and company and see the new 'table. As it turned out, Stan spent over an hour with (left to right above) Vincent Capizzo, Bob Mahler, and Alvin Lloyd, talking about turntables and cutting lathes. Ideas were flying around, and a great deal of audio lore was shared. Nothing like having an audio master like Stan Ricker around to get the creative juices going.
Friends, informal meetings like this are where the real thing happens.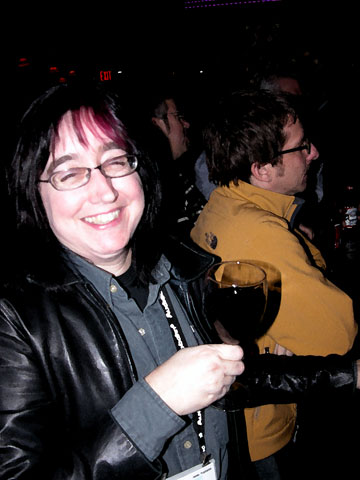 Here we have PFO's Poster Girl for Good Wine and La Dolce Vita! At least once per show, I add to my portfolio of "Carol Clark enjoying a beer/glass of wine."
Mission accomplished!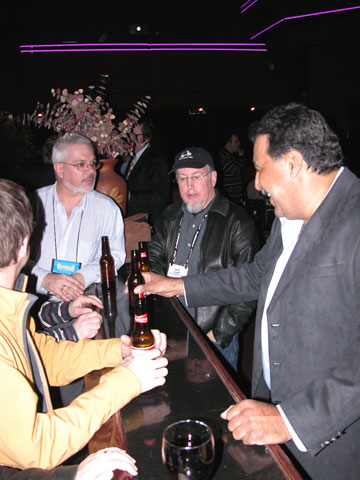 Carol wasn't alone; here's a portion of the gang, ready to leave for our annual PFO dinner…good times, for sure.
After this, it was over to the Tuscany to do a sampling session with single malt whiskey until midnight. Me, I liked the Caol Ila 1989 Murray McDavid, but others preferred the Macallan 1983 special reserve (what? 20 years? 25?) that Greg Weaver brought along. (I have to admit that it was special.) Talk, tell stories, drink fine whiskey, hang out with good friends—CES 2006 couldn't have ended any better.
You know, audio gear comes and goes; it's the people that you remember.