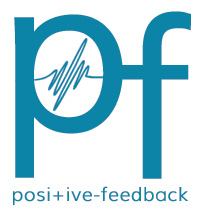 You are reading the older HTML site
Positive Feedback ISSUE 23
january/february
2006
Classic Records: The Who - My Generation, and Neil Young - Greatest Hits
by Greg Weaver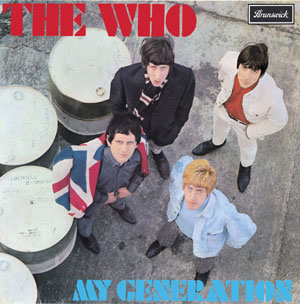 The Who – My Generation
Classic/Brunswick LAT-8616
mono 200g Quiex SV-P 12" LP
Produced by: Shel Talmy
Engineered by: Glyn Johns
Mastered by: Chris Bellman
When Classic Records announced that it was planning to reissue the first release from arguably the world's best Rock band, I got right in line! It is no secret that I am a long-time fan. While their early work caught my attention, their seminal works such as 1969's Tommy, 1971's Who's Next and 1973's Quadrophenia cemented it. I just got it …and their music infuriated the 'rents! While I'm willing to acknowledge that the latter attribute may have played some small part in the attraction, it was their energy and sincerity that spoke to me. Of all the original British Invaders, the Who were, to me, the most lyrically honest, and musically engaging.
I still have my 1965 release The Who sings My Generation, a Decca Mono (DL4664). At the time, I had no idea that it had been altered from the British Brunswick release. First, the cover photo was completely different. The US Decca cover has the four mods angrily posing with "Big Ben" looming in the distance over their shoulders. Just for the record, though the large clock in the tower of the Palace of Westminster is normally referred to as Big Ben, the name actually refers not to the clock-tower itself, but to the thirteen ton bell hung within. The bell was named after the first commissioner of works, Sir Benjamin Hall. Sorry, I had to…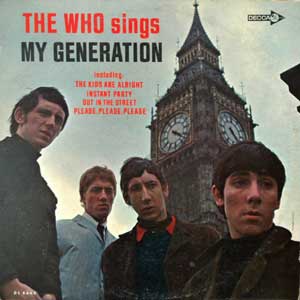 In the US Decca release photo, Keith Moon is the only one not looking like he'd rather be anywhere else. This Classic/Brunswick reissue employs the original photo, restored from a mint original copy of the impossibly rare UK Brunswick LP (which now goes for over $1500 on eBay!), with the four displaying their signature individuality and bravado.
Even more offensively, side 2 of the US Decca release omitted a soulful cover of the Bo Diddley (Ellas McDaniel) 1955 chart success, "I'm a Man." Omitting this in favor of the previously unreleased joke tune "Instant Party," only serves to further distance the release from the fuel of the original British invasion—American Rhythm and Blues.
Coming closely on the heels of the success of the British hits "I Can't Explain" and "Anyway, Anyhow, Anywhere," and under American producer Shel Talmy's guidance, the Who rushed into London's IBC studios to produce their debut. Though Talmy was reputedly feuding with Pete and Who co-manager Kit Lambert, (who apparently wanted to produce the album), nothing could diminish the spirit of the rousing cover of James Brown's "Please, Please, Please." Yet, it is the Townshend originals, most notably "My Generation," The Kids Are Alright," and "A Legal Matter" that portend the intensity for which the Who would soon become celebrated.
Here in their formative years, long before the rock operas and the arenas, the Who was still an electric-soul band. Do you remember that famous Marquee Club poster that said, The Who - Maximum R&B? Pete Townshend's clever originals reveal a quartet more than merely capable of generating three-minute pop perfection. The edgy anthems "My Generation" and "The Kids Are Alright" epitomize youthful audacity, balancing subtlety and brutality. John Entwistle's rumbling bass and the impetuous druming of Keith Moon, whose atypical time keeping remains fresh to this day even after countless outings, oftentimes overshadow Roger Daltrey's enormous voice and Townshend's brazen guitar.
For this important mono reissue, Classic reassembled the original mono master takes of each tune onto a master reel and had Chris Bellman at Bernie Grundman Mastering cut directly from that reel through Classic's all tube mono cutting system. That's right, this is not mono cut on a stereo head with the resulting crosstalk. Rather, it is the real deal just like it was cut in 1965 from producer Shel Talmy's original (not copies) mono master tapes.
Make no mistake, you are not buying an audiophile recording; it is unabashedly primitive sounding. However, by comparison, my original US Decca sounds compressed and bright, with the Classic/Brunswick offering greater detail and intelligibility. Though no sonic marvel, much of it is highly dynamic, often with remarkably deep and defined bass. Though just as sonically haphazard as the original, with distorted drums on "My Generation" and numerous cuts that are over saturated, there are others, like "Out in the Street," which cleanly exhibit all the power and vitality the band had to offer. This is a cultural snapshot of the sixties that is not to be missed; a piece of rock history that sounds better than any other version you are likely to find—period. Who fans, scarf it up before it is long gone.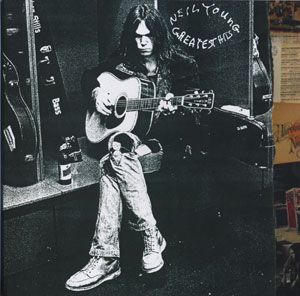 Neil Young - Greatest Hits
Classic/Reprise 48935-1
200g Quiex SV-P, 2 12" LPs, plus bonus 7" 45
Produced by: Neil Young, David Briggs, Elliot Mazer, others
Engineered by: David Briggs, Elliot Mazer, Henry Saskowski, Henry Lewy, Tim Mulligan.
Mixed by: various mixers
Mastered by: Chris Bellman at Bernie Grundman Mastering
I've only noted two types of reactions to Neil Young over the years. People either love him or simply couldn't be bothered. Me? I'm squarely in the former camp. After Canadian Neil Young left the Californian folk-rock band Buffalo Springfield in 1968, he slowly established himself as one of the most influential and idiosyncratic singer/songwriters of his generation. His body of work ranks second only to Bob Dylan in terms of depth. Yet because of his rigorous work ethic, he has been able to sustain both his critical reputation and record sales for a longer period than Dylan has, perhaps because, though his primary styles of folk and country-rock, and crushingly loud electric guitar rock, he was fearless when it came to investigating new musical territory.
Though Young's commercial breakthrough came with the album Harvest (1972), which reached number one on the Billboard magazine pop album chart that year and helped define him as a superstar, this is not really a greatest hits record in that archetypal sense. It is more a collection of songs, primarily from a very creative and prolific two-year period, that would likely bother most true Neil Young fans.
Albums such as the three so heavily represented on this release deserve to be heard in their entirety, straight through, Side A, track one to Side B, closing track. You are missing something otherwise; there is a synergy of the whole that is lost by such selective sampling. Many of you will know what I mean; there is a certain flow you get used to when you hear the original album. Yet Young fans who just happen to be audiophiles will be able to make the adjustment, in fact, they will feel blessed, because this collection sounds so magnificent.
Including some 16 cuts (plus 2 more on the bonus 7" 45) set in chronological order, 9 were recorded between January 1969 and February 1971, a period which saw the release of 3 albums in every die-hard Young fans collection; Everybody Knows This is Nowhere, After the Goldrush, and Harvest. They are "Down By The River," " Cowgirl in the Sand," "Cinnamon Girl," "Helpless," "After the Gold Rush," "Only Love Can Break Your Heart," "Southern Man," "Ohio," "The Needle and the Damage Done," "Old Man," and "Heart of Gold."
The remaining five on LP are, 1975's "Like A Hurricane," 1977's "Comes A Time," 1978's "Hey Hey, My My (Into the Black)," 1989's "Rockin in the Free World," and 1991s "Harvest Moon." The two "bonus" cuts on the 7" 45 (mine is transparent red!) are "The Loner" from his 1969 self titled release and a very special mono release of "Sugar Mountain," recorded by Neil himself in Ann Arbor Michigan on his own Sony reel to reel on his 19th birthday!
If you get all hot and sweaty over the minutiae of the remastering process, you'll no doubt take pleasure in all the info provided on the technical notes page of Neil Young's website, Neil's Garage. For the less procedural minded among us, suffice it to say that you have never heard these songs sound anywhere near this good before.
I pulled every copy I had on hand of any of these titles, originals as well as some more recent pressings and, without exception, the Classic reissue handily trounced them, in many cases, devastatingly so. This reissue can be wildly dynamic, detailed, and open! Bass lines are clear and deep, with remarkable pitch definition. Cymbals are rich and "bronzy" flavored, for the most part. Neil's unique vocals can be pure and highly affecting. There is a degree of clarity here unfound in any of the older Reprise issues I have. This release allows for a more revealing view into both the perspective of the recordings and their musical significance. Listen to "Down by the River," "After the Goldrush," "Needle and the Damage Done," or "Old Man," for some serious high water marks. You'll never play your original Reprise copies again!
Let's all just pray that Neil takes the next logical step. Very little could put a bigger smile on my face than to learn that the bulk of his work would be reissued with this kind of devotion and care! Neil, are you listening? PLEASE treat your fans to such noteworthy reissues, for at least the bulk of your remarkable body of work. In the meantime music lovers, snap this one up. When the Classic web site blurb says, "This LP belongs in every collection…," they aren't just spouting rhetoric. If you are a Neil Young fan, and you still have the good sense to enjoy the virtues of vinyl, there is little else to say about this remarkable two LP/bonus 7" set other than grab it! Grab it NOW!
Also available on DVD Video and CD.