ROBERT H. LEVI'S SYSTEM
LOUDSPEAKERS
Avalon Eidolon and REL Stadium III subwoofer.
ELECTRONICS
E.A.R. 324 phono preamplifier, E.A.R. 890 amplifier, Pass X1 preamplifier, and an E.A.R. 834L tube line stage.
SOURCES
VPI Scout/JMW 9 tonearm, VPI SDS Controller, ZYX R100H phono cartridge. ModWright Sony 999 SACD/CD Player with Signature Truth, Mod/Bybee Filters and Revelation Cryo Silver Umbilical. Pioneer DVL 919 LD/DVD Player, and a Marantz DV8400 DVD/SACD/CD player. Magnum Dynalab MD-108 Reference Tuner, Marantz 10B tuner, and Scott 350B FM tuner, AQ 7500 FM Antenna, Stax 7t Electrostatic headphones, Grado Reference 1 headphones, and a Grado headphone amplifier.
CABLES
Harmonic Technology CyberLight interconnects, Soundstring interconnects and speaker cables, or Kimber Select balanced, Kimber TAK phono AG, Kimber Hero balanced and single ended interconnects, Eichmann Express 6 Series 2 interconnects, and Acoustic Zen Silver Reference II balanced interconnects. Kimber D-60 Digital Interconnects. Kimber Select 3038 Silver speaker cables, Harmonic Technology Magic Reference Silver speaker cables.
ACCESSORIES
Monster Reference 350 Mark II v2 Power Conditioner and World Power Power Wing, Kimber Palladian power cables, Tara RSC and Decade power cables, Tiff power cables, Tice power cables, Tice Clock, and Audio Prism Quiet Line IIs. Cable Cooker 2.5, Winds Stylus Pressure Gage, Bedini Ultra Clarifier, VPI Record Cleaning Machine 16.5, Soundstring Pro Power Cables, and Kimber Pro 10 Gold Power Cables.
The 9.02 update of the NuForce 9.0 (read that review here) switching amplifier is very simple, but the benefits are not. The designers changed one wiring link and eliminated a diode, and the NuForce 9.02 monoblocks are now the most deliciously musical solid-state amplifiers I've heard. As I listen, I just want to hear more, more, more, and any bit of fatigue has been zapped. To the slippery-smooth sound, extraordinary detail, and wondrous dynamics of the 9.0s, the 9.02s add textural cues and liquidity. Plus, they are still only $2500 for the pair!
The 9.02s don't just happen to sound this way—they need a bit of tweaking. They sound too dark with the supplied power cords, so use the best all-copper cord you can get your hands on. I tried a ton of them, and the best in my system were the Harmonic Technology Fantasy AC10s. At $475 for a six-foot length, they are quite reasonable. These power cords fill in the images in a non-sibilant, realistic way. The Soundstring, Eichmann, Shunyata, Kimber, and Tara cords—all of them copper‑–were very good, but only the Harmonic Tech AC-10s clicked with my Avalon Eidolons.
A word about power cords. You can tell if an aftermarket power cord is right for your amp if it solidly fills in the images of the various instruments. Creating etched images in space is not the goal. The images must have weight and color if they are to sound as close to real as possible. If you are getting ghostly images or vague, etched shapes, try different power cords. I recommend copper cords for most solid-state gear, and (possibly) silver or some other rare metal for tube gear. Listen to the instrumental images on your acoustic recordings and judge the results.
The Eidolons are tough on solid-state gear, so an amp that sounds great with them will sound great with a wide range of speakers. With the Fantasy AC-10s, the Cyberlight interconnects, and the Magic Tweeter speaker cables (all by Harmonic Technology), the music flowed as it would with a solid-state amp costing three to five times the price of these little monoblocks. They never become flustered or congested. They refused to clip, and I surely tried! My ears gave in before the amps did. If you want to save a few bucks, you can substitute the HT Pro Silway 3 interconnects or Kimber Selects for the Cyberlights, for 85 percent of the quality, but don't do it if you can afford the Cyberlights.
The 9.02 updates add transparency and richness to the presentation. I now hear the kind of palpable sound I've heard with the fabulous solid-state amps from Levinson, Halcro, and Theta, at a fraction of their cost. However, no amplifier, at any price, can better the NuForce 9.02s in the bass. Their fast, detailed, powerful, layered, low end thrills my soul. Ancillaries and cables are again critical here, so be prepared to tweak.
While the 9.02s sound accurate, they have acquired numerous other attributes. The slightly troubling coolness of the 9.0s has vanished. With the 9.02 modifications, I began to live the performances. The walls of my room melted away, and I entered the recording venue. I heard the sparkle, as well as the brassiness, of bells and cymbals. Voices were textured and realistic, with excellent weight. Huge dynamics abounded, with sweeping width and depth. My tubed E.A.R. 890 is a bit more mellifluous and liquid, but cannot give me the explosive beauty and ease that is on many SACDs. The limitless nature of the NuForce 9.02s is addictive and oh-so-lovely. Their sweetness and smoothness are just plain sexy! The 9.02s are now very, very close to the sonic ideal. I could live happily ever after with them.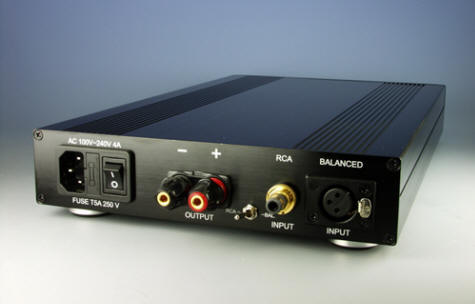 I had one quibble with the 9.02s—they leak RF from all over their cases. No wiring hookup could fix this. No matter where I placed my indoor antenna, even up to fifty feet from the NuForce amps, my tuner was affected. FM will sound distorted unless you use an outdoor antenna. NuForce needs to fix this!
I also had a tough time getting my Rel Stadium 3 subwoofer to mate with my Avalons and the 9.02s. I couldn't hook it up directly to the speaker terminals, as I do with my E.A.R. 890, so I had to drive it off the extra outputs on my preamp. Doing it like this, I just could not get the Avalons to blend properly with the Rel. I tried everything, and ended up switching off the sub and listening to the Avalons full range. Luckily, the 9.02 fulfilled the design specs of the Avalons, and their 11-inch woofers yielded state-of-the-art bass. The Rel was just doubling what was already being achieved.
Though they weigh in at only 14 pounds for the pair, the NuForce 9.02 monoblock amplifiers are world-class contenders. Their state-of-the-art bass is now complemented by superb mids and highs, laced with smooth sweetness, intensely musical textures, and 3-D imaging. Dynamics are thrilling, and the amps never sound harsh or etched. With a careful choice of interconnects and AC cables, you can achieve musical nirvana with most loudspeakers. I did, with the very-difficult-to-drive Avalon Eidolons. The 9.02s work well with both my Pass X1 solid-state preamp and E.A.R. tube preamp. They are a downright spectacular combination with the Harmonic Technology Cyberlight interconnects and Fantasy power cords. The NuForce 9.02s are not just a bargain—they are a gift to audiophiles everywhere. No way is this pair going back to NuForce! Robert H. Levi
Discs used in evaluating the NuForce 9.02s:
The Carl Saunders Sextet (BluePort CD BP-J011)

Gene Harris, The Best of the Concord Years (Concord Records CD 4930-2)

Hovhaness Symphony 22, Cello Concerto (Naxos CD 8.559158)

Jacintha, Here's to Ben (Groove Note SACD 1001-3)

Rubinstein, Chopin (RCA/BMG SACD 82876-67902-2)

Piatigorsky/Munch, Dvorak & Walton Cello Concertos (RCA/BMG SACD 82876-66375-2)

Suppe Overtures (Mercury Living Presence SACD 470-638-2)

Hovhaness, Mysterious Mountain (Telarc SACD 60604)

Turtle Island String Quartet (Telarc SACD 60630)

The Absolute Sound SACD Sampler (Telarc SACD 60011)

Howard Hanson, Symphony No. 2 etc. (Telarc SACD 60649)

SuperBass2 (Telarc SACD 63483)

Orff, Carmina Burana (Telarc SACD 60575)

Diana Krall, Love Scenes (Impulse SACD 2841-35)

A Song for You (FIM SACD 036)

Duke Ellington, Blues in Orbit (Mobile Fidelity SACD 757)

Miles Davis, Kind of Blue (Columbia SACD 64935)

Isomike Sampler (Kimber SACD 2005A)

Chick Corea, Rendezvous in NY (Stretch Records SACD 9041-2)

Glenn Gould, Goldberg Variations (Columbia SACD 37779)

E. Power Biggs, Four Antiphonal Organs (Columbia SACD 87983)

Saint-Saens, Piano Concertos Vol. 1 (Audite SACD 92.509)
Reference 9.02 amplifiers
Retail: $1250 per unit, or $2500 a pair.
NuForce
web address: http://www.nuforce.com