DAVID ROBINSON'S SYSTEM
LOUDSPEAKERS
Von Schweikert VR-9SE loudspeakers; Nova Rendition II loudspeakers outfitted with Walker Audio High Definition Links (HDLs) on the upper bi-wire, and Townshend Audio Supertweeters; all contacts treated with Walker Audio Enhanced SST Contact Enhancer.
ELECTRONICS
Red Rock Audio Renaissance monoblock amplifiers; Linn Klimax monoblock amplifiers; Wavac PR-T1 preamplifier; Joule Electra LA-150 line stage preamplifier; EMM Labs Switchman-3 (SWM-3) 2/6 channel preamplifier; Linn Klimax Kontrol preamp; Walker Audio Reference Phono Amplifier; Joule Electra OPS-2 dual mono phono amplifier; Aesthetix Rhea phono amplifier; E.A.R. 324 phono amplifier.
SOURCES
DIGITAL: EMM Labs DAC6e 2/6 channel DSD D/A; EMM Labs CDSD SACD/CD Transport; EMM Labs Philips SACD 1000 w/optical DSD and PCM output (2/6 channel); Linn CD-12; Theta Digital Pro Gen Va D/A converter; Panasonic SV-3900 DAT player with Vimak DS-500 A/D converter; Tube Research Labs modified Sony SCD-CD595 SACD player.
ANALOG: Walker Audio Proscenium Gold Signature reference turntable system with the Magic Diamond cartridge and direct connection to the Walker Audio Reference Phono Amp (upgraded to the latest version, with the Walker Audio Power Supply, Second Edition, also upgraded to the latest revision, both as of 09/2005); Linn LP-12 turntable, with the Akiva reference cartridge, Ekos tonearm, the new Lingo power supply, Cirkus subchassis, and Linn reference silver phono cable; Revox B-77 Mk. II 15 ips half-track reel-to-reel tape recorder; Pioneer RT-707 7.5 ips quarter track reel-to-reel tape recorder; Nakamichi Dragon reference cassette deck; Magnum Dynalab FT-101 tuner w/Audioprism 6500 internal antenna.
HEADPHONES
Beyer Dynamic DT-990 headphones.
CABLES
Interconnects by JENA Labs, Cardas, Omega Mikro, Harmonic Technology, Empirical Audio, Kimber, and Linn. Speaker cables by JENA Labs, Cardas, Omega Mikro, Kimber and Linn. Power cables by JENA Labs, Cardas, Omega Mikro, First Impression Music, Kimber, Silent Source, and VansEvers.
ACCESSORIES
Walker Audio Prologue Rack; Walker Audio Component Stands; Walker Audio Valid Points and Valid Points tuning kits; three Walker Audio Velocitors (latest version, upgraded as of 09/2005) on Velocitor Stands (line conditioning for Walker Audio Proscenium turntable system and its associated Linn Kontrol preamp); Walker Audio equipment stands; Vibraplane turntable isolation platform; Sistrum SP-101 amplifier stands and SP-4 multiple platform rack; Black Diamond Racing "The Shelf" and cones; Extremephono VCS Platforms w/Black Diamond Racing cones under the Switchman-3; JENA Labs Fundamental Power 6.1 revised (line conditioning for SACD and CD sources and selected electronics); Dedicated Audio Cable Tower cable supports; equipment racks by Walker Audio, Michael Green, Sistrum, and Target; Shakti Stones and Shakti Onlines; Tice Signature III Power Block (line conditioning for tertiary sources), VansEvers Clean Line; VPI 17F LP cleaning system with the latest Record Research Lab LP cleaning/deep cleaning systems; Disc Doctor Miracle Record Cleaning System; Walker Audio Ultimate SST Contact Enhancer; latest version (09/2005) of the Walker Audio Vivid SACD/DVD/CD enhancer; Record Research Labs Shine-Ola SACD/CD surface treatment; Bedini Ultra Clarifier; and acoustical treatments by ASC, VansEvers, and Michael Green.
The Search for the Highest Good
You're about to read a very long essay. As a matter of fact, this is the largest, longest set of audio pensées that I've ever written. It's the result of a year's worth of listening, comparison, reflection and evaluation about true reference-grade turntables, and on a remarkable family of products from Walker Audio. The quality of what I've heard has permanently shifted my paradigm for vinyl playback. This is such an important result for me that I wanted to share the reasons for this strong reaction with you at length, so that you may think this through for yourselves. I've included a long photo essay of the Proscenium system set up process, so that you can see the meticulous detail that has gone into this design.
I suppose that every human pursuit, every domain of artistic creation, has its own summum bonum, its highest good. This represents the very best that the craft has known and expressed, the supreme execution of the possibilities of a given branch of an art form. Wine-making, automobiles, cigar-making, painting, sculpture, photography, film, playwriting, prose, poetry, acting, the crafting of musical instruments, musical composition, architecture, single malt whiskeys, dance, sketching—all have generally acknowledged masters, and works that represent the highest good in that particular form. Names flow like a mighty river, stretching out of sight: Mozart, Bach, Shakespeare, Van Gogh, Picasso, T.S. Eliot, Stradivarius, Porsche, Astaire, Weston, Hitchcock, Segovia, Dostoevsky…on and on and on and on.
Whether or not there is agreement on which master and which work embodies the summum bonum in a given art form is another matter entirely. Connoisseurs have debated this question hotly for millennia, and modern forums of all kinds see much championing of this, that or the other master and masterwork. Fine audio is no exception to this; indeed, it would be most surprising if it were, since it is clearly a connoisseurial pursuit. The print journals and the various online forums abound with stern, often brutal jousting over designs, relative levels of mastery, and sometimes highly esoteric discussions of terminology, provenance, history, creative development, and so on—all hallmarks of connoisseurship in action.
One very definite domain for such debates within fine audio is that of turntable design and the designers thereof. Very emotional ground here! Proponents and opponents are to be found on every side, particularly as one ascends the mount of turntable design, from the ordinary to the extraordinary. There are many significant possibilities to explore; one could (and many do) spend a lifetime on the quest. Ironically enough, at a time when LPs have long-since been formally abandoned as a mainstay format by the music industry—to the impoverishment of us all—the development of turntables, tonearms, cartridges, phono amps, cabling, power supplies, LPs (including mastering systems, pressing, finishing, and even some vinyl formulations), LP cleaning and maintenance accessories, cartridge cleaners, break-in LPs, strobes, gauges, protractors…another very long list …has continued apace. We now have the art of the turntable operating at levels never known in the days of mass-market LPs; between the best of the used/collector market and the best of the LP re-issues, a record lover can achieve unprecedented levels of ecstasy in his or her listening room.
As a long-time turntable owner who never flushed—and continued to collect—his LPs when he tried CDs, 96/24, and, pre-eminently, SACDs, I have had a sustained interest in climbing the Holy Mountain of vinyl, and discovering what was there (quoting C.S. Lewis) "further up and further in." I and my LPs survived my very young and foolish days in the early '70s (BSR 810 …Ugh. Can you say "rumble"?) and early '80s (Japanese direct drive), and purchased my ticket to better things in the later '80s, when I bought a brand new Linn LP-12/Itok/Asaka system. It made an incredible difference to me, and I made that now very familiar re-traversal of favorite portions of my LP collection, hearing all the things that I'd never heard before. (Sound familiar?) Over time, my LP-12 became the focus of other Linn upgrades: the Lingo, then the Lingo II, the Cirkus, the Trampolin, the Ekos tonearm, the Troika cartridge, then the Arkiv, then the Arkiv II, and now the smashing Akiva, the Linto phono amp, the new Linn Silver reference phono cable.
Along came other components and accessories: Nitty Gritty cleaners, swept away by the VPI 17-F; half a dozen or more LP cleaning solutions/systems (e.g., Nitty Gritty, Torumat, LAST, Disc Doctor, VPI, Record Research Labs, the revised Record Research Labs, and now Disc Doctor's latest again). Vibration isolation courtesy of Sound of Silence's Vibraplane (via the inimitable Clark Johnsen's recommendation years ago in the pages of PF) and DJ Casser's Black Diamond "The Shelf" and his cones, situated on my now venerable Target rack. (I've got to upgrade that one of these days.) The Linto knocked out by the remarkable E.A.R. 324 phono amp. MC cartridge demagnetizers, several cartridge cleaning systems; anti-stat brushes and guns; LP sleeves and jackets—one after another, all sorts of very useful items, each new generation generally a step or two beyond the previous.
I reckon that every experienced vinyl hound could tell his or her own version of my story.
A quest. At the far end of the rainbow, one hopes, lies one's summum bonum.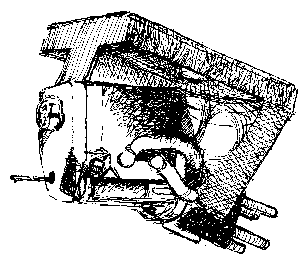 A Digression: The Logistics of a Long Quest
Back in 2001, in the aftermath of VSAC that year, I decided that I would try to see what lay in other directions from my fully loaded LP-12. Not that the LP-12, fully upgraded, isn't a delicious 'table…it is. In some ways, particularly in its musicality and what Art Dudley called PRAT (Pace, Rhythm, And Timing), the LP-12 is hard to beat. The design is a classic, suspended chassis, uni-pivot configuration. The folks at Linn have done magnificent work to bring absolutely the most out of the LP-12 over nearly 30 years …an unparalleled achievement in fine audio.
And yet, I knew that there was more out there.
Over time, I heard, or heard of, other alternatives at audio friends' listening rooms and at various shows that were quite alluring. SME. Rockport. Walker Audio. Clearaudio. Transrotor. SOTA. VPI. Basis. Oracle. Redpoint. Teres. Nottingham. Tonearms from Graham, Triplanar, Schroder, Moerch, SME, Clearaudio…cartridges from Koetsu, Clearaudio, Cardas, Shelter…piles of possibilities. 'Phile phriends would remind me from time to time that I ought to try reviewing something besides the LP-12 system, and broaden my horizons.
OK, I was willing.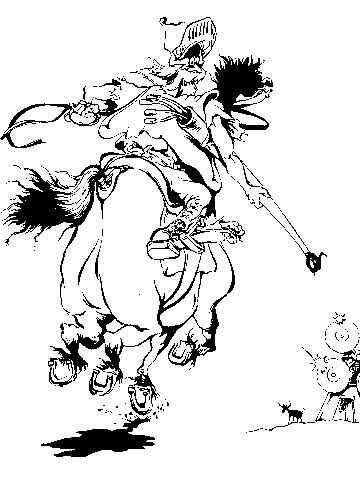 So, like Don Quixote (as it turned out), I set out to assay some new directions in vinyl playback. The big problems with a voyage like this are the logistics and transport of the transport. Unlike reviewing SACD or CD players, or even amps and loudspeakers, turntables require careful handling, and some specialized setup skills that are no longer very common, even among audiophiles. My Linn turntable had been set up and maintained originally by Dennis Wright of Hawthorne Stereo, and had been maintained since the closure of Hawthorne Stereo by Brian Morris of Linn UK, and Gary and Cindy Kerr over at the Audio Gallery in Lake Oswego. Different turntables would have to be set up by PFO's Senior Technical Editor, Jennifer Crock, assisted by Michael Crock, or by some other trained/authorized person. This was obviously a challenge, but one that I thought could be overcome. I would write up how easy it could be.
Not.
I started out as an optimist, really I did. I wanted to demonstrate that those who were interested in LP playback need not fear the logistics. I was only partly right…and partly wrong. And in all honesty, I have to separate the travails of reviewing from the more obvious transaction involved in actually purchasing a turntable. (The financial incentive is much more obvious in the case of a consumer buying from a dealer, online distributor, or from the factory. Money makes a very fine lubricant.) Between 2001 and 2005, I tried contacting a number of different turntable/tonearm/cartridge distributors, designers, and manufacturers. In some cases, things got pretty far along before the logistics of the review (get the turntable to arrive at about the same time as a suitable tonearm at about the same time as a suitable cartridge) broke down. During that entire period of time, I received samples from the fine folks at Linn (their usual superlative attention and service…a benchmark in the industry, I must add), Kirk and Donna Bodinet at SOTA (the Millennia turntable, to be published any time now), SME (the 4.5 tonearm), Cardas Audio (the Cardas Myrtle Heart cartridge), and Walker Audio with their Proscenium Gold Signature system, the subject of this review. I believe that Garth Leerer and I will eventually get a Clearaudio reference-level turntable review together, once we synchronize calendars …Garth's a good fellow.
That's it.
The folks that I list above proved that I was right to be optimistic about dealing with turntables; the rest of the firms/individuals make me think that I would have been better off being, if not a pessimist, at least a lot less optimistic about bothering with them. [For the morbidly curious, the turntables/tonearms/cartridges that I've tried, but failed, to review for the PFO readership included SME (the 30/2A system, preferably with a Koetsu cartridge…the synergy recommended by Brian Hartsell), Townshend Audio (Rock turntable …a project that's been waiting for years, and years, and years…), Basis, Teres Audio, Redpoint, Moerch (tonearm), Schroder (tonearm), Nottingham (turntable system), the Platine Verdier, J.C. Allaerts (cartridge), Myabi (cartridge), and Triplanar (tonearm …came close here, but had the review canceled due to a change of distributor).]
This is just to let you know that I haven't been indifferent to vinyl over the past four years, or that I've only been interested in SACD—far from it. But I'd have to say that I found the response from the industry to be distinctly underwhelming. You'd probably think that fine turntable manufacturers would be very interested in getting samples of their latest products out for review, so that their market didn't die when the last old audio geezer with a 'table departed for the great groove in the sky. You'd think so—so did I. You and I were wrong; as it turns out, the logistics of turntable/tonearm/cartridge reviews usually didn't work out, or the backlog never got cleared, or items were promised, but never delivered, or they had no review samples, or somebody got narly.
Then again, maybe there are piles of turntable reviewers out there, driving these folks crazy. You know: 100 maniacal 'phile phiends chasing one "review sample." Could be, I guess. And I should point out, in all fairness, that a number of the highly regarded turntables and tonearms that I was pursuing (with the notable exception of the SME 30) are handmade, and are normally only available upon order (e.g., the SOTA Millennia, the Schroder reference arm). "Review samples" generally don't exist in those cases. And there are some audiophile turntable companies that just aren't very well capitalized; they simply don't have the funds to maintain the larger inventory required if they are going to have review units available. (In the case of SME, there is only one review sample of the SME 30 available for the United States …and this is a larger company.)
No wonder digital does so well. It's the path of lesser resistance.
Weird stuff, Maynard. C'est l'audio.
Then Came Walker…
After having spent several years juggling abortive or perennially postponed projects involving turntables, it was pleasant to run into two companies that were very interested in sharing their latest designs and providing their. In 2004 I connected with both SOTA (see that review at http://www.positive-feedback.com/Issue22/sota_millennia.htm) and Walker Audio, and finally got a chance to try two very different design philosophies in vinyl playback, and two very different price points.
I ran across reference to the Walker Audio Proscenium while doing research on the 'Net, looking at various reference-grade turntables currently in production. There were a handful of turntables on my short list, and the Proscenium was one of them. I had discussed it with several industry contacts, all of whom were quite favorable to the Walker Audio 'table. Since so many of my prior efforts had been disappointing (see above), I decided to give Lloyd Walker a call and propose a review project.
Anyone who's talked with Lloyd will tell you that he makes for a great conversation. Lloyd has a terrific sense of humor, and knows a great deal about LP playback…none of it dull! (Believe me, this was a refreshing change from some of the cold fish that I had talked to along the way of this project.) PFO had reviewed some of his system enhancements, so he knew who we were. As it turned out, he was quite willing to take the plunge and do a project with me. Not only that, he was also willing to send out a complete reference system—turntable system, reference phono amp, stand, rack, line conditioning, a full set of recommended cables, and system enhancements—and bring Fred Law, his VP of Research and Operations, to assist him in personally setting up the entire package.
(By the way: readers who are concerned that I was receiving special treatment can put their minds at ease right here. Anyone who purchases a Proscenium system automatically gets the system setup included. Lloyd Walker/Fred Law will do the same thing for them that they did for me. And I can tell you that it's very entertaining to see them in action.)
Well now …that's more like it!
Was I interested?
You bet.
We arranged for a project installation date of October, 2004. Walker Audio would ship the product line to arrive several days before they did; Lloyd and Fred would follow. Everything came together according to script; the gear arrived on pallets and in boxes, with Lloyd and Fred arriving a few days later. When it came to logistics and scheduling, dealing with Walker Audio was just like dealing with Linn—and that is a compliment to Walker Audio.
The list of products that arrived was substantial. It included the following products:
Proscenium Gold Signature Turntable system (turntable, linear tonearm, and pump)

Walker Reference Phono Amp, Second Edition

Walker Ultimate Motor Controller

Velocitor Power Line Enhancer

Walker Prologue Rack

Valid Points Resonance Control System

Extreme SST (E-SST) Super Silver Treatment Contact Enhancer

High Definition Links (HDL)

Omega Mikro Active Power Cords, interconnects and speaker cables

Silent Source Power Cords
This was quite a large group of products. As I was to find out, it represented a remarkable achievement…more on that later.
Page 2 The Setup—a Photo Essay