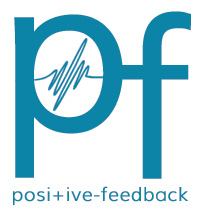 You are reading the older HTML site
Positive Feedback ISSUE 23
january/february
2006
MORE VINYL
by Roger Gordon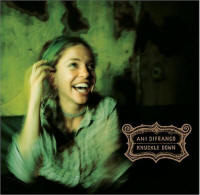 Ani DiFranco - Knuckle Down (2005 Double LP)
Who says there is no new vinyl available? For $15, you can get a double LP of Ani DiFranco's latest album, Knuckle Down. "Ani who" you might ask. Ani DiFranco is not a household word. With her song writing, singing, guitar playing and performance skills, she could be. However, that would mean selling out to a major record label who had the big bucks to promote her. No suits are going to tell Ani what to say or how to say it. So instead of signing with a major label, Ani, in 1989, at the tender age of 18, formed her own record company—Righteous Babe Records. Righteous Babe Records is supposedly the most successful female owned recording company in the business with offices in Buffalo (her home town) and London. According to Ani, financial success is nice, but it is more important that she can record her music her way. Not being shy about controversial subject matter or language, it is doubtful that many of Ani's songs would have been recorded had she not had her own record company.
Since forming Righteous Babe, Ani has been very prolific with 16 studio albums released in the last 16 years. This is in addition to touring almost continuously over those same 16 years. So what does Ani do that makes people want to hear her - either live or on recordings? Well, her song writing is excellent. Each song is a little vignette—a little story. Much of it is autobiographical. A lot of it is political, dealing with contemporary social issues such as race, war, poverty, capital punishment, sexual abuse, and reproductive rights. The songs are accompanied by her voice, which is clear, dynamic, and seductive and by her percussive acoustic guitar playing, which is exceptional. In concert, she forms an instant, intimate rapport with the audience which you can also sense on her recordings.
So what type of music does she do? Ani's music has been described as folk rock and alternative rock. Neither is an accurate description. Over the years her music has crossed over into many genres. She has collaborated with The Artist Formerly Known as Prince and also with the folk musician Utah Philips. Her early albums were just her and her guitar—the ultimate song writer/singer. Her later albums include other musicians. Knuckle Down includes three backup musicians and a string section. The best way to determine what type of music she sings is to listen to it yourself. Go to http://www.righteousbabe.com/ani/knuckledown/index.asp . This address gets you into the Knuckle Down songlist with lyrics. You can also download, in their entirety, four of the twelve songs on the LPs. Decide for yourself.
Great music, well recorded, mastered and pressed. Only available for purchase at the Righteous Babe website. Highly recommended.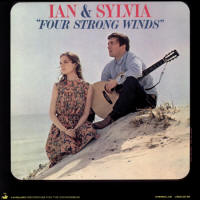 Ian & Sylvia - Four Strong Winds (Cisco reissue of Vanguard VSD-2149 from 1962)
Having reissued Ian & Sylvia's 1963 album, Northern Journey, to much acclaim for its superb sonics and great music, the question then became which album to reissue next—Early Morning Rain (1964) or Four Strong Winds (1962). Strong cases could be made for reissuing one or the other. After weighing the pros and cons, Cisco has reissued Four Strong Winds. Again, the sonics are superb. The voices and instruments come through crystal clear. If folk music was more in vogue, this LP would be used as a demo in the rooms at CES.
Musically, this album will carry you back to the early '60s when the urban folk revival was in full swing. The songs cover a wide range of 'folk' music ranging from gospel to blues to Bob Dylan's Tomorrow is a Long Time. The title track is Ian's own Four Strong Winds. This song was very popular and was covered by a number of famous singers.
If you love folk music and have worn out your original Four Strong Winds, you now have a replacement. If you missed the folk revival of the early '60s this album is your chance to get to hear one of the best folk groups from that era.
Highly recommended.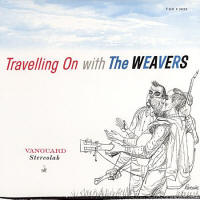 The Weavers - Traveling On (Cisco reissue of Vanguard VSD-2022 from 1960)
Kisses Sweeter than Wine, Goodnight Irene, The Lion Sleeps Tonight (Wimoweh), House of the Rising Sun, Sloop John B, On Top of Old Smoky—these were songs written or popularized by the Weavers. Performers who acknowledged the great influence The Weavers had on them included The Kingston Trio, Bob Dylan, and Don McLean. The Weavers sold millions of albums and double-sided singles from 1949 to 1964. Amazon.com lists scores of CDs of various compilations of The Weavers from their early Decca recordings to their last recordings in 1964. The Weavers are in The Vocal Group Hall of Fame as one of the most influential vocal groups of the '40s, '50s, and '60s. So, do you have The Weavers in your music collection? If not, why not?
If you have not heard The Weavers, they sing folk songs. In the early Decca years they were backed up by large bands. But for their later Vanguard recordings, such as Traveling On, what you hear is their four voices accompanied by a few simple acoustic instruments. Few popular vocal groups have brought more pleasure to their listening audience than The Weavers.
The sixteen songs included on Traveling On include well known favorites such as "Erie Canal", "Kumbaya", "House of the Rising Sun", and "I Will Never Marry". The other twelve songs while not as well known, are just as much fun to listen to.
For vinyl lovers, finding clean, mint copies of any of The Weaver LPs has been difficult. Most Weaver LPs were played again and again and again. Their Reunion at Carnegie Hall (1963) album has been available as a reissue on and off over the years. And yes, I have purchased my copies. However, with Traveling On, we now get another sample of The Weavers magic.
Wonderful music. Great Recording. Great Pressing. Highly Recommended.