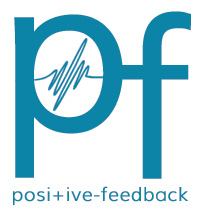 You are reading the older HTML site
Positive Feedback ISSUE 24

march/april
2006
Another One From The Road - CES/THE Show 2006
by Greg Weaver
All images by Greg Weaver
Yes, this report is very late. I have no real excuse; however I will blame the CES itself for my tardiness. How can that be? Well, since my return, besides the normal workload from my daily job as an IT Support Engineer at University of Notre Dame and keeping up with our three teens, no fewer than 2 pairs of loudspeakers, two preamplifiers, and two sets of cabling have arrived at the listening room of Casa Weaver. The music these components are making have all conspired to keep me listening rather than writing, ok? That said, on with the report…
Viva Las Vegas
My plane landed right on time, just minutes before 10:00 p.m. local time, Tuesday the 3rd at McCarran airport, and in less than 30 minutes I was picking up my Enterprise compact rental. Now the real adventure began; my hotel was directly across from the gates of Nellis Air Force Base, some 15 miles away! What can I say, budgets are what they are.
And as if the prospect of the long drive weren't enough, I encountered a police road block on Las Vegas Boulevard at Pecos Road. I saw more than half a dozen police cars and emergency vehicles as I approached that intersection, but I was forced to detour around that block, first north on Pecos, then back east on Cheyenne to rejoin Las Vegas Boulevard and continue north-east to my motel.
My thinking was that there must have been one hell of an accident to close down such a large highway, in both directions, and to muster so many emergency vehicles. Regardless, it was well after midnight Las Vegas time (3:00 o'clock a.m. my time) when I finally crashed at my motel.
As I was getting ready to leave for the day the next morning, I had one of the local morning news stations on the TV. It turns out that the roadblock had nothing to do with an accident. What I had encountered was actually a barricaded shootout! Get this. It seems that a fugitive who had murdered someone back in Indiana just days before had made his way here to North Las Vegas. After an hour long shoot out with authorities, local and state police were able to apprehend him. I was unfortunate enough to come in at the tail end of that chase.
By comparison, Wednesday was a pretty low key day for me. As always with my first day after crossing three time zones, I was a bit slow. One of the things I wanted to take care of early was to make it to the Sands Innovations Plus Suite (which is actually part of the Venetian, not the Sands) to get my Press Gift, a CES Travel bag. Nice travel bag actually. While I was at the press suite, I figured I might as well pick up my Press Badge holder and lanyard. But I have to tell you, it is a damn site easier to not have a car in this city. Parking for some of the convention centers and exhibit halls is a royal pain! By the time I got back to my car, it was just about lunch time.
After a quick stop in at the Alexis Park, I had lunch with Jonathan Tinn of Blue Light Audio, and Hervé Delétraz and Serge Roch of darTZeel at Hamburger Mary's, right next to the St. Tropez. After lunch, I spent the rest of the afternoon with audio pal Steve Rochlin. I had volunteered to pick him up at the airport and take him to his hotel, the Airport HoJo's. Now I have to tell you, I've stayed in some low class places in my life, but this particular property was without doubt the worst I've run across. The building that Steve was going to be housed in looked like it had been in a war zone; broken out and missing flooring and walkways, even what looked like a pool of dried blood near his door. After some fussing and consideration, I stalwartly agreed with Steve's decision to get another hotel. After going back and repacking, we successfully moved him into a very nice suite at the St. Tropez.
The rest of Wednesday was spent with Dave and Carol Clark and Brian Gladstone, first with good conversation over dinner at Piero's, then more conversation and some single malt back at their suite at the Tuscany. After 10:00, I excused myself and headed north on my great 15 mile trek back to my Motel 6. Never again, I assure you…
Thursday morning, one of the first people I ran into on the Alexis Park campus was Joe Cohen, the creator of PranaWire, and now the importer of the Acrolink and Oyaide products. He was headed to the Technical Audio Devices room to drop off some products, and since I always enjoy talking with Andrew Jones, I decided to tag along. I'm glad I did.
Technical Audio Devices, better known as TAD, Pioneer's Statement speaker line, was showing a speaker that retained the family resemblance, but was quite new. Andrew Jones was showing the new TAD Model-2, which he said would come in between $35,000 and $40,000/pair. Constructed of 16 layers of 1/8" MDF, the Model-2 makes use of the same coincident-source 6" beryllium tweeter/midrange driver and a pair of 10" woven-aramid woofers as the Model-1, sans the Model 1s 8" lower midrange driver.
The demo material was superb! Using upsampled masters of Keith Johnson's Reference Recordings on a hard drive based playback system, an all-Pass Labs electronics system drove the Model-2s. The combo offered music with exceedingly natural tone and some of the most relaxed dynamics I've heard in some time. I know that may sound contradictory, but what I mean is that, unlike many horn speakers which have excessively "in-your face" dynamics, the Model 2s had all that jump factor but were easy to listen to. While soundstaging and imaging were somewhat conservative, the system was able to capture me with its remarkable timbre and full scale dynamics.
From there, the linear path though the show would be hit and miss, not to mention excruciatingly boring. From here forward, I'm just going to touch on the high points of the show. And some trends! There were three manufacturers whose products seemed to enjoy an almost ubiquitous presence at this year's events; ModWright, Von Schweikert Audio and Dynavector. I quit counting the number of ModWright SWL 9.0SE preamps I saw. Man, Dan Wright's overachieving linestage must have centered 10 or more systems that I ran across, from modest to megabuck. And, VSA loudspeakers were presented far and wide as well; dB 99s, VR-4jrs (in several rooms), VR-4SRs, and VR-9SEs fronted systems for a number of different manufacturers, while Von Schweikert Audio introduced their new VR-7SE and on-wall VSX-Ms. And lastly, the Dynavector XV-1S cart was on more arms than the parade of Gucci bags I saw every time I traveled "The Strip."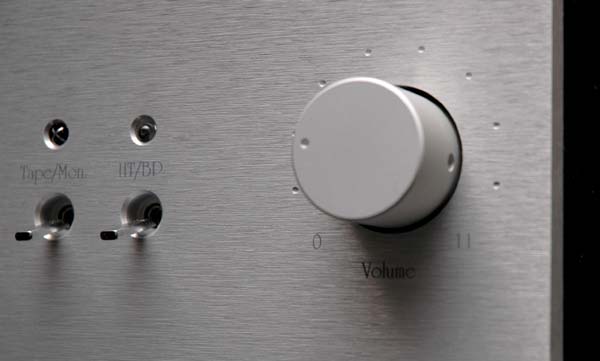 As the Christopher Guest character Nigel Tufnel points out in the 1984 Mockumentary, "This is Spinal Tap," Dan Wrights SWL 9.0SE linestage "…goes to eleven!"
Yet another trend this year was the prominence of turntables. There were a lot of them; some well-known faces and one that was very new! Alvin Lloyd and the crew at Grand Prix Audio told me at last years show that a radical new turntable was in the works and that it would also bear the Monaco designation. It was said to be radically different from any existing table, including a speed accuracy of within 0.002%. Well analog fans, it has arrived!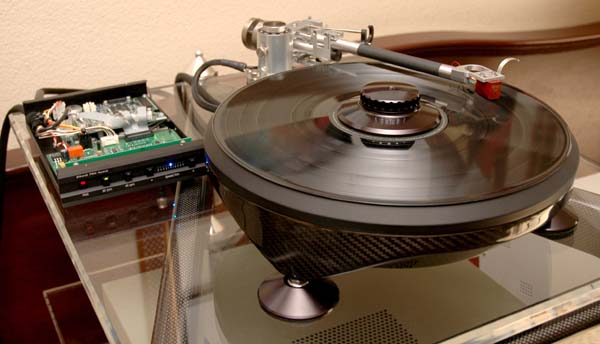 Grand Prix Audio introduced the stunning looking Monaco turntable with an active feedback speed control, carbon fiber plinth, floating platter, DC motor, phosphor bronze bearing and internal flywheel.
Speed control is managed by a CPU utilizing a Digital Signal Processor that interrogates and maintains the speed of the platter thousands of times each revolution. This ensures frequency accuracy and distortion free playback that is said to simply not possible with conventional types of drive systems. A highly accurate test procedure has demonstrated the speed error to be an extremely low 0.002%! Speed accuracy equals frequency accuracy, which means there is virtually no distortion on playback.
The magnesium platter and phosphor bronze flywheel are supported in a fully immersed bearing system that provides a pressurized film of oil to suspend and dampen in the horizontal plane. Rotation is supplied by a low voltage brushless custom sourced DC motor.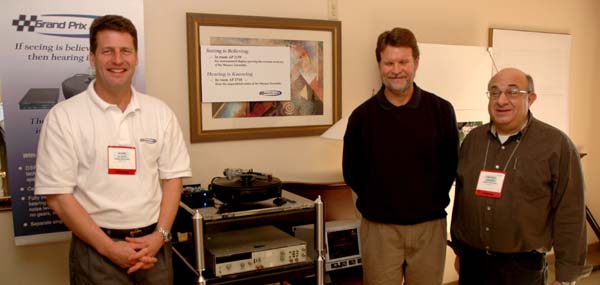 Grand Prix Audio presidentAlvin Lloyd, David Bruns (mechanical engineer) and Vincent Capizzo (mechanical engineer) with the dramatic new Monaco Turntable.
A high pressure high temperature cured composite carbon fiber structure is used for the turntable plinth. This material allows design of hollow organic shapes with compound curves and varying thicknesses to give a carbon fiber structure superior to any other for rigidity and damping with unparalleled elegance in form. When you add internal polymer damping the performance of this plinth is said to be unrivaled in its vibration management and rigidity.
The innovative and unique bearing and drive system achieves ultra low noise levels. There is no mechanical contact in the horizontal plane as the platter is suspended in a fully immersed pressurized film of oil. Power is supplied through the magnetic field produced by the brushless DC motor maintaining the no mechanical contact principle. No seals, no belts, no gears, no contact!
The vertical position of the platter is fixed by a uniquely designed rigid single point contact thrust bearing. This bearing is separate from the Oil Suspension platter bearing. This state of the art ceramic bearing is fully immersed in oil. And, it looks cool too.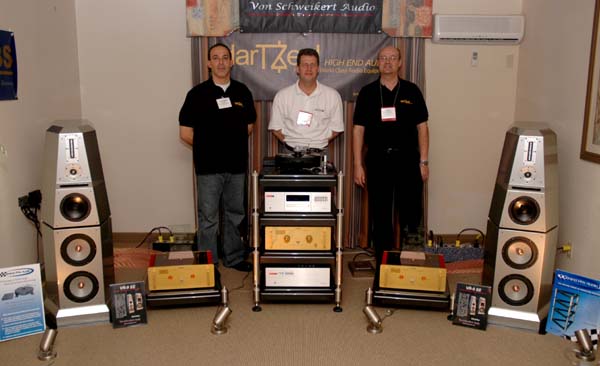 Blue Light Audio's Jonathan Tinn, Grand Prix Audio president Alvin Lloyd, and darTZeel designer Hervé Delétraz stand behind one of the most impressive music systems at this year's event.
Jonathan Tinn's Blue Light Audio room featured a pair of the extraordinary $60,000 Von Schweikert Audio VR-9SEs, each vertically biamped with the $18,181 darTZeel NHB-108 amplifiers. DarTZeel also was showing their similarly styled and gorgeous sounding NHB-18NS preamp. Sourcing was provided by either the world-class EMM Labs CDSD and DAC6e SACD/CD or the Monaco Turntable. This room was just plain musical and completely captivating. There is something remarkably synergistic about this combination of components, as anyone who has heard them will tell you.
Though the photos of the Monaco are of the static display, I got to hear the Monaco in action at the Blue Light Audio room described above. Fitted with the Tri-Planar arm and $4250 Dynavector XV-1S cart, its world audition was, in a word, superb. My listening was early on Friday, and though there was a bit of splashiness to the overall sound, the utter tonal and pitch confidence this table exuded was breathtaking. Honestly, the splash may have been a by-product of any of the following factors; VTA, the lack of platter mat or cartridge newness. Further conversation with Alvin revealed that they had not settled on a choice of platter mat. At $15,999, this is not a table for the masses, but it just might be the one to set the bar for the future.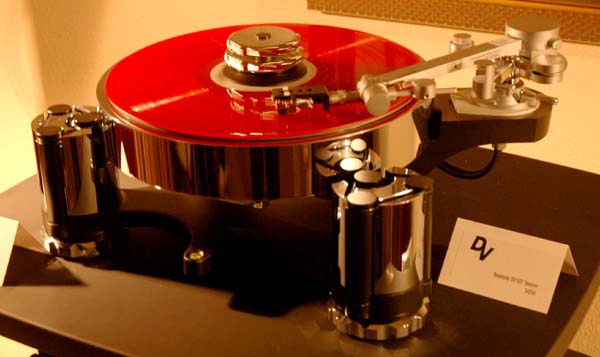 The Avid Reference Acutus Table, way-cool looking (and sounding) Dynavector DV507 arm, fitted with the Clearaudio Titanium cart.
The Mobile Fidelity/Music Direct room was a treat, and I had the added pleasure of running into my old pal Jim Saxon there. Delightful music was made with either the $18,000 Avid Reference Acutus Table, $4250 Dynavector DV507 arm, and $6000 Clearaudio Titanium cart, or the $13000 Esoteric UX-1 UDP, feeding a $3000 hybrid Valve Predator 200 Wpc integrated, through AudioQuest and Shunyata Research cables to the gorgeous and affordable $2300 Mobile Fidelity OML-2s in Rosewood. The point that was being successfully made in this room was that a more real-world priced integrated amp and speakers could afford sonic justice to such pricey sources. Point, set and match; a hearty well done.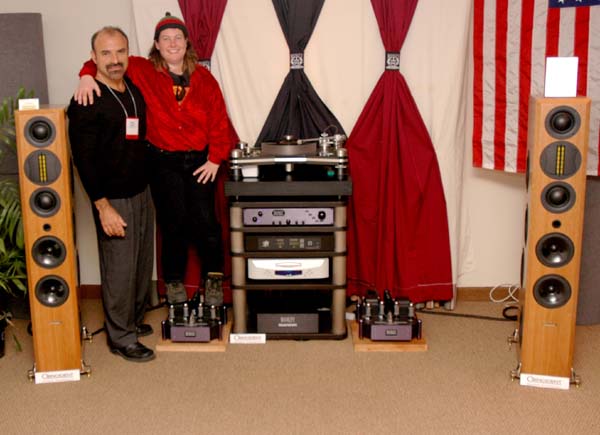 Standing beside the new Coincident Total Victory II, Israel Blume steadies EveAnna Manley as she stands on the Snapper amplifier
It isn't a show without hanging out with Israel Blume and EveAnna Manley. These two, besides always playing good music, know how to have FUN! This year, the updated $13,000 Coincident Total Victory II was anchoring the all-Manley electronics for one hell of a good presentation. Fronted by the (approximately) $2000 Lyra Helicon on the $10,000 VPI HR-X, which includes the JMW 12.6 arm, which in turn fed the $7300 Steelhead or the $14,800 Audio Aero Prestige, the reasonably priced $4250 Snappers delivered some remarkably sincere music. I have to say that, in my opinion, the version II significantly bests the original Total Victory from years past. Bass definition and punch was significantly improved over my memory of previous Total Victory auditions. They exhibited a newfound coherence and confidence. It is easy to understand how this iteration landed on Harry Pearson's short list.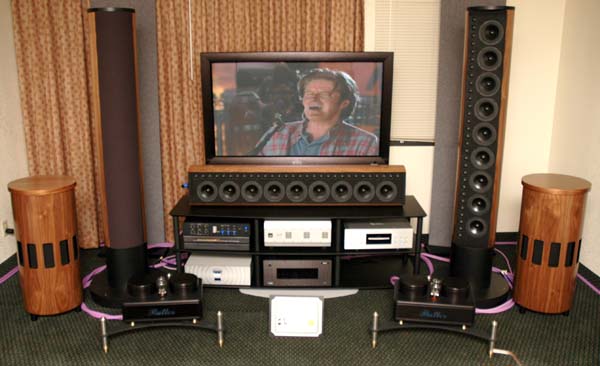 The $16,000 Pipe Dreams 930 System loudspeakers driven by BK Butler's $18,995/pr. 100 watt unique 300B based Monads, all hitched up with Brad Vojtech's Revelation Audio Cables.
I was very taken with BK Butler's $18,995/pr. Monad mono amplifiers that I encountered in a number of rooms this year. The Monad is a 100 watt mono based around a unique 300B application. According to my conversation with BK, more than 25 years of designing vacuum tube related musical equipment have resulted in the Monad. Designed from the ground up, the MONAD embodies a unique Class-A version of BK's patented Tube Driver BLUE Thermionic technology. This circuit design is specially tailored to extract the ultimate in thermionic performance from the highly regarded family of 300B vacuum tubes; deep, rich musical textures with transparency, detail, liquidity and a relaxing naturalness, combined with power delivery, authority and control.
BK suggests that you may never have to replace the tube or concern yourself over such things as microphonics, which speaker to use because of power output limitations, endless adjustments and maintenance to maintain maximum performance, warm-up time restrictions, high heat generation limiting equipment positioning or any of the other nearly endless weaknesses inherent in all other tube amplifier designs.
The first thing you notice when in the presence of the Monad is that the 300B is NOT glowing like a lamp. Its unique circuitry coupled to an equally incredible one-of-a-kind power supply with more than 2 Farads (that's over 2 million µF) of filter capacitance, effectively creates a storage battery for the Class-A output stage. Power supply sag and the need for outboard line filtering are said to be virtually eliminated.
It looks cool too! Housed in a chassis that is constructed entirely from billet aluminum requiring hundreds of hours of machining to achieve its finish, it provides incredible structural rigidity and an inherent immunity from stray RF. Ultra high quality Cardas and Neutrik connectors are used exclusively. Mechanical grounding is exceptional as the chassis's custom feet are made for Butler Audio and arranged in a triangulated format and act as vibration isolators. And get this; there are NO visible screws on the outside of the main chassis!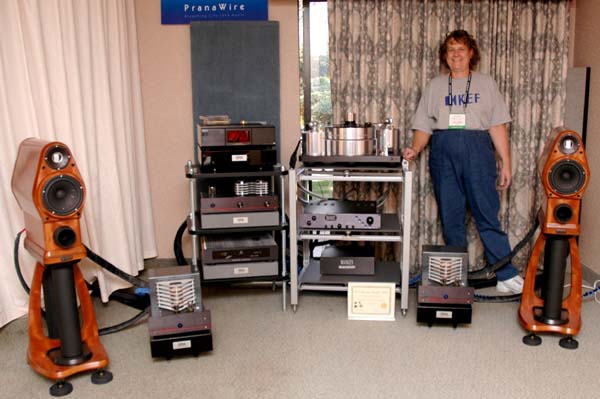 Kara Chaffee stands behind one of the $9950/pr. deHavilland Electric Amplifier Company Aries GM-70 monoblocks.
Peter Clark's $16,000 Redpoint Audio Design Series "D" Table, the $9000 Ikeda IT405 12" arm (with Ortofon SPU Royal GM cart), or the $9000 Ikeda IT345 9" arm (with Ikeda 9C3 cart) demodulated LPs while a $3450 Sony SCD777ES was used as a transport to the $3750 Metronome C20 DAC, which featured the deHavilland tube output stage, which handled ones and zeros. The Mercury 2 preamp (currently in-house for review) handled the switching and fed the $9950/pr. Aries GM-70 monoblocks (also currently in-house for review), while all cabling was provided by Joe Cohen's remarkable PranaWire (review looming) or the Acrolink cables he imports. Speakers ended up being the $6995 Sound Fusion Luna's. As usual, the sound achieved in this room was highly engaging and relaxing, making it very hard to move on. George and Kara manage to pull it off every year.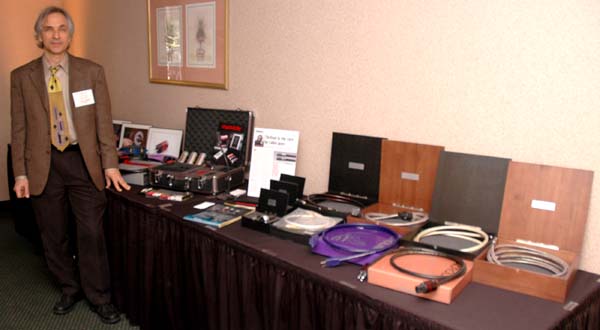 Joe Cohen standing beside a display of the Acrolink and Oyaide products he is now importing
Besides making one of, if not the, finest sounding cables in the PranaWire Cosmos, Joe has recently become the US importer of the Acrolink and Oyaide products which have been causing such a stir. The Acrolink power cables have really hit home with several reviewers, and a number of manufacturers, like Alan Kafton of World Power, have refined their already remarkable products through employing some of these noteworthy connectors.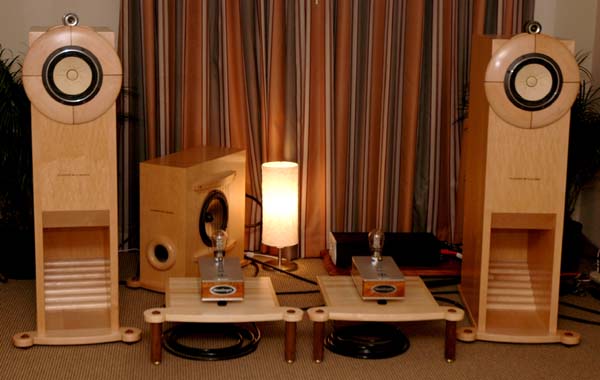 Gordon Rankin's Wavelength gear and Terry Cain's Cain & Cain speakers have an undeniable musical synergy. And, they just look soooooo cool
My friend and Stealth Cable designer extraordinaire, Serguei Timachev, managed to field one of the more musical systems this year. That cool looking table in the foreground is the $7900 Sound Engineering SE-1, and it sports a $6200 DaVinci arm and another Dynavector XV-1S cart. The phono stage was from Tom Evans, the $4000 Grove, as was the $8600 Vibe preamp with Pulse power supply combo and the $8500 25 watt Linear A Super Hybrid amp.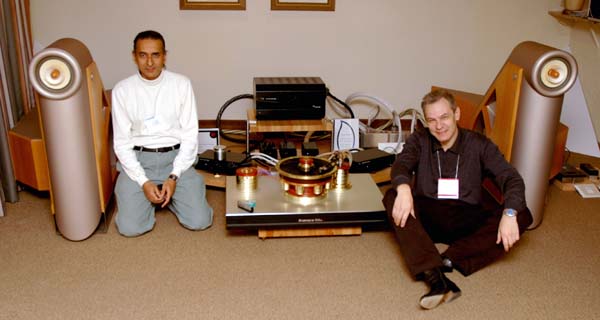 Jacob George kneels left and Serguei Timachev sits right in front of a truly musical experience
Speakers were the $7500 Rethm 2+ with the large $2000 Bass Extension wings. Cabling was all Stealth, and included the fabulous Indra and new Metacarbon signal cables, and Dream power cords. Alan Kafton's remarkable World Power PowerWing provided conditioning. This room had some serious magic going on. And, Serguei is one of the most interesting people you can run into at a show. I am happy to say that it was my extreme honor and sincere pleasure to be joined by Serguei in several post-show hour outings. My thanks!
The folks from Audio Research usually manage to put together an enjoyable room, and this year was no exception. In fact, this year's result was far better than I can recall in recent history.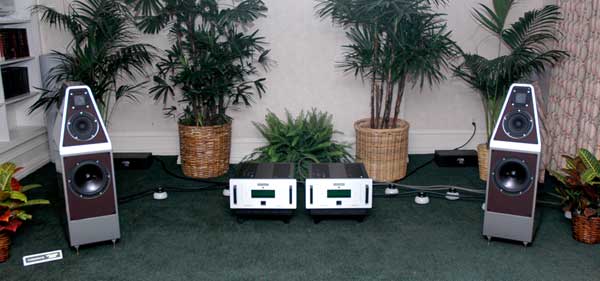 All AR electronics feeding the Wilson Sophia's sounded very, very engaging.
Analog playback was provided by the $5499 VPI Super Scoutmaster Signature and yet another Dynavector XV-1S cart. The analog signal was passed to the $5995 AR PH7 Phono Stage. The digital front end was the $8995 AR REF CD7. The $9995 AR Reference 3 Linestage sent either source signal on to the $19,990/pr. AR Reference 210 monos, which in turn handed over to the $13990 Wilson Audio Sophia Series 2 loudspeakers. Cabling was provided by Shunyata Research, Cardas and Richard Gray's Power Company, while conditioning was handled by the Richard Gray Power Company devices.
This year the sound was immediate and highly involving, with the overall presentation sounding much more engaging than I recall from last year. All in all, this was the finest showing I've ever heard at a show from AR gear, and truly an enjoyable visit. A tip of my hat to the many fine folks at Audio Research.

VSA teamed the newly introduced VR-7SE with VAC electronics and Oracle sources again this year with very rewarding results.
The newly introduced $36,000 VR-7SE, very closely approximating a VR-9SE, sans the amplification, the rear mounted tweeter and subwoofer, and sporting a smaller super-tweeter, was a spectacular success. Using Oracle sources through all VAC electronics and Verbatim cables, the result in this room was big, bold, dynamic, detailed and resolute. Defiantly a fun room.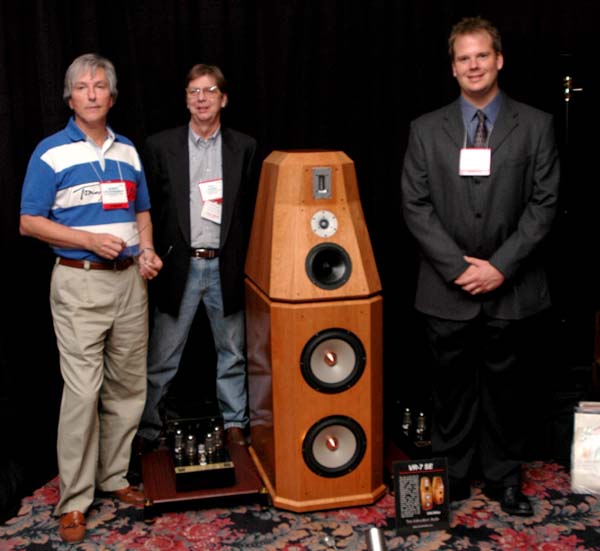 Albert Von Schweikert, Paul Garner, of Verbatim Cable, and Kevin Malmgren up close and personal with the VR-7SE
Once again, the VR-4SR played to happy crowds, this time using the new Solitone cables, which apparently utilize a new and supposedly unique metal alloy from this Hungarian manufacturer. Albert had some high praise for these new cables, and Attila Kosma, Solitone's US importer, has asked me to be the first reviewer to take a listen. I am still awaiting their arrival and will hopefully have more to report soon.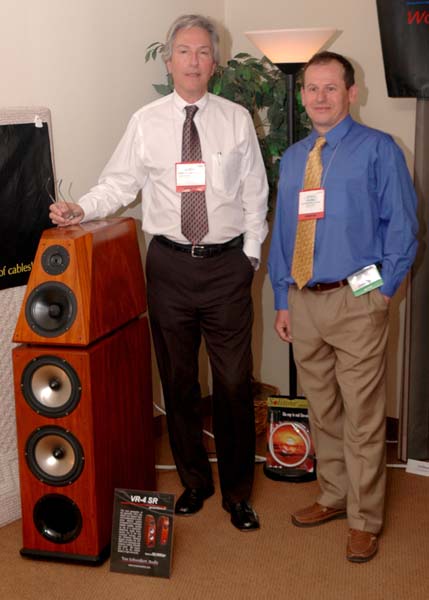 Albert Von Schweikert and Attila Kosma showing the VSA VR-4SR using the new Hungarian Solitone cables with their unique alloy.
VSA introduced a new series of speakers this year, the VSX line. The VSX-M25 has a 25" tall aluminum housing with two 5 Ľ" drivers and a 1" tweeter, and carries a list price of $650! Holding on to one of these new VSX-Ms is impressive, but not nearly as impressive as listening to them in a good home theater system.
Built to be able to easily and securely mount to the walls beside and above a monitor as well as at the rear locations, when mated with a $1496 VR-S/1 subwoofer, this system really grabs your attention! And at a full system price of $4745, including sub, it doesn't take an unreasonable bite out of your finances to do so.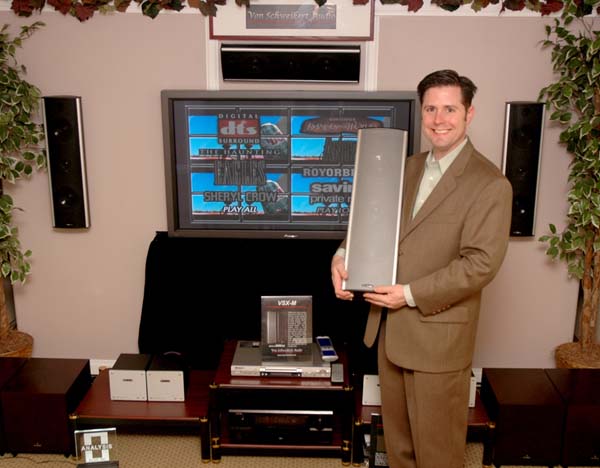 Damon Von Schweikert displays one of the new VSX series of speakers
My time in front of this video oriented audio system was pure joy. My good friend and mentor, Jim Merod, was also highly impressed by this unassuming and realistically priced system that delivered the sonic goods well above and beyond its price would lead one to expect. I am hopeful that I may get this entire system to review sometime this year. If you have a dealer nearby, take advantage of a demo. You will likely ante up to take them home, they are that persuasive.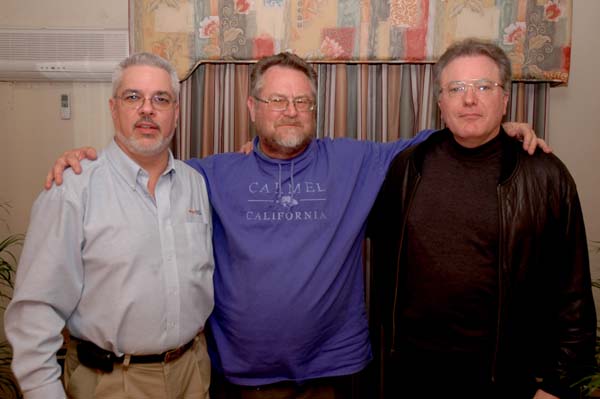 Yes, that is me hanging with audio buddies Blueport's Jim Merod and McCormack Audio and SMc Audio's Steve McCormack
Speaking of Jim Merod, I have to second David Robinson's apropos comment in his report this year about the people of CES To me, unquestionably one of the highlights of the audio industry's annual Mecca to Sin City is the time I get to spend with some wonderful people. It is the one time a year that I get to spend time face to face with folks whom I respect and admire from afar all year. Good music, good food, good single malt, good conversation and good friends. What else is there, really?
I had to stop in to present my 2005 Writers Choice Award for the adeptResponse power conditioner to the fine folks from Audience. I was saddened to learn that designer Richard Smith would not be attending this year's event. Regardless, Audience president John McDonald and electrical engineer Roger Sheker were on hand to receive the accolade and show me what they had up their sleeves.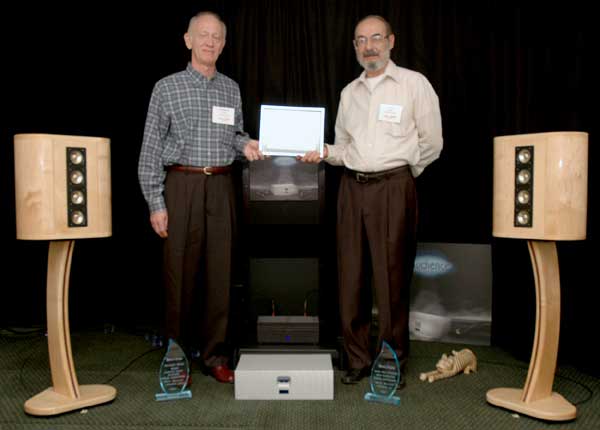 John McDonald and Roger Sheker stand between new Audience prototype speakers to accept their PFO Writers Choice Award for the remarkable adeptResponse power conditioner at their feet
Planned as an eventual 16 or even 24 driver-per-side line source, the 4 driver-per-side prototype Bandor based line-array was an impressive start. Running full range with no crossover the approximately $6500 proto's deliver from 70Hz to 22kHz, with the $7500 Audience designed 2000 watt sealed subwoofer (unnamed) filling in the bottom two octaves. In their gorgeous Maple finish, with matching Maple stands, the sound was detailed and extremely coherent. I'll be curious to see what Audience ends up with when they bring the as yet unnamed final product to market.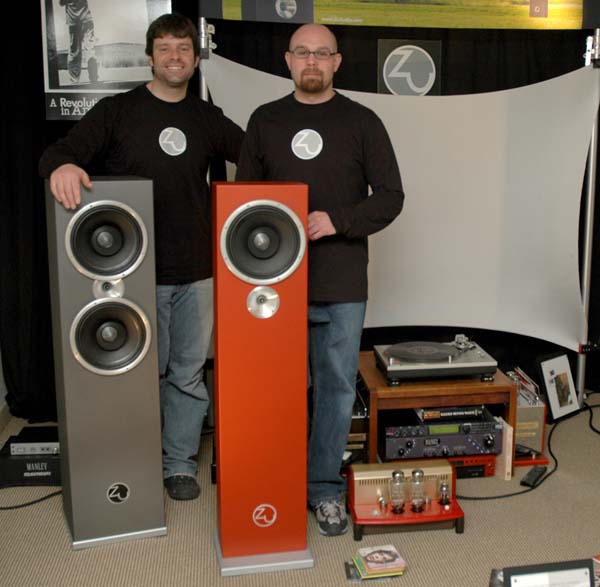 Sean Casey and Adam Decaria of Zu Audio with the $9000 Definition mk 1.5 and $2800 Druid mk 4
Now here is a company that really gets it: Zu. Besides making their own cables and speakers, they know how to have fun and enjoy music. After spending some time chatting with Sean Casey, it was apparent that the music comes first with this company. And musical was the term that best sums up my experiences in this room. Though not new, having been founded by Sean and Adam Decaria in the fall of 2000, they were a new find to this music lover. I daresay that if you haven't heard or heard of them yet that their dedication, originality, enthusiasm and love of music will win you over when you do.
The pervasiveness of the ModWright linestage simply further assured that I would have plenty to talk about with Dan Wright, who was exhibiting, as usual, with another audio pal, Dusty Vawter of Channel Islands Audio. Their room was sure to be a hit.
When you ask yourself why the ModWright linestage was so highly represented this year, you need only listen to it to understand. Shy of that, consider all this. Dan voiced the unit to offer a full, fast and accurate recreation of the entire frequency range. Bass is deep, tight and authoritative and high frequencies sparkle. The tonal balanced is designed to be accurate and detailed without edge or glare. The liquidity and holographic imaging of tubes is present, without the 'soft' or 'syrupy' sound often attributed to tube designs. Use of the very linear 5687 tube and pure Class A circuitry allow for low distortion and exceptionally low noise.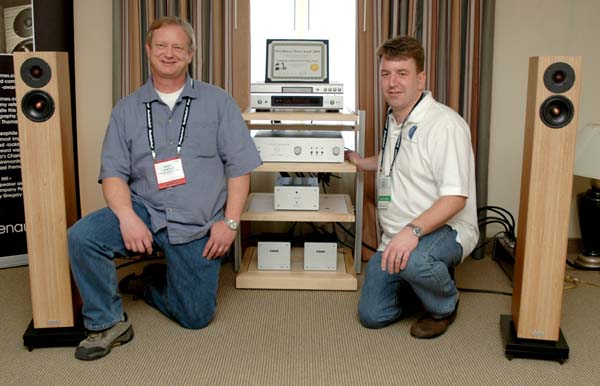 Dusty Vawter, of Channel Islands Audio, and Dan Wright, of ModWright Instruments
And parts quality is top shelf throughout. The SWL 9.0SE employs FRED and Schottky diodes, metal film Vishay resistors, ceramic tube sockets and high-quality film caps in signal path applications. Alan Kimmel consulted during the design process and is credited with the design of the fixed battery bias, 'Mu' type gain/buffer stage circuit used. It is choke input current regulated, with regulated DC heaters, and discrete FET regulated B+ voltages.
What's more, the unit offers remote volume control, via a motorized Alps volume potentiometer, and mute. It even has an auto mute-on delay turn-on sequence at start up. As if that weren't enough, it carries a retail price of just $2200.
And have you wondered what ever happened to the models 1.0 through 8.0? Don't. They didn't exist. Dan named the device after his first child, Spencer Wright, who came into this world weighing 9 pounds, 0 ounces. Voici, the Spencer Wright Linestage 9.0, most certainly a Special Edition.
The system in the shared ModWright Instruments/Channel Islands Audio room was fronted by the $3995 ModWright modified Denon 3910, employed the omni-present ModWright SWL 9.0SE, which handed off to Dusty's superlative D●200 monos to drive the $9000 Penaudio Serenades. Sound in this room was relaxed yet full of vibrancy and detail.
Dusty was also showing the new Channel Islands Audio DAC, the $599 VDA•2. It uses a mild "slow roll-off" digital filter to tame the sampling noise, and no analog filtering. This architecture helps reduced filtering artifacts compared to brick-wall types, and has lower sampling noise than the filterless designs, resulting in what many find to be a more "analog" type sound.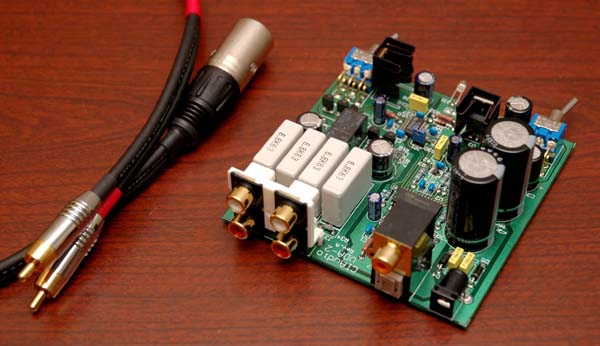 Under the hood of the Channel Islands Audio VDA●2 and the VRX●1 cables

Digital input signals are accepted by Toslink optical or coaxial SPDIF, then fed to the CS8416 24 bit/192k low jitter input receiver, then to the Burr Brown PCM1794 balanced/current output DAC. The output stage is fully discrete and uses a single transistor per output (no op amps) to insure the purity of the output signal. Input selection and digital domain phase are selected by convenient front panel switches, and an LED indicates "LOCK" when a valid signal is being received. The output arrangement allows for 2 pair of single-ended connections or a single pair of balanced outputs, using the optional VRX•1 cable pair. An external 14vAC power supply is included. I'm looking to have one in for review sometime this year.
Several rooms really stood out for me this year, and one of the first to catch me completely off guard was Robert Lee's Acoustic Zen room. I knew Robert was designing speakers years ago, long before he started producing cables, but I had grown so accustomed to his remarkable cable work, and I honestly had no idea he was introducing a new product, the Acoustic Zen Adagio.
The $3500 Resolution Audio Opus 21 with the $1500 Great Northern Sound Company mods handed off to one more ModWright SWL 9.0 SE linestage, which in turn fed the $5995/pr. ICE based Red Dragon Audio "Leviathan" class D mono-block amplifiers, all connected with Robert's Acoustic Zen cables. But the Adagio's absolutely blew me away. Manufacturers' Rep Frank Kraus and "independent" speaker fabricator John Tabernacki, as well as Robert, got to see me totally flabbergasted!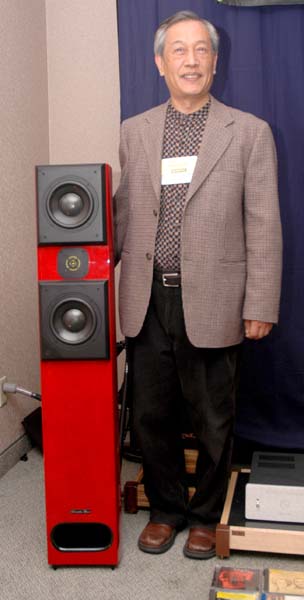 Cable Maestro Robert Lee standing beside his new creation, the Acoustic Zen Adagio
The whole system, including cables, was well under $30000. After listening for a very short time, the detail, timbre and extension exhibited by the Adagio's had me assuming that they were in the $6500-$7000 range. When Robert and Frank clued me into the $3700 price, my jaw hit the floor.
The Adagio is a two way transmission line design using 2 6 ˝" doped ceramic coated fabric cones, a 2 ˝" under-hung (short voice coil/long magnetic gap) voice coil linear motor system employing shielded Neodymium magnets. The tweeter is a 1 5/8" round ribbon, modified by Robert. Using a Linkwitz/Riley 18 dB per octave crossover, the speaker has a power handling of 50 to 200 watts and covers the 30Hz to 30kHz range. Standing 48" tall and weighing in at 78 pounds, the gorgeous red figured Maple won me over in no time flat. The performance was exceptional and my Adagio's are running in as I type this. Look for a full review soon.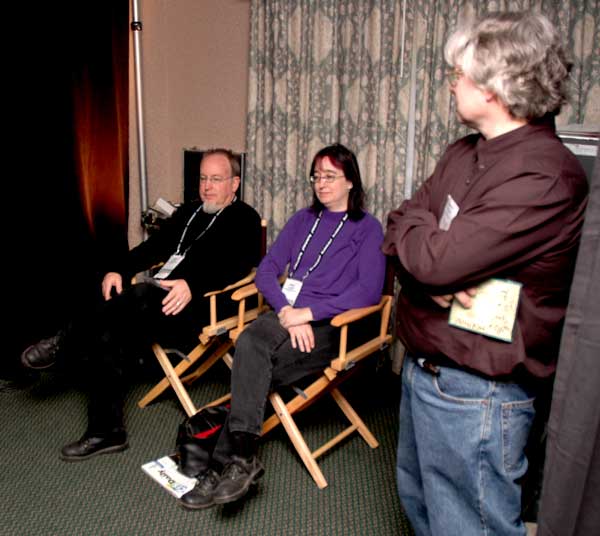 Photographic evidence that reviewers actually listen to music while covering shows. Here, Dave and Carol Clark sit listening to the Studio Electric/Electordyne system as David MacPherson looks on
As a newcomer to C.E.S., David MacPherson brought something extraordinarily special to this years show. When I first laid eyes upon his $7950/pr. Studio Electric Model One speakers, my impression was that of Buck Rogers going deep sea diving. The Model Ones cabinets are fabricated for David by none other than Electron Luv's Josh Stippich. Long receding cones housing the dome tweeters mounted atop the chromed 8 gauge stainless spheres which accommodate the 8" woofers combined to make these some of the most striking looking speakers at this year's event.
The art deco looking Model One's perched atop stands that were more than mere stands; they were the $3750/pr. XLR-8 ebony finished integral DSP integrated subwoofers. Though optional, their operation range was given as 20Hz to 65Hz, but they did add both musically significant spatial information and authority to the music when engaged.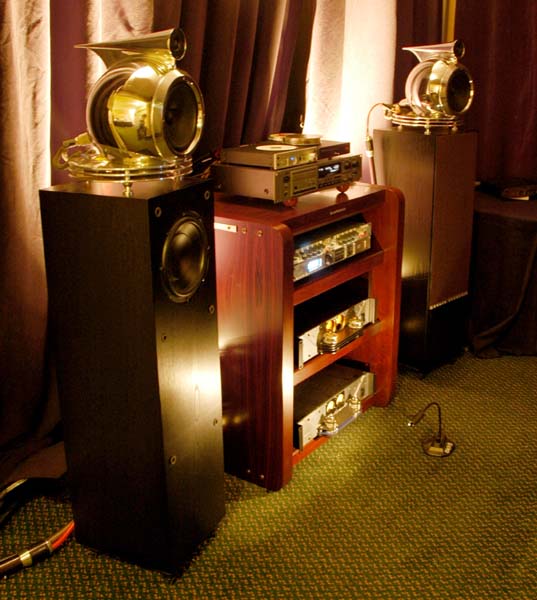 Buck Rogers goes deep sea diving; the Studio Electric Model One, XLR-8 DSP integrated subwoofers and the Electrodyne Amplifier
This extraordinary looking transducer system was driven by David's $6950 hybrid dual mono Electrodyne amplifiers which feature either NOS Siemens or Telefunken E88CC tubes in the first gain stage. Dual mono high output MOSFET power modules provide 275 watts per channel into an 8 ohm load, and over 350 watts into the Studio Electric Type Ones.
While many would be quick to point out that the Model One's/XLR-8/Electrodyne combination was not the most accurate system at this year's event, this remarkable looking and sounding system offered considerably more character and heart than most others. David spent time as a recording engineer and had some recordings he had made of the Utah Symphony Orchestra on hand. Sourced through his own Sony professional transport and Benchmark DAC-1, the music absolutely conquered the room like a command performance. I sat rapt for well over three quarters of an hour as David played his own recordings of Rachmaninoff, Beethoven, and Brahms. My time in front of this special system was one of the most enjoyable listening experiences I had during the entire 2006 event, and in fact, at any show in recent memory. My personal thanks to David.
Yet another room whose sheer musical truthfulness spoke to me, as well as to friends Jim Merod and Steve McCormack, was the SP Technology room. Using another ModWright treated Denon 3910 and SWL 9.0SE, this time pared with the Belles 350A amplifier, Revelation Audio Labs and Audience Au24 cables fed the $15,999 SP Technology Revelation MR-1.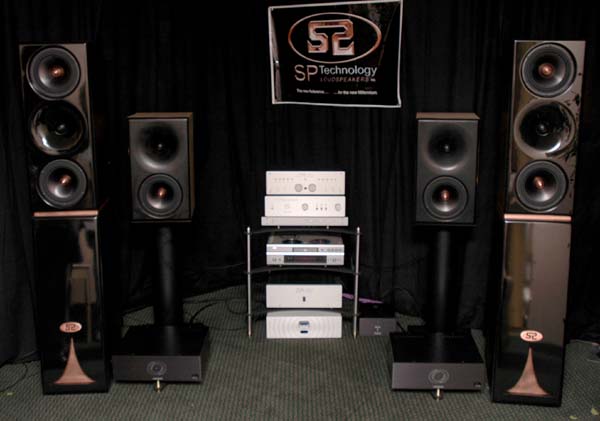 Musical truthfulness; The SP Technology Revelation MR-1
I was taken by both the utter naturalness and the engulfing detail of the sound in this room. Jim Merod, who is a known "speaker hater," was so moved by the reproduction of some of his own recordings as rendered on this system that tears welled in his eyes. This was one superb sounding room.
And, talking to SP Technology's president, Robert Smith, I learned that their home and manufacturing facility is in Kingsbury, Indiana, and a mere 60 miles from my home in Elkhart. Both a factory tour and a closer look at these products are on my schedule for later this year.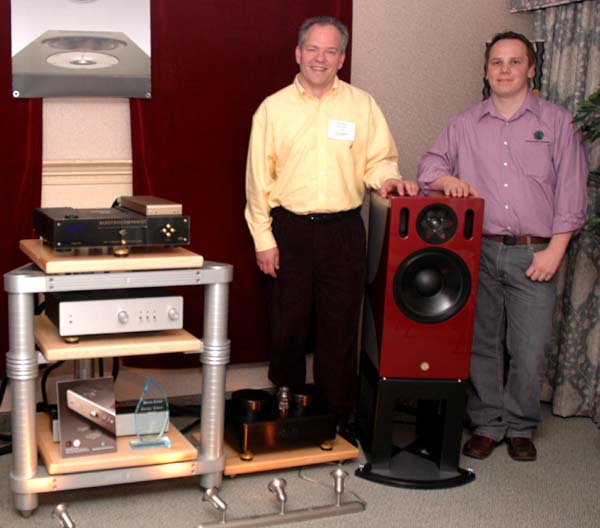 Tierry Budge and Matt Waldron flanking the breathtaking Escalante Designs Fremont
The final room that really got my attention was by Escalante Designs. Here, the $6000 Electrocompaniet EMC-1 sent ones and zeros to the $2700 Stax Talent DAC. Yet another ModWright SWL 9.0SE (this one with the Tung-Sol tube upgrade) handed off to the aforementioned delectable sounding $19,000 Butler Monad monos, and all cabling was from Shunyata. But where the rubber really hit the road in this room was with Tierry Budge's newest brainchild, the $14,999 Fremont.
There was something else that truly made this a standout room; Tierry Budge was the ONLY PERSON at this year's event to notice the absolute polarity of my recordings, let alone offer to adjust for it. I find it surprising and somewhat disheartening that no one else even bothered to question about it, let alone make the necessary adjustments. Suddenly, my expectations leapt.
Using the ScanSpeak Revelator and a pair of very specialized 12" drivers configured in a patented compound loading, this Mega Monitor completely turned my world upside down with its revealing pitch definition, uncanny speed, correctness of tone and overall resolve. In this BMW Indianapolis Red with brushed aluminum panel insets and custom stands, they were as visually arresting as they were aurally stunning.
I have a pair in my system right now and they are an enigma to me at this point. They have forced me to rethink many things I have known to be true about woofer design. The bloody things just shouldn't sound this good; at least, according to the physics I have known all my life. Yet the degree of clarity, tonal accuracy, dynamics, and pitch definition they afford throughout their operational range is nothing short of scary spectacular. I have NEVER heard piano's sound so reach-out-and-touch-it real.
According to designer Tierry Budge (Wilson, Talon and now Escalante Designs), most 12" drivers in the high end world have a response time of 5000 µS or slower (2500 µS for pro-sound drivers—which tend to sound a bit forward and "sharp."). This 12", in this patented loading, is said to have a rise time of 70 µS! In comparison, "High End" applications using 6.5" drivers typically have a rise time of between 1100 and 1500 µS (or worse, if the designer is not careful); the best 5.25" drivers are typically between 800-1000 µS. This means (as far as "clarity" goes) that this Escalante designed 12" driver can complete more than 11 inclusive excursion cycles while the fastest 5 Ľ"s can complete one!
However, even with that kind of speed, the cone itself can't really produce anything above 450 or 500Hz, or so. That's where the dust cap comes in. Tierry says he actually had to design it "from the ground up" because it was acting like an actual dome midrange! He had to design its shape, size, and composition (he uses 3 separate low-q materials, in an attempt to minimize any self-resonances). This dome naturally rolls-in at 500Hz and radiates "omni-directionally" quite well all the way up to about 3200Hz. Since the woofer is rolled off at 2500Hz (700Hz below where the dome begins beaming), the whole system images remarkable well. This "speed" not only helps remove what would normally be the whole radiation issue, but it keeps distortion way down, and increases believable output to an enormous degree.
More as I have it. A full review is in the works. And, if I can find a way to afford them, they will remain here as my new reference. Till next year, enjoy!