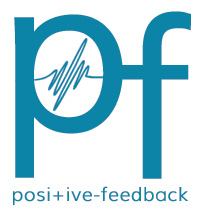 You are reading the older HTML site
Positive Feedback ISSUE 24

march/april
2006
Hail to the Equinox! Music to Bring 'er In.
Music Reviews by Bob Neill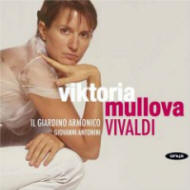 Vivaldi, Violin Concertos. Viktoria Mullova with Il Gardino Armonico. Onyx Records.
For those of you who share my belief that Viktoria Mullova is one of the reigning queens of the violin but who also wonder where she's been lately, this is where. She has become enamoured of baroque music and her gut strung 1723 Stradivarius and has joined up with one of the premier early music groups, Il Gardino Armonico. She has also created the Mullova Ensemble, and released a recording of Bach violin concertos and the Schubert Octet, both of which are very attractive. I'll probably get to both in a later review.
Do we need another period instrument violin virtuoso? Yes, apparently we do, especially one with the firm and masterful hand of Mullova. No bow happily hopping over the strings here. And no acidic Manze Medicine either. Instead the familiar command we know her for so well, delivering a marvelous blend of modern force and extraordinary baroque eloquence. Mullova'a sense of touch in this music is breathtaking. And those of you who know Il Gardino Armonico know what else to expect here: brisk tempos, crisp attacks, and virtuosic musicianship all around. Some releases, like some live performances, transcend their occasions, and this is one of those. No matter how much Vivaldi you have, if you love music you need this one as well. The program includes a blockbuster performance of the blockbuster Concerto for Four Violins and Cello from Opus 3, which by itself justifies this CD's existence.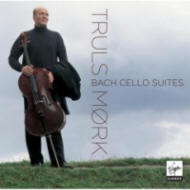 J.S. Bach, Suites for Cellos. Trulls Mørk, Virgin Classics.
We have all heard a great many cellists have their go at the Bach cello suites. Starker, Rostropovich, Haimowitz, Schiff, Casals, and Wispelwey I and II are the ones who sit on my shelf, each with something slightly different to make of this challengingly simple music. Enter Norwegian Truls Mørk, neither welcome nor anticipated with much hope here but highly recommended by friend and local classical DJ John Mantanari. And just a few phrases in, I'm had. What I hear is directness and apparent simplicity, a voice from the provinces, with no pretensions to urban sophistication, no need to make it new or different. There is a sense of rural freshness and energy, especially in the faster suites. And he is spell-binding. His tempos are neither fleet nor studied, his tone is rich and clear. Overall, this feels like private, meditative Bach, a descendent of St. Colombe playing for himself in his private music shed as Tous Les Matins du Monde gave him to us. This is truly great music-making which joins the elite performances of the Bach Suites with room to spare. Time to revisit the cellist's recording of Britten's cello suites!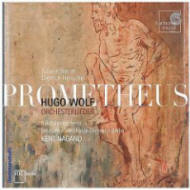 Hugo Wolf, Prometheus: Orchestral Lieder. German Symphony Orchestra of Berlin, Kent Nagano. Julianne Banse, soprano; Dietrich Henschel, baritone. Harmonia Mundi.
I don't expect it to raise much excitement around here when I say I have been discovering the lieder of late nineteenth century German composer Hugo Wolf lately. But it is still wintery up here in New England, will be for some time yet; and German lieder in front of the wood stove with snow outside is as good as Bordeaux wine in spring. Wolf writes more varied material than Schubert or Schumann, sometimes leaning toward operatic arias, sometimes even a hint of cabaret, along with the usual lyrical fare. The EMI reissue of his Italian Liederbuch with Fischer-Dieskau, Schwarzkopf, and pianist Gerald Moore is a fine place to meet his music. EMI is entirely justified in calling it one of 'the great recordings of the (twentieth) century.'
This month, on a bet, I tried a new release from Harmonia Mundi of Wolf's 'orchestraleider', lieder the composer arranged for voice and orchestra from his solo and piano lieder in response to a rising popular demand for this kind of thing. The result is a whole other musical world. Gone is the intimate lyrical power of solo voice and piano. Enter something that sometimes seems close to Mahler, whose orchestral songs are arguably his best music. Wolf's orchestral songs are considerably less ethereal and considerably more dramatic than Mahler's; but they are equally rich. Sometimes as their rapturous quality grows, we feel we're not far from Wagner and Richard Strauss. Because they are derived from lieder, Wolf's songs are also shorter: we are whisked from one rapturous scene to another every two or three minutes, something we notice less when the same music is performed by soloist and piano. Does presenting the music this way, all dressed up for larger occasions, sometimes leave us feeling shortchanged? Yes. And whether or not this comes out as a flaw the listener will have to decide. But while one of these songs is present, it is gloriously present. Rich, florid, short dramatic lyrics which feel pulled from longer narratives, full of late nineteenth century romanticism, occasionally in choral form, taking on operatic proportions and mood.
Three different sets of lieder are presented in this recording: the Morke Lieder, the Spanish Lieder Book, and the Goethe Lieder. Julianne Banse and Deitrich Henschel are not Fischer-Dieskau and Schwarzkopf, but they are very fine. If this musical period appeals to you, I urge you to give this program a try. I know of nothing quite like it and doubt you'll be disappointed.
Klassizische Moderne, Kammerorchesterbasel, Christopher Hogwood. Volumes 1-3. Arte Nova Classics.
Classical music critic and historian Richard Taruskin maintains that the hidden force behind the modern Early Music 'movement,' Christopher Hogwood in particular, is a taste for the lean, crisp aesthetic of modern neo-classicism—the music of Stravinsky, Bartok, Britten, Martinu, and their ilk. And lo and behold, here is early music pioneer Hogwood with three brilliant albums of modern neo-classicism, in which Emma Kirkby, his frequent early music soprano collaborator, appears singing Stravinsky's Three Songs from William Shakespeare and excerpts from The Rake's Progress!
I cannot recommend these three CDs enough—and they are on the budget label Arte Nova to boot. Stravinsky, Tippett, Malipiero, Britten, Matinu, Honegger, and Casilla—all played with brilliance, affection, and genius. Hogwood is a wonderful surprise in this music, if your taste runs, as mine often does, to the electric approach of Pierre Boulez. Hogwood plays it as Vaclav Neuman plays the symphonies of Martinu compared with the performance of a Jarvi, if that helps: with a light, incisive, ebullient hand, rather than the intense direction modernist music often attracts. It comes off more infectious than stern. This is the modern music that attempted to show us the way to 'make it new' without losing our connection to the rich history we had made during the previous 250 years. Like the writing of literary modernists Yeats and Eliot and the early modern painting of Matisse and Cezanne, it was soon succeeded by the mixed blessings of abstraction and post-modernism. It is wonderful to hear a new take on this wonderful music. Very highly recommended.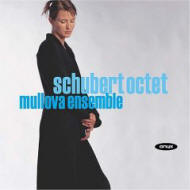 Schubert, Octet for clarinet, bassoon, horn, string quartet, and double bass. D. 803. Mullova Ensemble. Onyx Records.
Schubert's Octet is a monumental piece of music, just over an hour long. It—especially in the third movement—has the feel of the composer's symphonies, which to my ears are his most modest contribution to the musical canon. That said, played by as fine a ensemble as Victoria Mullova's new group, it can make a very strong case for itself. One of its most interesting qualities is its sometimes sounding like a wind ensemble, sometimes a string quartet, and sometimes the marriage of the two, which of course it is. In the fourth movement, Schubert lets its two voices talk to each other. Lyricism and piquancy alternating, overlapping, instrumental and emotional colors mixing in sometimes very moving ways. Every instrument is given its moment, though the clarinet is the leading character here and is never far off stage. In the minuet, the music almost literally breathes as it moves gradually through its first theme toward the second more conspicuously 3/4 rhythm, where in spirit it anticipates the Strausses, and then back to the first theme again, taking us to a brooding finale. Mullova's group gives us a uniquely hushed and melancholy view of this movement. An hour is a splendid amount of space for eight instruments to perform in; and in this recording, for the first time, I was happy to be around for the whole show. Mullova is having a wonderful 'second career.'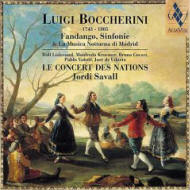 Boccherini, Quintets and Symphonies. Jordi Savall, Le Concert des Nations, Alia Vox Records.
There are some hard-liners who feel that the best Jordi is the old Jordi, he of the viol suites of Marais, Couperin, and St. Colombe in the long ago days of Astree vinyl. I enjoy the newer Jordi as well, he of the wonderfully idiosyncratic Beethoven's Third Symphony and Bach Orchestral Suites. And the newer still Jordi of Alia Vox, his own label now several years old, in which, as with the Beethoven and Bach, he has stepped back a bit and let his fellow musicians of the 'Concert of Nations,' as he calls them, take center stage, playing Lully, Biber, and many early Spanish composers.
His latest release is a lyrically joyful and robust presentation of Italian born but long time Spanish resident Luigi Boccherini. Boccherini is arguably the most natural, straightforward—and under-respected composer of late eighteenth century Europe, precisely because of these characteristics. He bored me in the early snobbish years of my music education; and now he delights me. To be fair to my early opinion, Boccherini can be played boring. And if you don't actually listen to him, he can also slip into the background and become elegant elevator music. His music does not thrive on complexity and surprise. It was not until I heard some musical life breathed into him by the Mosaique Quartet and Biondi's Europa Gallante that I began to get him. And Jordi's group is definitely in their spirit. What he brings to Boccherini is confidence is his excellence. His musicians are alert to what gives this music its natural life and so do not overplay it, inject artificial energy into it, as I have heard some do. And they bring out its Spanish qualities, as we might expect. Rolf Lislevand's guitar and José de Udaeta's castanets and essential to the performance.
This record includes two of the composer's great many quintets, many for quartet and guitar; and two of his symphonies which point the way to Haydn. A wonderfully musical program performed by some of Europe's finest musicians, led by one the very greatest.
System used for audition: Audio Note: CDT 2 II transport, Dac 4.1 Balanced Signature, M6 preamplifier, Neiro 2A3 monoblock amplifier, AN-E/SPx SE loudspeakers with Sogon, AN-Vx, and Spx cabling.
Bob Neill, in addition to being an occasional equipment and regular music reviewer for Positive- Feedback Online, is also proprietor of Amherst Audio in Amherst, Massachusetts, which sells equipment from Audio Note, Blue Circle, Manley Labs, and JM Reynaud, among others.