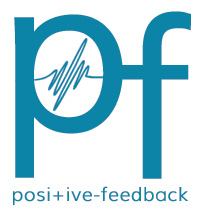 You are reading the older HTML site
Positive Feedback ISSUE 24

march/april
2006
Celebrating Sacred Rhythms
by Karl Lozier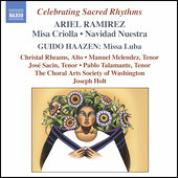 Ariel Ramirez, Misa Criolla, Navidad Nuestra/Guido Haazen, Missa Luba. Choral Arts Society of Washington, Joseph Holt, conductor (Naxos CD 8.5575420)
This new Naxos recording is entitled Celebrating Sacred Rhythms, but many people will find the title misleading. I, for one, was not prepared to hear castanets and hand drums in what I assumed was deeply serious religious music. The title is correct in stating that the music celebrates sacred rhythms, but the atmosphere of the recording is not solemn or overly "religious." The beautiful scoring of these pieces sometimes highlights rhythmic vitality, and at other times paints a relaxing backdrop to instantly attractive melodic passages. To say that I was pleasantly surprised by this recording is an understatement. I played it over and over again, and every playing made me appreciate it even more. This was particularly true of the Navidad Nuestra.
Both Ariel Ramirez compositions were written in 1964, and Ramirez is actually the only composer featured on this recording, since Missa Luba is an arrangement by Guido Haazen of Congolese melodies and rhythms. Haazen was a missionary in what is now called the Republic of Congo. He created a choral group, and for the Missa Luba adapted traditional Congolese music to the five movements of the traditional mass (Kyrie, Gloria, Credo, Sanctus, and Agnes Dei) with Latin text. All of the instruments in the Missa Luba are percussion. In the two Ramirez compositions, the instrumentation is far more varied, featuring violins, guitars, bass, and a couple of native instruments in addition to percussion. All instruments are used to fine effect. Ramirez is an experienced composer, with more than three hundred compositions to his credit, many of them for solo piano.
Misa Criolla has now sold over a million copies, in a release featuring well-known opera tenor Jose Carerras. This new—and truly outstanding–version deserves to add to its worldwide sales. Naxos' excellent sound quality is both relaxed and revealing at the same time. The perspective is near mid-hall, yet it is easy to pick out the positions of the different sections of the chorus. The clarity and detail may be due in part to the limited number of instrumentalists, but there is no hint of high-frequency distortion in the voices of the sopranos, which are notoriously difficult to record. Obviously, the problem is multiplied when recording a group of sopranos, but the sound quality here will satisfy any music lover. Though they may not impress audiophiles with feelable power, the drums sound beautifully natural and realistic, and it is easy to differentiate between hand, mallet, or soft mallet playing. The skin of hands slapping the skin of drumheads is clearly audible.
The Choral Arts Society of Washington is quite well known, and is usually comprised of two hundred singers. Here, their numbers were reduced to approximately fifty to better balance the small ensemble of musicians. In the Ramirez compositions, male and female singers are approximately equal in number. Three tenor soloists are featured—Manuel Melendez, Jose Sacin, and Pablo Talamante. In the Missa Luba, six sopranos are added and an equal number of male singers are dropped. The only soloist in this piece is alto Christal Rheams. The soloists in all three selections are cleanly and clearly recorded, with little added highlighting. I warmly recommend this recording to music lovers, particularly those who are searching for something new or different.