ROBERT H. LEVI'S SYSTEM
LOUDSPEAKERS
Avalon Eidolon and REL Stadium III subwoofer.
ELECTRONICS
E.A.R. 324 phono, Pass X1 preamplifier, and an E.A.R. 834L tube line stage. E.A.R. 890 and NuForce 9.02 amplifiers.
SOURCES
VPI Scout/JMW 9 tonearm, VPI SDS Controller, ZYX R100H phono cartridge. ModWright Sony 999 SACD/CD Player with Signature Truth, Mod/Bybee Filters and Revelation Cryo Silver Umbilical. Pioneer DVL 919 LD/DVD Player, and the E.A.R. Acute CD player. Magnum Dynalab MD-108 Reference Tuner, Marantz 10B tuner, and Scott 350B FM tuner, AQ 7500 FM Antenna, Stax 7t Electrostatic headphones, Grado Reference 1 headphones, and a Grado headphone amplifier.
CABLES
Harmonic Technology CyberLight interconnects, Kubala-Sosna Emotion interconnects, speaker cables, and AC cables, Dual-Connect Gold interconnects, Soundstring interconnects and speaker cables, or Kimber Select balanced, Kimber TAK phono AG, Kimber Hero balanced and single ended interconnects, Eichmann Express 6 Series 2 interconnects, and Acoustic Zen Silver Reference II balanced interconnects. Kimber D-60 Digital Interconnects. Kimber Select 3038 Silver speaker cables, Harmonic Technology Magic Reference Silver speaker cables. Dynamic Design THB Nebula Interconnects.
ACCESSORIES
Monster Reference 350 Mark II v2 Power Conditioner and World Power Power Wing, Kimber Palladian power cables, Tara RSC and Decade power cables, Tiff power cables, Tice power cables, Tice Clock, and Audio Prism Quiet Line IIs. Cable Cooker 2.5, Winds Stylus Pressure Gage, Bedini Ultra Clarifier, VPI Record Cleaning Machine 16.5, Soundstring Pro Power Cables, and Kimber Pro 10 Gold Power Cables.
Brand new from Japan, and the finest cable Iíve yet heard from those shores, is a joint venture of Mitsubishi and Acrolink: the Acrolink 7N-A2500 Mexcel interconnects. They are expensive ($3750 per meter with RCA terminations), but the good news is that they are well worth the money, with palpable imaging and mountains of definition. Made of ultra-pure copper in a quasi-Litz configuration and shielded to the max, they sound as smooth as a babyís bottom and as nuanced as anything Iíve heard in the exalted $2000-$4000-per-meter category. With a capacitance of only 127pF per meter, they yield super-lifelike imaging with a frequency response out to an astounding 18Ghz!
According to its website (www.lotusgroupusa.com), Acrolink is the sole producer of documented, stress-free, 7N (purer than 99.99999%) copper in the world. The conductor is formed into a fine ribbon (0.1 x 0.8mm), then insulated with a fine enamel coating in a Litz structure. Mitsubishi developed the MEDIS electro-deposited insulation system, which ensures a perfectly even coating around all the edges of the rectangular ribbon. The ribbons are then braided densely around a core that consists of polymer polyolefin elastomer. 7N-A2500 Mexcel has a balanced, two-core shielded cable structure, with the shielding layer also formed with braided 7N copper ribbons, of a larger size (1.88 x 0.122mm). Acrolink also created new RCA and XLR plugs to complement the quality of the cables.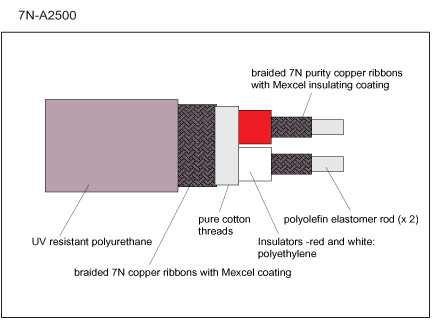 Though the 7N-A2500s were fully broken in when I got them, they had not been used for quite a while, so I ran them for 48 hours on the Cable Cooker and 24 hours in one of my systems before serious listening. I began by putting them between my EAR 834L preamp and Cary 300B SET amplifier. I had the Harmonic Technology Cyberlight interconnects with Battery Pack III power supply on hand for comparison, and the results were fascinating.
The two interconnects do not sound anything like each other. The Cyberlights were more vivid and dynamic, the Acrolinks more luscious, slightly more laid back, and a tad quieter, with blacker backgrounds. It was hard to declare a winner. I liked the somewhat superior bottom octave response and drive of the Cyberlights as well as their unabashed musical presentation, but the finesse and luxurious nature of the Acrolinks was beautiful. I listened to numerous SACDs and several FM tuners without being able to choose THE cables for the system. Both are amazing, both are musical, and both brought their own brand of sophistication to the music.
The definition of the Acrolinks was excellent to superb. Because the non-metal Cyberlights were more forward sounding, inner detail was just a bit clearer, but the Acrolinks sounded slightly more organic. I would place the Acrolinks just on the sweet side of absolute neutrality, but not by much. I loved their combination of marvelous, mellifluous presentation and super-high definition. By the way, I also loved their RCA connectors. They grab like the type that requires hand tightening, but you just push them on. Acrolink did their research here.
Next, I moved the Acrolinks into my main system, where they shared the outputs of my new CD player, the awesome E.A.R. Acute, with my reference Kabala-Sosna Emotion interconnects. To make sure that there was no interaction between the cables with both of them plugged into the player at the same time, I removed one pair while I listened to the other. Comparing the two cables was a stunning experience. After playing a world of discs, I could only conclude that the two cables sounded very nearly THE SAME. Keeping in mind that the Avalon Eidolons will easily reveal even the smallest variations, I heard close to no difference at all. Both are equally quiet and detailed, and both knock on the door of the state of the art. The only difference I can report is that the Acrolinks slightly rounded the edges of vocal sibilants and cymbal strikes. They slightly sweetened and smoothed Ts and Ss, sung by sopranos in particular. The Acrolinks were also a bit less dynamic than the Emotions. Thatís about it.
Quibbles? I have three. First, these are the stiffest interconnects Iíve yet encountered. They will be best used in racks with open backs and plenty of room. Second, they are not color-coded, and it is inconvenient to have to keep checking which channel is which when moving them around in cramped areas. Third, they are expensive. I want the best and am wiling to pay for it, so this is not a big problem for me. You may not care either.
The Acrolink 7N-A2500 interconnects are as convincing as any cables at their price. They have fabulous definition and sophisticated nuance. They sound consistently organic and real on honest recordings. They join some of the biggest names in the business with a credible assault on the highest of high-end performance. Made of the purest copper, they reveal the finest nuances and the biggest crescendos, entertaining the listener to the max. Though expensive, they deliver. Their construction is bullet proof and elegant. Their sound is organic and delicate, with jet-black backgrounds. Youíll have to spend nearly double their not-inconsequential price to significantly better their performance. Acrolink has a winner here! Robert H. Levi
The following is a list of my reference interconnects at different price points. The sound achieved in each price category is eclipsed by that achieved in the next higher category.
Jorma Prime
Harmonic Technology Cyberlight (with Battery Pack III)

Kubala-Sosna Emotion

Nordost Valhalla

Acrolink 7N-A2500 Mexcel

Dynamic Design THB Nebula

Silversmith Palladium
Dual-Connect Gold

Kimber Select Silver

Acoustic Zen Silver
Harmonic Technology Pro Silway III

Xindak Gold

Kimber Select Copper
Soundstring Pro

Eichmann Express 6 Series 2
Kimber Hero
Recordings used in the evaluation of these cables included:
Virgil Fox, Encores (RCA/BMG SACD 82867-71626-2)

Rinsky-Korsakov, Scheherazade, Reiner (RCA/BMG SACD 82876-66377-2)

Hillary Hahn, Bach Concertos (DG SACD 474-639-2)

Beethoven, Archduke Trio (Mirrored Nature SACD MNR 5003)

Tchaikovsky, Trio in A Minor Op. 50 (Mirrored Nature SACD MNR 5001)

Beethoven/Franck, Violin and Piano Sonatas (Mirrored Nature SACD MNR 5002)

Dvorak, Symphony 6, Davis, London Symphony Orchestra (LSO Live SACD LS00526)

Dvorak, Cello Concerto, Queyras, Prague Symphony (Harmonia Mundi SACD 801867)

Gene Harris, The Best of the Concord Years (Concord Records CD 4930-2)

Hovhaness, Symphony 22/Cello Concerto (Naxos CD 8.559158)

Jacintha, Hereís to Ben (Groove Note SACD 1001-3)

Chopin, Concertos 1 and 2, Rubinstein (RCA/BMG SACD 82876-67902-2)

Dvorak, Cello Concerto, Piatigorsky (RCA/BMG SACD 82876-66375-2)

Suppe, Overtures (Mercury SACD 470-638-2)

Hovhaness, Mysterious Mountain (Telarc SACD 60604)

The Absolute Sound SACD Sampler (Telarc SACD 60011)

Howard Hanson, Symphony 2 etc. (Telarc SACD 60649)

SuperBass2 (Telarc SACD 63483)

Orff, Carmina Burana (Telarc SACD 60575)

Diana Krall, Love Scenes (Impulse SACD 2841-35)

Duke Ellington, Blues in Orbit (Mobile Fidelity SACD 757)

Isomike Sampler (Kimber SACD 2005A)

Chick Corea, Rendezvous in NY (Stretch Records SACD 9041-2)

Saint-Saens, Piano Concertos Vol. 1 (Audite SACD 92.509)
Acrolink 7N-A2500 Mexcel interconnects
Retail: $3750 per meter
Acrolink
web address: www.lotusgroupusa.com
Manufacturer's Response
Acrojapan and The Lotus Group wish to thank Bob Levi for his thorough and insightful review of the Acrolink 7N-A2500 Mexcel Series Interconnect. The carbon fiber RCA connectors are in fact marked to distinguish them one from another: One is printed in gold ink and the other is printed in Silver. This may be easy to overlook as it is a subtle detail. We at the Lotus Group will be happy to provide red and black stick on arrows for those whose eyesight "ain't what it used to be".
Joe Cohen
Lotus Group