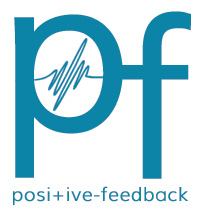 You are reading the older HTML site
Positive Feedback ISSUE 25
may/june
2006
2006 Audio Karma AKFest
by John Acton
The third annual Audio Karma AKFest, held in Detroit, Michigan on April 22 - 23, 2006, was unlike any other audio show I have experienced. Comprised largely of Audio Karma members and their personal audio systems, the show displayed a sense of community that was utterly refreshing. Yes, there were manufacturers, distributors and dealers present as well, but they seemed to zone in on the positive vibes and were warm and accommodating across the board—no pushy salesmen here. Everyone seemed content to chill out and listen to the tunes and enjoy the atmosphere of close-knit camaraderie. And did I mention the fantastic door prizes? From clothing to cables to equipment, there was a lot of great boodle given away to attendees.
I had a fantastic time meeting everyone and listening to all the great gear and music. I would like to thank all the dealers and manufacturers who came in from all over the world, and I would like to thank all the Audio Karma members who were so gracious and personable. Lastly, I would be remiss without thanking Dave "Grumpy" Goldstein, who (with help from his Audio Karma cats!) organized a truly terrific event.
I tried to make it to every room, but my time was limited, and a couple of rooms were closed when I tried to visit. I apologize in advance for anyone's room I might have missed.
So, with all that said, on to the show…
The first rooms I visited were those of McIntosh. The first room housed McIntosh's "real-world" systems. On static display was the new MA6300 integrated amp. Retailing for $3000, the MA6300 makes 100-wpc and includes a mono switch, full remote-control capability and a balanced input. A phono stage is standard. No tone controls are included, which is a departure for McIntosh. Also on static display was the MCD201 SACD/CD player. Retailing for $3300, the MCD201 includes a balanced output and a digitally controlled 140-step analog volume control for direct connection to a power amp. McIntosh states that the MCD201 is their best-selling product.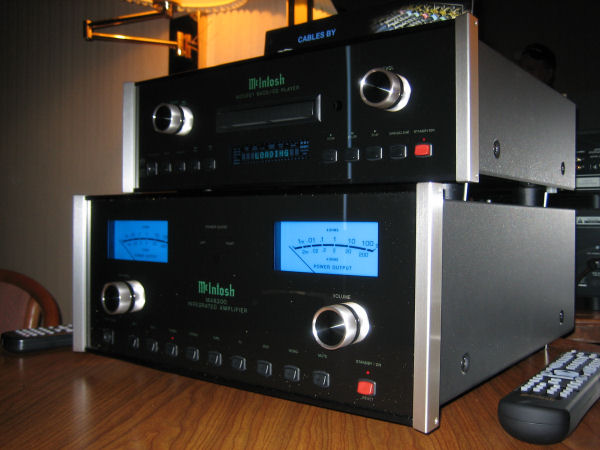 On active display was the new XLS-320 monitor loudspeaker. The XLS-320 contains a 6.5" bass/midrange driver and five 1" tweeters, the horizontal array of which is phase and amplitude optimized by the crossover for high power handling and point-source directivity. The XLS-320's cabinet is formed of solid aluminum for rigidity and eradication of resonant modes. The XLS-320 can be optimized for front-channel, center-channel or rear-channel use, and can even be wall-mounted or in-wall installed. McIntosh employed the XLS-320 in tandem with their XLS-112 subwoofer, also featuring a solid aluminum case. The XLS-320 retails for $4000 per pair, with the XLS-112 going for $3500. Driven by the MC252 250-wpc solid-state amp ($4300), MX119 solid-state surround preamp and DAC ($5900), MCD100 CD Transport ($7000), I thought the system sounded quite good, especially considering the placement limitations of the system and speakers. Soundstaging and imaging were excellent, and the system sounded large and effortless in spite of its small dimensions.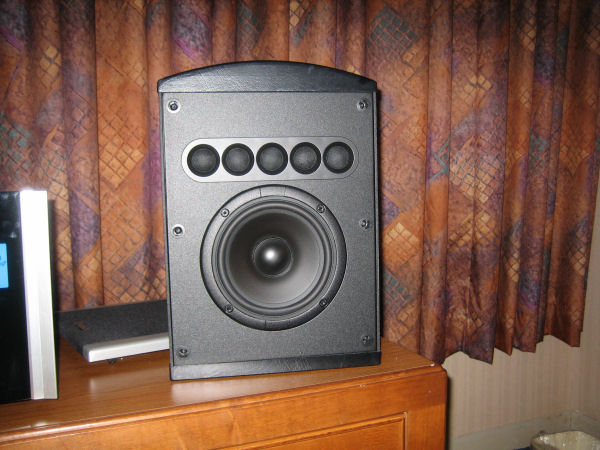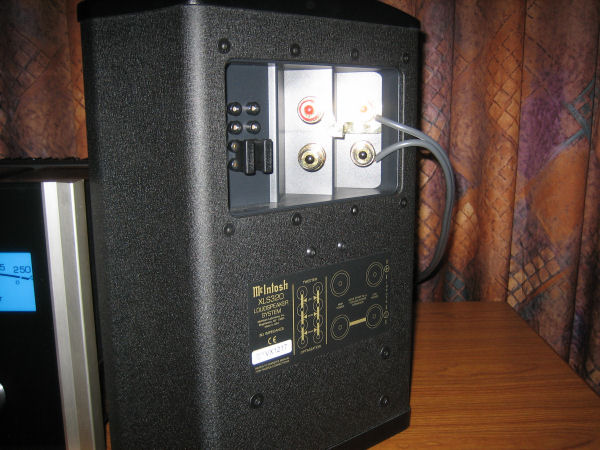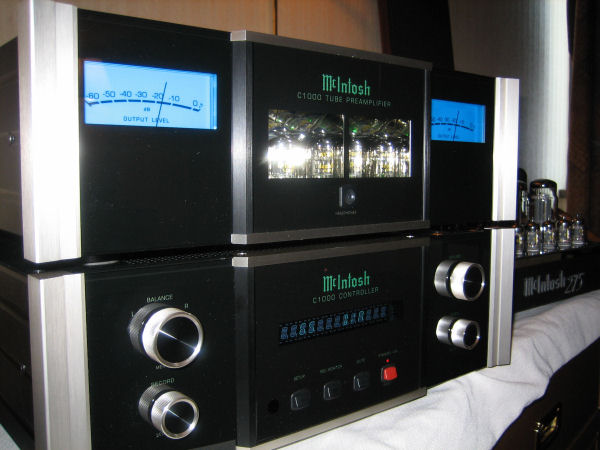 The second McIntosh room contained their no-holds-barred system, and let me tell ya, they weren't messing around. The MS300 music server ($5100) was paired with the MDA1000 DAC ($8000) on the front end. The two-chassis C1000 controller ($8000) and tube preamplifier ($9000) were next, followed by two MC275 tube amps ($3900 each), bridged to drive one channel apiece. Speakers were the XRT-28 ($19,000). Sonically, I thought the speakers were too big for the room, but I was impressed with the effortless dynamics and life-sized imaging. Although the volume was a little loud for the blues and rock numbers, I thought that the Joni Mitchell track sounded present and natural.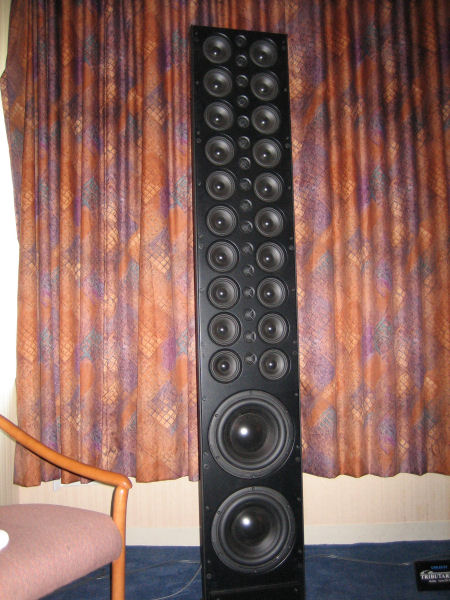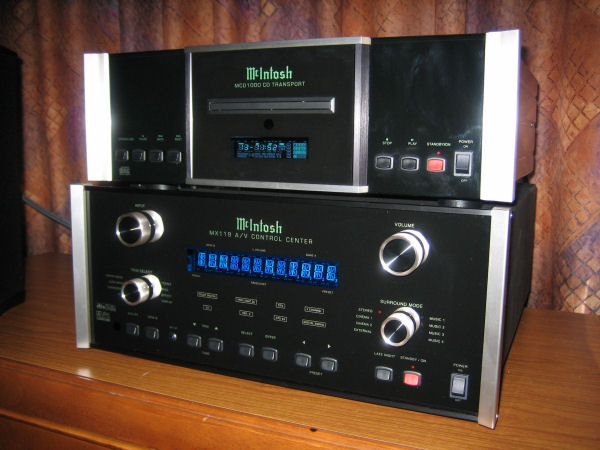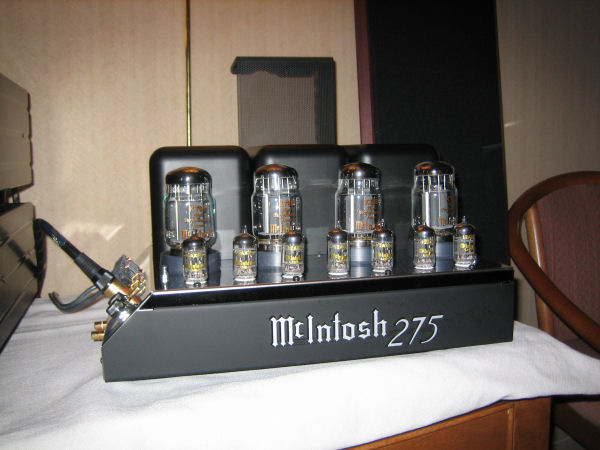 The third room I visited belonged to Audio Karma member Ski. Ski had two systems on demonstration, both consisting of modded vintage gear. The first system comprised a Pioneer SX-1010 receiver, totally rebuilt and modded, partnered with a Toshiba DVD player as source. The speakers were Dahlquist DQ-10s, modded to include Realistic ribbon tweeters. Playing Bob Marley, the system sounded quite good: warm, full, and relaxed. It was easy to sit back and just let the music wash over me.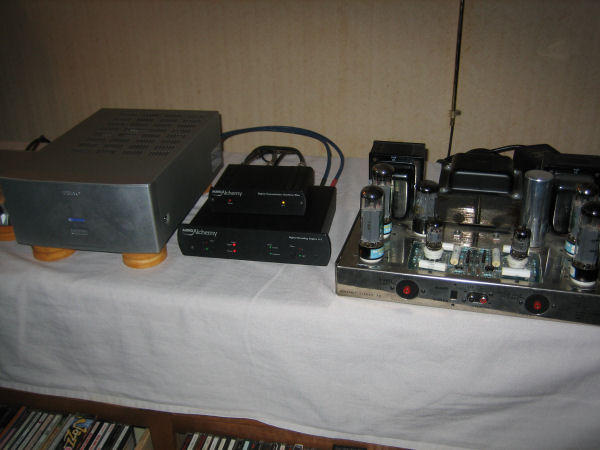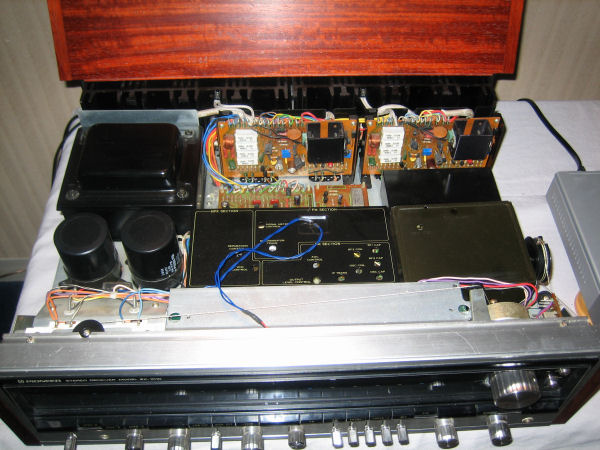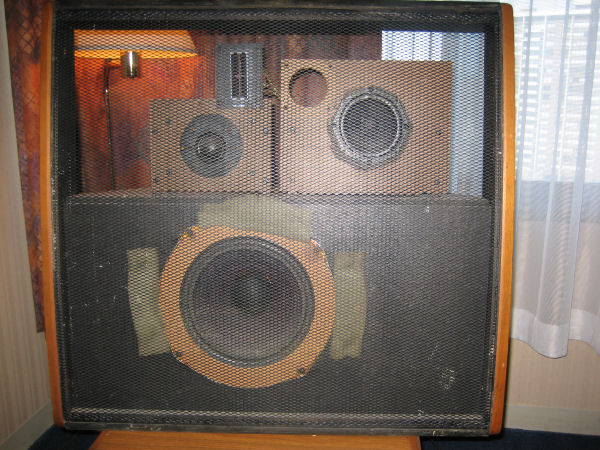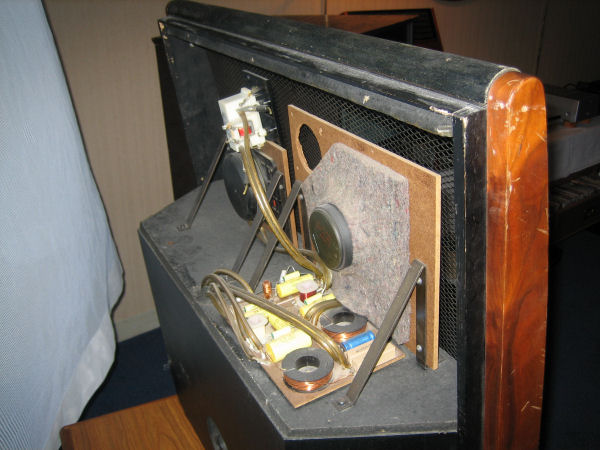 Ski's second system utilized the same Toshiba DVD player as source, this time partnered with a TEAC chip-based amp to drive homemade speakers outfitted with Altec Voice of the Theater drivers and components. More dynamic sounding than the Dahlquists, the Altecs really rocked, albeit with less smoothness and extension at the frequency extremes. On static display was a Dynakit Stereo 70 amp, modded with upgraded caps and components.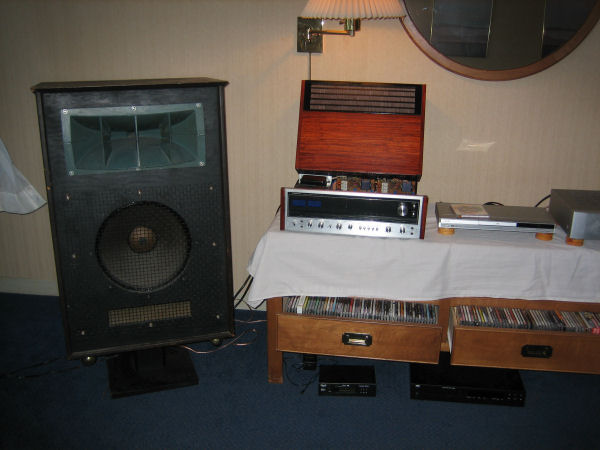 Next up was Audio Karma member/co-founder Tim Poliniak's room. Tim had brought a multitude of gear, both vintage and modern. On static display at the time of my visit was the Fisher 500C receiver, Pioneer HPM 100 speakers, Pioneer SX-1010 receiver and Harman Kardon 630 receiver. On active display when I visited was Tom Helton's system, comprising a Triangle Zerius 202 speakers, Acoustic Research REB101 turntable, Duntonic DU-3i integrated amp and Audio Alchemy Digital Drive System III CD player. Overall, I was very impressed with the sound Tom produced from his system. Bass was tight and tuneful, and the overall sound was very rhythmic and engaging. Playing Karla Bonoff on vinyl and Amos Lee on CD, I thoroughly enjoyed the warmth and bloom to the voices and the pinpoint, three-dimensional imaging. Tom ably demonstrated that you don't have to spend a mint to achieve great sound.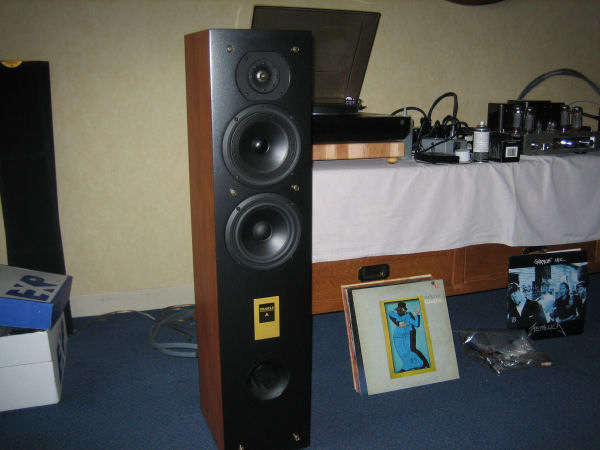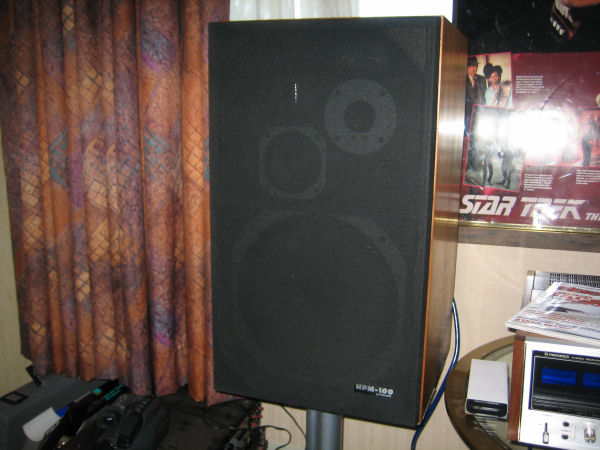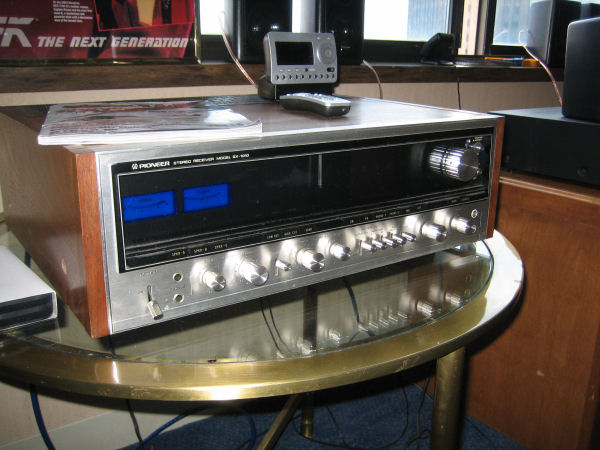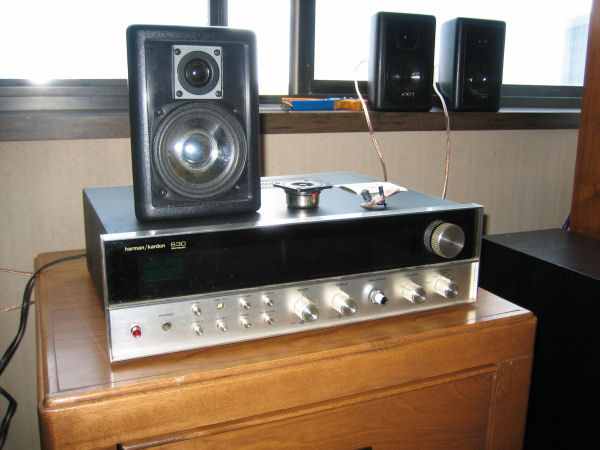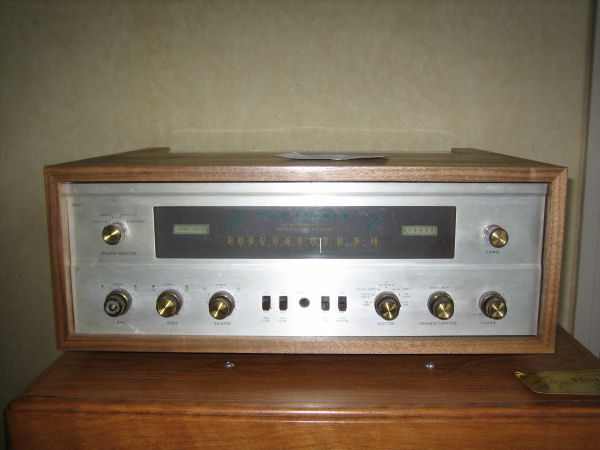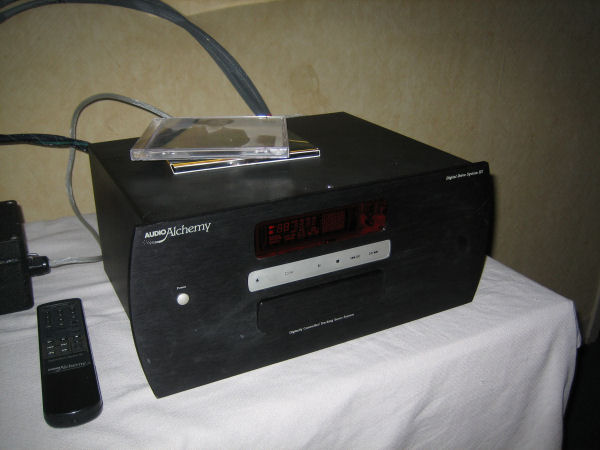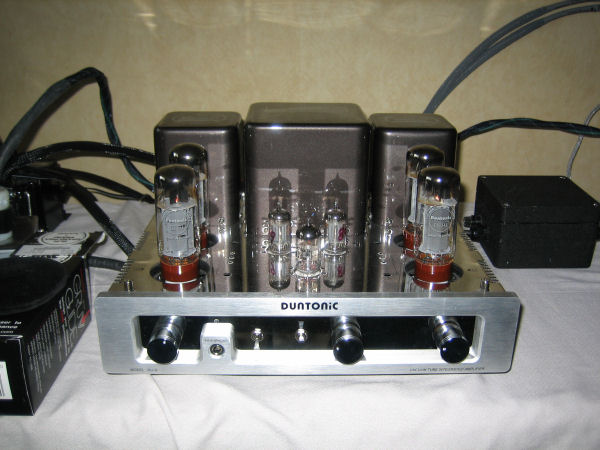 The next room belonged to Audio Karma members Greg and Scott, and housed a bevy of top-notch vintage gear. Speakers included the Vandersteen 2CE, Infinity RS 2.5 and Polk Audio 7B, while the electronics comprised an entire stack of impressive looking Pioneer gear (two Spec-1 preamps, and three (!) Spec-3 power amps). Playing Coltrane via the Vandersteen 2CE speakers, I was taken with the system's natural warmth and fullness, as well as the very organic musicality.