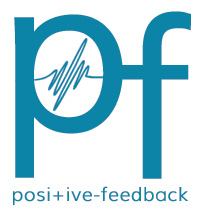 You are reading the older HTML site
Positive Feedback ISSUE 25
may/june
2006
The Show of Shows: Home Entertainment Show 2006 in Los Angeles
by Robert H. Levi

It was as good as it gets! After lackluster events in NY and San Francisco, the HE 2006 Show was a blockbuster for audiophiles across the board! There were four floors of goodies with nary a clunker to be found. With great gear, mountains of software, and tons of accessories, all was presented in good taste with many pretty good to mostly fabulous sounding rooms as well. This was truly audiophile heaven and a buyer's paradise. LA's finest dealers were present and the entire world's choicest equipment was energetically demonstrated. If you were anywhere near LA this weekend and did not attend, you screwed up.
I'm going to start right out with the "Best of Show: Cost is No Object Presentation." That honor goes to LA Audio Video featuring the Eben X-5 for $100,000. With killer sound in a very large room, this tall but smallish foot printed Danish delight sounded exquisite and agile or big and bold. Powered with VTL's famed Siegfrieds and TL 7.5 front-end preamp, a fantastic new Acoustic Signature "Grande Turntable" was featured ($20,000) all wired with top Nordost cabling. The new VTL phono stage was providing the music and Luke Manley was personally and quite elegantly handling DJ duties. Didn't note the arm in use, but the Sumiko Celebration was featured. This was the top system of the show and one to aspire to! Congratulations to LA Audio Video!
"Best of Show: Loudspeakers Under $50,000" goes to Brooks Berdan LTD with a marvelous setup using Wilson Sophia IIs, VTL MB 450 Signatures and 7.5 preamp revised, VPI TNT Turntable with SME arm, Benz LP cartridge, Cardas cabling, and a Jadis CD player. You are there sound from $12,000 speakers and the friendliest folks in southern California, too. The whole Berdan family was there to make sure everyone had a good seat and a delightful listening experience. WOW!
There were two truly cool premiers at the show: the Vandersteen Quatros ($10,750) and the Acoustic Zen Adagios ($4500). The superb Quatros were powered with the latest Ayre gear with lovely success and the amazing Adagios sounded terrific with Red Dragon amplification. The Adagios featured a transmission line woofer and there small stature still put out tremendous dynamics. Both sounded much better than you'd ever think for the price and were high value for sure!
I heard wonderful sound in the Silversmith suite on Verity Audio Sarastros. The Palladium cables were mellifluous and ultra detailed as they interconnected gorgeous Nagra gear to the speakers. The sound was some of the most delicate and delicious of the show. Jeff Smith, Silversmith's CEO, just acquired Dodson and their great D to A Converters. Watch for more great things from Jeff and his folks!
Ray Kimber outdid himself this year featuring surround with four super B&W 800D top of the line speakers, Pass 350.5 amps, and the latest Meitner DACs (EMM Labs DAC8 MK4). All was wired in Kimber cable of course. His own recordings were 3D wonderful with more realism than ever before! The rooms at the show this year consistently yielded better sound and Ray's skills as a recording GURU were truly evident. It was hard to leave his presentation!
If you went by Music Directs' room, you heard the Legacy 20-20s powered by the new Valve Electronics from South Africa. However, you all heard some incredible phono using a new cartridge sourced from Miyabi and made of carbon fiber just for Music Direct and Mobile Fidelity. It will sell for about $3500 and it is seductive and powerful. Played on Tim de Paravicini's E.A.R. 324 Phono Stage, I was overwhelmed. I'd have bought one on sight if they were available, but they will be in soon I'm told. Also featured was the EAR Acute CD Player with tube output stage. It sounded just like the phono when we Abed CD and LP of the same material. I know this is just a show report, but heads up audiophiles who love their CDs!
The Moon electronics room featured the terrific Dynaudio Temptation Loudspeakers ($50,000) and they were wonderful. Is it possible to make the Temptations sound anything but great? Every time I hear them I'm impressed. The Moon amplifiers maxed them out and I enjoyed these world-beaters immensely.
I also heard the C4 Confidence Dynaudios and they too were terrific. AAA Audio demoed these with world premier XLH amplifiers and a Leonardo CD player from China. I was wowed. The 600-watters are $25,000 per pair and sounded like Lamms or Rolands. I asked for a pair of these beauties to review. Jena Labs cables wired this room to perfection. I was very impressed with this presentation.
I spoke with Lorraine Janeway, President of Aperian Audio of Portland Oregon. Their ultra high value suite featured a floor standing room of speakers… 7.1 Surround including subwoofer… for under $5000 for all speakers! Plus, it was excellent sound. They are sold direct and can be viewed at www.aperionaudio.com. Now this is a deal to investigate. By the way, they use one inch fiberboard and real veneers. They also showed the new Outlaw Electronics you've heard so much about!
Another incredible goodie was Totem! At $450, their new Dream Catcher is astounding. Gorgeous woods and BMW craftsmanship combine to make a super musical speaker. Plus, it's really small. It had beautiful even tonality and tons of dynamic range. Their bigger designs were even more impressive. This Canadian company is hot. Go listen to these beauties if space is an issue!
Heard the new Wilson Watt Puppy 8s demoed by Dave Wilson in person. My they sounded wonderful. The ARC Ref 3, Ref CD player, Ref 300 amps, and Kubala-Sosna Cables made for a mighty fine sound! This is the best I've heard from this model I think. The sound was even, well integrated, and highly detailed. The tweeters did not make themselves known like on earlier models. Go hear them.
The Rockport Mira loudspeakers ($13,500) were played magnificently with a Gryphon front end and integrated amp, Rives Room Design, and Kubala-Sosna Cables. What beautiful sound and solid drive and dynamics. I'd not heard the Rockports before and this was a wonderful premier for me. By the way, they had two identical rooms, but only one was treated by Rives. How cool was that? The Rives' room was more alive sounding with great ease and delicacy. Fabulous!
The newest Metronome CD players look incredible and sound excellent. The two box exotic units are real eye candy. Both up sample to 24/192 and feature balanced and single ended connections.
All you need to know may be McIntosh. I was wowed by their room which was huge. They showed everything they make …and it's all gorgeous! I just walked down the line of gear and drooled nostalgically. I did note something special and new and it is one of McIntosh's first high value pieces in quite a while. It's a preamp called the C220 and it sell for $3300! It features balanced and single ended inputs and outputs, phono section with 52dB of gain, vacuum tube output with four 12AX7 tubes on board, and the usual classy chassis you all love. This is a real deal. The designer told me it sounded as good as any $5000 piece around, maybe better. Check this one out. I asked for a review piece.
I stopped in the HSU Research room and was truly shaken by the great bass. How HSU gets such wonderful deep articulate bass from really small subwoofers is amazing to me.
A stop by the Lamm room was surprising! There was Vladimir Lamm in person! What a gentleman! We heard his astounding Lamm ML 1.1 and 1.2 amps, L2 preamp, LP phono, Wilson Sophia speakers, Metronome Gaia Turntable, Kalista transport, and C2 Signature CD players from France, Kubala-Sosna cables, and Audiophile racks and stands. Whoa! This was one swell sound and great fun. I could do some serious shopping in this suite I assure you!
By the way, the new VTL 450 Signature amps will feature the "smart tube" technology of the mighty Siegfrieds. Priced at $13,500 the pair, I heard them and was very impressed. I owned the original VTL 300s and these new 450s are way superior and more beautiful. Way to go Luke!
Bright Star showed all kinds of new anti-vibration goodies at the show. A new Isorock, Air Mass, Big Rock, and Little Rock looked great. Very cool were the new Isonode feet that stick right on the bottom of your gear. Incredibly inexpensive at $12.50 for 4, I'll try them and report soon.
I am a big fan of Dan Wright of ModWright. He showed his latest SWP 9.0 phono preamp and 9.0SE preamp. All were outstanding… reviews soon! Also featured was his latest Sony 9000 modified SACD/CD player with all the latest bells and whistles. It sounded detailed, smooth, and organic. I look forward to test driving it in my system. Dan is truly the KING of mods today! I recommend you go to his website and surf.
You like ultra exotic toys. Check out Chord! The Blu transport and DAC, CPA 4000 preamp and SPM 1400 amp are the ultimate in industrial design. Powering a pair of British Neat Ultimatum speakers (Isobaric design with top firing tweeters!) and wired in Kubala-Sosna cables, the sound was room filling beautiful. But nothing is as beautiful as the gear itself. At $32,000 for the amp and $17,000 for the preamp, you'll amaze your friends. Makes B&O look like Radio Shack!
The Audion Room was filled with all the Audion amps. Nine models were displayed including a preamp. They powered some rather small speakers which were not identified and the sound was intimate and detailed. Lot's to see for the low powered fans.
I finally heard the Lipinski loudspeakers ($4500) powered with Lipinski electronics. Made for studios, they have become the rage for audiophiles with limited space. The sound is airy and ultra detailed and very musical. They sound like studio monitors to me. I've been told by others in the know that they sound better when their own electronics are not used.
By the way, Peter McGrath was in the Brooks Berdan, LTD suite playing some of his own recordings off a portable hard drive. He always has the best, cutting edge toys. His latest recordings of the Rotterdam Symphony Orchestra and Chorus are stunning! Peter, come back to LA soon please!
MBL was here in full regalia and loaded with amazing products to behold. They brought it all and the sound was magnificent. With MBL amps, preamps, DACs, and every speaker they build, the demos were always filled and enjoyed. They sold a pair of the $50,000 big guys right on the spot. The sound was very detailed and open, open, open. Omni polar speakers done right are very cool sounding. The MBLs were very right.
A system totally new to me was featured by Westlake Audio. The digital was the Aurum Acoustics CDP, the Vitus Audio 100 Linestage and 101 amplifier, the Focus Master 3 loudspeakers, and Vitus interconnects…$115,000 complete. I will tell you this. Vocals played on this lovely gear were outstanding. I heard compelling sound from the first note and audience reaction was positive. I need to learn more about these good looking brands.
In the world of headphones, the HeadRoom presentation was amazing. Everything they make was hooked up to audition. You could have parked yourself there for the afternoon. In addition to the regular gigantic suite, they had a Headroom Heaven room with their super balanced fantastic top of the heap HeadRoom gear. I went there! Let us just say it was swell.
I also auditioned the newest STAX headphone systems at the Elusive Disk. Their MK2 versions of the two tube models and the solid state model are revised to take the frequency response to 50kHz for SACD/DVDA. I tried the 006T MK2 (I have the MK1) and it sounded quite superb. More features on the unit as well. I have always loved STAX sound and these changes take them to the next level.
Good to see Reference Recordings back in business with 5 new releases. I bought them all. Chesky was here as well with a big display of CDs and SACDs. Mobile Fidelity had a ton of goodies including Patricia Barber "Nightclub" in a special 45 RPM edition. Very cool! A classic record had tons of LPs and HDADs for sale and has a full slate of new releases over the next 12 months.
I heard the Von Schweikert VR5 Seniors, with Channel Island amplification, to great affect! They look like VR4 Seniors on steroids and are exquisitely finished. What terrific sound! Lots of airy, lovely mids and highs with prodigious bass. Imaging was spot on. I think they sounded amazingly close to the VR9s in many ways. Well done Albert!
Ran into Bill Low, CEO of Audioquest, and he was a happy camper. The show was truly showcasing his cables in three different rooms and he was delighted. I heard them in the Music Direct room/Mobile Fidelity powering the terrific Legacy 20-20s. They were bi-wired in the Mont Blanc cables and speaker wires. These powered cables sounded clear, uncolored, and super smooth! That's probably why I liked this system so much earlier in the report.
Last but far from least was the Nola Room at Elite Audio Video and TheMusic.com. The exquisite Nola Reference loudspeakers ($30,000) were powered by the Antique Sound Labs Hurricanes and Plinius amplifiers. The Kuzma Straightline tonearm and cartridge sounded lovely on the Kuzma turntable. Lector CD players were also featured. The sound was robust and smooth. Center fill was excellent and imaging first rate. I'm always surprised at the great bass on these speakers and the way it blends seamlessly to the mids. Hannl record cleaners were also on display. Scot Markwell continues to bring great gear to the audiophile.
Yes, this was the Show of Shows! There were lots more to see and others will report. By the way, rumors are the next HE show will be in Chicago. You heard it here first. See you there!