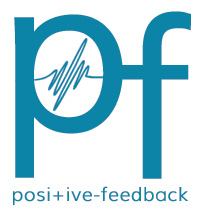 You are reading the older HTML site
Positive Feedback ISSUE 25
may/june
2006
Home Entertainment Show 2006 in Los Angeles
by Danny Kaey

So here we are, June 2006 and I just attended my very first Stereophile show. While I knew that it was not going to be quite as busy as say CES, or even the fabulously superb Rocky Mountain Audio Fest, I did have some expectations as to attendance and the public's overall reaction. In a metropolitan hotspot like Los Angeles, you ought to be able to get a bunch of people in for a show the scope of HE2006. Stereophile is to be commended for putting on such an event, although ultimately my dreaming was that there would have been a greater influx of people at the event, particularly as Sony was demoing Blu-Ray in full force and at every imaginable opportunity. At the same time, I think reality kicked in and I now firmly believe (well, I think I always did, but one can still hope) that high-end audio is truly a niche product with a target customer base of people who simply wish to hear music at its best. The proliferation of multimedia in today's day and age certainly is not helping the cause as the entry-level barrier to decent audio playback has shifted dramatically towards products such as the iPod and home computer music servers not to mention home video installations, etc. Let's face it: the panache of owning a pair of $25k loudspeakers is not nearly the same as being able to flash your $25k Audemars-Piguet at the next Golf game.
Nevertheless, I have to say I thoroughly enjoyed my time at the event—these days what I mostly look forward to is meeting up with old friends and making new ones; it's almost as though the equipment is secondary to the "human" touch. Add to that of course the fact that you are displaying demo gear at worst possible conditions, read: hotel rooms, and voila, you have a perfect recipe for mediocre sound from equipment that otherwise sounds decent. Nevertheless, some people are always able to beat the odds with their setups and as a result offer sound that is actually quite pleasing and in some cases even superb.
Before I get into the various rooms, I wanted to make special note of an event, which took place at one of the many fine Kubala-Sosna rooms at the show: mastering guru and overall super nice guy Steve Hoffman's two hour presentation of various mastering projects he has been involved in. I really want to thank Joe Kubala and Howard Sosna for taking their time and effort in putting on this special event. I firmly believe that presentations like this have the power to "convert" far more people then flashing $50k price tags on a pair of loudspeakers (as the crowds inside and outside the room proved quite handily). This particular room featured Wilson Audio Sophia's, Lamm electronics and Metronome digital and analog front-ends, cabled all throughout with Kubala-Sosna's mighty fine and quite amazing "Emotion" series of cables. Steve's use of the KS cables in his professional line of work speaks volumes about the quality of these cables, and after I had a chance to sample them in my own reference system, I can only agree. Steve's master tape excerpts sounded so utterly amazing and "there" that I could have stayed in the room for the entire weekend, never mind the two hours Steve held for the demo. Not only do Joe and Howard make excellent cables, their salesmanship is truly second to none and quite inspiring and refreshing—there is absolutely no "snake-oil" tactic being used here; in fact the guys so firmly believe in their product line that they offer what must be the most hassle-free ownership and upgrade programs today. I can strongly recommend you give them a try before your next cable purchase and upgrade.
Speaking of Wilson Audio, HE2006 also served as formal launch for their new Series 8 Watt/Puppy system now in production since the early nineties, and no doubt, one of the most financially successful speaker lines anywhere. Flashy ads in Stereophile withstanding, I have always appreciated the amazing feat Dave Wilson and his team put together even though my personal tastes tend to stay more distant from the Wilson sound—alas you never know, one of these days Wilson may have a speaker on hand that I can live with. The system 8 was demo'd by none other than Dave Wilson himself, though the music used was not to my liking or taste—sound wise, the room was quite ok, employing the latest Audio Research gear. Who knows what the system would sound like in my room? At the recently bumped retail price of $28k the Watt/Puppy has certainly moved up the ladder quite a bit considering that I can recall the days when a new Watt/Puppy system was $14k.
Quite the surprise at the show was the Odyssey room. I have to admit I was shocked when I first saw the product line-up only to find out that a) the stuff was made in the good ol' USA (Indiana to be exact) and b) the price points where truly astounding! Talk about bringing high-end to the masses: a complete system with Symphonic Line (Germany) designed Odyssey pre- and power-amps, as well as Canadian sourced bookshelves; you could have a finely tuned system for a super scant $1800! Now if that's not a bargain in high-end audio, I really don't know what is. The system on display was based around their slightly pricier mono blocks and floor standing loudspeakers, though again, you were listening to a well balanced, nicely resolving 2-channel system for a touch under $5k. Wow!!! I am due to receive that exact setup for review in the next few weeks, so stay tuned. Also noteworthy, the proprietor of Odyssey (also the distributor for the Symphonic Line in the US, Canada and Mexico) Klaus Bunge, is a superb fellow to talk to. The demo's he gives are super-charged with inspiration and enthusiasm second to none—by comparison I almost fell asleep during Dave Wilson's "Sturm und Drang" Gestalt (cynicism is indeed one of my strong points).
While on the subject of entry-level super gear, I would like to mention the nice guys of Music Hall: Roy and Leland. Roy is a character and it's refreshing to see him show up and display his gear. The hospitality and no BS presentation in the Music Hall room is always great and the sound is quite pleasing. Trust me when I say that you don't have to spend super bucks on a TT: $399 for the 2.1LE is all you need to enjoy the fascination that is analog. Playing the newly released Classic Records 35mm film recordings proved again my point: vinyl is truly a special medium far surpassing digital in the enjoyment factor. Massive Attack's greatest hits album sounded quite astounding on this $399 record player! The 2.1LE is due in for a review in the next few weeks, so stay tuned!
The Pioneer speakers retailing for $9k stole CES in my opinion, and their showing at HE2006 proved no differently. Andrew Jones has designed something truly special with the concentric TAD sourced Beryllium driver. TAD of course is nothing new to high-end; they are after all Pioneers' professional driver division and have been making world-class drivers for more than 40 years. Driven by Bel Canto electronics, the system sounded rather good showing the same qualities I so admired during their CES inauguration last January: full range sound, pinpoint imaging and wall-to-wall soundstage were all adjectives I used to describe these great floor standing models. At $9k they are a steal! Andrew promised a review pair by August, so stay tuned for a full report on how these speakers play in my reference room.
My buddies @ Zu always manage to outdo themselves at these shows. They were running two separate set-ups; one corner faced their $3k Druids (in for review), while the other side enjoyed their full range Definition speakers. Notably fuller sounding, these speakers are something to see and hear. I always love the demo when they switch out the main amps to some flea-powered 1-watter and the sense of dynamic scale and momentum stays intact. Try that with most any other speaker and you will be crying foul quicker then ordering a doppio-machiatto fix at your favorite Starbucks. I guess what makes their room so hospitable is their total no-BS approach to sales and marketing (yep, hard to imagine, but there are a handful of these companies around!). Never intimidating or otherwise discouraging, they manage to be regular music lovers first, and fine equipment manufacturers second. Another benefit to their room? They will never jump back when someone brings "non-audiophile" music—case in point: you're truly driving home some bass lines via ZZ Top; now that was a sight to be seen! Many in the room shuddered, not my Zu buddies… there's a Hip-Hip Hurray to that! Honestly, I can only take so much of "audiophile" approved Jazz or female vocalists.
NEAT speakers were being demo'ed with Chord equipment and that proved to be a fine combination. NEAT are from the good ol' UK and have a very pleasing sound quality that is in line with the characteristics of what I like to hear. Full range, even for the little guys, their sound signature was bold, dynamic, and open. Particularly the big top of the line model retailing for $15k was well, er… neat! The Chord stuff always looks stunning; I can totally see how they would be selling these systems like hot potatoes, if it weren't for the fact that the stuff is rather expensive. But hey, small form-factor, good sound is looking mighty fine in my book.
Brooks Berdan, super analog dealer in the greater LA area, was showing in two rooms. One featured VTL gear and Wilson Sophia's, the second was built around Ayre gear and the new Vandersteen Quattro's. Boy, at one point I almost had to leave the room, as the music was so LOUD that even I felt somewhat of a discomfort. No doubt the Quattros are far larger a speaker then their size would lead you to believe. Ayre's new Linear class AB… 300-watt@8ohm, 600-watt@4ohm ...amplifiers were on display and no doubt had a lot to do with the system's ability to portray dynamics in such realistic way. Also on hand was Brook's son, Brian, a super cool guy of "my" generation—lots of grass-roots stuff planned, hopefully the tide towards bringing new blood to high-end will begin to turn soon, no doubt you'll hear it first here!
Rory Rall of Benchmark had a super nice little display at the show, displaying the quite infamous DAC1 everyone in the industry is so raving about. Apart from Rory's fabulous attitude and friendliness, also noteworthy was the fact that they had info on the DAC1's complimentary brother, the guess who… ADC1—the analog to digital converter which rumor has it is on quite the same ground breaking level as the DAC1. Review sample requested of course and I will no doubt report on my findings shortly.
On the software end, Chad of Acoustic Sounds is always helpful in picking out the latest and greatest titles, as is Robert Pincus of Cisco music. Troy at Classic Records always manages to hold the fort down, besides, the new 35mm Everest releases are quite the sonic bliss.
In the end, I always have some misgivings writing these show reports because I will inevitably forget to mention someone or some special room I visited. Suffice is to say that I hope nobody holds a grudge—there's always so much to see and often times you simply don't have the time to write about everyone and everything. Ladies and gent's that's it then—until Rocky Mountain Audio Fest!