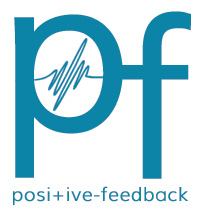 You are reading the older HTML site
Positive Feedback ISSUE 25
may/june
2006
Home Entertainment Show - 2006 in Los Angeles
by Steve Lefkowicz

Well, here I am, back at an audio show. It has been a few years, as after my last experience at CES I thought it best that I stay away until I was feeling better. No, there were no run-ins with irate manufacturers or challenges from anonymous Internet posters at that last show, but the post concussion syndrome and other after effects from my car wreck were still fresh enough that I didn't even recognize Elvis Presley singing Fever. That I never liked his version of the song anyway didn't matter, I should have known who it was that I didn't like! Figured it was time to retreat until I was feeling better (or at least cognizant and coherent).
Well, I'm feeling ever so much better now, and thought that since LAX is only an hour or so (more than two during rush hour) drive for me, I would venture forth and report on this show.
I have never been one to put much stock in the sounds I hear at trade shows. I know how difficult it is to get everything sounding just right in adverse conditions so I am pretty forgiving of rooms that sound bad. However, if a room sounds bad and the people hosting the room insist on telling me how great it is, then I feel it's okay to express to my negative view of their sound.
Having said that, if I hear something that does actually sound really good, then I'll certainly give kudos to the equipment and the people responsible for setting it up.
I have learned over the years that no one really has time to listen to more than a few minutes of their own music at a trade show. It takes up too much time when you have to make sure you see every exhibit, and it can be kind of rude to everyone else waiting to play something.
I also make it a point never to walk into a room playing Jazz at the Pawnshop or anything by Patricia Barber.
One thing you should keep in mind when reading my comments on various rooms. I am and probably always will be, the budget guy. I find $100,000 speakers rather amusing, but unless they sound real, message my feet and bring me a beer, I probably won't be that impressed. A $2000 speaker that makes music, however, is something to get excited about!
Well, let's get started.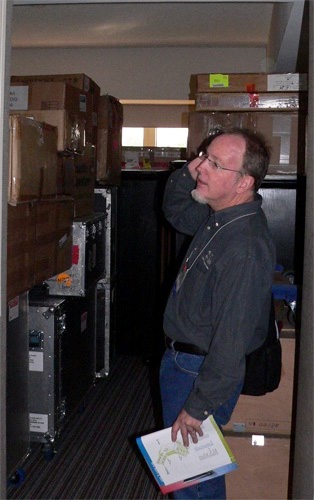 Here we see our trusty Editor Dave C. listening in on the first room we came to. Can't say much for the sound, as it was so muffled it sounded like it was coming from the next room over. Interesting use of what they called reinforced corrugated paper. I guess it cuts down on resonance, but not my box of oatmeal.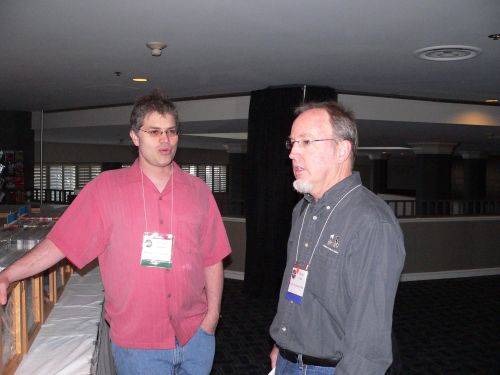 When Dave saw all the great vinyl in the Acoustic Sounds display, he told Chad Kassem he could kiss him. Apparently Chad took him seriously.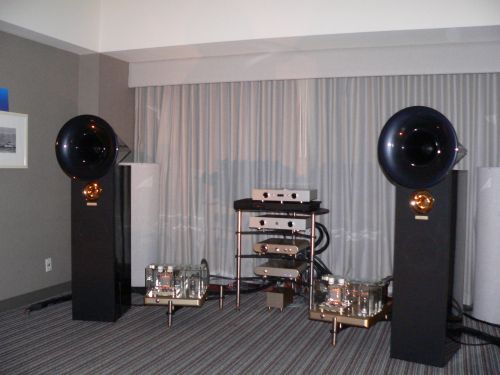 Whenever I stop in the WAVAC room at any show, I know I could give up my budget minded stance after all. The room may have been a little small for the big Acapella horns, but the music sounded ever so right. Einstein, Isoclean, and Acoustic Arts were also involved in this room. How many houses will I have to sell to afford this setup?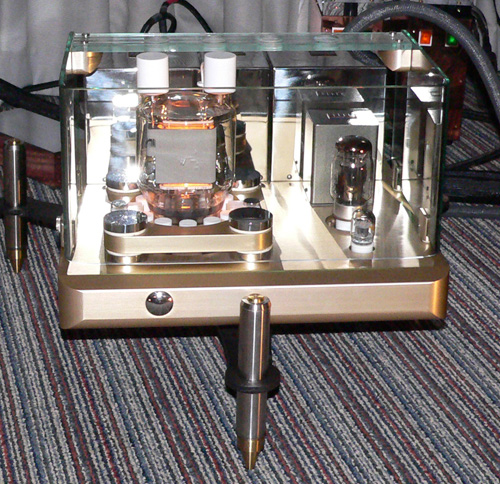 Wavac does make some of the best looking gear too!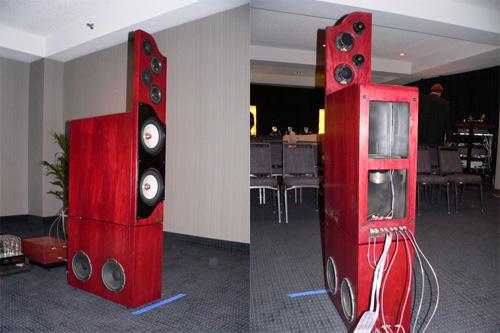 Here are the big Nola Pegasus speakers driven by Antique Sound Labs Amps. As always, the Nola room sounded darn nice. In other shows I've been to, Nola speakers driven by deHavilland electronics usually had the best sound of the show. They continued that trend here.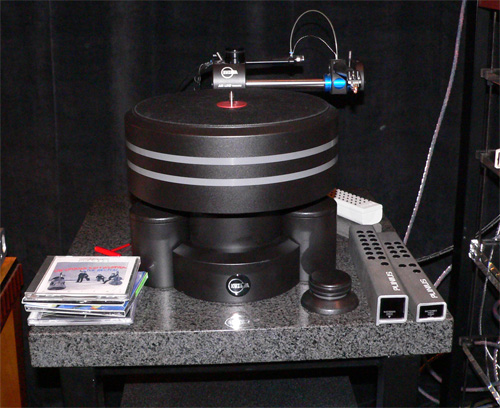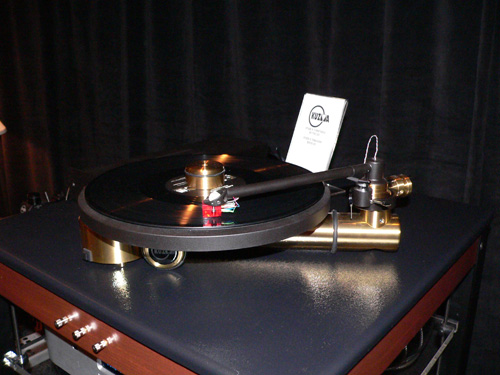 Here are a couple of Kuzma turntables. I've always been fascinated by the Kuzma designs, and wouldn't mind trying one out at home sometime. Of course it would have to be the lower priced one…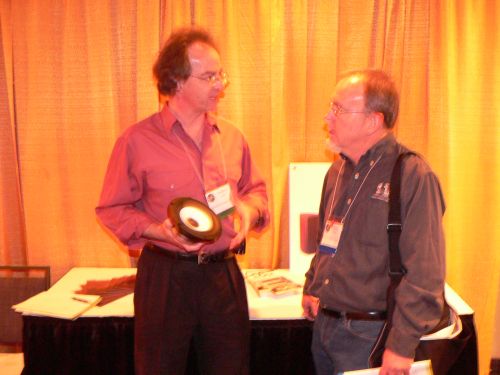 One of the bigger surprises at the show was this Pioneer S-1EX speaker system. At just over $9000 it certainly isn't Best Buy material. It does show that Pioneer is a serious company that wants to be known for more than just great quality video gear. I thought these speakers, driven by Bel Canto electronics, was one of the most engaging systems at the show. It had the scale, presence and power to make music sound like real music. In the other photo, you see Chief Designer Andrew Jones explaining to Dave how having a really big company behind you helps you design very high quality unique proprietary drivers.
Vandersteen 5 speakers driven by Audio Research (courtesy of Optimal Enchantment, one of Southern California's better audio retailers) sounded so nice I couldn't hold my camera steady! I do wish at some show Vandersteen would set up his 2ce Signatures to remind everyone how good an under $2000 speaker can sound.
Speaking of good sounding under $2000 speakers, the Neat Motive 2 (about $1800), driven by Exposure 2010 series electronics, CD player and Integrated amp at $1250 each (see Dave's really nice photo of me with these speakers in his show report) played music with a level of realism and authority totally out of line with the low price of the system. If I gave out show awards, this would easily have won for "Best Sound Relative to Price." It actually sounded much better than many of the way more expensive systems on display in other rooms. That they were playing AC/DC's Back in Black when we walked in their room said something about their confidence in the system's ability to play music! We should be getting the Neat speakers, and hopefully the Exposure electronics in for review.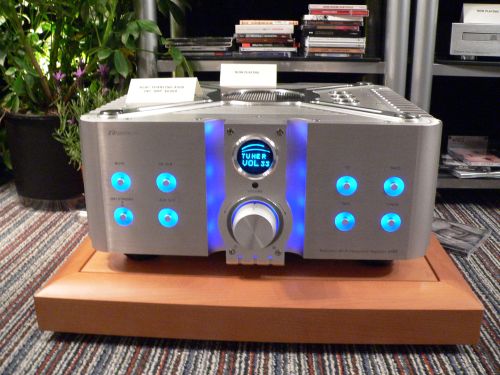 As usual, Roy Hall's Music Hall display had a wide variety of good sounding and mostly affordable equipment from Creek, Epos, Music Hall and Shanling. I say "mostly" because the pictured Shanling A500 integrated amp sells for a cool $6499. I guess that's still "affordable" compared to most of what other companies were showing. Still, Music Hall continues its tradition of bringing great sound to people with real life budgets.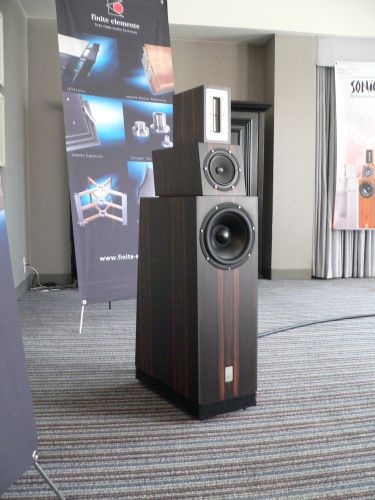 The Sonics speakers (by Joachim Gerhard, formerly of Audio Physics) driven by Trigon electronics and Immedia turntable (Lyra cartridge) sounded fine in Alan Perkins Immedia room. Didn't have enough time to really get a better handle on what they were capable of though. Perkins however, is one of the importer/distributor/manufacturers who generally really gets it, if you know what I mean.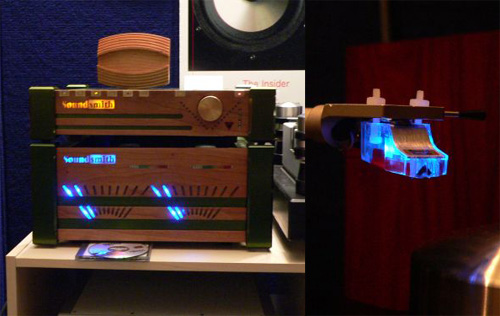 Here we see the Sound Smith strain gauge phono cartridge and matching (necessary) preamp. Never heard it play, so can't say how it sounds, but the preamp has real time displays for VTF, skating, and other things that can be derived from the strain gauge design. Wonder if you can get it in different colors besides for blue? Is this the first strain gauge cartridge since the classic Win from way back when?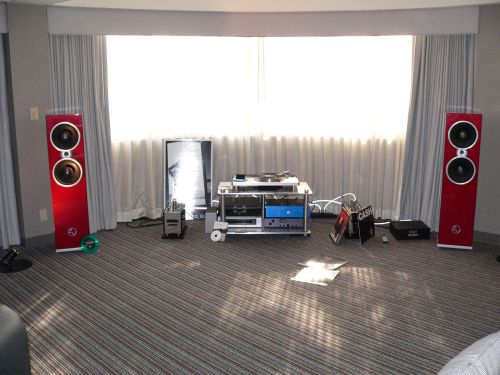 Zu Cable had one of the more controversial rooms at the show. I guess either you loved it or didn't much care for it at all. It was certainly one of my favorites though. The $9000 Zu Definitions, paired up with Audiopax amps, a ModWright preamp and an old Luxman PD444 turntable, had probably the best, most purely musical sound at the show. I wish they had used a better quality turntable, just to see how good this system could really sound. They didn't have Jazz at the Pawnshop or any Patricia Barber in the room. These guys definitely get it!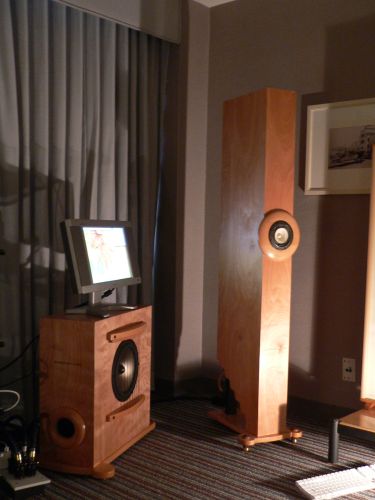 Here we see the new little Cain & Cain speaker (with their Bailey woofer) driven by Almarro amps. Nice sound. After my accident and during my recovery, a pair of Cain & Cain Abbeys were the only speaker I could listen to. Everything else sounded like pure electro-mechanical noise, but the Abbeys were pure music.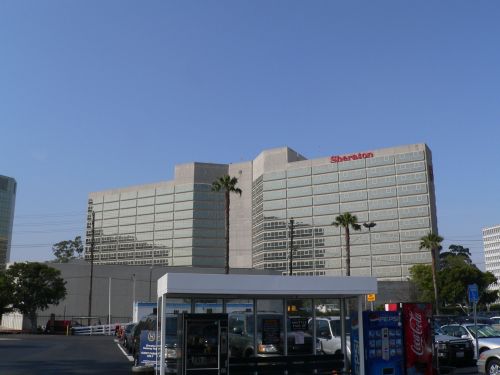 Just a side note for all the people who aren't from Southern California; Palm trees are not native to California. Not sure why they were brought here either, as they are kind of useless most of the time. I suppose if you want to put a new roof on your hut you could grow and thatch your own.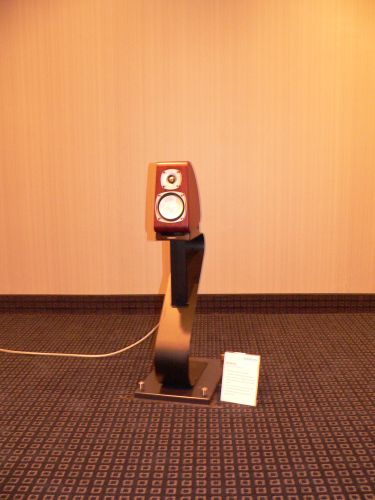 Onkyo's little monitors sounded way better than you would expect. But then, Onkyo has ventured into real "high-end" gear in the past (I played with a $3800 Onkyo amp way back in 1986 or thereabouts). More of the big audio companies should give it a try and get into really good stuff. Kudos to Onkyo for even being at this show!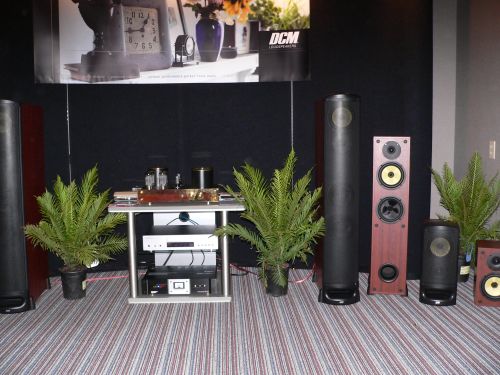 DCM's under $1000 a pair bigger floor-standing Time Frame Evolution 200 sure seems to offer a lot of speaker for the money. These sounded fairly full range and had a nice energetic sound. They said they'd send a review pair, so we'll get the word out sometime in the near future.
A few more comments without pictures.
It was nice seeing Joe and Lars from Nordost. They are always too of the nicest people at any show. I guess I should point out that my whole system is wired in lower priced Nordost (Solar Wind) cable.
The Acoustic Zen, ModWright, Red Dragon, Golden Sound room sounded wonderful. I heard several people say they weren't impressed, but I don't understand that. Clearly one of the top few in terms of "best of show."
Albert von Schweikert, showing his VR5 speakers with Channel Island Audio electronics and Harmonic Technologies cables sounded very nice, though the room may have been a little small the VR5. I had hoped to hear theVR4 Jr. Albert has long history of producing very high quality speakers at both the moderately priced and very expensive end of things.
Well that's it for this year. Next, I'm off to Vacuum Tube Valley's show (report to follow). If I failed to mention a room or product, sorry, though I'm sure Dave or one of the other PFO staffers in attendance will take care of that.