GRAHAM ABBOTT'S SYSTEM
LOUDSPEAKERS
Red Rose Rosebud 1 Reference Monitors atop custom made 70 lb sand filled stands.
ELECTRONICS
Holfi Battriaa Signature Edition phono preamp on Final Labs Daruma 3-II ball bearing footers. Cary SLI-80 integrated on Stillpoint footers and Risers. Power in fuse replaced with Isoclean Gold slow blow.
SOURCES
Nottingham Spacedeck, Nottingham Space Arm, and Ortifon Kontrapunkt B cartridge, with a Living Voice Mystic Mat and clamp. Cary 303/200 on Final Labs Daruma 3-II ball bearing footers.
CABLES
PS Audio Extreme Resolution Speaker Reference speaker cables. Harmonic Technology Magic (digital) and Kimber Hero (analogue) interconnects. Harmonic Tech Fantasy (digital and amp) and Yamamura Churchill Series 5000 (analogue) AC cords.
ACCESSORIES
Furutech ETP80 for all components. Quantum Products Symphony EMF Stabilizer.

Remember when you could tell that a piece of gear was made in China? The casework had the structural integrity of a Dixie Cup™, and the circuit board had all the sophistication of a clock radio. That was then, my friends, and this is now, and Chinese hi-fi manufacturers have made colossal strides. I can now find many great-sounding and great-looking pieces of Chinese gear at my local dealer, at a fraction of the cost of more established brands. Solid state or tube, high tech or low, Chinese manufacturers are bringing their "A" game, and it shows.
Nevertheless, good, Chinese-designed and built loudspeakers seem to have escaped the onslaught. This is really strange when you consider that many of today's loudspeakers use Chinese drivers, and many are made in China for European and American companies. I've heard some of the domestic models, but they have always failed to move me. Then I heard a pair of the entry-level Orsa loudspeakers from JAS Audio, and my opinions did an immediate about-face. The Orsas are beautifully constructed stand-mounted speakers that have clarity, very nice imaging, and sophisticated sound—in short, all the things that were missing from the Chinese speakers I had previously heard. When I spied the decidedly up-market Oriors on the JAS distributor's website, I had to ask myself: "Do you feel lucky, punk?"
The Orsa and the Orior look similar on paper. Both claim an 88-dB sensitivity and a nominal 8-ohm load, both recommend 10 to 200 watts of amplification, and their crossover frequencies are nearly identical. Even the aluminum, twin-ribbon tweeters are the same. In reality, though, these two speakers are very different. Dispensing with the Orsa's two-piece construction, the Orior has a single cabinet, with a gently sloping front baffle and sculpted side cheeks that give it a beefy appearance. JAS claims internal bracing and natural wool filler. I can't vouch for the contribution of the wool, but I can tell you that knuckle-testing the cabinet resulted in very dull thunks. The binding posts deserve special mention. They are excellent, chunky little buggers that grab onto standard-sized spades like a pit bull onto a steak.
Perhaps the Orior's most distinguishing feature is the 7-inch Accuton ceramic woofer it uses instead of the Orsa's more conventional Morel 6-inch. This driver is used in some pretty high-end speakers (Kharma uses them, among others), and it is impressive to say the least. JAS rates the Orior down to 40Hz, and I have no trouble believing it. More on their speed and clarity in a second. For now, let it be known that this driver takes a long, long, time to break in. When I first lit up these speakers, there was no bass at all, and 100 hours did nothing to change things. At around 150-200 hours, the bass began to arrive, although constant playing continued to yield results for about another 30 hours.
Setup was simple, with the speakers about three feet from the rear and side walls and about seven feet apart (outside edge to outside edge). I sat about eight feet back, with my ears at a level between that of the woofers and the tweeters. Although the specs suggested otherwise, I found that the Cary's forty Class-A triode watts couldn't bring the Oriors to life. They sounded extremely smooth and nice, but lacked dynamics. Setting the Cary to deliver eighty watts brought the speakers to life, without destroying their delicacy and micro-dynamic shading.
Right from the get-go, the Oriors impressed me with their openness and transparency. Those twin-ribbon tweeters gave them a beautiful, clean top end that seemed to extend to infinity. The speakers sounded crystal clear, textured, and detailed way up high, without sizzle or brightness. I played a lot of jazz trumpet recordings through them, and every time, large dynamic swings were tracked beautifully while small stylistic nuances were laid bare. The effect was a real connection to each player's technique. Just for fun, I played the Speakers Corner reissue of Hi-Fi a la Espanola (Mercury SR90144), and on the first track, I could almost count each of the Brazilian sleigh bells, not to mention the fact that they sounded real and bell-like, and were located so precisely in space that I nearly jumped out of my seat on first listen.
The bass, when it finally showed up, was clean and detailed. No, it did not have the slam and impact of many larger speakers, but what it did have was surprisingly deep, fast, and very, very clear. John McLaughlin's Live in Paris CD (Verve 543 546-2) was shocking, Dennis Chambers' kick drum thundered and Mathew Garrison's electric bass rumbled. The notes were distinct and clean. On Nils Petter Molvaer's new CD, er, the huge kettle drums were alive, with body and boom, and the Oriors never once broke up or sounded overly plump or indistinct. (If you haven't heard Molvaer, do so. This album is a wonderful example of what Miles might be doing if he were around today. It is also a piece of audiophile ear candy!)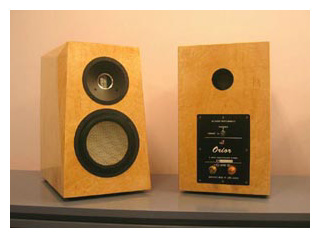 Boy, can these speakers image and soundstage! Performers appear as individual entities, separated in space and laid out on a broad, very deep stage. Each image is nicely defined, dense, and properly proportioned. Fed good software, the Oriors will let you hear musicians move and sway with their instruments, lending a spooky, "you are there" quality to the music. On the Classic Records reissue of Cannonball Adderley's Something Else (BST-1595), Miles' trumpet moves up and down as he solos, each small movement tracked faithfully. When he first comes in on "Autumn Leaves," he's in the room, standing and blowing. Classical music is particularly well served, with the size and scale of orchestras nicely mapped out and organized. The instruments swell as the volume rises, rather than converging and crashing into each other, and the individual tonalities ring free and clear.
The best thing about these speakers may be their coherence. From the highest highs to the deepest bass they can muster, there is a seamlessness that is hard to ignore. You won't notice it until some deep bass hits you, or some really high notes pop, and you realize that these transitions are so sophisticated and correct that the music seems just like the real thing, devoid of the lumps, irregularities, and other nasties that so many other transducers exhibit. Time and time again, I was shocked at the way in which all the qualities of these speakers came together to form a holistic view of the music. From the intimate integration of a small jazz ensemble to the full-scale blast of a symphony orchestra, the Oriors' balance seemed ideal, their overall view perfectly judged.
Are the Oriors a good value? At 4500 Canadian dollars, they are certainly not cheap, especially for stand-mounted loudspeakers (the price is without stands). They are not full range, and because of their fantastic coherence, adding a subwoofer to the party is going to require money and time. The review samples had some flaws that were unacceptable for speakers at this price. The distributor assured me that this pair had been rushed for show duty, and that production samples would be better finished. He also said that the review pair should have had another layer of lacquer, though for my taste they had more than enough. I'm not a wet-and-shiny type of guy.
The Oriors are built like tanks, and do everything that stand-mounted speakers are famous for, but with a bigger and more sophisticated sound. And that coherence! There aren't a lot of speakers that can do coherence like this. Yes, $4500 is a lot of money, but the JAS Audio Orior is, quite simply, a lot of speaker. Graham Abbott
Orior loudspeakers
Retail $4500 a pair (CN)
Gini Systems
web address: www.gini.com
Charisma Audio
web address: www.charismaaudio.com
JAS Audio
web address: www.jas-audio.com