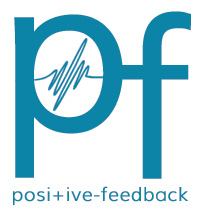 You are reading the older HTML site
Positive Feedback ISSUE 25
may/june
2006
Notes of an Amateur
by Bob Neill, June, 2006. Part I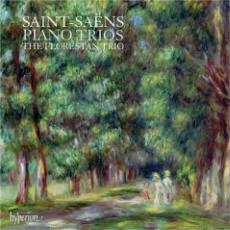 Saint-Saëns, Piano Trios Nos. 1 and2. The Florestan Trio. Anthony Marwood, violin; Richard Lester, cello; and Susan Tomes, piano. Hyperion Records CDA 67538.
I am a great fan of the musical literature for the piano trio, from Haydn to Martinu with all of the stops in between. They are satisfyingly full in overall effect but utterly clear in instrumental texture. The timbrel contrast of violin and piano moderated and grounded by the cello provides most of what I crave in music.
The Florestan Trio continue their traversal of this literature for Hyperion with two trios by Saint-Saëns and seem to be in even finer form than their usual very high standard. The customary balance and poise are here but I sense a new level of energy and eloquence, as if they take to this interesting late nineteenth century French aesthetic with special vigor and imagination. This is not, of course, the Saint-Saëns of the Carnival of the Animals or the splendiforous Organ Concerto, thus giving us an opportunity to hear his musical voice pared down to its essentials.
The Trio No. 1 (1862), while neither profound nor even earnest, is diverting and delicious. Saint-Saëns is marvelous at "orchestrating" these three instruments, and it is fascinating to hear him pair up each stringed instrument with the piano, then bring all three together, then send them off again in pairs. The piece must be a great pleasure to perform. The second movement in particular is pure delight. The sound is warm, clear, and natural, according to my JM Reynaud Twins, which champion these qualities.
In Trio No 2 (1890), there is more to sink our teeth into: the music is richer, more sweeping, rapturous, and opulent; the technique more sophisticated. But the overall voice is similar, providing a clear and eloquent contrast to the end of nineteenth century bitter-sweet late romanticism around it. If anything, its roots are in Schumann, whom, we are told in Robert Philip's highly informative program notes, the composer championed in earlier times. The musicianship is masterful, conspicuous in its excellence. The forces that have brought these three musicians together in our time are surely blessed ones. All of them have individually flourishing careers (Marwood recently premiered the new Adès Violin Concerto); but somehow they have managed to keep their Florestan Trio selves intact, alive, and at the top of the game.
This is already one of the best recordings of 2006 and it's only June.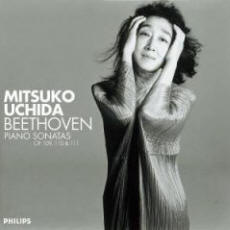 Beethoven, Piano Sonatas Nos. 30, 31, and 32. Mitsuko Uchida, piano. Philips 6379.
One of the reasons music-loving audiophiles who spend much of their time listening to vinyl still work hard to perfect their digital source gear is Mitsuko Uchida. There are other reasons: the Florestan Trio, Truls Mork, Hilary Hahn, Alain Plàines, and Viktoria Mullova to mention just a few. But Uchida would be enough.
I haven't gotten up to Marlboro (VT) to hear her perform 'live' in the Marlboro Festival, which she is now co-directing with fellow pianist Richard Goode; but I have followed her through her Mozart and Schubert recorded piano sonata cycles, with digressions to Debussey and Schumann, not to mention last year's superb recital with Mark Steinberg on three Mozart Violin and Piano Sonatas. (http://www.positive-feedback.com/Issue20/summerneill.htm) I have not heard much of either the Beethoven or Mozart piano concerto sets, though the Mozart's 26/27 that I did hear seemed a bit held in by conductor Jeffrey Tate.
At any rate, I have listened to enough of Uchida alone to be eager to hear which she might do when she got around to the inevitable Beethoven cycle.
What Uchida brings to these three final piano sonatas of Beethoven, to my ears, is the essence of modernism: a purity of form that is almost transcendental, suggesting the drawings of Picasso and the sculptures of Brancusi. Sometimes lyric, sometimes dramatic; always clear, direct, and coherent. Always under control.
Her 'modernism' keeps the long variations movement of Sonata No. 31 from becoming too rhetorical. The approach comes through even in the hushed movements like the Adagios of Nos. 31 and 32, which invite the unwary performer to indulge in sentiment. Uchida holds fast to her disciplined delivery and it pays dividends. Strong music brooks no weak knees. Uchida also resists the urge to jazz up the near boogie-woogie that breaks out halfway through the final movement of No. 32, letting its "swing and extraordinary energy" (M.U.) speak for itself. The rest of the movement begins as radiant, cool moonlight and then picks of powerful flowing energy that Uchida chooses to ride rather than over-direct. As pianist Susan Tomes writes recently in the Guardian Online (speaking about preparing a Beethoven sonata for an upcoming performance), this is the issue every performer of Beethoven must address: how much to do with it.
A direct comparison of Uchida's Sonata 32 with Pollini's, who might seem the obvious candidate, shows Uchida to be more concerned with what holds the piece together than Pollini, who gives a more 'titanic' but less organic performance.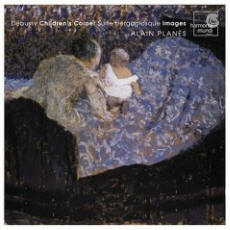 Debussy, Children's Corner; Suite for Bergamasque; Images. Alain Plainès. Harmonia Mundi HMC 901893.
If you loved Plainès' Schubert, you will eat up his Debussy. Elegance, clarity, contrast, all in the service of a mature lyricism which it fortifies and protects from becoming merely attractive. As with his Schubert sonata cycle, Plainès works against letting this music become dominated by our received ideas about it. His expressive use of contrast is what keeps this music from becoming just impressionism. The colors remain distinct from one another—it is impressionism viewed up close. The music is brimful of energy. Even Claire de Lune refuses simply to please us. Under Plainès' hands, it transports us to a place of lyric light—the very opposite of the nocturne we might expect.
Plainès brought this approach to the Préludes (HMC 901695) in 1999, which I sought out on hearing the current disc. Every prelude gets its unique due, has its own musical life. I wish him a long rest of his life, so he can complete his Haydn cycle, at the very least! What an extraordinary musician he is.
J. S. Bach, Cantatas, Monteverdi Choir, English Baroque Soloists, John Eliot Gardiner, Volume 19: BWV 155, 3, 13, 26, 81, 14, and 227. Volume 21: BWV 22, 23, 127, 159, 182, 54, and 1.
The recording pilgrimage of the actual pilgrimage of live performances of the entire corpus of Bach's Cantatas through churches of Europe, the UK, and finally New York continues. And, no surprise, the uniquely fresh quality of the series is still with us. Jazz musicians tell us that the only way to truly hear them is 'live' or at least in 'live' recordings. There is something about recording in the studio (or an empty hall) that feels to the performers like a dress rehearsal. The level of intensity—and with it the quality of inventiveness and spontaneity—is often down, or at least of a different kind. Robert Philip, in Performing Music in the Age of Recording and Susan Tomes in Beyond the Notes, tell us this different intensity is based on a concern to get every note correct, for posterity, rather than just digging in and getting the whole thing right for the occasion, for this audience. I offer this in partial explanation for the wonderful energy that permeates these recorded performances. As most of you know by now, this series of recordings is the by-product of the Bach Cantata Pilgrimage, not its point. As a major result, we get a variety of soloists and even instrumental musicians and choir members from performance to performance. What remains constant is the ease, melodic flow, and eloquence that are the hallmarks of Gardiner Bach. Less earnestly reverent than Suzuki, more lively than Koopman, more polished than Harnoncourt, to point to the immediate 'competition.'
What I noticed particularly in Volume 19 is how clearly but also uninsistently both instrumental and vocal soloists come across. This likely has as much to do with mic'ing a live performance as it does with Gardiner's judgment. But the result is the same. And the sense of the church venues is also pleasingly clear, churches with parishioners in them to calm the acoustics a bit! This comes through even on my small, stand-mounted Reynaud Twin Signatures. Gardiner is especially good at maintaining the radiant beauty of Bach's music through its most melancholy passages, of which there are a good many in these cantatas.
The cantatas in Volume 21 maintain the mood of Volume 19, and in this set, while the virtues of Volume 19 are maintained, for some reason the beauty of the music is even more evident. A new venue and different soloists assuredly contribute to this, but in live performances there are many factors that blessedly work toward variety. These are not necessarily better performances, it is just a different quality that comes to the fore: beauty is a virtue but not all virtues.
As various music lovers we come to this music with a variety of expectations. What is remarkable is how different the music can be made to sound. I get something uniquely moving from the three significantly different approaches of Harnoncourt, Koopman, and Gardiner these days; but I'll concede that Gardiner's Bach is the one I come to most often. Koopman's cycle is coming to an end soon—I think the forthcoming Volume 21 will be the last—and I'll try to say something useful about it next time out. Koopman's Bach is definitely more "German" than Gardiner's, its tempos slower, its mood a full shade darker.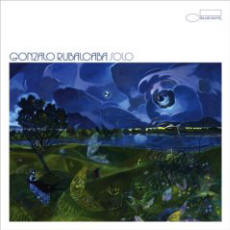 Gonzalo Rubalcaba, Solo. Blue Note Records, 31260.
I'll confess that the initial (self-indulgent ?) phrases of this first solo release from the great Cuban jazz pianist, Gonzalo Rubalcaba struck doubt into my heart. But soon all was well. As a solo venture, this album asks to be compared with those of Keith Jarrett. Rubalcaba often brings Jarrett to mind—and as much as I like Jarrett, the comparison doesn't do the more established pianist many favors. There is a soulful energy to Rubalcaba's performances, even in quieter pieces, that almost always strikes me as closer to the heart of things than Jarrett generally gets. The Cuban always feels as if he's from somewhere, while Jarrett can feel rootless, his playing spun out of the air. Jarrett plays on when his inspiration lags, something Rubalcaba never does.
Without a band, either his own Cuban musicians or Charlie Haden and Paul Motion, his chief US collaborators, Rubalcaba is noticeably freer, and he makes much of this freedom without abusing it. He can be ruminative, lyrical, playful, bluesy, abstract—but he is never open-ended. There is in Rubalcaba's work an occasional hint of Lennie Tristano that I like. Most of his pieces, about half of which are his own compositions, run their course in under three minutes. They make their musical point and leave. The last four pieces he stretches out a bit more, and truly takes us for a traditional Rubalcaba ride. The album as a whole comes across as a series of clear musical thoughts, the working out of single musical ideas. Not quite études but they share some of that quality.
If you are already a Rubalcaba fan, this CD is self-recommending. If you have yet to meet him, try him here, as my daughter did this weekend and ended up stealing the album. Solo is just the tip of the Rubalcaba iceberg, I warned her. I know of no better contemporary jazz pianist—and there are a lot of very fine ones.
System used for these auditions: Audio Note transport and dac, Blue Circle NSCS, JM Reynaud Twin Signatures on JMR Magic Stands. Cabling by Audio Note.
Bob Neill, in addition to being an occasional equipment and regular music reviewer for Positive- Feedback Online, is also proprietor of Amherst Audio in Amherst, Massachusetts, which sells equipment from Audio Note, Blue Circle, Manley Labs, and JM Reynaud, among others.