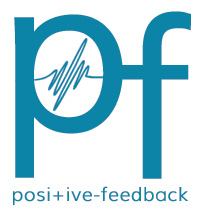 You are reading the older HTML site
Positive Feedback ISSUE 25
may/june
2006
Notes of an Amateur
by Bob Neill, June, 2006. Part 2
Note: I said in Part I that I would be reviewing the final volume of Ton Koopman's complete cycle of Bach's Cantatas, Volume 21, next time out. It turns out there will be a Volume 22, so I will postpone the review until later in the summer when the final volume is available.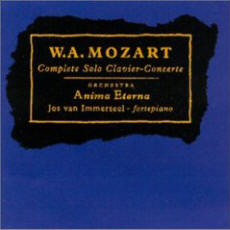 Mozart, Complete Piano Concertos, Jos van Immerseel with Anima Eterna, Channel Classics.
Because many people feel that it is in his piano concertos where Mozart's many virtues come together most effectively, we will continue to get new recorded performances of them: good and bad, Historically Informed Performances and performances on modern instruments. I am delighted to report that somebody at Channel Classics, presumably Jared Sacks, surveyed the available versions and decided rightly that in this celebratory year, their own set by Belgian keyboard artist Jos van Immerseel with his own band, Animal Eterna, is highly competitive and decided to re-release it.
I am neither a partisan nor critic of HIP or 'original instrument' performances as an approach; but this has been my favorite set since it came out. Van Immerseel plays forte piano, his band play on old or restored instruments, and together they play wonderful Mozart. What makes it distinctive and more convincing to me than either Bilsen's versions with John Eliot Gardiner or Levin's with Christopher Hogwood, to cite the most notable H.I.P. versions, is its freshness and spontaneity. Whether its success is the result of van Immerseel's highly informed (and extensively spelled out) performance theories or is in spite of them matters not a whit. The proof is in the persuasiveness of his demonstration of what Mozartian truly is.
A word about his orchestra. We are told in the program notes that he formed it himself, choosing musicians from twelve different countries. They are a splendid ensemble, whose sound strikes me as having the perfect balance of warmth and piquancy, a significant achievement. It blends perfectly with van Immerseel's forte-piano, which achieves the same balance. The latter has the striking clarity of its breed and an appealing purity of tone. What van Immerseel and his orchestra achieve is a lightness, buoyancy, brilliance, and clarity that has always stood for Mozart to my ears. None of the excessive weight and warmth of modern instruments, which in some cases can hold the composer down; none of the acidic glare ensembles of 'early instruments' frequently offer as a cure.
This is not the place to do an extensive comparative analysis of van Immerseel's and the many original instruments or modern versions of this music. A truly definitive one is beyond my knowledge and willingness to undertake. It is simply the place to share an enthusiasm that has held up for a decade and a half. Many thanks to Mr. Sacks. A wonderful bargain and what I presume is 'mid-price' at most. They were good value at full price many years ago.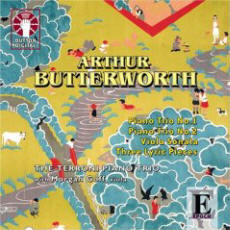 Arthur Butterworth, Piano Trios Nos. 1 and 2; Sonata for Viola. The Terroni Piano Trio. Dutton Labs CDLX 7164.
Part of the fun of being a record hunter and reviewer is fishing. I don't review everything I catch—I throw a goodly number of them back. But every once in a while I get truly lucky. I didn't even know who Butterworth is when I reached for this one, it was the piano trios that drew me in. I thought he was probably an early twentieth century member of the British pastoral romantic school. But piano trios are piano trios!
It turns out that Butterworth, while indeed British, is a generation younger than I thought (b. 1923), still alive and presumably well, the most recent piece here composed in 2004/2005. And his music, while lyrical, melancholy, and reflective, is hardly romantic. He claims Sibelius as an influence and the commentator mentions Hindemith, Vaughn Williams, and Bax. The only one of these I hear is Hindemith, but mainly I hear Debussey and Ravel. And more important, I hear Butterworth. He really does have a voice of his own, which these not very well known musicians bring out effectively. This recording is very much like a concert one might stumble on in an out-of-the-way venue—as it turns out, All Saints Church in East Finchley—and feel oneself unexpectedly in musical heaven. And then rush out to tell his or her friends about.
The most recent piece, Piano Trio 2, is a bit more spirited than Piano Trio 1 or the Viola Sonata, but shares their chromatic impressionistic voice.
Dutton has been burrowing around in lesser known and highly interesting twentieth century British music for around a decade now. They are doing us a great service. Their recordings are technically first rate.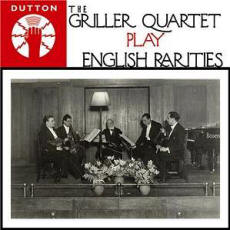 The Griller Quartet Play English Rarities: Arnold Bax: String Quartet No. 1; Cecil Armstrong Gibbs, String Quarte,t Opus 73; Elizabeth Maconchy, Quintet for Oboe and Strings. Edrich Cundell, String Quartet in C, Opus 27. Originally recorded in 1933 and 1941(Bax). Dutton Labs 9762.
I did not realize this CD was of 'historic' recordings when I ordered it—three of the pieces are transfers from 10-inch 78s—and so my initial reaction to its first few seconds was one of disappointment. Then I did my (late) homework, discovered their origin, and set aside most if not all of my sonic 'issues.' Even brilliant restoration can't create information that's not there.
It didn't help that the first work is by Bax, who is way too sentimental for me. His quartet sounds like a soundtrack to a forties movie, a quality the sonic limitations of the recording only reinforces. Alas, the Gibbs'starts out as more of the same, then picks up interest in its middle movement, briefly before dwindling off into its composer's idea of nostalgic ruminations. Pretty spineless stuff, which a somewhat more spirited final movement can't save.
At this point, about halfway through the recital, I was about ready to quit, reel in my line and, head for home. English rarities indeed. What was Michael Dutton thinking of?
But next up was a name I know and respect: Elizabeth Maconchy, whose cycle of thirteen string quartets is a landmark of twentieth century music. Here at last was something to pay attention to. Interestingly, her oboe quintet shares a similar aesethetic with the Bax and Gibbs quartets—this is very early Machonchy, the performance of the piece sharing the date of her first quartet. What distinguishes her piece from the Bax and Gibbs is its complexity. The mood of the work has more emotional and sonic texture: mournful, lyrical, and wily rather than merely wistful. We can hear the promise of the spikier and more mature composer.
And finally, Edrich Cundell, the star of the show. Cundell stands out from the group by virtue of the energy and brio of his quartet's outer movements—the Adagio is about as meek and colorless as Gibbs. The stormy poetry of the final movement strikes me as the best six minutes of the entire program. Good stuff.
Only after I had listened to the entire disc did I read the program notes to discover that the Gibbs, Maconchy, and Caudell pieces were part of a competition held in 1933—the Bax quartet (recorded in 1945) is a throw in—and that they were recorded by 'the leading quartet of the day', the Griller, to celebrate the event. I was gratified to learn that the judges ranked the pieces as I did.
My conclusion here is that this disc offers an interesting glimpse into a corner of the musical world of England in 1933. I say corner because Elgar, Rubbra, Bridge, and Britten were also composing at this time. Worth your time? If the history of British music is one of you interests, yes.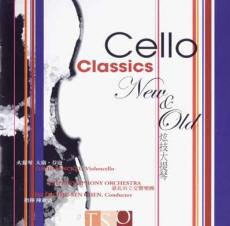 Cello Classics, New & Old. Dvořák, Cello Concerto; Augusta Read Thomas Ritual Incantations. David Finckel, cello. Felix Chiu-Sen Chen, Tapei Symphony Orchestra. Distributed in the US by Artistled Records.
Some recordings we buy for the music but some we buy for the performers, especially as we get older and have most of the classical repertoire in our collection. I love good cellists playing almost anything, and we've got a handful of them making recordings these days: Truls Mork, Petr Wispelway, Matt Heimowitz, Tatjana Vassilieva among others—and not least, Emerson Quartet cellist, David Finckel, who is carving our a career for himself as a soloist. He takes some looking for—he doesn't get the big contracts from EMI, Channel Classics, or even Naxos, perhaps because he's seen principally as an Emersonian. But he's among the best and has a sound all his own. As a student of Rostropovich, he has a big sound with a firm bottom; but he also has some of Starker's singing control through the instrument's mid and upper range, which can make him more satisfying than the famous Russian on some music. Finckel's recording of the Beethoven sonatas, for example, is masterful.
All of this by way of saying that even if you have a Dvořák or two, Finckel's is absolutely worth hearing. His characteristic combination of forcefulness and lyricism enables the concerto to make a superb case for its particular kind of romanticism. Less eloquent than Starker (though Finckel's slow movement is spellbinding) but perhaps more forceful. Less tortured than Rostropovich but more beautiful. Finckel plays with great technical assurance and command, which has a way of holding us to the piece, something few other cellists do as well.
He also plays a new work by Augusta Reid Thomas, commissioned for him by the composer. I don't know her work but I confess I came to this one with admiration for her taste in cellists. Bold, starkly lyrical—modernist to the core; with moments of the sort of thing John Taverner might write if he could see around his religion! A heady, strong work that has the effect of clearing the air after the Dvořák.
Felix Chiu-Sen Chen and the Taipei Symphony Orchestra are very fine. This recording was made in Taiwan and engineered by the inimitable Da-Hong Seetoo. Notes are in Chinese and English.
Equipment used for this review: Audio Note CDT 2 II digital transport, Audio Note Dac 4.1 Balanced Signature, Blue Circle NSCS integrated solid state amplifier, JM Reynaud Offrandes, Audio Note silver cabling.
Bob Neill, in addition to being an occasional equipment and regular music reviewer for Positive- Feedback Online, is also proprietor of Amherst Audio in Amherst, Massachusetts, which sells equipment from Audio Note, Blue Circle, Manley Labs, and JM Reynaud, among others.