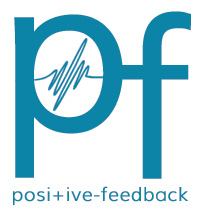 You are reading the older HTML site
Positive Feedback ISSUE 25
may/june
2006
Stockfisch-Records' LPs
by Roger S. Gordon

One of the complaints about vinyl is that the only thing on 'new vinyl' is music that only your kids would listen to or reissues of old stuff that you have heard and purchased many times before. To a certain extent that is true. It is much cheaper to reissue the old rather than to record new. Most of the new recordings being issued on vinyl outside of the rock genre are of soloists or small groups. The cost of recording a full orchestra today is beyond the financial ability of all but the major labels. So while there are no new recordings of Mahler's 8th Symphony (Symphony of 1,000) on vinyl, you are seeing more new vinyl releases in the pop, folk, and jazz genres.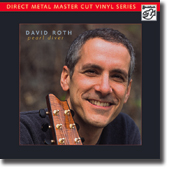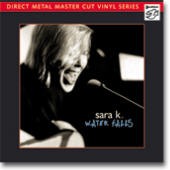 Stockfisch-Records is a German recording studio that for over 30 years has been recording and releasing music by artists from the European guitar scene and the '70s folk revival. Particular attention has been paid to singer/songwriters. Stockfisch recordings are made with meticulous care. "High-quality for audiophiles" is their motto. Most of their output has been on CD, including hybrid SACDs and some 5.1 multi-channel. Recently they have expanded their artist list by adding two singer/songwriters from the USA, Sara K. and David Roth.
Sara K. is known to the audiophile community through the CDs she recorded with Chesky Records. A singer/songwriter that plays a four string guitar, she sings in the folk/jazz genre. David Roth sings in a more traditional style. More of the classic folk style of the early '60s, but with current lyrics. Besides being a musician, David is also a motivational speaker for large corporate groups. So he has a practical side as well.
Stockfisch has recently released on vinyl two of their existing CDs: Sara K.'s Water Falls (2 LP set) and David Roth's Pearl Diver. I ordered both of these LPs directly from Stockfisch in Germany. The LPs arrived in ten days, expertly packed. Since then the LPs have become available in the USA via the major web-based audiophile music sites. Upon opening the LPs I was struck by the quality of the product. The albums are in heavy, clear plastic slip covers, sturdy cardboard covers with glossy artwork, poly-lined paper inner sleeves, and a gatefold insert with lyrics and notes. No corners were skimped in getting these LPs to market. Still you can not tell a book by its cover, so how do they sound? Are they audiophile quality? How many times have we been promised "audiophile recordings" and it turned out to be marketing hype?
With the first cut of Pearl Diver, it was apparent that these LPs are "audiophile quality". Superbly recorded. David Roth was sitting in my living room singing and playing his guitar, backed up by another guitar and a fretless bass. Is the sound as phenomenal as the 45rpm Class Records reissue of Satchmo doing St. James Infirmary? Not quite. But I don't see how any audiophile can quibble with the sound. I then played Water Falls. Again superbly recorded.
So these are audiophile grade recordings. If you are an audiophile and into vinyl you need to buy these LPs. End of discussion! However, if you are a music lover first, and an audiophile second do you need to buy these LPs? That is a harder question to answer because it comes down to personal preference. Pearl Divers contains ten songs, eight written by David Roth. One song is a cover of Don McLean's Vincent and the other rewrite of an earlier song he co-wrote with Anne Hills. Besides David singing and playing, he is accompanied on each cut by up to four backup instruments and on three cuts by back-up vocalists. The backup musicians are a joy to listen to. They add quite a lot to the sound and the feeling of each song. You can go to www.davidrothmusic.com/recordings.html and hear some of David's recordings that he has put out on his own label. This will give you a feel for his music. However, the Stockfisch recordings have a much higher production value.
There is 44 minutes of music on Pearl Diver and 48 minutes of music on Water Falls, yet Water Falls is on two LPs, and Pearl Diver is on one LP. I suspect that is because Pearl Diver is a quieter, more introspective album. Water Falls has more dynamic swings which would use more space on the LP. It also uses more backup musicians and quite a varied mixture of instruments. I counted twenty three different instruments listed in the liner notes as being used with a minimum of three on two cuts and a maximum of six also on two cuts. Most of the songs are more on the folk side, rather than the jazz side. There is also a blues song, All Your Love. All of the songs are written by Sara. They are personal vignettes of her life. If you go to www.sarak.com/music.html you can listen to four of the songs off of Water Falls. These will give you a taste of what is on the album.
Good music. Very well recorded and pressed. Its nice to have good, new music available on vinyl.