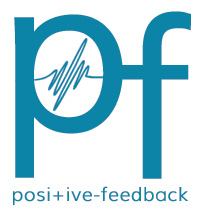 You are reading the older HTML site
Positive Feedback ISSUE 25
may/june
2006
Two SACDs from Telarc - Mahler and Cincinnati Pops Orchestra
by Karl Lozier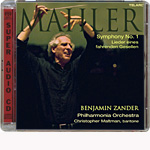 Mahler, Symphony No. 1/Songs of a Wayfarer, Philharmonia Orchestra, Benjamin Zander, conductor, Christopher Maltman, baritone (Telarc 2SACD-60628)
Gustav Mahler was a complex individual, and he composed complex music. Though Mahler's symphonies are the heart of his art, he wrote many songs (and song cycles) that are not far behind. Many of his nine symphonies are large in scale. Most feature a chorus and/or solo vocalists. His first symphony, sometimes called "The Titan," is one of the best first symphonies ever written. In its final version, it is relatively conventional in form, and does not feature any singers.
Telarc's new hybrid SACD recording of the symphony—accompanied by the melodic and appealing Songs of a Wayfarer, particularly well performed by baritone Christopher Maltman—will appeal as much to audiophiles as to music lovers. Mahler fans have their favorite conductors, and their choices often differ for different compositions. You can forget that with this release. Benjamin Zander can handle these pieces as well as anyone. If you add Telarc's outstanding sound quality, there is little reason to make another choice. There is also a second disc that features Zander discussing both compositions.
This is yet another Telarc disc that is as good as recordings get. There's not much more that I can say, though I will report that the brass and winds can be heard with particular clarity. There is some off-stage brass playing—see if you can place the instruments correctly. I have read that Mahler did not change the tuning of the tympani in different passages, but this recording's superb bass clarity and detail sure made it sound like this had been done. This recording should delight audiophiles and music lovers who want to hear it all like it really is. It gets my highest recommendation.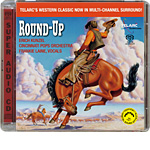 Round-Up, Cincinnati Pops Orchestra, Erich Kunzel, conductor, Frankie Lane, vocals (Telarc SACD-60141)
Some years ago I dubbed Michael Bishop the crown prince of sound effects. Though Round-Up was recorded almost twenty years ago, it aptly demonstrates that he deserves the title. Bishop somehow figured out a way to split these recordings into a three-channel (left, right, and center) 32-bit master. For the release, three completely new mixes of the recording were combined with some new recordings of the ambience in Cincinnatti's Music Hall. This may be the first recording to successfully make a stereo recording into a genuine surround-sound multi-channel SACD. It is certainly the audio equivalent of starting with a pig's ear (though a good one) and ending up with a silk purse. Why did Telarc go to all the trouble? They say that the original two-channel recording tops their list of the most requested re-releases from their vast catalog.
The program is a compilation of themes from several TV westerns and a couple of movies (High Noon and The Magnificent Seven). Also included is the finale of the William Tell Overture (also known as the Lone Ranger theme) and a medley of Western songs including "Home on the Range" and "Red River Valley," among others. There is a total of twenty tracks, three of which feature Frankie Laine sounding better than ever. Two tracks feature the excellent May Festival choral group heard on other Telarc recordings and at the Cincinnatti area's annual choral festival.
This is one of the most enjoyable recordings I've ever heard! Bishop's superb sound effects are guaranteed to surprise, shock, and even scare you, particularly if you listen to it on a reasonably good surround-sound system at high volume. Even when evaluating multi-channel SACDs, I typically listen on my two-channel reference system. That system has been carefully assembled to be tonally neutral and extremely revealing without any emphasis in the high end. My home theater/surround-sound system is more modest, though it features an excellent Esoteric universal player and a pair of Nola's latest subwoofers.
On my reference system, Round-Up sounded very good, but in some passages it was not as clear and detailed as Telarc's best. On my multi-channel system, it sounded as good as any recording has ever sounded on that system. Admittedly, that system has a bit of deep-bass-through-midbass boost and top end rolloff to compensate for less-than-stellar sound sources. Comparisons of this disc in both systems revealed that the surround-sound setup had a little less detail and clarity than my reference setup, but I was only aware of those shortcomings when I made the comparisons. When I simply listened to this recording on my home theater system, I was not aware of any faults. Another factor is that I got maximum enjoyment from the surround-sound layer. I recommend that you buy and enjoy this fun recording.