January 31, 2006 was one exceptional day. The arrival of my W-2s on that clear Tuesday afternoon meant that I could finally file my Federal Tax Return. A new Supreme Court justice was confirmed in Sam Alito, driven by the retirement of the first woman Associate Justice, Sandra Day O'Connor, swaying the Supreme Court rather decidedly to the right. Federal Reserve chair Allen Greenspan made official his retirement after 18 ½ years, being replaced by a giant question mark in Ben Bernanke. And, George "Dubya" Bush was set to deliver his sixth State of the Union address that evening. But when I arrived home at the end of my day to find all 525 lbs worth of the Escalante Design Fremont's and their dedicated stands waiting to be uncrated in my garage, tired as I was, I felt as if my day had just begun.
Since my first ear opening experience with them at T.H.E. Show earlier that month, I had been waiting for this. My brief time with them at that event had left me counting the days until their arrival. Their unparalleled speed, uncanny pitch definition, intrinsic correctness of tone and daunting resolve had captivated me, making them one of the few true "revelations" of this year's event. With their arrival, I could begin to feed my curiosity.
Out of the Shadows
Though as a company Escalante Design may be seen a relative new comer, their personnel prove them to be something much more than the routine start-up. The name Tierry Budge will be familiar to anyone who has been at this hobby/sport/disease we call fine audio for any length of time. Tierry is renowned for his work at Wilson Audio where he developed the WATT III/Puppy II, WHOW II, WAMM VI, and laid much of the groundwork for the original Grand Slam. Leaving Wilson to co-found Talon Audio, he designed their most notable products, including the original Khorus, Peregrine, Khite, and Roc subwoofer
Co-founder and President of Escalante Design, Matthew Waldron has been a musician since his teens. While still in high school, he started working with a pro-audio retailer as a cable fabricator, salesman, and repairing and reconing loudspeakers. Coincidentally at about the time Tierry was leaving Talon, Matthew sought him out and made him a business proposition. Funding the company start-up, handling the daily business operations as well as all production duties, he also designs and fabricates the cabinets and stands. So, what else motivates our newly formed dynamic duo?
Beyond their unquestioned love of music, one other shared priority of Escalante Design's co-founders was the desire to create an environmentally friendly manufacturing process for all their products. This was not as easy as one might think, as Matthew discovered while searching for a truly "green" adhesive. However after taking it upon himself to do the research, he finally settled on an adhesive with the lowest Volatile Organic Compound content that still offered comparatively high pound per square inch lap sheer and peel strength.
Next, they settled upon the use of a proprietary 100% recycled wood material with special density properties known as Soul-Board. Unlike the commonly used MDF or HDF, it has no added formaldehyde. Using 100% recycled plastic for the grills, the lightweight and magnetically aligned and mounted frames are covered with ultra-transparent surplus fabrics of 100% organic cottons and recycled polyesters from Patagonia. After closer examination, these grills are some of the more durable and transparent, visually and acoustically. that I can recall running across.

Of course, Escalante Design uses no lead; all the custom circuit boards and solders used in the Fremont are lead free. The patented binding posts from Cardas use a unique single knob to bite down on the cryogenically treated, rhodium-plated terminals and are very durable and extremely easy to use.
Witness
When viewed as a conventional two-way "monitor," this speaker must be seen as enormous. At 28.5 inches tall, 14 inches wide, and 18 inches deep, weighing 100 lbs apiece, these are the largest "monitors" you are likely to ever lay eyes on, especially at their 45" overall height when perched atop their custom stands. However, when viewed in a more correct perspective, that of an uncompromised full range (18 Hz to 50 kHz) reference grade loudspeaker, this breakthrough in size of just over 4 cubic feet must be seen as the monumental achievement that it is.
Visually arresting yet unpretentious, their aesthetic is supple and robust at once. My review models are finished in a flawless BMW® Indianapolis Metallic Red, fitted with sweeping brushed aluminum side accent inserts, and are the very models that were on display at the St. Tropez. Though there are currently several other automotive finishes including BMW® Cosmos Black, Porsche® Titanium Metallic and Maserati® Metallic Blu Nettuno, they also offer one of the most original and striking cabinet finishes in the industry today with their gorgeous natural bamboo.
The dedicated stands developed by Matthew are made of solid black frames upon a sectional base, also fitted with brushed aluminum inserts, and weigh in at just shy of 90 lbs apiece. Included was the AudioPoints upgrade which employs a set of four very shallow (only .2 inch tall) .2AP.7D AudioPoints and APCD2 coupling discs, to provide an enhanced decoupling from the stands. Each of the corners of the base of this unique stand is fitted with a threaded steel spike, adjustable by a knurled knob from the top of the base plate. These knobbed spikes, along with the included bubble level, make for easy and accurate leveling once the Fremont is in place.
I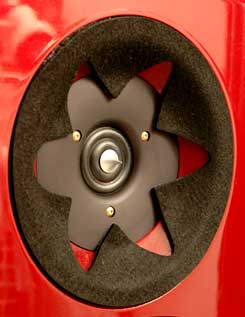 Moving inside the handsome cabinet, the drivers are a unique blend, employing an industry standard driver comfortably alongside a product developed exclusively for this project. The tweeter is the widely used ScanSpeak Revelator R2904/7000-00. Mounted inside a very shallow front baffle recess and surrounded by a felt appliance (to aid in diffraction control and dispersion), the tweeter should be seen as orthodox to anyone familiar with high performance loudspeaker design. Though not exactly ubiquitous, its use is wide ranging, from the Coincident Technology Super Eclipse III ($6000/pr.) to the Von Schweikert Audio VR-11SEs ($150,000/pr.).
In the Fremont, the Revelator crosses in at about 2500Hz. I say "about" because the whole system operates with first-order (6dB per octave) crossovers, making that very frequency slightly dependent on room interaction. Tierry chose to employ first-order crossovers to take advantage of what he sees as their inherent strengths in areas such as transient faithfulness, dimensionality, dynamics, "smoothness," and resolution.
A true first-order crossover presents a number of challenges. It will vary slightly from room-to-room, and secondly, much more problematic than the first, it can change wildly with current/voltage changes. While the first of these two problems can be addressed through careful room placement, the second one is an absolute. Everyone who tries to use a true first-order crossover must live with that consequence. Well, almost everyone.
Into the Fire
Several years ago, Tierry developed a "biasing" circuit which is employed as part of the patented design in the crossover of the Fremont, Pinyon, and Juniper. This custom circuit supplies a constant current across the high-pass circuit, compelling it to remain stable regardless of current or voltage changes. This specialized circuit also assists in relieving the unevenness of the first octave of the roll-off, helps to create "time" compensation so that there is no mismatch between the woofer and tweeter, and it addresses any little bumps and wiggles that the tweeter possesses. Tierry adds that, "In truth, this system, with its acoustic and electrical crossovers, (more on those aspects to follow) functions like a 4-way, with flex points at 80, 500, and 2500Hz."
Yet I believe that it is with the application of the custom 12" woofer, with its unique dust cap/midrange, working in closely orchestrated concert with the patented Direct Coupling technology, that the true magic and mythos of the Fremont starts to emerge. Let's look at some physics to get a handle on what Tierry was designing to overcome.
In years past, Tierry measured the woofer response of a very highly regarded loudspeaker selling in the over twenty thousand dollar per pair price range. His mesurments showed that this woofer had a maximum rise-time of approximately 1300 µs (microseconds). Using this number for calculating a near omni-directional dispersion of that speaker's woofer, frequencies began "beaming" (started to get directional), somewhere around 850Hz. In practice, that meant that a frequency of 850Hz would have the rise-time and omni-directionality that it needed. However, at 825Hz, you would need a rise time of something like 1350 µs; 800Hz would need something like 1400 µs, and so on. This means that all frequencies below 850Hz had the possibility of being produced accurately, (except below 350Hz or so, when the drivers own resonance began modulating "time-based" information, but that's an altogether different discussion).
Normally, as frequency climbs the rise time must fall. However, as we have noted, the woofer under examination could "fall" no further than its previously measured maximum rise-time of 1300 µs. If 825Hz requires a rise-time of 1350 µs, then 900Hz would need a rise time of approximately 1250 µs. This meant that all frequencies above 850Hz would be reproduced too slowly. They would be slower to rise and slower to complete, thereby becoming unavoidably pitched to the flat side of natural. This phenomenon can be seen to get progressively worse (increasingly disparate) as frequency increases.
This rise time disparity will impact absolute transparency as well because at those affected frequencies, the speaker is hanging on to a note much longer than necessary. This attribute also directly affects power handling and drivability, as an amplifier wants to move on to produce an entirely new set of notes, even though the speaker hasn't finished the last one yet. Given all this, one might wonder how it was that Tierry came to settle on a 12" woofer for the Fremont. Well, he had both a plan and an inventive patented process to put into effect.
Surfacing
Most 12" drivers in the high-end world have a response time of about 5000 µs or slower. Even if we disregard the speed issue, a cone that size can't really produce anything above 450 or 500Hz. That's where the unique dust cap of the Fremont's woofers come in. While using the dust cap as a resonant coupled radiator is not new (that was a common approach to wide-range loudspeakers from the 1950s and later), his design goals would require a very specific and radical development.
Because it has to act like a true independent midrange, Tierry had to design its overall geometry, size, and composition, employing three separate low Q materials (i.e., having the narrowest bandwidth impact), four if you count the bonding agent, in an attempt to minimize any self-resonances. He said that it proved to be quite a challenge, forcing him to draw upon his vast experience, but given what I'm hearing, the effort was worth it. Tierry says this unique dome naturally rolls-in at 500Hz where it acts as an "independent" midrange and radiates "omni-directionally" quite well up to about 3200Hz. Since the woofer is rolled off at 2500Hz (700Hz below where the dome begins beaming), the directionality issue never comes into play.
"High End" applications using 6.5" drivers typically exhibit a rise time of between 1100 and 1500 µs (possibly worse if the designer is not careful), while the best 5.25" drivers typically rise between 800-1000 µS. Yet Tierry says that this 12" woofer, in this patented loading, has a rise time of just 70 µs! This "speed," which is faster than the average 2" dome midrange, not only helps alleviate what would normally be the whole radiation and pitch issue, but it contributes to driving down distortion significantly while appreciably increasing believable output.
Full of Grace
Discussions on some of the web newsgroups invariably have participants incorrectly referring to Tierry's loading as an "isobaric" design. Tierry comments, "As far as the references to "isobaric," this really only applies extremely loosely. Isobarics (and every other speaker in the world, for that matter) work off of a given resonance. However, if this speaker were allowed to "resonate" in any way, the speed of the woofer would instantly become more than 10 times worse...making the entire system "crash and burn." In truth, the enclosure accomplishes a very specific amount of mechanical "back pressure" as well as an acoustic time delay (so that by the time the internal woofer's response reaches the listening space, it's in phase with the external woofer). This adds almost 2 octaves extension on the bottom, as well as adding more than 10 dB of headroom."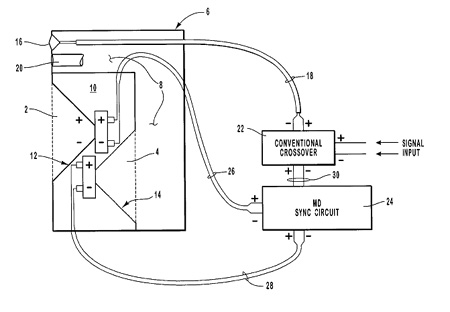 This drawing is from the US Patent 6816598 document and shows the compound driver alignment, the crossover with its "biasing and delay" circuit, and the out-of-phase woofer wiring.
Tierry's network employs a seemingly unique application of electronic, acoustical, and mechanical components. The woofers are loaded in a push/pull, out of phase, asymmetrical alignment (see illustration above). According to the Escalante Design website, the electronic network introduces a delay with two functions. Its first responsibility is to introduce the appropriate delay between the two woofers so that they can operate in perfect signal alignment, while the second function is to reduce the bandwidth being produced inside the cabinet by more than three octaves so that no midrange frequencies exit the ports or reflect back through the external woofer. There is also an engineered progressive acoustical and mechanical impedance (inverse to each other) that helps to control the woofers and introduces a precise delay so that the waves being produced by the internal woofer exit the cabinet through the ports in phase with those being produced by the external woofer. This further extends the low frequency response and is said to make the entire system more musically expressive.
Overall, this is quite an ambitious and stirring design. In fact, according to Tierry, there are something like 30 different specific details at work in his design, all of which are interdependent, many of which have never been employed before. At this point, with nearly six months of awe-inspiring musical performance and a checkbook significantly lightened by their purchase, I can say that the Fremont's are an unquestioned success.
Fumbling Toward Ecstasy
Though I uncrated them, carried them downstairs and set them up myself (in just under an hour), I can't recommend a solo setup effort. Get some extra hands to help. Initially placing them at what I know to be a good starting point, I performed the usual audiophile waltz to optimize the interrelationship of bass impact and extension, tonal balance and imaging. Though schlepping them around my room required a little more effort than usual (they are nearly 200 lbs with the stands, after all), I ended up with unprecedented results, settling on a position that has the center of the Revelator 61" from the rear walls and 27" from their respective sidewalls, positioning them some 7' 3" apart. The prime listening area is centered 8' back from the plane of the tweeters. Where I usually find that some trade off must be made between optimum bass extension and the most accurate image recreation, for the first time I can recall, I did not have to make any such compromise with the Fremonts. Whether this is another measure of the success of the overall design or just pure good luck, I cannot say.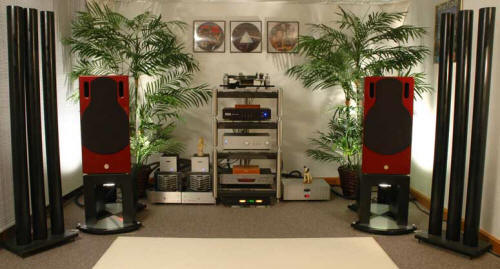 Upon arrival, these units had approximately 30 hours of accumulated time. Tierry feels that they really only take about 25 hours to reach their target tonal/timbral/dynamic character, so I was ready to dive in. They sounded spectacular right from their crates. However here in my room, as they "acquired" more time, they continued to audibly blossom. It was only at what I estimate to be around the 450-500 hour mark that they had fully matured and seemed to alter no further. And what a maturation.
Over that first month, midrange had become even more expressive and dimensional. Timber warmed ever so slightly, growing even more natural, hard as I found that to believe. Mid bass speed increased and low bass took on enhanced definition. Though the treble performance seemed the least affected by run in, even the uppermost three octaves handled by the Revelator became more "naturalized" while taking on enhanced specificity greater dynamic expressiveness. While I'm sure you'll think me mad, virtually every aspect of the Fremont's performance had undergone some degree of affirmative metamorphosis. The speakers now before me were significantly improved over the crated units that had arrived, and those speakers had been utterly amazing.
Drawn to the Rhythm
The first phenomenon to captivate me was their alluringly undeniable accuracy of pitch. The way they reproduced the fundamental sound of drums, their ability to capture the texture and tone of the skin itself, was nothing short extraordinary. Pianos were laid bare, and the essence of hammered strings has never been so obviously recreated in my room. Listen to The Piano Music of Federico Mompou [Hyperion CDA66963] with Steven Hough at the piano for a taste of the vividness I am trying to describe. Over time, this attribute became only more enchanting. No matter what I listened to, the authentic sense of timbre and rightness of tone was inescapable.
They deliver music in the most wholly organic manner I can recall. Music, all kinds of music (more on that soon), is recreated with a warmth, a coherence, a dimensionality, a presence, a texture and an immediacy that is so evocative of the live event that I repeatedly found myself wondering how such an unorthodox design could be so captivating. There is such an inherent sense of "live" rendered by the Fremont, so unlike anything I have ever experienced from a loudspeaker before, that I was completely charmed.
With the right amplification, and the Fremont's are seemingly very easy to please, bass is fast, tight and detailed! Talk about slam, speed, and definition! The resultant tunefulness of the bottom four octaves is captivating and sublimely expressive. The degree of articulation and definition afforded is second to none in my experience. And I don't just mean with high wattage amplifiers. With a rated efficiency of 93dB, the Fremont's seem easily animated.
Results with the Channel Islands Audio VMB-1 monoblocks, an over-achieving 40-wpc gain clone, were breath taking. A pair of similarly powered tube entrants I had on hand, while performing that ol' tube magic with midrange harmonic development and air, just couldn't quite control these big woofers. Do not take this as damnation. How many speakers with 12" woofers do you know that can excel when fed by 40-wpc amps? No, the Fremont is remarkably open to amplifier pairing by comparison. Yet when the pairing was capable, or better yet, synergistic (as it was with the Channel Islands Audio D●200 LGX Monoblocks), the integration of sub bass with bass and mid bass is unrivaled in my experience. And this result comes with 12" drivers, no less.
The midrange and treble from the Fremont is more open and more transparent than I can recall hearing from ANY dynamic loudspeaker, disarmingly so. In fact, in this area I'm not sure that they don't rival the best I've heard from planars or electrostatics. Try as I might (and believe me, I really tried), I could detect not even the faintest hint of over hang, resonance or driver distress of any kind.
Midrange is blustering with life, rich in detail, and full of harmonic bloom. Instrument fundamentals from piano, violin, guitar, human voice, et. al., are rendered so realistically, dripping with texture and dimension, as to have a living quality, even with recordings I had previously considered mediocre. This is some of the most beautiful, smooth, and expressive midrange I have had the pleasure of hearing, so engaging and articulate, completely expressive and fluent. Though repeating myself, this fantastic result is achieved from these custom 12" drivers.
Treble is focused and detailed, yet smoothly and without any etched sterility. They deliver an unbelievably open and spectacularly airy top end; I'm not sure I have ever heard better from any speaker to date, including others using the ScanSpeak Revelator. Listening to recorded ride cymbals with jazz or blues combos or triangles with classical recordings, you are treated to pure and uncongested detail, with vivid attack and seemingly interminable ambient decay, recording permitting.
Then there is their sense of speed. This was so enticing that I couldn't believe what I was hearing. They convey such a sense of immediacy, swiftness, and credible believability that they sound like no other speaker in memory. To me, this speaks to their remarkable overall tonal balance. Any speaker I have heard with even the slightest excess of energy from the lower mids through the upper bass always sounds sluggish and slow by comparison. None of that here. And have I mentioned they use 12" woofers?
Many of you will know that I am an image and staging freak. If a speaker can't get that right, well, it doesn't matter to me how well it does anything else, 'cause I won't be listening long enough to find out. While I have heard speakers with slightly more holographic dimensionality than the Fremont's, they are at the top of the list in terms of focus and precise localization. Depth and width are portrayed very accurately, with height suffering only slightly in comparison to the very best.
One of my decisive tests for staging and imaging is found in Harp Attack (Alligator LCD 4790). In the opening cut, "Down Home Blues," the four voices and harmonicas of Cary Bell, Billy Branch, James Cotton, and Junior Wells are lined up, left to right. While I have heard vaguely more realistic sizing of the human and instrumental voices from this cut, the Fremont's are world class in reconstituting each blues man's placement within that soundstage, with an uncanny stability and faithful layering.
Yet it is their ability to so compellingly render timber, instrumental attack, body, and weight, as well as the exceptional degree of sonic clarity that they afford, that won me over, almost immediately. They sing with one lucid and jubilant voice, as if they were some magical living beings that simply exhale music rather than electro-mechanical transducers struggling to recreate music from an amplified signal.
Never before have I heard a speaker that was so articulate yet so unmistakably natural sounding in doing so. They are the paradigm of proper voicing, with an unswervingly musical accord, no band accentuated or minimized. The integration is so seamless, so totally coherent, that it left me wondering how a two way, even one boasting such an ambitious list of innovations, could be pulling this off. Yet its soulful and inviting voice is undeniable.
I want to be clear about the Fremont's lack of preference in the music it recreates. From David Bowie to Ludwig von Beethoven, from Stevie Ray Vaughn to Ralph Vaughn Williams, from Supertramp to Camille Saint-Saëns, from Dream Theater to Antonin Dvořák, everything is rendered with the same exceptional rightness and a verve that seems to defy its having been generated electro-mechanically. While I have known a number of speakers that are comfortable with most forms of music, even the best of those expressed slight preferences. I find the Fremont to be an exception in that category as well.
Sweet Surrender
The new Escalante Design Fremont was an enigma to me when it arrived. It has forced me to rethink many things I have accepted as true about loudspeaker design. The bloody things just shouldn't sound this good; at least, according to the physics I have known all my life. Yet the degree of clarity, tonal accuracy, dynamics, pitch definition and expressiveness it affords is nothing short of scary spectacular. After a closer look at the patent, a flurry of emails with Tierry, considerable pondering, and living with them for nearly half a year, I can say with absolutely no reserve that the Fremont represents a significant advancement in the design of loudspeakers.
As I think about two woofers that are deliberately driven with a phase shift between them as described by Tierry's patent, it occurs to me that the coupled air between them would act as a tremendous spring that would store a lot of energy in one half-cycle (of the difference between them) to be given up in the other. I can see how this could extend the frequency response into the lower octaves if it was properly controlled. What I suspect is that Tierry has found a way to develop a remarkable response time while also being able to achieve highly damped response due to the unbalanced pressure loading created by the phase shift introduced between the two drivers.
In today's high-end speaker market, where success tends to spawn look alike, wanna-be clones of last month's "Top Rated" speakers, the Fremont's offer both a unique design and an distinctly original voice; a voice of vivid and spellbinding musicality. In short, they are the most naturally voiced (by a significant margin), musically expressive loudspeakers I have ever had the pleasure of auditioning. Whether due entirely to shrewd and insightful engineering, or if a healthy dash of serendipity came into play, I am unable to say. Nevertheless, the Fremont from Escalante Design represents a significant, once-in-a-decade achievement.
The Fremont lifts the result of the reproduction of music as close to the level of the live experience as I have ever had the pleasure of encountering out of the concert venue. With the Fremont, recordings are not just faithfully recreated; the original events are unleashed on my listening space with a musical clarity I have never experienced from any other speaker at any price. I can honestly say that the Fremont brings me closer to the recreation of the "live event" than any speaker in my experience.
While not exactly cheap (they carry the same retail as a new 2006 Volkswagen Rabbit!), they do occupy a competitive price point. When considered in the company of the likes of speakers like the Dynaudio Confidence C4, the Egglestonworks Andra II, the Verity Audio Parsifal Encore, the Legacy Whisper, the Wilson Sophia, or even the WATT/Puppy System 7, to my ears, the choice is clear. Though I have heard all these speakers on many occasions, as well as numerous others, to me, the Escalante Design Fremont bests them all.
Afterglow
In my thirty plus years chasing musical nirvana, the Fremont is the most exceedingly musical product I have ever encountered. Have I been tricked by some "gimmick" that plays to all my musical biases and weaknesses? Believe me, I have given that possibility considerable thought. Every listener, both seasoned and novitiate, to visit my listening space since their arrival has enjoyed the same reaction. But the answer is no. I have spent nearly six months trying to find something, anything, to dislike or point to as a flaw. Other than what should be seen as an understandable amplifier sensitivity (um, have I mentioned the 12" drivers?) and a slightly diminished imaging capability, it just isn't worth searching for weaknesses any longer. After great effort, I have quit wasting time looking and have allowed them take me to the heart of the music, a place that they know so well.
Escalante Design is not your run-of-the-mill start up loudspeaker company, and the Fremont is anything but another look alike, indistinguishable entry into the fray. Though I hear several dozens of speakers each year, many in price ranges that are unreachable for me, these are the first speakers that have spoken to my passions so strongly that I have found a way to afford them, moving on from a long time reference. The Fremont represents not only a milestone in the development of two-way loudspeaker design, but also a significant advance to the State-of-the-Art. My ears have been opened anew. Greg Weaver
Specifications
Design Type: Direct Coupled

Woofer: 2 x 12"

Tweeter: ring radiator, soft-dome

Freq. Response: 18Hz - 50kHz

Amp: 1 - 1000 watts

Sensitivity: 93dB

Impedance: 8 Ohms nominal

Speaker Dimensions: Height: 28.5 inches (73cm), Width: 14 inches (36cm), Depth: 18 inches (46cm), Weight: 100 lbs. each (46kg)
Fremont
Retail: $14,990 a pair
Escalante Design
web address: www.escalantedesigns.com
US Dealership and Worldwide Distribution
FLK Marketing and Distribution
TEL: 856. 374l 4757
email address: Distribution@EscalanteDesigns.com