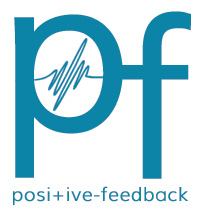 You are reading the older HTML site
Positive Feedback ISSUE 26

july/august
2006
Frederick Fennell/ Cleveland Symphonic Winds - Holst: Suite Nos. 1 and 2 / Handel: Music for Royal Fireworks/ Sousa: Stars, Marches, Fanfares and Others, Telarc SACD
by Mark Wagner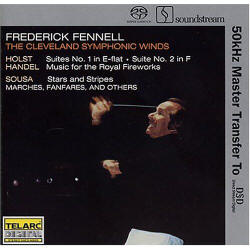 So that you all understand, I will hear by confess to being a serious band geek. I played trumpet from age 10 up until about 2 years ago at age 42. So, all of the pieces on this SACD are well loved and very familiar as I have played it all. This SACD from Telarc was originally recorded between 1978 and 1979 in the old Soundstream machine. These were all 50 kHz recordings that had to be whittled down to play on the then standard CD players. With the advent of the SACD and DSD recording techniques, Telarc was able to go back to these masters and crank out a truly incredible re-master!
Anyone who ever played in his or her high school or college band has undoubtedly played a majority of the pieces. The two Gustav Holst suites (First Suite in E-flat Op. 28 No. 1 and Second Suite in F Op. 28 No. 2) are as important in wind band literature as a Beethoven symphony is for any orchestra. The same can be said for Percy Grainger's Lincolnshire Posy and Shepherd's Hey as well as the equally famous Folk Song Suite by Ralph Vaughn Williams. These compositions round out the compilation of original wind band masterpieces.
Marches are not ignored with the inclusion of the most famous march of all time by the march king himself John Philip Sousa (Stars and Strips Forever) as well as the other march king, Karl King (with his ever famous Barnum and Bailey's Favorites) included. We also are treated to only one (used in the Olympics) of the three famous Olympic fanfares by Leo Arnaud. Rounding out the SACD are two transcriptions: Handel's Music for the Royal Fireworks and Johann Strauss' Radetzky March.
Here is where I state that I have a nit I to pick with Telarc. This SACD is a compilation of two Redbook CDs (CD-80099 and CD-80038). Most of the music on the SACD is from CD-80038 (The Cleveland Symphonic Winds) with a few other pieces from CD-80099 (Stars and Stripes Forever). What is sad for me is the amount music that was left out. I know that space on a single disc is limited but I know that there are MANY people out there that would have jumped on BOTH discs if they had been released as SACDs. It is my hope that at some point in the future that Telarc will release the remaining music (which is equally outstanding!!) as an SACD.
Who are the performers? Here is the one item that makes this a truly rocking recording. It was way beyond amazing that way back in April and December of 1978 and then again in November of 1979, when Frederick Fennell (the godfather of the wind band movement) got in front of a group of wind players from the world famous Cleveland Orchestra. What is funny is that Maestro Fennell conducted music that most of those players had likely not played in decades, or perhaps, never before! I have known some pretty stodgy orchestral players, and one would think that the wind players from such an orchestra as Cleveland would maybe be, umm, cold to such a venture? Not hardly! Perhaps it was the inextinguishable joy that Frederic Fennell always brought to the podium, as this music is fun, fun, fun!
The sound is absolutely top notch and offers a 100% improvement over the old Redbook. I am going to proclaim the normal audiophile terms of space, depth, soundstage, air etc, because it is available here in droves. By the way, it is exciting? Oh yes! As I said, I am intimately familiar with a majority of these pieces and I can hear players and sections within the ensemble that I never heard on the original Redbooks.
You do not need to be a band music expert, fan, or even an aficionado to enjoy this SACD! If you enjoy foot lifting music, enthusiastic performances, and a prime example of excellent re-mastering, then look no further! I just hope that by some stroke of luck Frederick Fennell was able to hear these pieces re-mastered before he died last year at age 92.
Highly recommended!!!