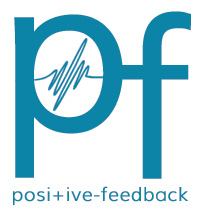 You are reading the older HTML site
Positive Feedback ISSUE 26

july/august
2006
A plethora of jazz/blues recordings from Telarc/HeadsUp
by Karl Lozier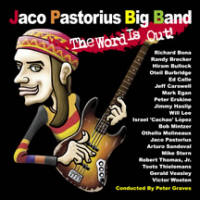 The Word Is Out, Jaco Pastorius Big Band
Heads Up HUCD 3110 and Hybrid HUSA 9110 multi-channel
Is it possible that Jaco Pastorius' name is becoming more widely known than during his relatively short but brilliant career? A brilliant fretless bass player, Jaco did far more including composing and by forming/leading a large band, called "Word of Mouth". Here again, the word, "Word" is used in a resurrected Jaco Pastorius orchestra's album title. Pastorius died in Fort Lauderdale Florida not far from where I live. In 1981, his orchestra joined with the Peter Graves orchestra (including 14 horns) for a memorable 30th birthday concert for Jaco Pastorius. Peter Graves is the producer and conductor for this new release. Most of the compositions are Jaco's. One that is not is Blackbird by Lennon and McCartney and was on Jaco's Word-of-Mouth orchestra's first release 25 years ago! There is a real bonus here on the last track, Reza, courtesy of modern electronics such as bringing Nat Cole and his daughter together. Here the departed Jaco Pastorius is once again heard playing with the "Jaco Pastorius Big-Band"! Graves extracted Jaco's bass playing of Reza from a 24 track remote recording done on Sanibel Island, Florida 20 years ago. So, the liner notes* clearly list: Featured Guest: Jaco Pastorius-Bass!
This album is definitely big-band sound. It can range tonally from bright when featuring trumpets and alto Saxes to downright luscious when featuring trombones, flugelhorns, and baritone sax. You are privileged to get to hear almost a dozen of the very best jazz bass players and their unique styles. Remember as a bass player and composer these compositions were originally written with Jaco's bass featured and supported by a full orchestra. Many of the selections feature new arrangements. Up-tempo swing combined with a large dose of jazz-fusion forms the basis for this recording with plenty of variety. Both versions of this release feature good solid audio quality though perhaps not quite the equal of Heads Up best examples. As usual the SACD disc played as two channel was slightly, but noticeably superior to the regular two channel CD recording when compared in my reference stereo system. The bass range is not quite as tight and solidly detailed as I have heard at times with Heads Up and Telarc and when the trumpets and alto saxophones are playing loudly in their upper ranges, lower-fi systems will probably not avoid adding some harshness. There is a fine blend of many styles here, particularly the fusion of big band swing and jazz. It would be difficult to put a better large group together.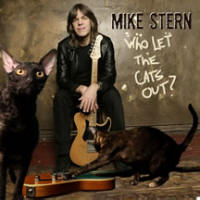 Who Let The Cats Out? Mike Stern
Heads Up HUCD 3115
This outstanding production features the best and most informative liner notes (six pages of them) that I have seen in a long time. The background and information about the music and how it is played, plus information about the musicians themselves, is superbly done. Bill Milkowski wrote it and his credentials are impeccable. Buy the album, play it while reading his notes and you will be satisfied, gratified and far more knowledgeable than ever! Highly recommended almost for just the liner notes themselves—though there is much more than that. Far more, with a particularly full rich and naturally detailed audio quality this disc has become a favorite of mine when in the mood to listen to a guitar led group. The Heads Up recording label has added another feather in their collective cap with this debut album by the celebrated three-time Grammy nominated guitarist, Mike Stern. Stern composed all 11 tunes on this release and with specific musicians in mind for each and eventually it worked out as planned. There are 14 musicians spotlighted on this release, typically either five or six on each track. Bass players are represented more than any of the other instrumentalists at five. Richard Bona doubles up with vocals on two tracks. Other instrumentalists play piano, organ, synthesizer, saxophones, drums, trumpet, and harmonica. In addition to the truly excellent music making, the tunes offer a great deal of interesting variety ably augmented by a variety of similarly sized groups on each track. Things go from up-tempo swing, to straight-ahead jazz, to blues, to fusion, to simply ballads. The group sounds like a slightly smaller version of big-band jazz with a full and rich tonal balance—sometimes almost a bit too much so.
The playing and recording is mutually very sympathetic overall with a great deal of unforced realism. Mike Stern, as would be expected, is spotlighted more than the others on this audibly beautiful recording. I have two minor quibbles. The trumpet, at times sounds as if it is placed a few feet further back (too muted?) than Mike Stern and as a result it just does not quite cut through as it would in a club setting. It does not always get its due. In addition, on some other tracks the harmonica sounds even further back, as if it was at the rear of the room. That particularly bothered me as I love hearing a reasonably close-up well-recorded harmonica—same goes for the rarely recorded ocarina. Those minor quibbles are not usually found in Heads Up recordings and in all other ways this release deserves a top recommendation.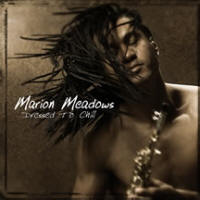 Dressed To Chill, Marion Meadows
Heads Up HUCD 3106
Michael Broening wrote most of the songs on this cool recording or Broening assisted by Marion Meadows. Saxophonist Meadows is naturally highlighted, usually playing the soprano or tenor saxophone. For even greater variety, on a couple of tracks he is heard on the alto sax, flute, or bass clarinet. Broening is heard on keyboard or piano. A number of guitar players are heard on various tracks but the bass seems to be consistently by Mel Brown. There is a bit of vocals thrown in, either as a vocalist or a background group (far in the background on three tracks); one of the background singers is the rather famous Vanessa Williams. As might be expected, there is a great deal of consistency, but not repetitiveness on this new release. There is also quite a bit of interesting subtle variety apparent to attentive listeners. As expected the general musicianship is at a professionally high level. The compositions will not be familiar to most listeners but are entertaining in this album in what is probably best described as cool or fusion jazz. Dissonances or harshness are conspicuously absent here earning the title description of chill (cool) though not quite as cool (relaxed/almost easy listening) as the new release by Cyrus Chestnut also on the Heads Up label. Incidentally, like Cyrus, Marion also attended Berklee College of Music.
The sound quality is quite fine and consistently so. I was particularly impressed by the outstanding pickup of Meadows when playing the tenor saxophone-simply beautiful. There are no drawbacks and no unusual spotlighting and highlighting and all sounds are very naturally reproduced. The group is not quite as full and rich sounding as the larger Mike Stern's group previously mentioned but comes close. However, it is natural sounding and with realistically placed performers and all realistically sized. Very enjoyable listening featuring and led by saxophonist Meadows and as such it must be recommended highly.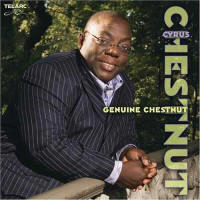 Genuine Chestnut, Cyrus Chestnut
Telarc CD-83634
Cyrus is one of the younger featured artists that I have reviewed recently. I often mention famous musicians that the featured artist has performed with earlier in his or her career. In this instance, something in Chestnut's biography caught my attention and I'm simply going to repeat that information. While earning a degree in jazz composition and arranging from the Berklee College of Music in Boston, he was awarded the following. The Eubie Blake fellowship, the Oscar Peterson scholarship, the Quincy Jones scholarship, and the Basie award. What a prestigious group of awards! Cyrus says that Betty Carter significantly affected his approach to music and his iconoclastic instincts. As would be expected with a degree in jazz composition, most of the appealing melodic selections on this fine disc were written by Chestnut. Low-key variety and subtlety are definitely highlights here. Bass and drums form a trio here with Cyrus's melodic touches on piano. Percussion accents are found on more than half the tracks and very nice guitar playing is clearly heard adding variety on four tracks. The bass is picked up very clearly with natural detail. Chestnut does not try to attract attention and keeps "playing into the keys" so that nothing is lost. Everything fits into a very nice and consistent pattern on this release. The emphasis is on subtle almost background-like playing at times or reproduction usually with no emphasis or spotlighting. My notes repeat the phrase, very relaxing. All five of the players are treated equally and the overall effect or sensation of "cool" is further aided by a slightly lower than usual volume level. Raise your gain (volume) control a bit more than usual and be treated to a sound quality of exceptional fidelity, while often being downright relaxing. That has to make an absolutely top-quality recommendation that is actually even "cooler" than the above Dressed to Chill recording that I reviewed. The beauty of this release is that a kind of subtly sneaks up on you and almost engulfs you before you realize what has happened.