ROBERT H. LEVI'S SYSTEM
LOUDSPEAKERS
Avalon Eidolon and REL Stadium III subwoofer.
ELECTRONICS
E.A.R. 324 phono, Pass X1 preamplifier, and an E.A.R. 834L tube line stage. E.A.R. 890 and NuForce 9.02 amplifiers.
SOURCES
VPI Scout/JMW 9 tonearm, VPI SDS Controller, ZYX R100H phono cartridge. ModWright Sony 999 SACD/CD Player with Signature Truth, Mod/Bybee Filters and Revelation Cryo Silver Umbilical. Pioneer DVL 919 LD/DVD Player, and the E.A.R. Acute CD player. Magnum Dynalab MD-108 Reference Tuner, Marantz 10B tuner, and Scott 350B FM tuner, AQ 7500 FM Antenna, Stax 7t Electrostatic headphones, Grado Reference 1 headphones, and a Grado headphone amplifier.
CABLES
Harmonic Technology CyberLight interconnects, Kubala-Sosna Emotion interconnects, speaker cables, and AC cables, Dual-Connect Gold interconnects, Soundstring interconnects and speaker cables, or Kimber Select balanced, Kimber TAK phono AG, Kimber Hero balanced and single ended interconnects, Eichmann Express 6 Series 2 interconnects, and Acoustic Zen Silver Reference II balanced interconnects. Kimber D-60 Digital Interconnects. Kimber Select 3038 Silver speaker cables, Harmonic Technology Magic Reference Silver speaker cables. Dynamic Design THB Nebula Interconnects.
ACCESSORIES
Monster Reference 350 Mark II v2 Power Conditioner and World Power Power Wing, Kimber Palladian power cables, Tara RSC and Decade power cables, Tiff power cables, Tice power cables, Tice Clock, and Audio Prism Quiet Line IIs. Cable Cooker 2.5, Winds Stylus Pressure Gage, Bedini Ultra Clarifier, VPI Record Cleaning Machine 16.5, Soundstring Pro Power Cables, and Kimber Pro 10 Gold Power Cables.
First came the lauded NuForce Reference 9 monoblock amplifier, then the tweaked-out Reference 9.02, and now, the Reference 9 Special Edition, the biggest sonic leap yet. With many improvements, including larger, reworked power supplies and lots of new, exotic parts, the 9 SEs are superbly musical and incredibly detailed. No longer dirt cheap ($4200 the pair) the 9 SEs still eclipse every other solid-state design I have heard that sells for under $10,000, and offers definition similar to amplifiers like the Pass XA series or the top Mark Levinson designs. The 9 SEs do this the right way, with cutting-edge technology and lots of original thinking. Though these amps weigh less than nine pounds apiece, they offer much to admire. The best news is that NuForce will upgrade its earlier designs to SE status, including new faceplates and upgraded RCAs. They revised my 9.02s in less than a week!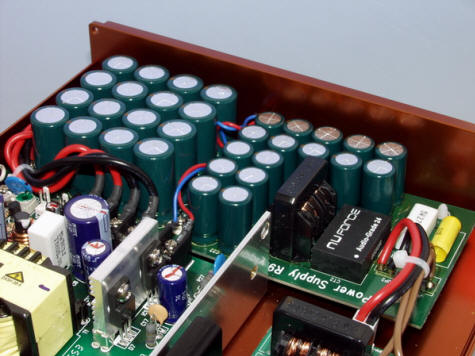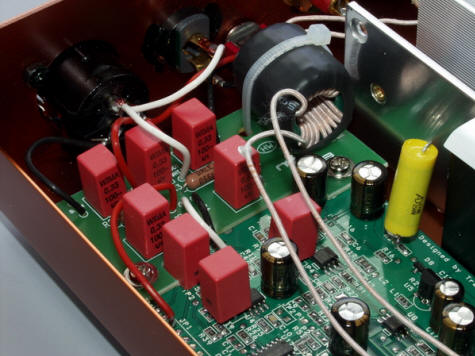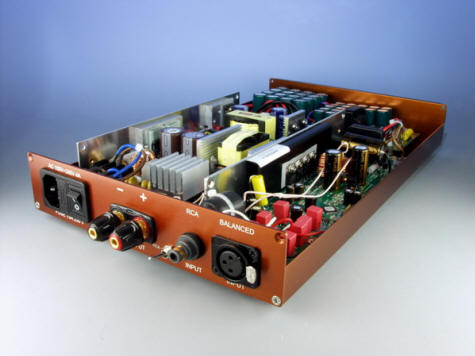 The definition of the 9 SEs is as good as that of any solid-state amplifier I've heard, and that includes Halcro, Pass, Edge, etc. They are so detailed, I was able to tweak my phono cartridge's tracking force and impedance and hear differences obscured even by my E.A.R. 890 and the Edge 8 monoblocks I recently reviewed. I am a detail freak, and the 9 SEs are so thrilling that I wonder what could be better. They also equal top tube designs in their ability to create locked-in, precise, unwavering images. Small ensembles are in the room. Choruses are on stage, with the vocal parts perfectly located in space. Orchestras extend way beyond the outer edges of the loudspeakers, and center fill is solid.
With an awesome, black background and air galore, the music breathes and pulses in a soundstage that starts just in front of the speakers and goes backward nearly to infinity. Only the finest tube amps have sounded like this in the past, but the NuForces are quieter than tube amps, and their quietude enhances the sense of you-are-there-ness. I should note that the sense of presence I was able to elicit from the 9 SEs was enhanced by the use of Kubala-Sosna Emotion cables and power conditioning throughout my system.
Highs are airy and delicate, and there is a sweetness that is just so right. My upstream gear sounds slightly sweet, and this is the first solid-state amp to retain this subtle characteristic. The highs are much better than those of the 9.02s. The SEs are also more dynamic and dimensional. This makes music more enjoyable, and it makes the SEs a better combination with ultra-high-end loudspeakers. The highs can become crisp if the source material is crisp. These are truthful amplifiers, not tone controls. If your ancillary equipment is up to the challenge, the 9 SEs will provide textures and colors like those of the real thing.
The midrange is sophisticated and elegant, the equal of any solid-state amp under, say, $15K. The 9 SEs lack a bit of the richness and warmth I like, but so does just about every other solid-state amplifier. The top Edge designs have this elusive warmth for $22K, but let's not lose sight of the fact that the 9 SEs cost $4200! Solid-state amps do not sound like tube amps, but the 9 SEs sound classy and musical. The mids and highs also match beautifully. Voices sound astounding and alive. I listened to Callas and Carpenter, and the texture of their voices filled the room—neither sounded like they had been on a diet and shrunk sonically. The focus is a notch tighter with the 9SEs than it was with the 9.02s, and grain is lower too. It may be gone altogether. Great solid-state amps can do this, and the NuForce 9 SEs have achieved it.
The bass is thoroughly integrated, and as boffo as it was with the 9.02s. The bass of the 9 SEs is so extraordinary that it caused me to shut off my subwoofer. The Avalons no longer needed it! The 9 SEs take command of the loudspeakers in the lowest octaves, and the bass is better integrated than it was in previous versions of the amp. It is very natural and fleshy. I could easily distinguish different low-voiced instruments, even during roaring climaxes. The 9 SEs are as detailed in the bass as they are in the midband, and this is a boon that only great solid-state amps can deliver. I pulled out every organ CD I owned, and boy, did the house shake! Organ recordings can clip your amplifier, but not the 9 SEs.
I suppose you want to know about the drawbacks. First, the 9 SEs are garbage in/ garbage out amplifiers, and they will not disguise a harsh or edgy front end. If you have less-than-excellent sources, these amps are probably not for you. These $4000 amplifiers are so revealing that the gear you use with them may not be up to the task. You could always use thick-sounding cables like Kimber Heros to warm up the sound, but if you've got the great toys, these amps are not only a bargain, but near state-of-the-art. Other quibbles? Just one. The 9 SEs still screw up my FM tuners. I heard that placing the amps far apart helps reduce tuner distortion, but it doesn't! How upset am I? I'm still buying the amps, so I guess not very. The problem must be inherent in their design.
Though the NuForce 9 SEs are a bit more expensive than previous versions of the amp, they are a tour de force in solid-state amplifier design. With sonic virtues equal to designs costing three times their fairly modest cost (for monoblocks), it would be difficult to name a solid-state competitor at ANY price that will beat them in all parameters. Along with the best bass I've heard, carried over from the 9.02s, the 9 SEs deliver improved mids and highs, and trendsetting definition. Their dynamics, along with the blackest of backgrounds, will astound you. Imaging is spot-on. The 9 SEs are as truthful to the musical source as any solid-state design, plus you can lift both amps with one hand! NuForce is a truly innovative company, and I believe it is here to stay. The NuForce Reference 9 Special Edition amplifiers receive my highest recommendation. Robert H. Levi
Recordings used in evaluating the NuForce 9 SE amplifiers included:
Grainger, Country Gardens (Mercury SR 90219)

Duke Ellington, Blues in Orbit (Classic Records CS 8241)

Harry James, The King James Version (Sheffield Lab-3)

Linda Rondstadt, What's New (Elektra 60260)

Rimsky-Kprsakov, Sheherazade, Reiner, CSO (Classic Records LSC 2446)

Getz/Gilberto (Mobile Fidelity, MFSL 1-208)

Elgar, Enigma Variations, Barbirolli, Halle Orchestra (Mercury SR 90215)

Tchaikovsky, Trio for Piano, Violin, and Violoncello in A minor (Mirrored Nature Records MNR 5001)

The Carl Saunders Sextet (BluePort BP-J011)

Gene Harris, The Best of the Concord Years (Concord 4930-2)

Hovhaness, Symphony 22, Cello Concerto (Naxos CD 8.559158)

Jacintha, Here's to Ben (Groove Note 1001-3)

Chopin, Piano Concertos 1&2, Rubinstein (RCA/BMG 82876-67902-2)

Dvorak, Cello Concerto, Piatigorsky (RCA/BMG 82876-66375-2

Suppe, Overtures (Mercury 470-638-2)

Hovhaness, Mysterious Mountain Telarc 60604

Turtle Island String Quartet (Telarc 60630)

The Absolute Sound SACD Sampler (Telarc 60011)

Hanson, Symphony No. 2 (Telarc 60649)

SuperBass2 (Telarc 63483)

Orff, Carmina Burana (Telarc 60575)

Diana Krall, Love Scenes (Impulse 2841-35)

A Song for You (FIM 036)

Duke Ellington, Blues in Orbit (Mobile Fidelity 757)

Miles Davis, Kind of Blue, Columbia 64935

Isomike Sampler (Kimber 2005A)

Chick Corea, Rendezvous in NY (Stretch 9041-2)

Bach, Goldberg Variations, Glenn Gould (Columbia 37779)

E. Power Biggs, Four Antiphonal Organs (Columbia 87983)

Saint-Saens, Piano Concertos Vol. 1 (Audite 92.509)

Schumann, Lalo, Saint-Saens Cello Concertos, Janos Starker (Mercury 4756621)

Berlioz, Symphony Fantastique, Paray, Detroit Symphony Orchestra (Mercury 4756622)

Tchaikovsky, The Nutcracker, Dorati, LSO (Mercury 4756623)
Reference 9 SE amplifiers
Retail: $4200 a pair.
NuForce
web address: http://www.nuforce.com