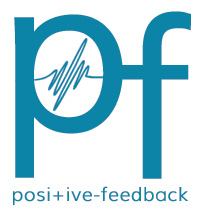 You are reading the older HTML site
Positive Feedback ISSUE 26

july/august
2006
Pizzarelli's Homâge to Sinatra
by Max Dudious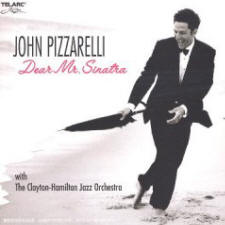 John Pizzarelli: Dear Mr. Sinatra (Telarc, SACD 63638; hybrid/multi-channel)
If you read my stuff between the lines, you know that I just get irritated as hell with singers who have not paid their dues, not put in time learning their craft, not spent lots of rainy days studying the recordings of those artists who came before them, not gone on the road as the singer with a band, not learned breath control and riffs from their side men, not learned how to work the lyrics for greatest emotional impact, not learned how to work a nightclub audience; singers whose PR firms claim just sprouted full-blown from the forehead of Zeus, a mature artist at the age of twenty, this generation's Sarah Vaughan. Who're they kidding?
In contrast, the singer-guitarist John Pizzarelli is a guy who grew up in a musical household, a home that was nearly a rehearsal hall for his dad's pals while he was a teenager, whose father (Bucky) was a guitarist in the bebop era who taught John the guitar, and who from the cradle (I'm guessing) heard his share of Frank Sinatra—since Bucky played on many of Sinatra's early records, and since John and his quartet opened for Sinatra on tour in Europe and around the States during the early nineties. So, when John Pizzarelli sings Sinatra's signature songs, they come with authority: the phrasing, the arrangements, the side men, the album art ...everything ...is spot on. Not that John slavishly mimics Sinatra: more often than not he and his arrangers slyly bend the Sinatra tunes to John's personality and his jazz skill set (scat singing, guitar playing, and singing scat duets with his own guitar picking). On his latest album, Dear Mr. Sinatra, though he is not copying Sinatra's every phrase, John is with the spirit of "Ol' Blue Eyes" every moment.
This latest album from Robert Woods and his gang at Telarc, John Pizzarelli's hômage to Frank Sinatra, is a keeper. Where to begin? The eleven song program selected for Dear Mr. Sinatra is almost as representative as it could be, ranging from Sinatra's early LPs of the mid '50s through the decades of the '60s and '70s (lacking only his '40s material), and contains some songs written especially for Frank by some of the era's best song-writers: "Ring-a-Ding Ding" by Sammy Cahn and Jimmy Van Heusen; "Nice 'n' Easy," by Lew Spence and Alan & Marilyn Bergman; or arranged by the best, as in "In the Wee Small Hours," arranged by Quincy Jones originally for Frank and the Count Basie band; or "Witchcraft," written by Cy Coleman and arranged by Don Sebesky. Indeed, all the arrangements on this album are the work of either Quincy Jones, Don Sebesky, or John Clayton—bassist and co-director, along with drummer Jeff Hamilton, of The Clayton-Hamilton Jazz Orchestra.
The Clayton-Hamilton Jazz Orchestra (the CHJO) shows remarkable variability on this album. At times they employ the hip sonority of the Billy May Orchestra that Sinatra recorded with early on; and at other times they sound like the short-lived, harmonically fascinating Sauter-Finnegan Orchestra. Most often they sound like the rhythmically hard-driving Basie Band, with interesting harmonics and sonorities. On the song "If I Had You," arranger Clayton breaks out the piano and the reed section all playing clarinets. Piano, five clarinets (four B-flat, and one bass clarinet) and voice, is an ensemble that a classical composer might have written for. For example, the 19th century fin de siecle composer, Gabriel Fauré, like John Clayton in many ways, could compose large works (such as his Requiem), or delicately profound chamber music. I remember hearing a recording of Fauré's pieces, and was then astonished at how he could get so many harmonically adventurous effects from a chamber group—as I am now at how well Clayton handles similar tasks on this one song, which alerts us to keep an ear peeled for unusual harmonics in the others.
On other tunes the drummer, co-leader Jeff Hamilton, pounds out some stellar big band drumming the likes of which I haven't heard since Don Lamond. If in most rock 'n' roll bands since Otis Redding's, the bass player drives the band while the drummer adds some tasty ornaments, in big bands the drummer is the driver (sets and maintains the beat), and adds some tasty licks. Effortlessly, Hamilton swivels back and forth to accomplish this complex, two-headed, feat. Then he'll do some brush work that seems intent on recalling a delicate soft shoe patter—as on "Can't We Be Friends?"—an arrangement that reduces a seventeen (or more) piece band to its rhythm section. Of course, "I See Your Face Before Me" reduces the active forces to a minimalist duet between John's barbequed baritone and Bucky's tasty Long Island Sound guitar chops. Is Zoot smiling? You bet.
On the opening of "Yes Sir, That's My Baby" I think I hear some fancy brass playing, in the style of the fabled Duke Ellington Orchestra of 1938-1940. That band's brass section was famous for playing some of the most difficult passages at rapid-fire rate and making them seem easy. "Braggin' In Brass" was one such tune and those who know believe the brass section cheated and employed the hocquet technique of staggering the figures among themselves, so each player only played every other triplet, for example. Typically, the audience assumed the whole brass section was playing in unison, and left shaking their heads in disbelief. Whether the CHJO brass is employing hocquet technique, or actually is playing each and every note in unison, only John Clayton knows for sure, and he's not telling. I think the CHJO and the Lincoln Center Jazz Orchestra are the only bands I know of that play things this demanding.
John Pizzarelli's singing is very appealing. I could see how the ladies would flip over the guy. He is a young man who's just fallen in love in one song, and he's celebrating "Ring-a-Ding Ding." On the next, he's miserable and like "sleepless in Sioux City" can't stop thinkin' about her "In the Wee Small Hours," 'bout the gal who got away. He's joyful, and you'd like to share in his joy; or he's miserable and you can't help feel sorry for this guy because we've each experienced loss.
If I can raise a quibble, like how the bicyclist's father in the film Breaking Away feels about his son, it's that Pizzarelli's not quite miserable enough for me. It's a little too pretty, how he presents this emotional state, and he's not bleeding or raw enough to be convincing. Though my wife says I have to have Screamin' Jay Hawkins tell it before I'll believe it—"Baby, I love you so much I can't sleep. I love you so much I can't eat. I love you so much I can't shshsh. Hurts me down deep inside. Way down deep inside. Can't sleep. Can't eat. Can't (flushing sound)." I don't always believe what La Dudeen says. I will admit that Roy Orbison did it for me in my youth with "Only The Lonely," and when Ol' Roy went up into his falsetto you knew he was just a half inch from madness. Sinatra fans will recall "Only The Lonely"as a song Ol' Blue Eyes also recorded, and one that has become a standard.
Still, that's a small enough cavil. I do appreciate that John's worked on his phrasing and how to develop a song for maximum impact, as on "Witchcraft." He's also able to add some tasty licks with his scat singing and guitar playing. Just enough to keep you aware that his roots are in jazz, not in "saloon singing," as Sinatra and Tony Bennet used to term their art. I think he ought to work on his falsetto. I really do. It would take his vocal art to the next level and allow him to communicate a heartbreak deeper than white bread and peanut butter pain. With a more active falsetto he could move up to express grownup, industrial strength, single-malt, exquisite pain.
What is the most memorable moment of a dynamite song? It is when the singer goes to the edge, almost loses it, and retreats back to someplace less dangerously emotional. The song "Danny Boy" comes to mind. The dying father is singing to his son that he should come back from the war to visit his father's grave, and only when his son has kneeled and told his father that he loves him, only then will he rest in peace. And this is when the singer goes to the top of his range, catches and suppresses a sob in his throat, and backs down. I miss emotional moments like that in John's presentation. His heartbreak songs are about of the same mild emotional temperature throughout. Like a great actor, John needs to ramp the emotional register up sometimes. O.K. so he doesn't have the widest range. O.K. not all songs demand that much of a singer. Still, think of the songs that do. "Who Knows Where Or When," "All The Things You Are," etc. require the extra range falsetto would give him. I think John Pizzarelli has made of himself an accomplished singer, and I think he could use his falsetto as an extra gear (if you'll allow me to mix metaphors once again) to achieve greater emotional heat. Moreover, this subtly androgynous effect usually gives a singer greater appeal with the ladies. Funny thing is, he uses falsetto freely when he scat sings.
Dear Mr. Sinatra probably is John Pizzarelli's finest album so far. He has come along nicely in developing his art. The Clayton-Hamilton Jazz Orchestra is fine (reeds, brass, rhythm; all virtuosic), especially in its willingness to expand the envelope. The arrangements are equally fine, touching many jazz bases. Bucky Pizzarelli lends many tasty licks. The recording engineering is super, living up to Telarc's continuing tradition. And Sweet Amanda is just super fine. In all, a pretty damn fine record. I'd say all you jitterbugs out there ought to just Jersey Bounce down to the record store, or do some Peckin' on your way over to your computer and order up a copy from your favorite vendor. And when you do, tell 'em Maxie Waxie sent ya. The CD ought to be in the stores around July 18th, and when you get it home, play it loudly. It's a killer and another audiophile's demo disc, especially in surround mode.
Most highly recommended.
Ciao Bambini!
Max Dudious